Master craftsman Scott Grove launches interactive online veneering courses
June 30, 2020 | 3:40 pm CDT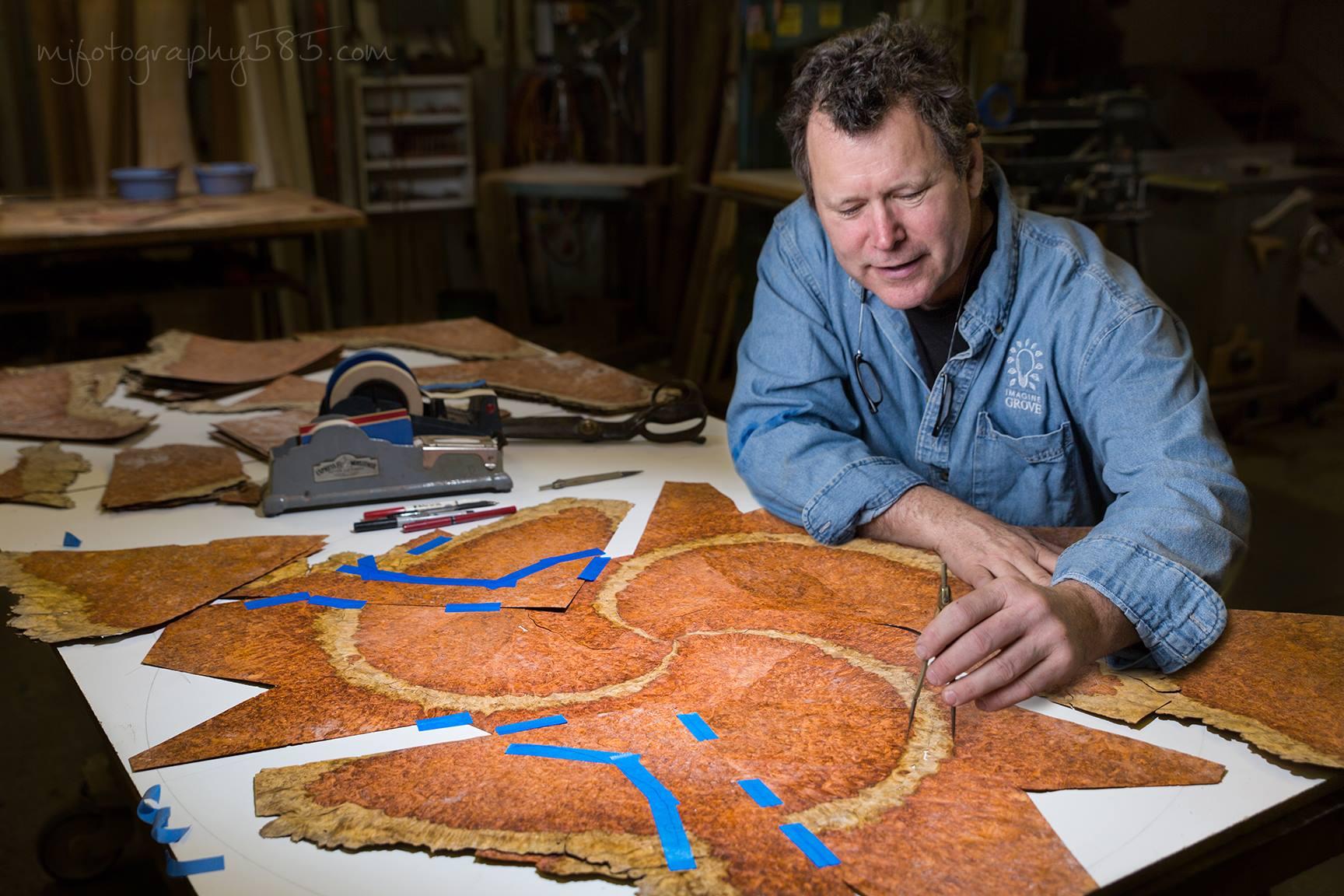 ROCHESTER, N.Y. –Scott Grove, master woodworking and restoration craftsman, instructor and author, is launching a new series of interactive online veneering courses.
Grove has been working with veneer for more than 30 years and plans to share his wide base of knowledge over the length of the courses. Topics include: purchasing and inspecting; matches and layout techniques including his award-winning spiral match; flattening and conditioning; glues, taping, and seaming; inlays; pressing methods; and extreme compound veneering, as well as projects like creating a chessboard, how to make a nautilus star, sand shading, and more.
"Lots of tips, tricks, and resources will be included with each class," he said.
Classes will take place on the first Sunday of each month at noon EST. The first 90-minute session, "Introduction to Veneer," will be July 5. That session is free to anyone who signs up for Grove's newsletter at his educational site, ImagineGrove.com. Links and Zoom FAQs will be sent out to those on his mailing list; additional classes will be $5 per person.
"Wendell Castle introduced me to my first highly-figured veneer, when I started working with him in the mid-1980s," said Grove. "Since then, I've been intrigued and inspired by this amazing material. I want to introduce more people to it, and I truly enjoy sharing my knowledge. I've made all the mistakes, so you won't have to."
As a retired clown, Grove knows that sharing information in an entertaining and creative way makes learning easier and more fun. His multi-camera green screen set up provides a stimulating presentation, and his co-host organizes real-time Q&A interaction.
Grove regularly teaches at the Marc Adams School of Woodworking in Indiana and at the Chippendale International School of Furniture in Scotland. During the pandemic, he's been hosting Interactive Report Demos (IRDs), and is available to clubs and for private lessons on a host of woodworking and woodturning topics.
Grove's work can be found in prominent museum, gallery, and private collections. He lectures, demonstrates, and judges at national and international conferences as well as regional and local woodworking groups. Grove is a past multi-time winner of the Veneer Tech Craftsman Challenge and is a judge of the 2020 competition. He is also a contributing writer for Woodworking Network and FDMC magazine and has been published in Fine Woodworking, Woodshop News, and American Woodturner. He has three books published on woodworking, including Advanced Veneering and Alternative Techniques, with a fourth about the business of craft on the way.
Watch the video below to learn more.
Have something to say? Share your thoughts with us in the comments below.