A look at the latest in slides, glides, hinges and other functional hardware
February 26, 2018 | 7:58 pm CST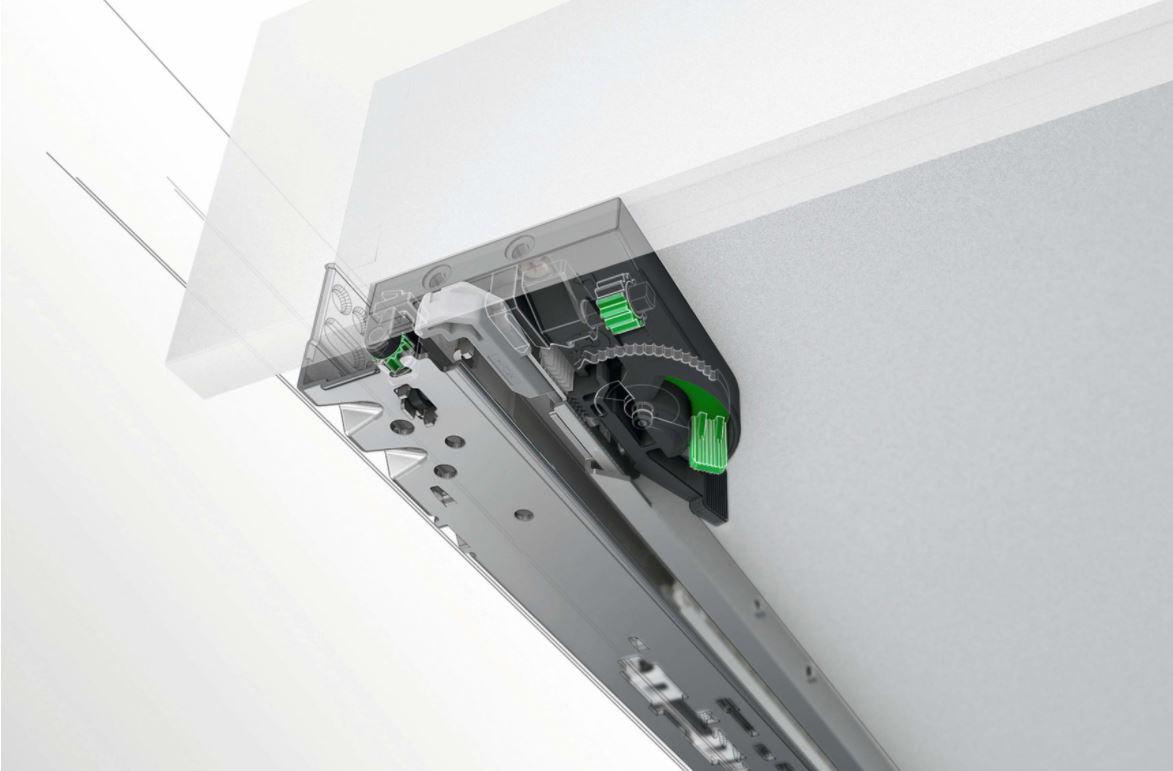 Photo By Grass America
Beautiful cabinetry and closets consist of more than the perfect panel, finish or drawer construction. While pulls and knobs are often referred to as the "jewelry," it's the unsung, hardworking hardware such as glides, slides, brackets and hinges that make the piece functional.
The following is a sampling of functional hardware available in the marketplace. To view a complete list of suppliers, visit www.bit.ly/hardware suppliers.
Accuride's new clip-on bracket allows for a bottom- or platform-mount on various models of the company's side-mount slides, providing an extra level of versatility. The bracket can support eight models.  accuride.com
Salice's Silentia hinge features integrated soft-close technology with two silicone oil dampers that allows constant closing of a door in any condition, use, and application. The hinge is also equipped with a switch to delay the decelerating action. saliceamerica.com
Blum's new lift system, Aventos HK top for stay lifts can be installed with either pre-mounted system screws and pegs or chipboard screws and an integrated template. It also can be equipped with either soft-close Blumotion or a mechanical tip-on opening support system. blum.com
Grass America says its Dynapro undermount slide features a synchronization mechanism. The slides offer a variety of front-locking devices to provide two, three, or four-dimensional adjustments and the drawer can be adjusted vertically, horizontally, in and out, or tilted without the use of tools. grassusa.com
Custom Service Hardware says its new miniature furniture rolling door hardware offers versatility and is perfect for smaller applications. The hardware can be used on an entertainment center, storage area, or decorative piece. Sold separately, a strap kit and a rail kit is needed for installation. cshardware.com
Rockler Woodworking and Hardware offers I-Semble complete rolling door hardware kits, which include two roller assemblies with sealed ball bearings, mounting brackets, track, door stops, floor guide, discs to keep the rollers from jumping the tracks, and installation hardware. rockler.com
With Mikron's Barn Door Track System, track hangers move along the length of the track to line up with existing studs or supports. Made from anodized aluminum, the tracks are easily cut to size using basic tools. mikronmachinery.com
Hettich says its Grant SD/HD silent system sliding door hardware is the first soft stop system for heavy doors weighing up to 325 lbs. The fully concealed soft-closing and soft-opening feature in the system cushions the doors' movement, enabling them to open and close in silence. hettichamerica.com
Fulturer offers a range of drawer slides, including regular-extension, full-extension, and heavy duty slides, with weight capacities ranging from 50 lbs to 500 lbs. fultererUSA.com
Häfele's MX Drawer System is a European-style, double-walled drawer system that features standard and deep depth drawers on high-quality runners. Available MX finishes include white, anthracite and champagne. hafele.com
TAG Hardware offers foot levelers in matte aluminum and black. The levelers are used to raise cabinets 3 in., 6 in.,  9 in., and 12 in.,  off the floor, and provide a 1-in. range of adjustability. taghardware.com
Richelieu Hardware's wide range of table mechanisms with heavy-duty slides allow for the design of multi-purpose furniture that convert into space saving solutions. richelieu.com
Hardware Resources' new "no wiggle" 8-in. base cabinet pullout works in both face-frame and frameless applications. The pullout features a patented six-way adjustable door-mounting bracket, and the pullout is shipped assembled and ready to install. hardwareresources.com
Designed for 14-22 in. cabinet depths, Glideware Pullouts from Rev-A-Shelf feature up to seven adjustable hooks and three slide configurations: full-extension, ball-bearing, 100 lb. rated slides; full-extension, 110 lb. rated, concealed slides with BLUMOTION soft-close; or stainless steel full-extension, ball-bearing, 100 lb. rated slides. rev-a-shelf.com
CompX Timberline's StealthLock is a keyless cabinet locking system using radio frequency technology. It operates with separate and programmable user and supervisor codes and is user programmable with optional modes of operation for single use or self lock. compx.com
Monarch Metal says its Z-Clip hanging system is simple to install and offers strength and security of the mounting with no visible screws or nails on the surface of the mounted panel. monarchmetal.com
Brooklyn Hardware manufactures aluminum versions of the French Cleat. The company offers four different profiles that allow users to hang lightweight to heavy items on any vertical surface. panelclip.com
Mockett's new illuminated pop-up power dock hides below the surface when not in use and pops up when pressed. It can be installed into any type of furniture by drilling a 3.75-in. hole. mockett.com
Titus' T-type hinge features a 3 Way mounting plate mounting in three directions. An adjustment button also provides intuitive adjustment of the damping action giving a soft-close performance on doors of different dimensions and weights. titusplus.com.
Available from Bainbridge Mfg., the 3/4-inch standoff euro slide spacer allows the installer to align the install spacers in the cabinet using the peg for alignment. bainbridgemfg.com
Kemp Hardware's product lines include Murphy wall bed hardware, barn door hardware, Ressam slides and hinges, TV swivels, table slides and more. kemphardware.com
Selby Hardware's patented XSMVO wall bed system is available in kit form with moving parts encased in a 12-gauge steel sleeve. All mechanisms are adjustable. selbyhardware.com
King Slides offers SIMLEAD safety drawer system with the following features: push-open, silent soft-closing and vibration safety design. Kingslide.com
Have something to say? Share your thoughts with us in the comments below.