Art of Design Challenge: Amanda Crady, More Space Place
January 14, 2020 | 3:06 pm CST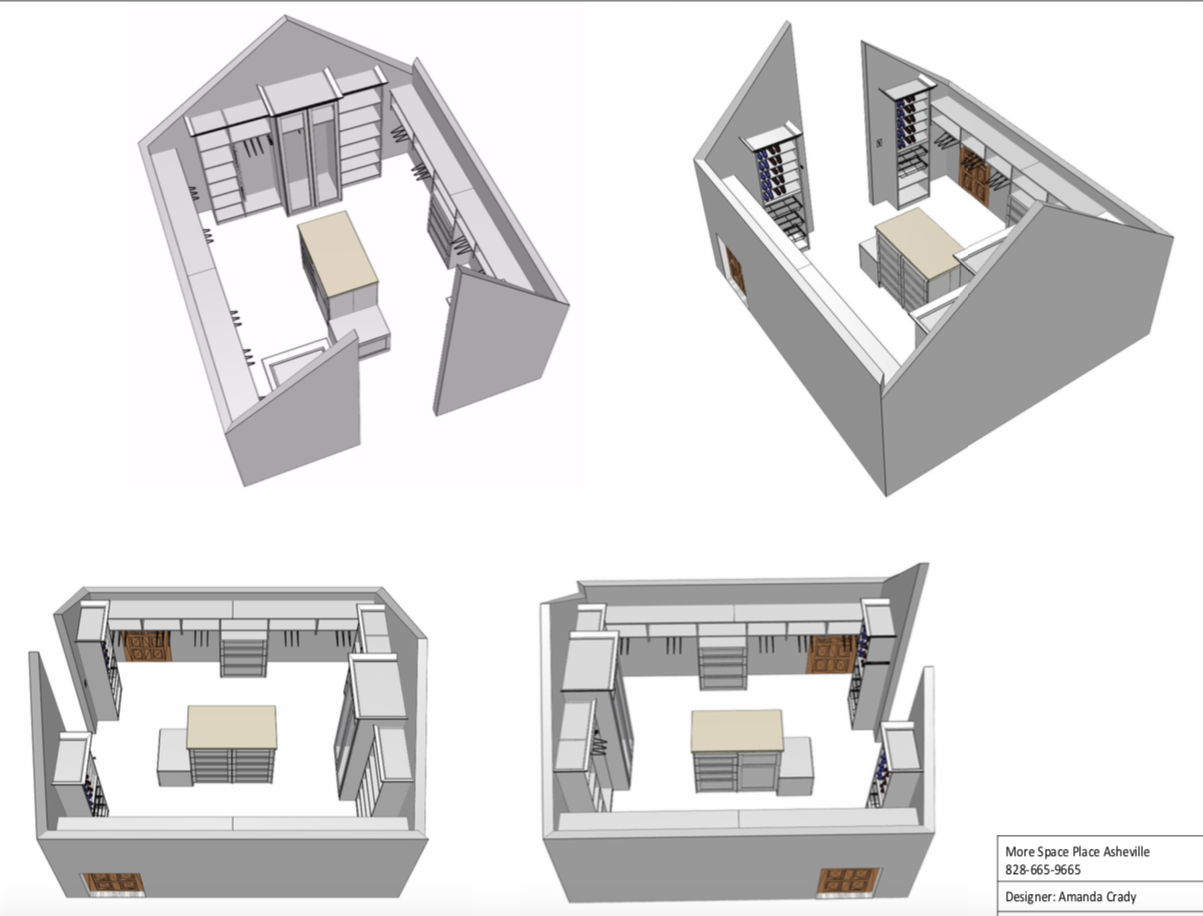 Photo By Amanda Crady, More Space Place
Closet designers across the country were asked to participate in ACSP's design challenge. Each participating designer was sent a layout with dimensions and specs of the room to be designed which included some of the following: Left and right walls: attic access, skylight, and sloped ceiling; Back wall: client's mirror and two sconces; Front wall: switch 5 inches from left and 45 inches off the floor.
The layout, based on a design by Patty Miller, Boutique Closets and Cabinetry, also included the following notes: A Ladies Dressing Room with 80 pairs of shoes, a display area, a full-length mirror (can use client's), two sconces (can be eliminated), one hamper, lots of drawers, some gowns and no budget. The designers were asked to submit line drawings and 3D renderings if available and to give a brief explanation of what they did and why.
Here's what the participating designers submitted:
Name: Amanda Crady
Company: More Space Place
Location: Asheville, North Carolina
Years designing: 23 years in building industry, 14 years designing closets
Closet or Cabinet company:  Closet
Manufacturer or Outsource: Manufacturer
Independent or Franchise: Franchise
Design notes: 
My desire was to design an elegant and functional space for the client. I achieved this by using our soft grey laminate Shaker style with satin glass doors. 
Side and back wall views
I placed an island centered in the room outfitted with tilt hamper and lots of drawers as well as jewelry storage and pullout ironing board. I utilized Hafele accessories like the Engage Shoe Organizers, Elite Storage boxes and Elite slide out Mirror add style and function.
This design challenge posed several non-symmetrical aspects to the room. I felt that the back wall needed to be a focal point of the room and draw your eye upward. So, I installed a staggered height unit that was centered under the peak of the back wall trimmed with crown brings the focal point upward.  This unit is 24-inch deep to store gowns and covered with satin glass doors.
More drawers are centered under the skylights on the left and right wall and then flanked with wall mounted hanging (to allow access for the attic area).  I mounted them at the same height on each side without altering for the wall height difference. The top shelf can be used for additional shoes in boxes or folded clothes or left clean.
Total Bid: $12,500
Have something to say? Share your thoughts with us in the comments below.