Art of Design Challenge: Lori Nesmith, More Space Place
January 14, 2020 | 3:32 pm CST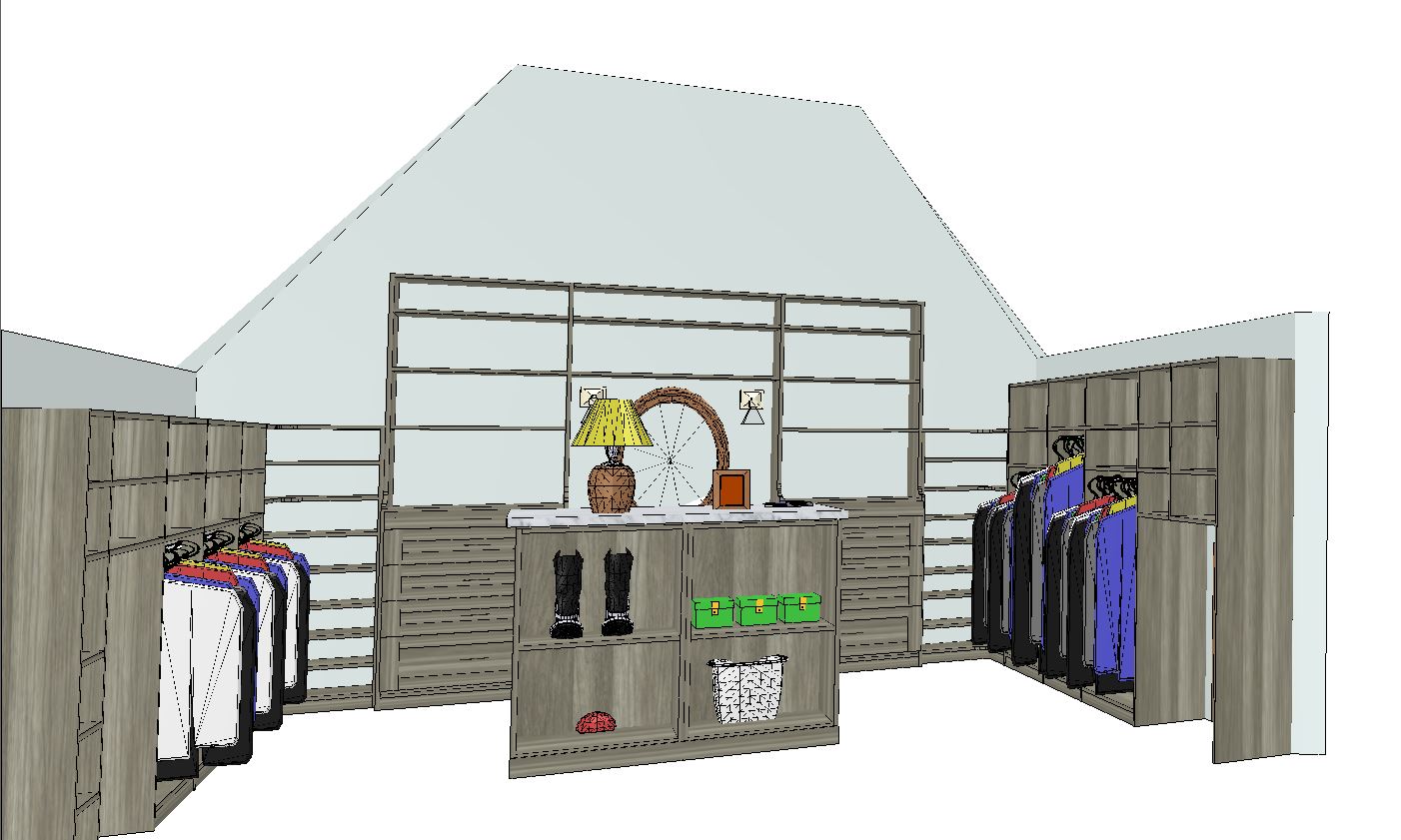 Photo By Lori Nesmith, More Space Place
Closet designers across the country were asked to participate in ACSP's design challenge. Each participating designer was sent a layout with dimensions and specs of the room to be designed which included some of the following: Left and right walls: attic access, skylight, and sloped ceiling; Back wall: client's mirror and two sconces; Front wall: switch 5 inches from left and 45 inches off the floor.
The layout, based on a design by Patty Miller, Boutique Closets and Cabinetry, also included the following notes: A Ladies Dressing Room with 80 pairs of shoes, a display area, a full-length mirror (can use client's), two sconces (can be eliminated), one hamper, lots of drawers, some gowns and no budget. The designers were asked to submit line drawings and 3D renderings if available and to give a brief explanation of what they did and why.
Here's what the participating designers submitted:
Name: Lori Nesmith
Company: More Space Place
Location: North Myrtle Beach, South Carolina
Years designing: 1
Closet or Cabinet company:  Both
Manufacturer or Outsource: Outsource
Independent or Franchise: Franchise
Design notes:
Left wall: I did mostly low hanging with shelves on this wall because I did not want to "waste" the focal point wall on hanging. The attic access area can be left open or covered with more hanging.
Left wall  -  designed by Lori Nesmith, More Space Place
Back/focal wall: I wanted to make this space feel luxurious, so I did a vanity in the center with hutch verticals and did drawer banks on either side with one deep drawer, three standard drawers, and one jewelry drawer each. I left a larger space between the transition from 19 inches deep to 14 inches deep on the hutch verticals to allow for jewelry or handbag display. I surrounded those with corner show/boot shelving units for a seamless transition to the side walls. I moved the sconces to either side of the vanity mirror and moved the wall mirror to another wall.
Right wall - designed by Lori Smith, More Space Place
Right wall: More hanging and shelves on this side, except I took advantage of the slightly higher wall on this side and did long hang in the center and ¾ hang on either side of it. Again, the attic access can be left open or covered with more hanging. 
Back right wall: I placed the full-length mirror here.
Island/display front view: I did large, open shelves on the back side for displaying client's favorite purses or other items. The marble countertop allows for a luxurious display area on the top as well.
Island/display back view: I placed the hamper here as well as more drawers. 
The entire closet is done in a 5-piece Shaker style gray wood tone that can be made more traditional or contemporary depending on accessories used. I envisioned glamming it up with chrome or gold accessories and maybe a velvet vanity chair and fluffy throw blanket.
Total Bid: Not submitted
Have something to say? Share your thoughts with us in the comments below.