Art of Design Challenge: Lisa Carlquist, Artisan Custom Closets
January 14, 2020 | 3:21 pm CST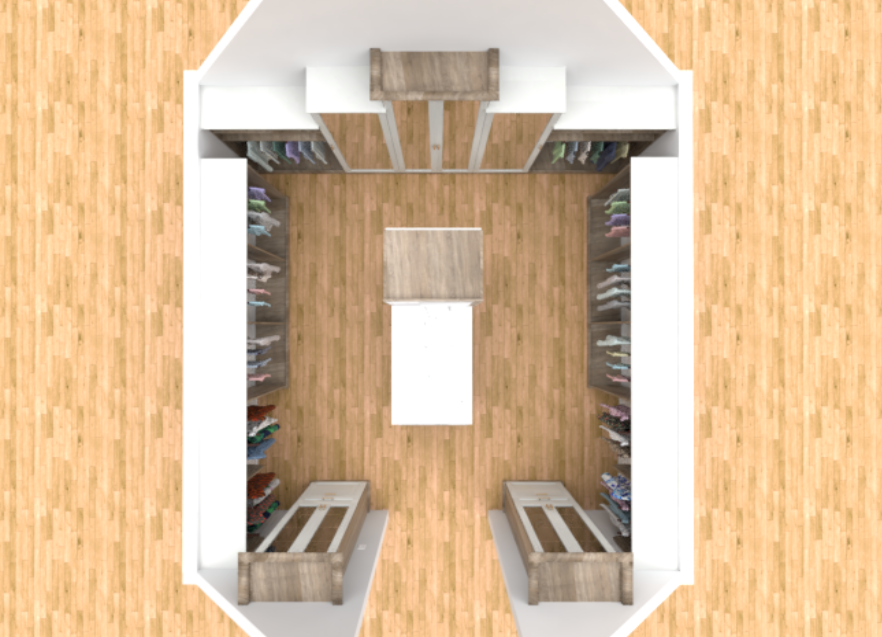 Photo By Lisa Carlquist, Artisan Custom Closets
Closet designers across the country were asked to participate in ACSP's design challenge. Each participating designer was sent a layout with dimensions and specs of the room to be designed which included some of the following: Left and right walls: attic access, skylight, and sloped ceiling; Back wall: client's mirror and two sconces; Front wall: switch 5 inches from left and 45 inches off the floor.
The layout, based on a design by Patty Miller, Boutique Closets and Cabinetry, also included the following notes: A Ladies Dressing Room with 80 pairs of shoes, a display area, a full-length mirror (can use client's), two sconces (can be eliminated), one hamper, lots of drawers, some gowns and no budget. The designers were asked to submit line drawings and 3D renderings if available and to give a brief explanation of what they did and why.
Here's what the participating designers submitted:
Name: Lisa Carlquist
Company: Artisan Custom Closets
Location: Marietta, Georgia
Years designing: 25 years
Closet or Cabinet company: Closet
Manufacturer or Outsource: Manufacturer
Independent or Franchise: Independent
Certification: Master Storage Designer
Design notes:
This closet was designed using Closet Pro Software. The total amount of design time was approximately 20-25 minutes.  The challenges in this closet were the (short) sloped ceilings and the access doors on both the left and right of the closet. This dressing room was designed using Cannella Rustik Melamine with Northern Contours Mist Super Matte doors, drawer faces (both shaker style) and countertops.
Left wall - designed by Lisa Carlquist, Artisan Custom Closets
The closet is floor-based (except for the areas around the access doors) and is accented with satin brass hardware.
The back wall of the dressing room is designed with varying heights and crown molding for aesthetics. This space holds 90 pair of shoes for the client. Also featured are mirrored doors giving the client a built-in 3-way mirror.  The island is unusual, not because it contains 16 drawers, but because there is a third side to the island which is built to 84 inches high and 24 inches deep.  This section has glass doors and is specifically to showcase formal wear. On the back side of this tall section is a mirror so that when you enter the closet door, you see the island and a mirror above giving the closet an elegant look. This third side of the island has crown molding as well at 84 inches high.
Right wall - designed by Lisa Carlquist, Artisan Custom Closets
Also included were shelves with glass doors near the entry door for showcasing a purse collection. The side walls were used for the hanging sections and above these units is a countertop, in antique white to match the mist. This countertop serves to cover the tops of the vertical panels so that you do not see them when looking down at this section. It also helps tie together the "mixed colors". Two hampers were included near the entry door for easy access upon entering the closet.
No design fee was charged.
We did not actually install this closet, but if we did, we would have sent three guys for one day to complete the project. The installers would have made $421.71 per man for a total of $1,265.13 in installation costs. The materials and labor (combined) for the project would be approximately $6,325.63.  We use Weeke CNCs and Homag Edgebanders. The project would have been uploaded from Closet Pro into Cabinet Vision and sent directly to one of our CNC machines.
Total Bid: $18,073.23
Have something to say? Share your thoughts with us in the comments below.