The market continues to grow, does your customer base?
October 25, 2021 | 7:18 pm CDT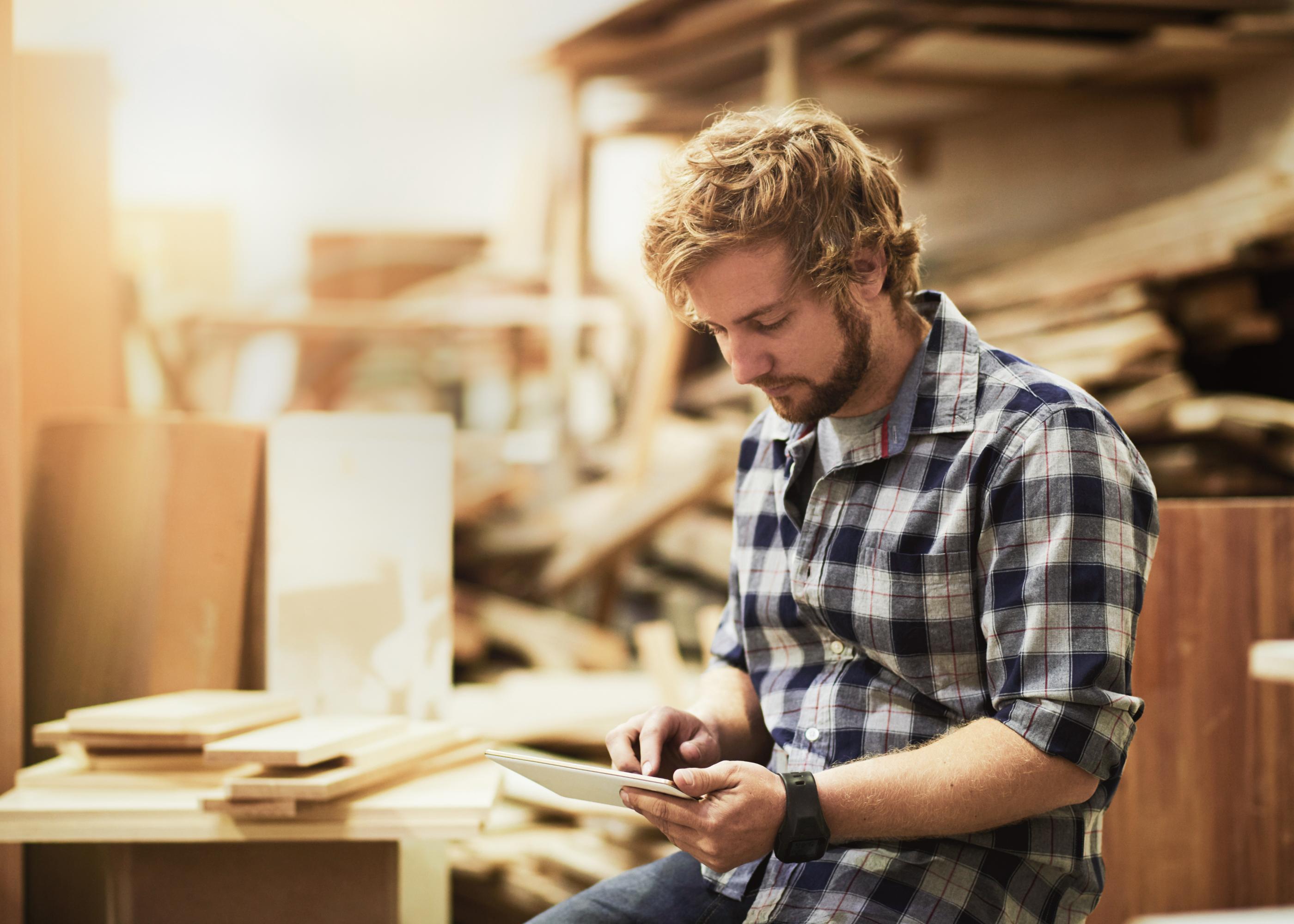 Business is good in the woodworking industry. Maybe even "too good" for those feeling the pressures of keeping up with demand, in a very challenging time for supply chains. Door sales are through the roof? Great! If only they weren't ordering so much white oak. (Did your rep just call and say it's going up, again?) How are you going to keep taking on jobs when MDF is nowhere to be found? We're all in this together: thankful for the work, yet struggling to keep up. In that context, It can be tempting to turn on autopilot and stop innovating.
Don't get complacent about bettering business practices, especially when business is increasing. Prices aren't the only thing on the rise. The market is rapidly growing and there are swarms of new customers out there, who are looking for the right place to take their business. Have you taken the same care in nurturing your marketing and sales efforts lately? Or, let them coast-by on an inflated market? Let me more forwardly ask this; Your sales may have increased, but has your customer base?
A commonly heard concern is: Where are these new customers I keep hearing about? How do I get in front of them? Your online presence is crucial. With access to the internet in everyone's pockets, they rarely look anywhere else for guidance on where to buy what. Truthfully, they hardly look up anymore, resulting in the traditional ways of marketing becoming less effective. As a software company, we have a lot of passion behind the topic. So much in fact, we will be diving into a series here, on the importance of doing and promoting business online, with some advice on how to do so along the way. To start things off, here are the basics for successfully reaching customers online.
SEO Health
If new customers aren't coming to you, it's because they can't find you! How are customers finding businesses? Likely, this: Google, who builds the best cabinets in my area? Your position in that search is crucial to being found. Go ahead and search that phrase now, where does your business land? If your company doesn't "exist" online, you don't exist at all, to the majority of consumers. 91.5% of google searches never go beyond "page one". Becoming one of the first businesses listed in that search, can make the difference of a 50% increase in page visits and customer awareness.
You can increase your SEO health by making a few small changes that will make all the difference. Start by studying keywords that matter to your target market. Then, begin incorporating them on your website, in your blog & social media posts, and all web page descriptions.
Be sure to have your physical address registered on google maps. Then, provide some information about your company and ask your customers to review your business! This is a huge growth factor. Beyond the rankings, customers are going to heavily weigh who they select based on how many "stars" they have.To entice your customers to leave you a review, get creative with a reward, maybe announce a gift card giveaway for those who show proof of a google review they've left you?
There are many ways to improve your SEO rankings, and a plethora of tools to help you out. A few of our favorites are:
Google Search Console
Mozpro
Google Analytics
HubSpot's Topical Coverage
UberSuggest
Improving SEO Health takes a lot of time, patience, and learning. The reward is greater than the effort. Start studying and implementing the given resources, or even hire a trusted SEO expert to help. The efforts will be pivotal to seeing growth!
Engage with your Market
Social Media being a powerful marketing tool is no secret. It can feel overwhelming; staying current with the latest apps, breaking algorithms, and creating a steady flow of content. Let's ignore the generalized articles on "social media rules", to talk about where your presence can make a difference in the woodworking markets.
Apps like Houzz, Pinterest, Facebook, and Instagram are going to offer the highest return. These sites & apps are where customers look for inspiration on their next project. Organically showing up in feeds of potential customers when it matters most can be highly impactful. If you don't already have business profiles on these apps, start there. If you are new, or have a low number of followers, you can pay for ads to reach new customers. The ROI on social ads can be impressive.
What makes social media ads so impactful? The demographics you can specify. Guiding the app in selecting who sees your ads. Designing a powerful ad for each of these platforms that is inline with your Storybrand, and strategically shown to your target market, can provide nearly-instant payoff. If you've already considered this avenue, you know ads can get expensive quick. With a little effort and consistency, you can grow your own audience and engagement. Putting your business before customers, without paying the high fees. Stay true to who you are and use your social platforms as a fun way to stay engaged with your customers, new and old.
Here are a few ways to connect with and grow your audience:
Keep things tidy: When posting your own work, or someone else's (always be sure to give credit appropriately), confirm the style and quality matches your own. Impress followers, while also giving them a realistic expectation of your craftsmanship and abilities. Post clean, quality content with consistent editing—don't use a mix of filters and photo styles, find a style that feels like you, then stick with it.
Stay short and to the point: Less is more, especially when it comes to social media posts. Say what needs to be said before the "read more" button appears. This makes readers more likely to read and engage in your message.
Create discussions: Asking questions prompts comments, and comments promote your post's landing place as customers open their apps. Think of some interesting questions surrounding your products. Ask about thoughts on trends. How would they incorporate the "color of the year" in their kitchen? It is then crucial to reply to those who leave comments. This shows true investment, leading to continued engagement in the future.
Introduce your team: Seeing the humans behind a company, can do wonders in building trust and lasting connections with customers. Share employees' positions, but then go further, by sharing some of their hobbies, or a bit about who they are, and what makes them such a great part of the team.
Sell online
In a society that demands convenience more by the day, the answer to what they really want is simple—online ordering. This is the most impactful way to grow, while also increasing order accuracy, and adding ease to daily tasks. There has been huge strides in woodworking technology, allowing companies to produce faster than ever. The next step is to simplify the ordering process. Keep the machines running, and the customers happy.
As previously stated, if potential customers can't find you via a simple google search, they aren't going to call. If they do find you in that search, but then can't see a catalog, or shop what you're selling, they are likely going to buy it somewhere they can! When did you last place an order by calling a mail-delivered catalog versus shopping a website?
The last 2 years have not-so-subtly given us all new expectations and standards of necessity. One of those being; doing business, from anywhere, at any time. There is simply not an easier way to run a business than online. You already know the massive increases 2020 forced in e-commerce sales, but as we "get back to normal" the trend isn't dying down. In fact, the first-half of 2021 saw a 21.9% increase in e-commerce sales over the same quarters in 2020. (Digital Commerce 360) As we grow more accustomed to ordering and working online, it becomes an expectation in all areas of life. Don't get left behind as your competitors advertise and selling online to the rapidly-growing market!
Whatever platform you choose to do it; taking on building your own store with a site builder like Wix, opening a shop on Etsy, or a fully customized catalog on your own website (with order and customer management) from Allmoxy, start selling online. Put your catalog out there for your ideal customers to find. Start helping them build and place their orders in a fraction of the time. Better yet, let them place it themselves. With an online catalog, you're going to make an impact on your potential customers. Perhaps even more importantly, you will free up your own time to do more of what matters.
We'd love to know, have you seen growth in your customer base? Share with us and other industry professionals what has worked for you!
Have something to say? Share your thoughts with us in the comments below.