AWFS Fair: Gearing up for a great show
May 1, 2023 | 10:20 am CDT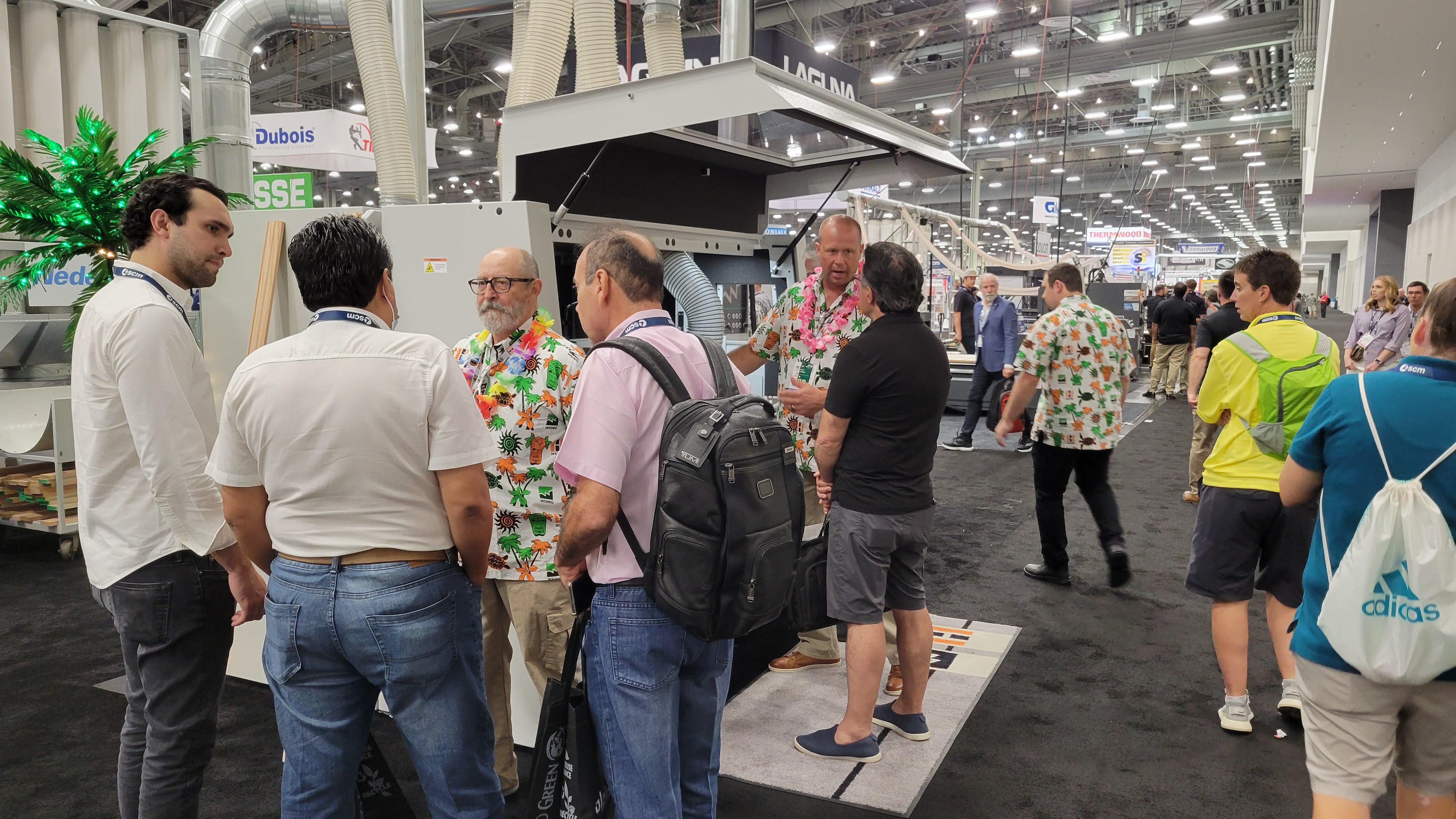 LAS VEGAS - The full-scale AWFS Fair, scheduled for Tuesday–Friday, July 25–28, at the Las Vegas Convention Center, has become a critical hub for international commerce in the woodworking industry. The AWFS Fair brings together the home and commercial furnishings industry, including manufacturers and distributors of machinery, hardware, lumber, construction materials, and other supplies to furniture, cabinet, closets and home organization, architectural woodwork/millwork, and retail fixtures manufacturers, as well as other custom and production woodworkers.
Illustrating the show's popularity, as early as February, the floor plan was already 90 percent sold, and the association had booked more exhibitors and more first-time exhibitors than in 2021.
Woodworking Network symposia & reception
Join Woodworking Networking for a full day of networking and industry education programming on July 24, the day before the opening of the exhibit halls. Choose from the Closets Symposium or CNC Bootcamp; all symposia registrations include lunch, entry into the Leadership Reception, and AWFS Fair exhibit hall registration. 
The Closets Symposium, moderated by Michaelle Bradford, editor of Closets & Organized Storage magazine, will educate designers, fabricators, retailers and installers on the most current design, marketing, and business topics of relevance to industry professionals seeking to profit from this growing and exciting market niche. The agenda includes the following:
Social Media Influencers | 9:05–9:55 am
    Presenter: Carlissa Montoya, CM Closet Design; and Allana Bell, Optimization Dolls
Telling Your Brand Story | 10:00-10:50 am
    Presenter: Kelly Victor-Burke, Burke Architectural Millwork/Bespoke Closets & Organized 
    Spaces
How to Elevate Closet Design | 11:00 am–11:50 pm
    Presenter: Katherin Lawry, Haven Closet Interiors; and Wendy Scott and Patty Miller, 
    Boutique Closets and Cabinets
Budgeting versus Forecasting | 1:05-1:55 pm
    Presenter: Tim Coleman, SCE Unlimited
Material Trends | 2:00–2:50 pm
    Presenter: Christina Relyea, JB Cutting
Lighting Innovations | 3:00– 4:00 pm
    Panelists: Richie DeMarco, Richelieu Hardware; Chris Heronemus, Tresco Lighting/Rev-A-Shelf; Scott Begin, Hafele America; and Keith Clark, Hardware Resources
CNC Bootcamp is an intensive daylong workshop for those who are relatively new to CNC manufacturing or looking to buy their first CNC. Moderated by Will Sampson, editorial director of FDMC, the day will cover selecting the right CNC machine, integrating it into your operation, choosing and using the tooling, dealing with dust collection and vacuum issues, and getting onboard with the software you need.
The workshop is sponsored by Lobo/Castaly, Laguna Tools and KCD Software.
Match your machine to your needs (Chris Cold, Laguna Tools): An overview of entry-level CNC machines.
CNC software (Ken Frye, KCD Software): Learn what software you need to use your CNC.
Learning how to use your CNC (Stuart Kent, ShopBot): Overview of all the ways to learn CNC machining, including networking, formal training, videos, and more.
Tooling for your CNC (Mark Alster, Leitz): What does a beginner tooling setup for CNC look like? What do you need to know about feeds and speeds? What's the difference in tooling between smaller desktop CNC units and full-size production machines?
CNC accessories (Jeff Ou, Castaly): Vacuum, dust collection, material handling, etc. This segment covers all the equipment you need to support your CNC.
Taking the next step (Holz-Her): What's the future of CNC in your shop? Learn what's available when you move up to a full production-level CNC setup.
Woodworking Network Leadership Reception: Celebrate the 40 Under 40
Held July 24, 4:30-6:30, the Leadership Reception celebrates the Wood Industry 40 Under 40 — the next generation of woodworking professionals who have made an impact at their jobs, in the industry and in their communities. Along with the 2023 honorees, alumni and other distinguished guests, the reception is open to symposium and bootcamp registrants (included in the registration) as well as AWFS Fair attendees (with separate event registration). 
The 40 Under 40 Class of 2023 is sponsored by PaintLine.
AWFS award programs
The Association of Woodworking & Furnishings Suppliers is seeking entries from its 2023 exhibitors for the AWFS Fair Visionary New Product Awards and Showcase that will be featured at the biennial show.
The categories will once again include Industry 4.0; Machinery Over $50,000; Machinery Under $50,000; Power Tools; Hardware; Components; Tooling; Software; and Raw Materials.
All entries must be received by June 1 and submitted through the designated Visionary New Product website at visionaryaward23.artcall.org. Only 2023 exhibitors are eligible to enter.
The Visionary New Product Showcase will be featured in the grand lobby and near the main entrance of the convention center's West Hall.
New to the 2023 fair is the creation of The Maverick Award, which will become the headline award for the successful Tool Tour Program. The Maverick Award will honor excellence in marketing strategy and execution for Tool Tour participation at AWFS Fair 2023. The competition will recognize one qualifying exhibitor based on a variety of criteria within seven different categories. The winner will be announced during the fair, receive a custom trophy, and be featured at the show and online.
The Tool Tour is a feature at the AWFS Fair highlighting manufacturers and suppliers of hand and power tools and other small equipment. These are essential product categories for all woodworking manufacturers, regardless of shop size. All participating exhibiting booths act as tour stops. Attendees will be encouraged to visit these stops throughout the show through the AWFS Fair App. After completing the tour, attendees will receive a commemorative, concert-style tour shirt featuring the 2023 Tool Tour logo. This year, Tool Tour will have a Western theme, so get your lassos ready.
The 2023 Fresh Wood Student Design Competition's special theme is "Small Projects." The Fresh Wood committee selected this theme to encourage new schools and students to enter the competition. 
"We realize that some schools and students may have less resources, less time, and less support," said Fresh Wood committee member Mei-Yen Shipek. "Encouraging more Small Projects will open the doors to a broader range of students and remove barriers associated with building traditional, large furniture projects." 
The Small Project category is for projects that are 1 cubic foot or smaller in overall size. There are no restrictions on style, but the project should be made primarily from wood.
Five other entry categories make up the Fresh Wood competition: Case Goods, Seating, Tables, Design for Production, and an Open category, in which projects can be made of any material and there are no size restrictions. In the Design for Production category, students must design a functional item manufactured out of one 4 x 8-foot sheet of plywood and all structural wood components must nest inside of and be cut from the same sheet. Entries will be rated by a panel of judges representing different industry segments.
The finalists in the Fresh Wood competition will be on display throughout the AWFS Fair. Winners will be identified and announced at an awards ceremony during the show, open to all attendees and exhibitors. First place, second place and honorable mention awards may be given out in each category and at each school level. A "Best of Show" award will also be selected from all first-place category winners, and the recipient will receive a custom trophy from an accomplished woodworker. 
KCD Software, maker of 3D cabinet and closet design software, returns for the fifth time as the Fresh Wood "Best in Show" award sponsor.
Also presented will be the People's Choice award, for which all AWFS Fair attendees and exhibitors have the opportunity to vote for their favorite Fresh Wood project.
The Fresh Wood competition will be displayed alongside projects in the Turning to the Future competition by the American Association of Woodturners. This special competition showcases turned projects made by students.
For information on these and other events at the show, visit www.AWFSFair.org.
 
Have something to say? Share your thoughts with us in the comments below.