July 9, 2013 | 10:12 am CDT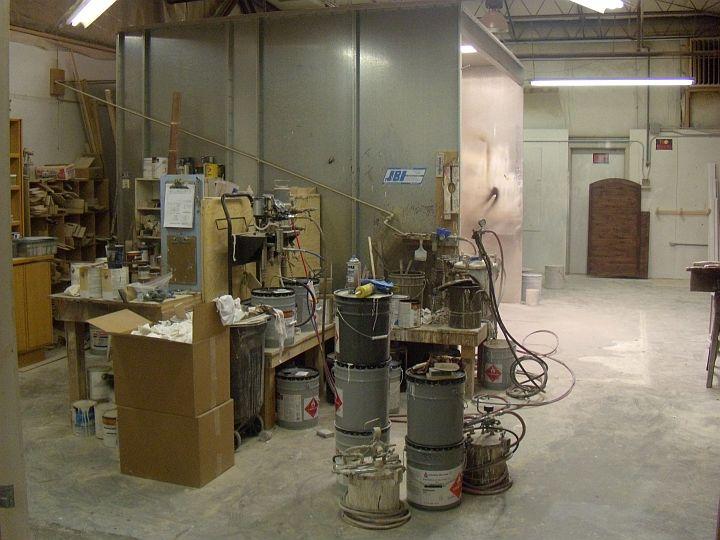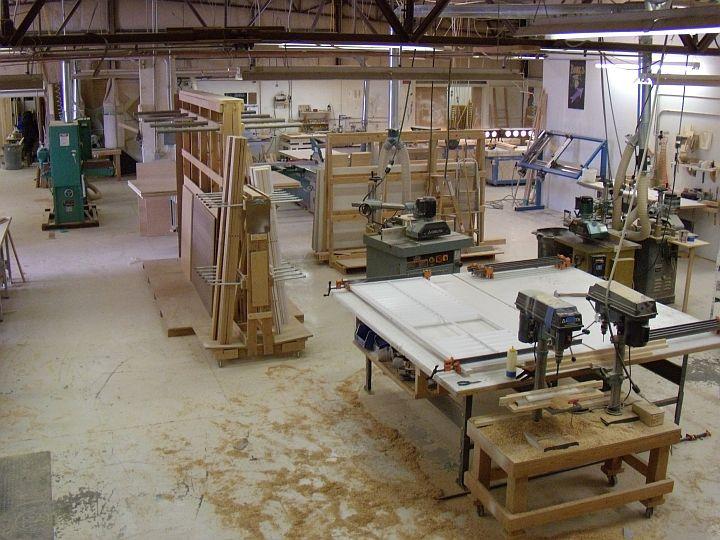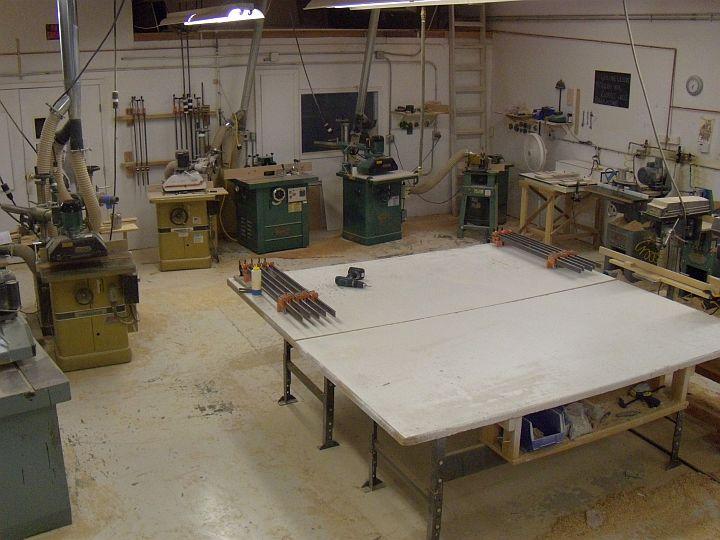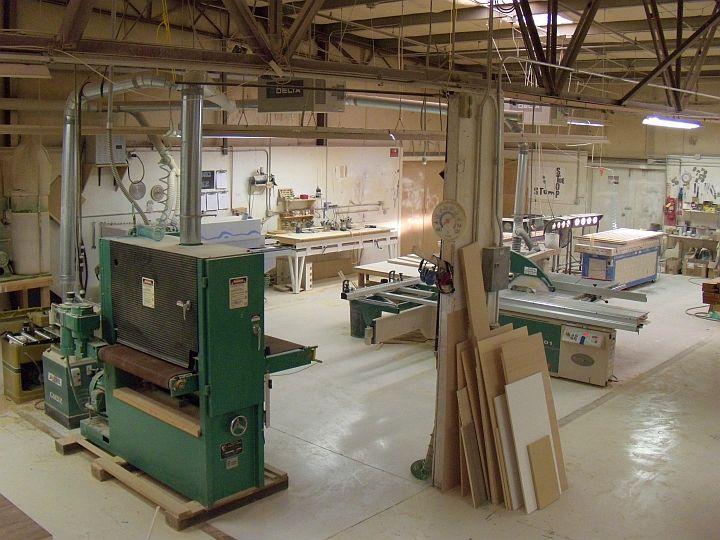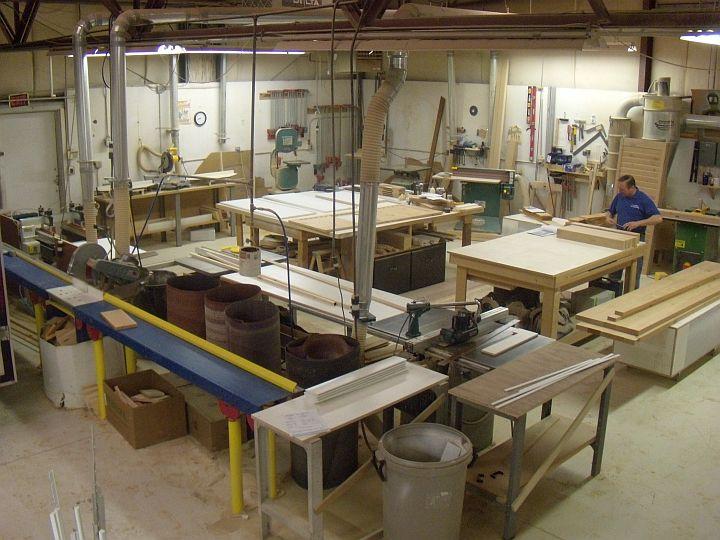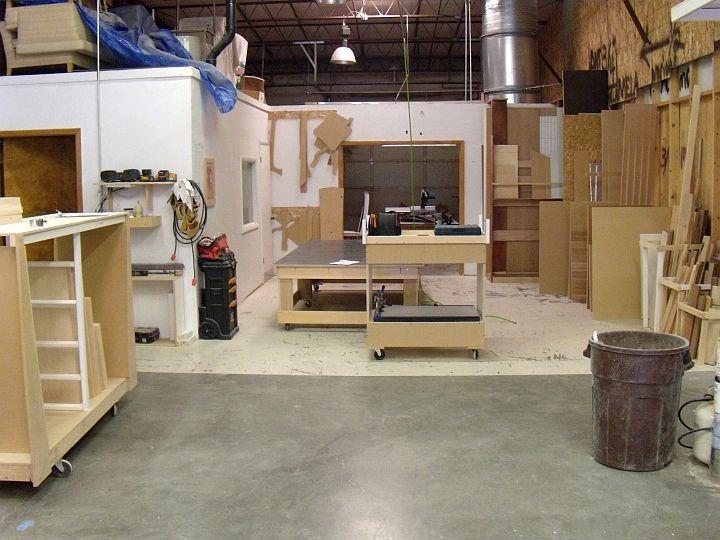 Our wood shop has evolved over the last four years.
Prior to J. Alexander, our shop was geared around the production of custom interior shutters, but as the young company grew, both in sales volume and personnel, so did our need for new machinery and space. It is amazing how creative and inventive one can be when necessity dictates it. Back in 2009 I would not have classified our shop as overly spacious, or suffering from a boundless amount of space, but, with a bit of space planning and re-shuffling of machinery, we have been able to fully integrate J. Alexander's machinery acquisitions and production needs with no major changes to Shutter Crafts' original production layout.
Four years has brought about dozens of changes to the main production area. The specialized shutter production equipment and inventory racks, are still the same, but gone is the half wall that previously held the Safety Speed Cut panel saw. In its place is a Grizzly sliding table saw, which is not only used to cut sheet goods, but also to size shutters to their final height. The storage and staging racks have been shifted to accept the placement of the Delta shaper, and now do double duty by holding all our sheet goods, as well as shutter louvers and assembled shutters. A JLT door clamp has also been added in the corner, next to the sanding area.
The machinery seen in slideshow is all located to the right. Along the back wall, we have three shapers used in J. Alexander's cabinet door production. Along the right side, there are two horizontal boring machines, a router table, and a shaper used for machining shutter components, and tucked along the front left corner is the aforementioned Delta shaper, used for machining raised panels, and behind that, is a triple cluster of shapers, one used by J. Alexander, and two used by Shutter Crafts.
If I was to point out one area that has changed the most from 2009 to the present, it may be the milling area. Back in 2009 it was pretty spacious and sparse, holding the table saw, jointer, planer, and stroke sander.
Today, it has been wholly transformed to serve the needs of J. Alexander, and yet it simultaneously serves the needs of Shutter Crafts even better than before. Of the machines I have purchased recently, all of the large ones have taken up residence in this area. The Timesaver widebelt, planer, and jointer sit where a small assembly table and the jointer use to be, the new edgebander pushed the old stroke sander out and the half wall was removed, the planer was re-positioned, and the sliding table saw was introduced.
Even with introducing all these machines into a previously set-up shop, we were able to make the existing dust collection work, with a few minor tweaks, and the flow of product is as good as can be done, short of gutting the shop and doing a complete re-design. For cabinetry production, the sheet goods enter through the bay door behind this picture, they are unloaded onto one of the two A-frames, which are just outside of the picture to the right, cut on the sliding table saw, edgebanded not 10′ away, and directly outside this picture, is our dado table saw and line boring machine. After that, we take them to the back bay to be assembled and loaded.
In another area of the shop a whole slew of general-use small machines, employed by both companies, are located. As mentioned in the previous entry, the 8′x8′ table in the middle of the workspace is primarily used to layout and fabricate arch top and rake top shutters, but it is sometimes poached as a general assembly table. Along the back walls we have squeezed in a chop saw, band saw, drill press, spindle sander, horizontal sander, dust collector, and a pocket boring machine.
The table in the middle right is the torsion box table I built 5 years ago when I first started J. Alexander, and is the only perfectly flat assembly surface in the shop, so it sees quite a bit of use. Along the left side, the CTD saw, facing away from the work area, is used to rough cut some shutter components and lumber prior to milling. Between that saw and the assembly tables we have a trio of work horses in our shop, the Gannomat Format 42 line boring machine, a Rockwell cabinet table saw, and an old Davis and Wells dedicated dado table saw.
The new an improved back bay has undergone many changes in just the last 3 months alone, but the real transformation began about a year ago. Since J. Alexander had grown so much in the past year, we really needed a dedicated area to assemble and stage cabinetry. Prior to using this area, we were using the torsion box table as the assembly table. But at 37″ tall, it was a difficult and frustrating table to build cabinet boxes on. We also needed to acquire more space to stage the cabinetry before it was loaded for install.
Lucky for us, we had this back bay, close to 2,000 square feet, sitting unused, except as storage space for my fathers 26′ 5th wheel and a catch-all for random junk. We reclaimed the space by sending the 5th wheel to a covered storage unit, and clearing out all the junk, which is still a work-in-progress to this day. We have a huge garage door and room for the company trailer, an 8′ JLT clamp rack, a hinge boring machine on a mobile cart, our veneering bags and veneer pump, extra rolls of veneer, and installation tools.
We have a 5′x10′ assembly table on 6 casters, multiple parts carts that travel throughout the shop, vertical scrap sheet good and scrap lumber storage on the right wall, a bathroom and a storage room in the left corner, and directly outside the picture to the left is a horizontal lumber rack. In the very back is my original "idyllic corner shop" which is now the only junk catch-all area left in the shop. It will also soon be reclaimed as our staging area for completed cabinetry.
The paint room has stayed much the same over time. Once you build a gigantic paint booth and duct it out the roof, you don't move it without good reason. The main change to the paint room has been the introduction an old entertainment center that we removed from a clients home. That now sits along the back wall and holds our airless sprayer, stain samples and stain decks, and painting supplies.
We also re-oriented the work table, giving us a mixing/staging area that is separate from the solvents and spray equipment. An air-assisted airless, which we now use to spray all of our sealer and lacquer, and sometimes tinted lacquers and varnishes, was also added to our collection of pressure pots.
Every area of the shop has undergone some kind of change, thanks to J. Alexander. But none of the changes compare to the change that is on its way sometime in the near future, the introduction of a CNC machine. Where that will go, or how it will get there, I have no idea.
Have something to say? Share your thoughts with us in the comments below.