Building a geometric chess set for YouTube's top chess channel
October 13, 2020 | 12:14 pm CDT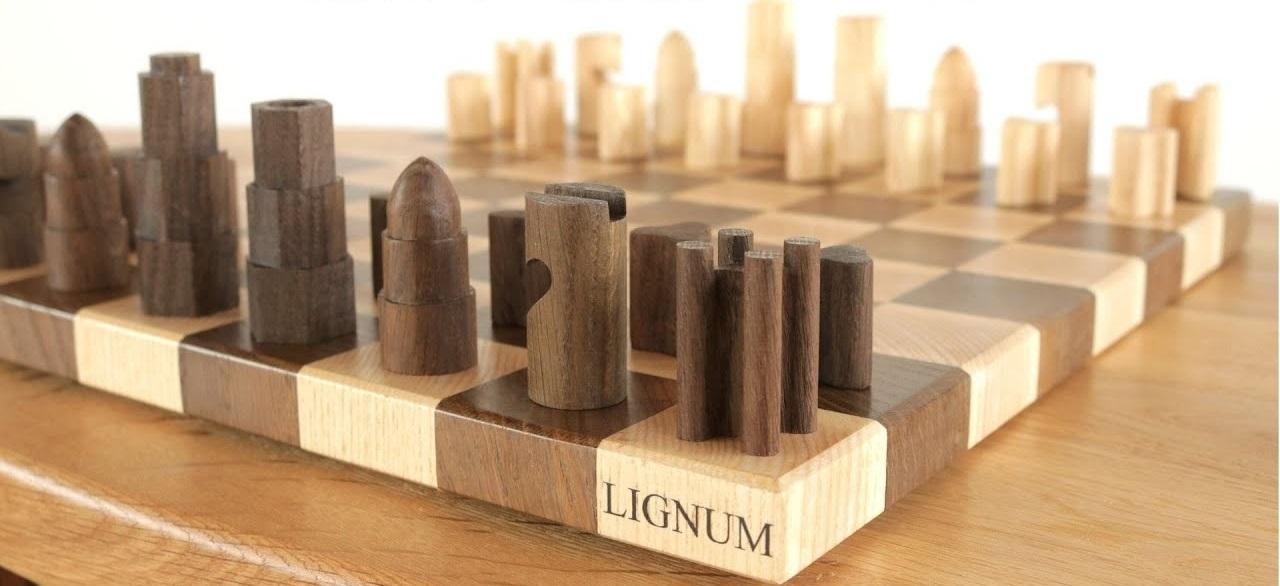 In the video above, Croatian woodworker and YouTuber Lignum masterfully builds a chess set using an industrial Kuka CNC robot. Lignum built the set for fellow Croatian YouTuber Agadmator, who runs the most popular chess channel on YouTube.
"While I was working on the latest summer guitar project, a part of a build I used seemed like a perfect technique for building a chess set," Lignum says. "I contacted agadmator who lives an hour away from me, if he would like me to make him one, and he said yes! Now how cool is that!
"The wood I used for the black pieces and fields is a bog oak I left to dry a few years back.. I didn't know what I would use it for and now it turned out as a perfect choice. As a contrast, white fields and pieces are made from white ash. As a glue I used two component epoxy resin. A simplistic geometric models for the pieces are made in rhinoceros.
"The milling tools I used were a large 80mm flat end for planing and milling at 200hertz, 8mm flat end bit for milling chess pieces at 380 hertz and 12mm ball end bit for the curved bishops headsat 300 hertz. When all the pieces were milled, I cut them to the right length and fine sanded them. in the end, I applied a layer of teak tree oil to get a satin finish and to bring out the color of the board and the pieces."
Lignum has more than 237,000 subscribers and 21 million views on his YouTube channel, where he builds bass guitars, dining tables, coffee tables, and more. 
"I have bachelors degree in civil engineering and wood is my specialty," he says. "In my production I use many kinds of hand tools, power tools and other woodworking and metalworking machines. Two KUKA industrial robots help me get my ideas from paper to reality."
Have something to say? Share your thoughts with us in the comments below.