Plants open doors for WCMA tours
October 31, 2023 | 3:32 pm CDT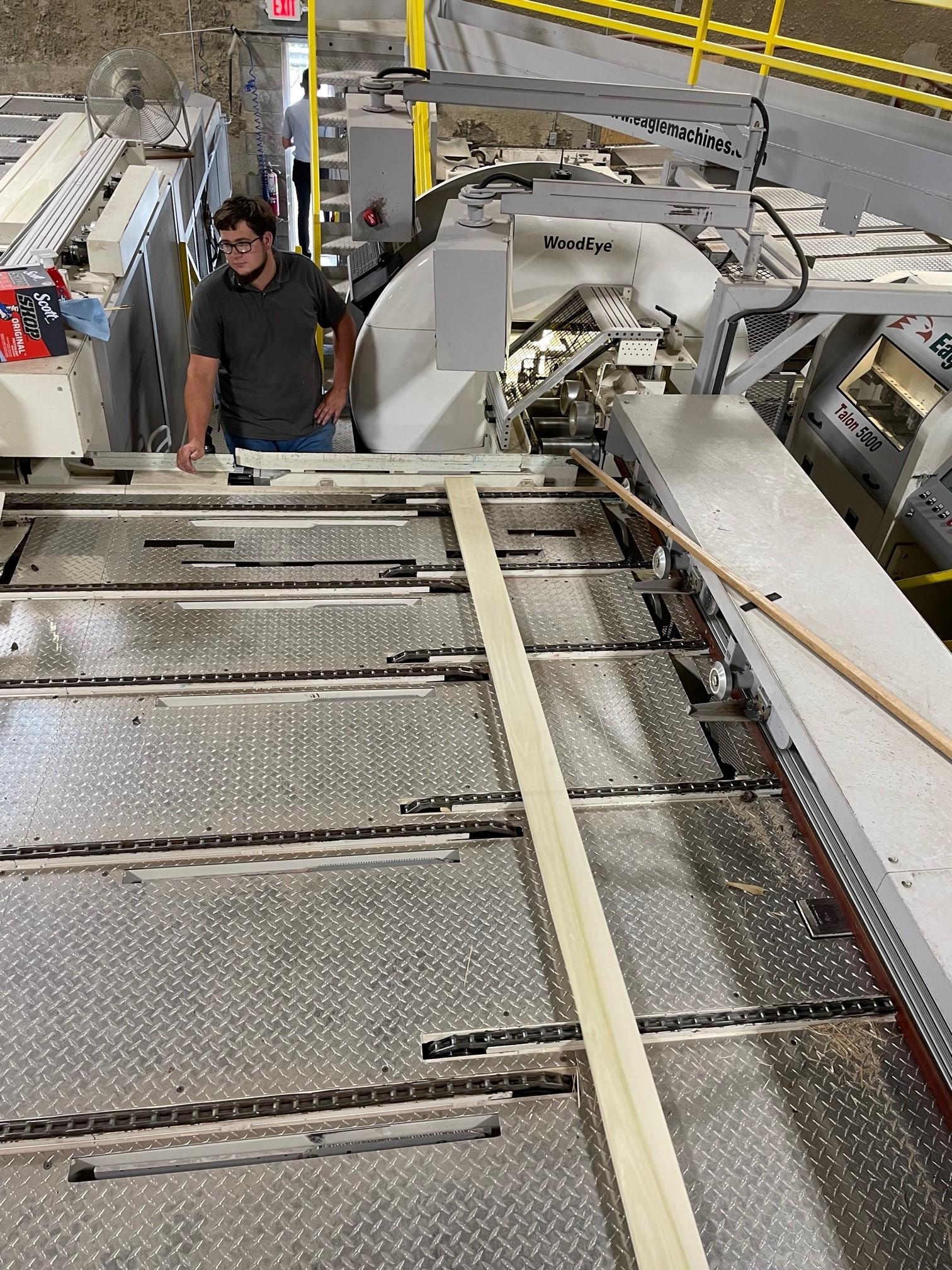 Regional events put on by the Wood Component Manufacturers Association always have plant tours as a big draw, and the association's September event in Ohio attracted good attendance with visits to 10 different plants.

The meeting was a joint event with participation also from members of the Wood Machinery Manufacturers of America. Companies on the tour showed off a wide variety of wood products manufacturing, lumber processing, and machinery technology. Here's a look at each of the companies visited.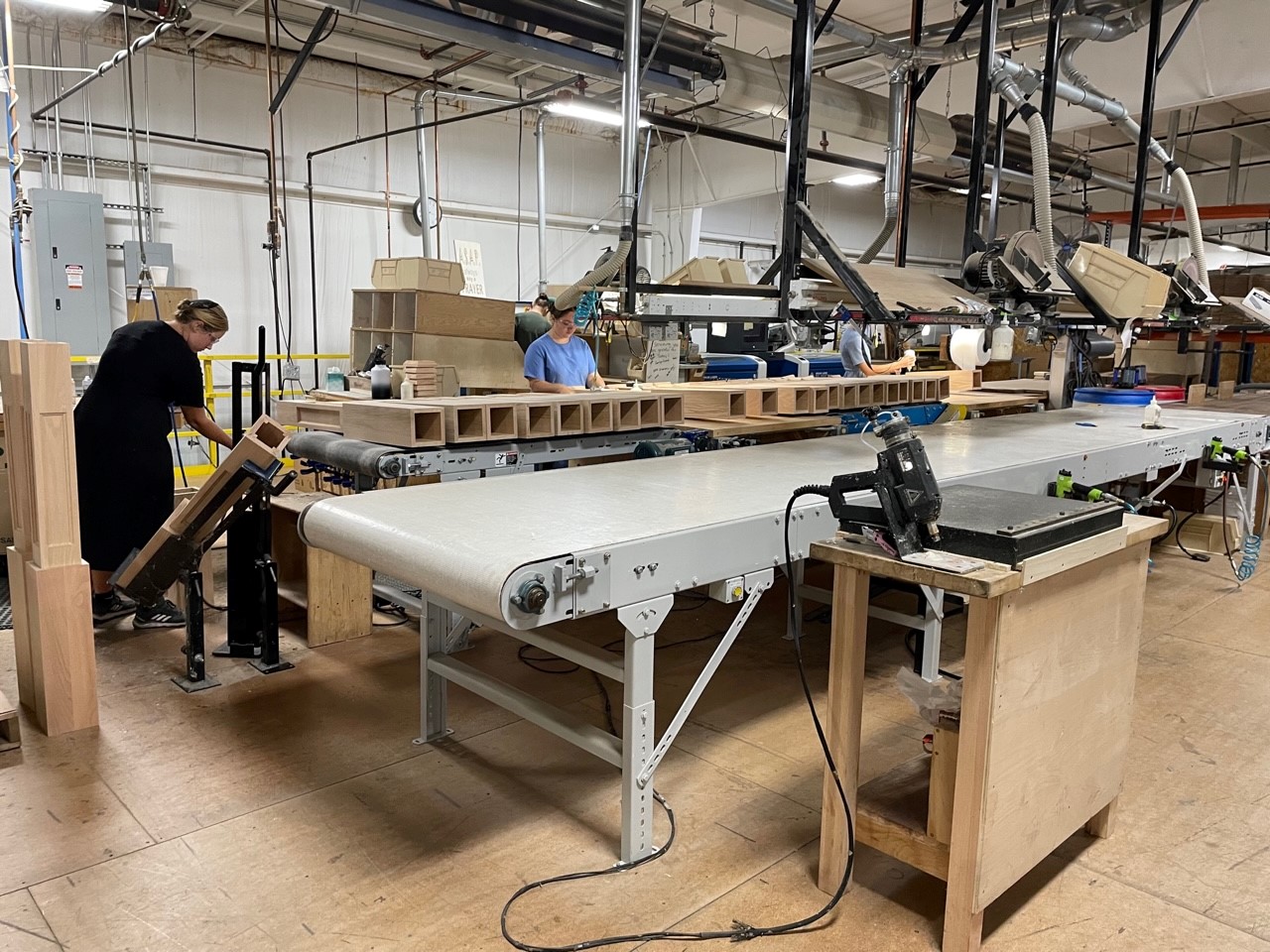 Walnut Creek Planing, Millersburg, Ohio
Emphasizing high quality hardwood components, Walnut Creek Planing employs about 150 people in a 125,000-square-foot manufacturing facility and a separate 10-acre air drying and kiln drying operation. Red oak is 70 percent of what the company works with. Among the components manufactured are some 1,200 newel posts a week. At one station, workers assembled four-sided newel posts with glue and pin nailers, sliding them immediately into boxes for shipment.

In another part of the plant, a section was devoted to making up to 1,600 paint brush handles an hour from beech and sycamore. An automated carousel routing system makes fast work of the process. Other products included door stiles and finger jointing, keeping eight moulders busy.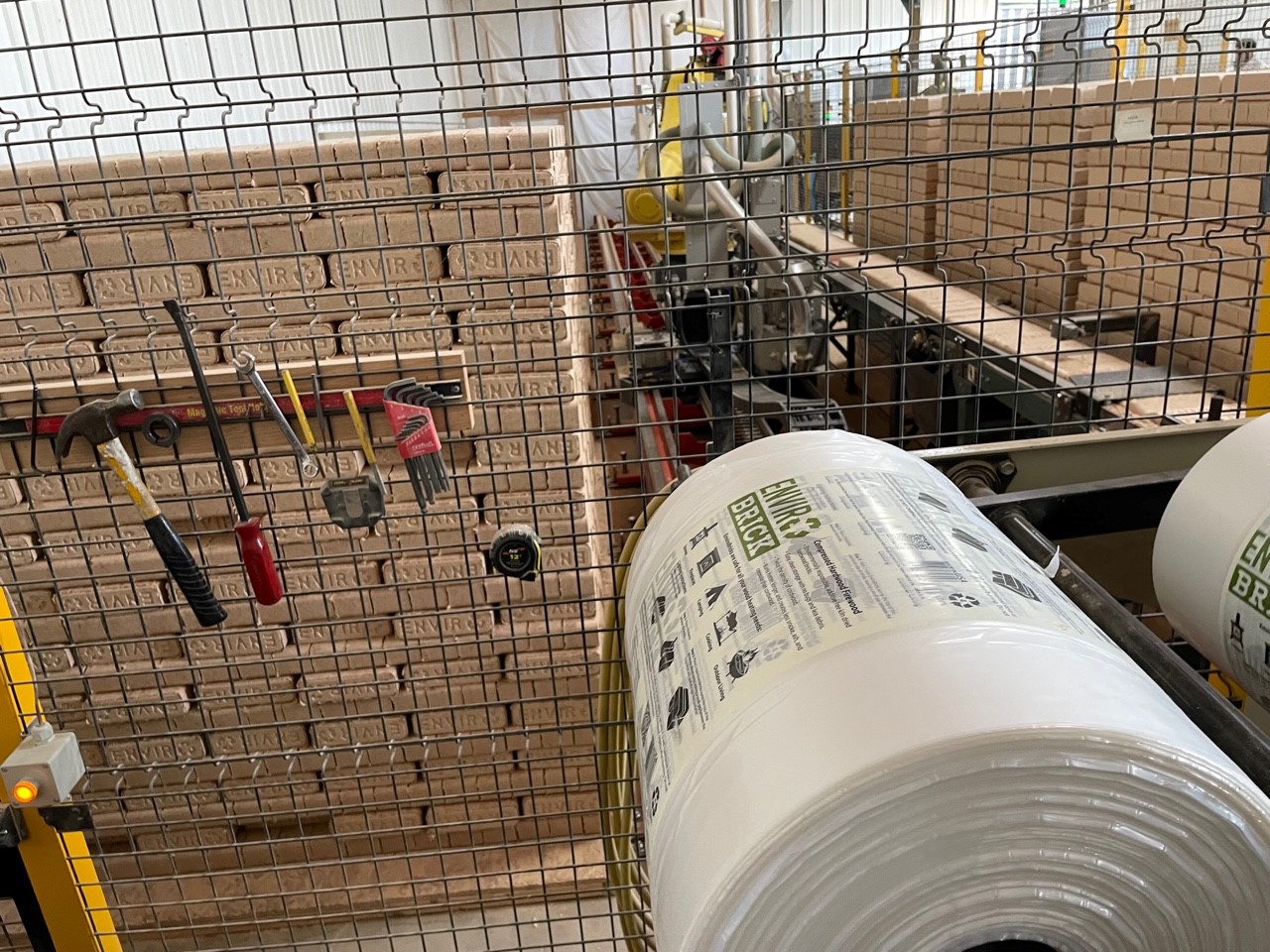 Waste products are transported to a facility manufacturing Enviro-branded bricks to be burned as fuel in wood stoves. The machine makes a brick every two to three seconds, and robots stack and wrap the bricks for transport.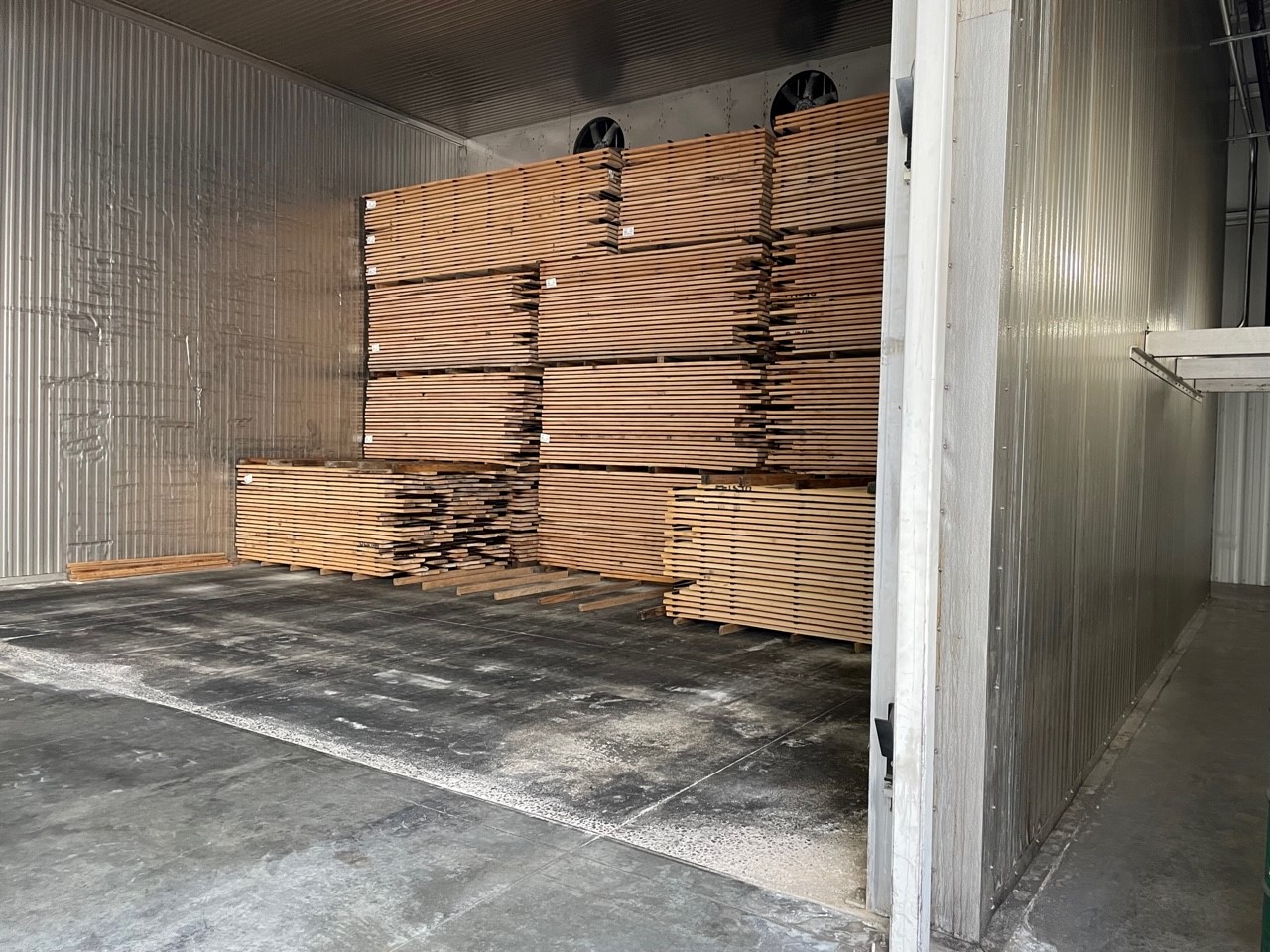 Integrity Lumber, Dundee, Ohio
Integrity Lumber uses sawdust to power its kiln drying and lumber processing operation, using both kiln and air drying processes to dry a wide variety of species of lumber. Different schedules and recipes are used for each species, but the goal is typically to dry to 6 to 8 percent MC. Curtains are used in the air drying yard to control the pace of drying outside. Manufacturing featured a sticker recovery line and automatic banding.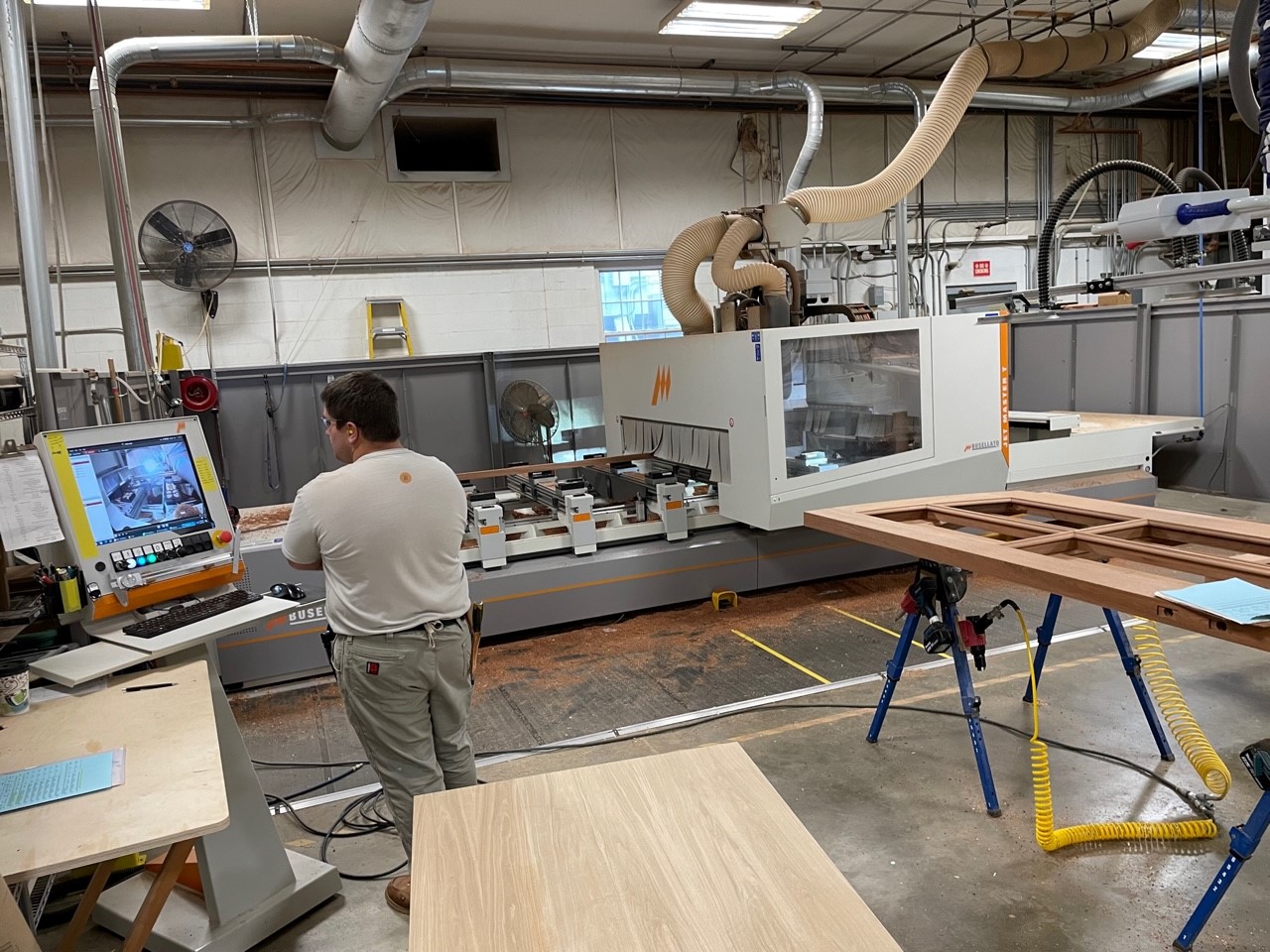 Rockwood Door, Millersburg, Ohio
Rockwood works with builders, architects and designers to craft fine architectural doors and millwork. They do laminated radius work, and despite the custom nature of the work, the company is working toward lean one-piece flow. One of the biggest challenges is getting information from the clients to the shop floor, according to Craig Friesen, project manager. A Busellato 5-axis CNC router has increased the speed of production. They have a digital template table and use 3D laser dimensioning. Reflecting their lean initiatives, a marking board in one part of the plant urges people to make suggestions under the heading of "What bugs you?"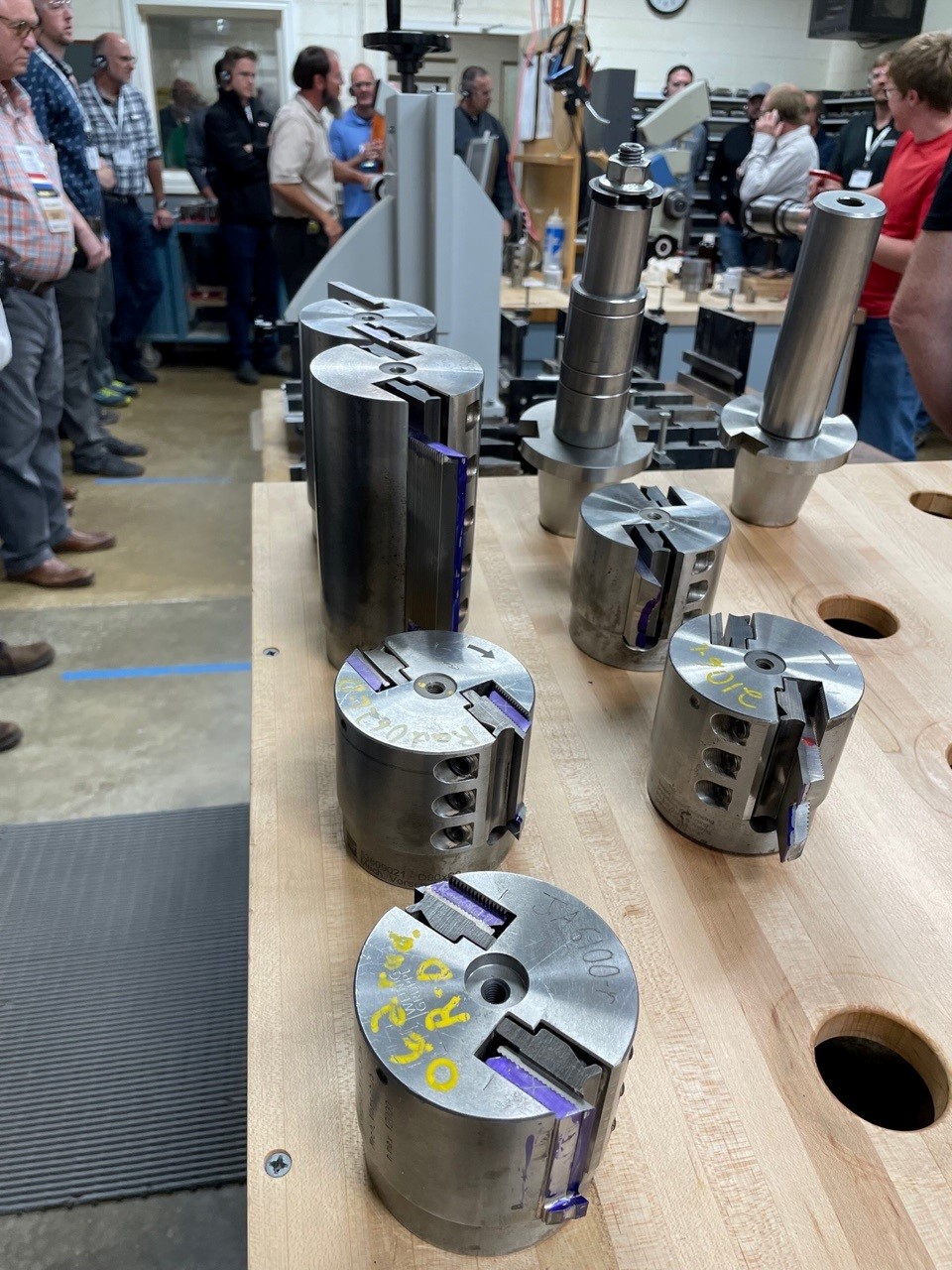 Hiland Wood Products, Millersburg, Ohio
Manufacturing solid wood moulding, cabinet doors, dimensional millwork and drawer boxes, Hiland Wood Products sells mostly unfinished product to cabinet and furniture shops, commercial and residential builders, lumber yards, commercial product manufacturers, and individuals. In their rough mill operation, there was an OSI planer from Eagle Machinery (another company on the tour). They maintain 650-750,000 BF of lumber in their storage area to feed the plant with 75 percent of the lumber bought green. They use a Weinig scanning system for defecting.

"We get good at doing small orders fast," said Debert Shetler, who handles marketing. They laminate material for handrails, make panels for doors with 60 percent of the doors painted. For stained or unpainted doors, wood is hand-selected.

A Weinig Powermat 3000 groove-bed moulder is a workhorse in their moulding department. The company maintains more than 4,000 sets of knives in their tool room, making two sets of new knives a day. Some 70-80 percent of the knives are high speed steel, but they also do carbide and diamond knives. Production averages about 2,300 doors a week with 40 employees. 

The company also produces the Shrocks line of cabinets that feature no fasteners using tongue and groove, mortise and tenon, and dado joinery.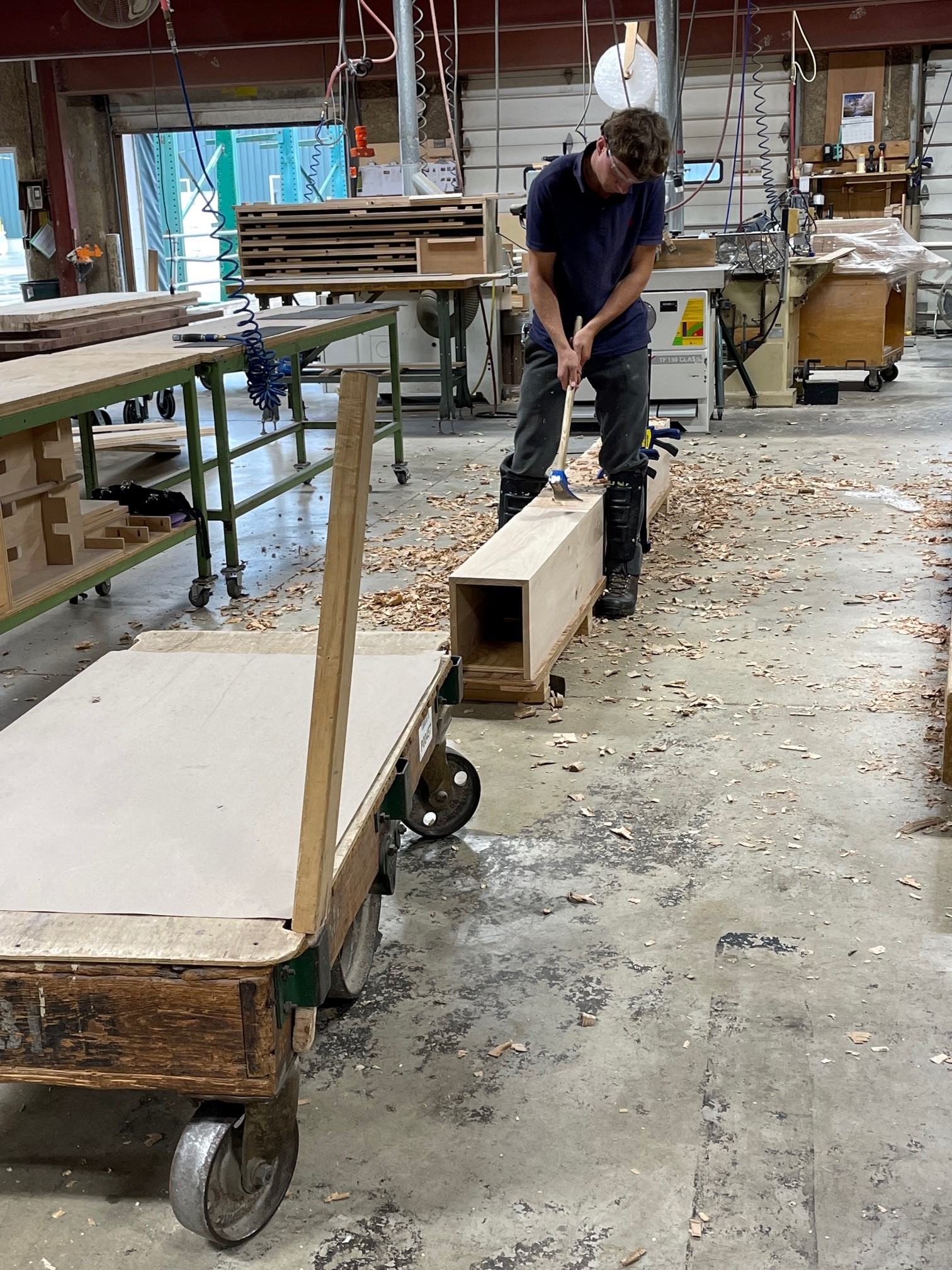 Keim Lumber, Charm, Ohio
One of the most unusual facilities on the tour was Keim Lumber, a fourth-generation family operation founded in 1911. Today, the company has nearly 600 employees on site and is looking to expand. The company's customers cover a wide range, including builders, cabinet shops, trades, homeowners, hobbyist and professional custom woodworkers. The 50-acre facility includes a full lumber processing facility, custom millwork plant, home center retail outlet, and a well-stocked boutique woodworking store called The Woodshed, featuring more than 200 species of wood. 

Products include custom interior doors, fireplace mantles, stairs, and custom floors to fit any desired style. Wood supplies offered included a huge selection of live-edge slabs, exotic hardwoods, and even glued-up live-edge boards to achieve the live-edge look on wider boards. In the plant, one worker, protected by shin guards, was swinging an adze to give a hand-hewn look to a beam built up from ¾-inch board stock.

The retail center itself showcases fine millwork with a massive cherry wood curving staircase climbing to the second level. Emphasizing fast service from the order desk to pick up, Keim Lumber processes on average 275 pickup orders each day.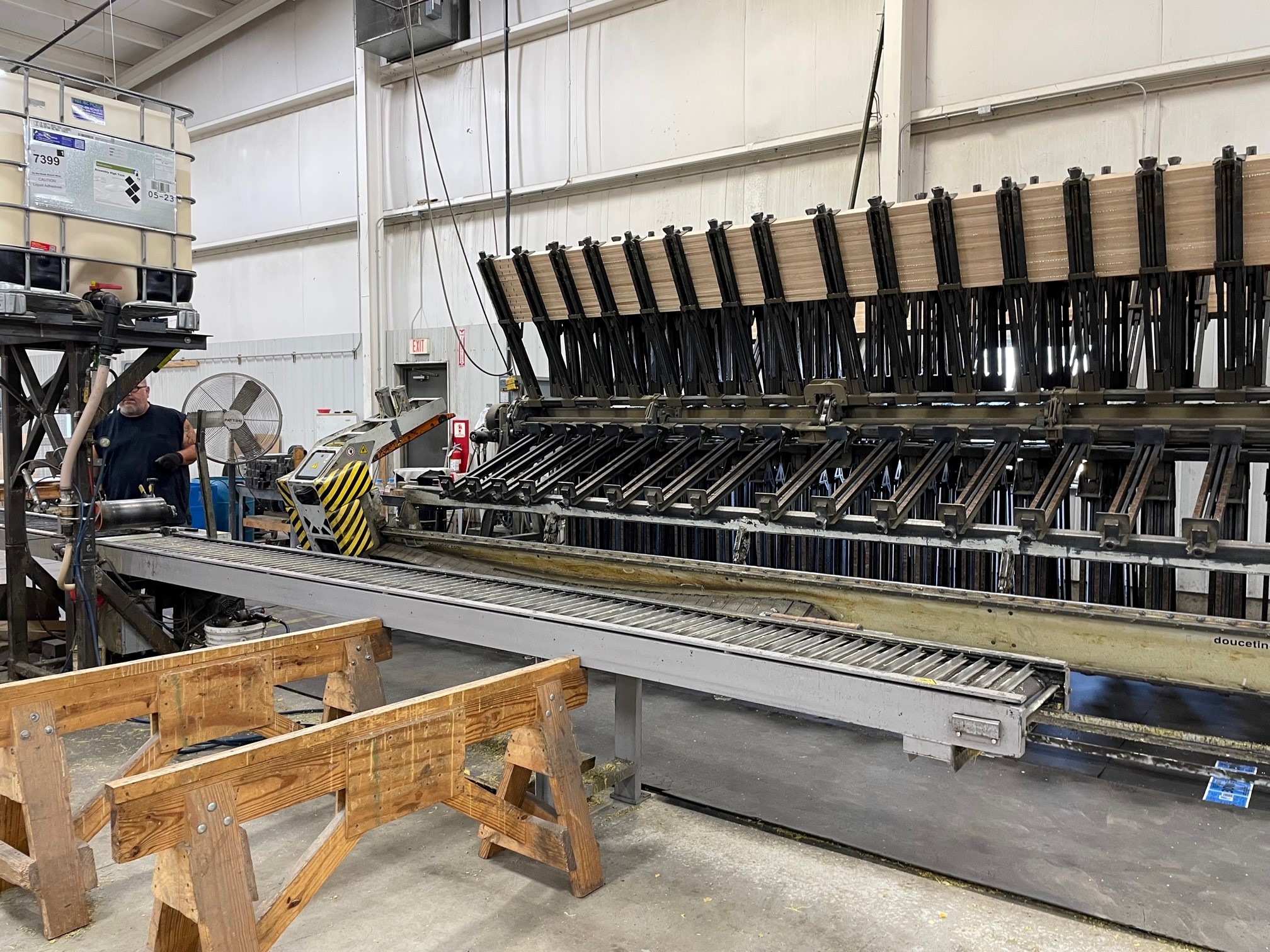 Yoder Lumber, Millersburg, Ohio
For three generations, Yoder Lumber has stocked and produced fine Appalachian hardwoods and select imports, producing more than 12.4 million board feet of green and kiln-dried lumber each year. A WoodEye scanner feeds a massive finger jointing operation. A custom JLT clamping system can handle lengths up to 16 feet. Other equipment includes a Schmaltz vacuum lift and a Holz-Her vertical panel saw.

The company's specialty is offering high-quality production of hardwood components, moulding and millwork, as well as architectural hardwood components. They position themselves as the leading manufacturer of custom dimensional hardwood components in large quantities.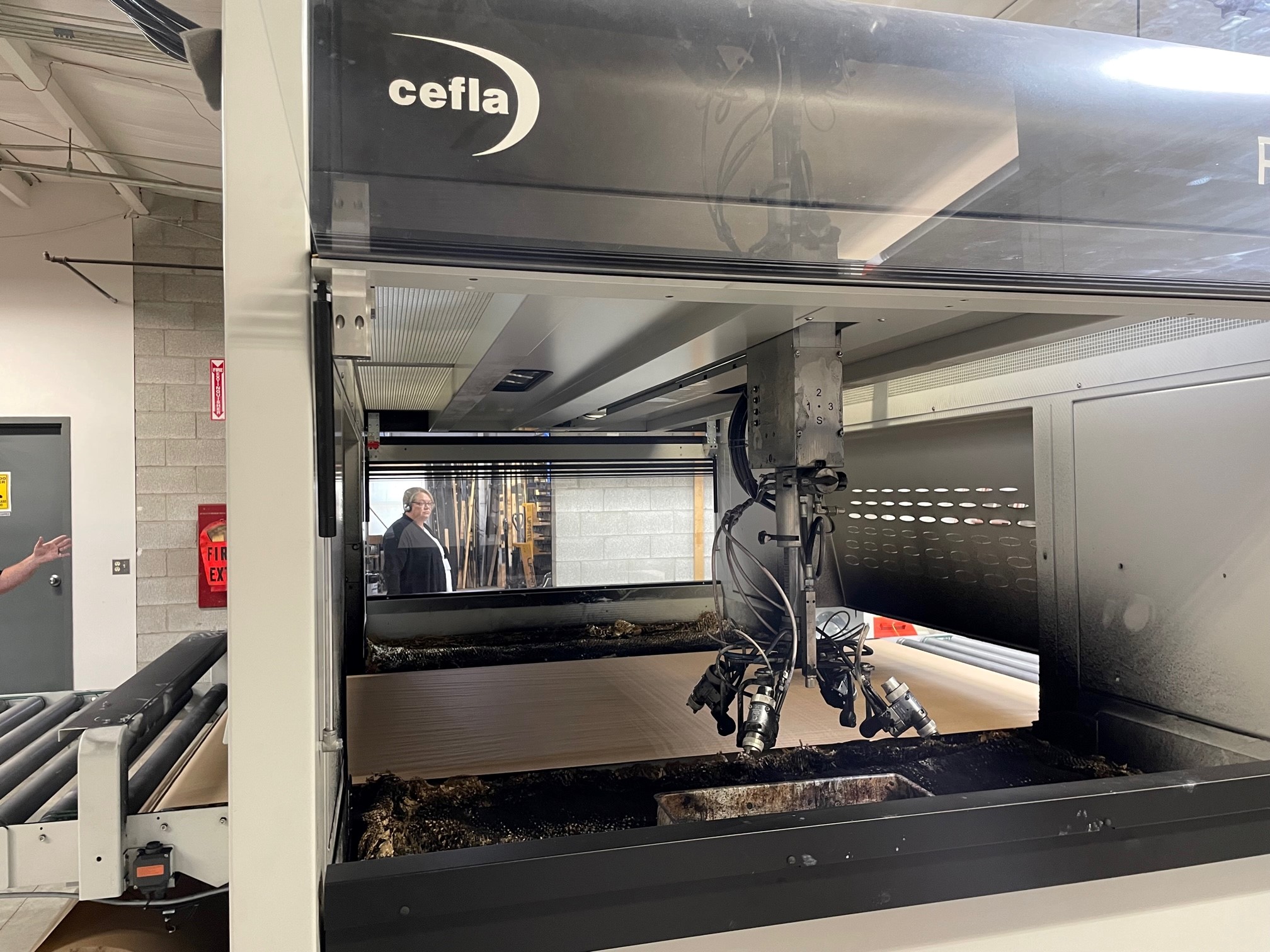 Gerber Wood Products, Kidron, Ohio
Now in its 122nd year of operation, Gerber Wood products dates back three generations when Elias Gerber started a sawmill in 1901. That operation grew to a steam-engine powered line shaft to drive production machines. Today, the 50,000 square-foot facility employs about 30 people.

In production, a Cameron rip saw with laser feeds a Lederman moulder. The company is still manually marking and cutting defects, Brian Koontz, the company's continuous improvement manager, says he's working to increase automation. The company uses the Vorne production monitoring system that features a scoreboard with 160 different metrics. A Mayer beam saw handles sheet goods, and a Weinig finger jointing system is used for work 8-16 feet long. A Cefla machine automates production in the finishing department.

All together two to three truckloads of products leave Gerber every week.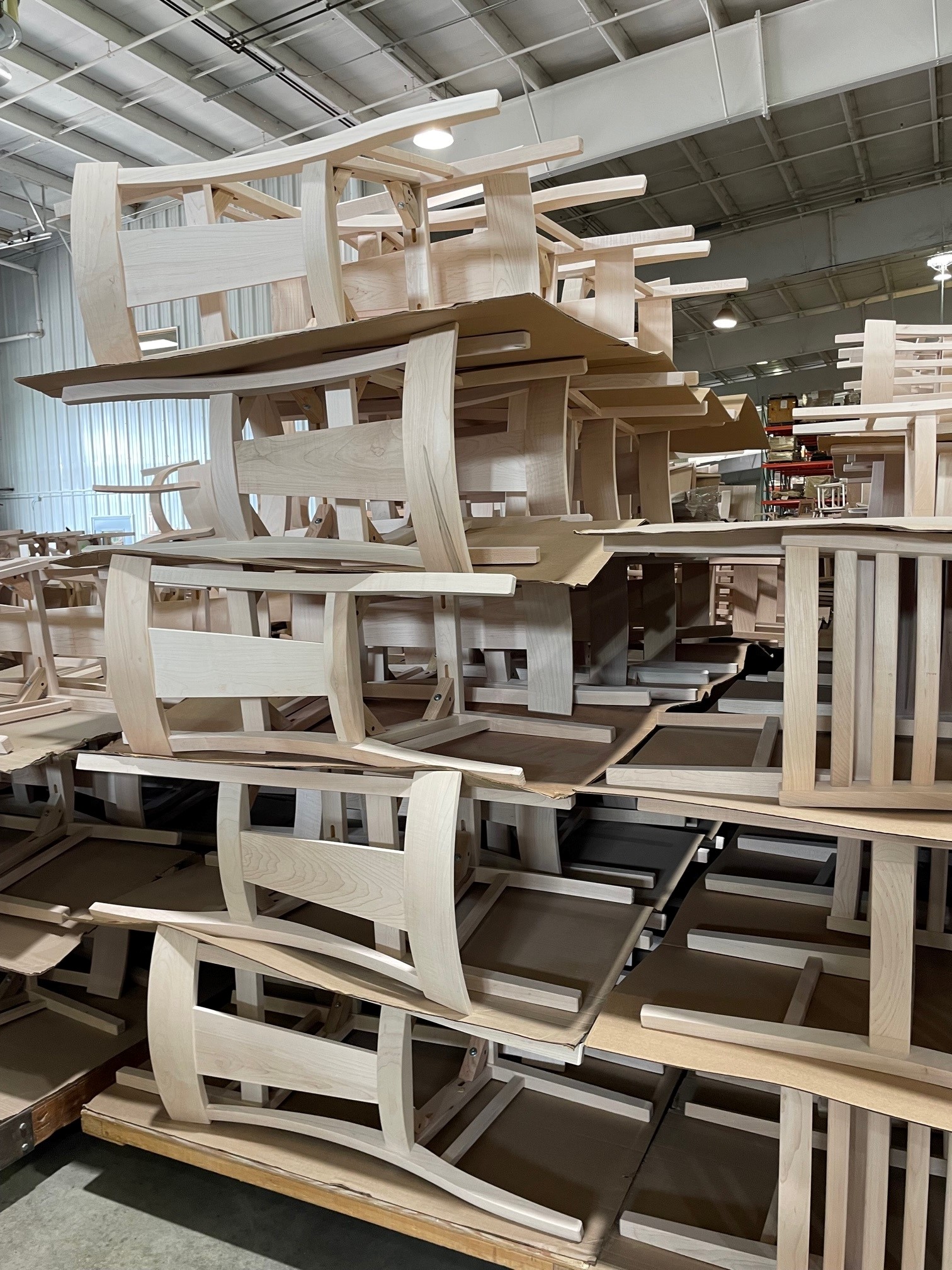 HW Chair, Millersburg, Ohio
A sister company to Hochstetler Wood Ltd., HW Chair dates back to 1973. The company started making agricultural replacement parts but transitioned to chairs in 1984. In 1995, the company launched a forestry division with 2,000 acres producing 10 percent of the wood the company uses. Some 50 to 60 percent of the products produced are seating, including making all the chairs for Cracker Barrel restaurants.

A Northwood CNC cuts table tops. An Intorex CNC lathe tackles turned work. A Bacci Double.Jet CNC cuts parts two at a time. An Onsrud 5-axis router does chair backs. No finishing is done in house.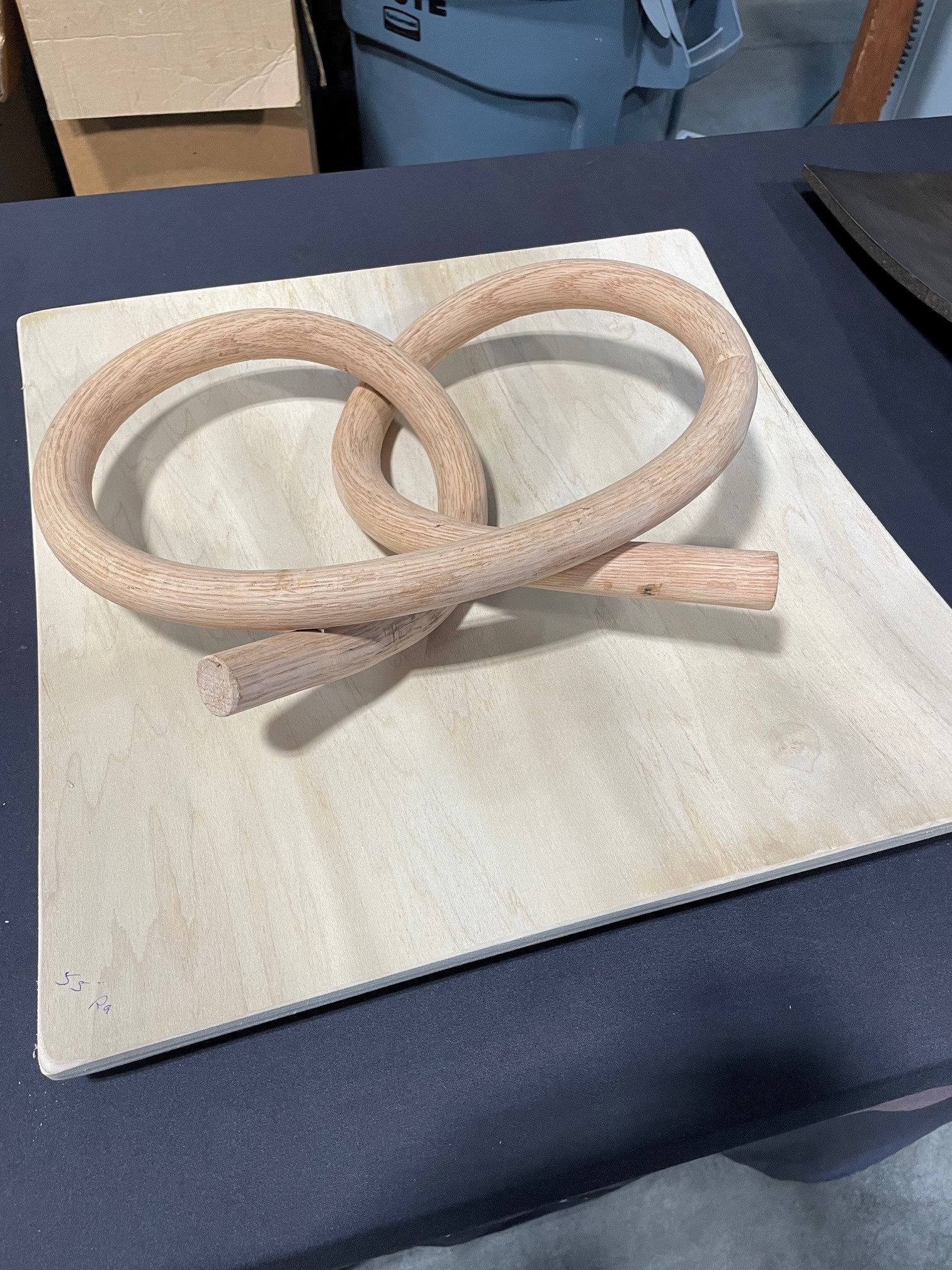 Bent Wood Solutions, Millersburg, Ohio
At Bent Wood Solutions, the company motto is, "If it is straight, we did not do it." Focusing on a wide variety of steam-bent products, the company has 45 employees working in 72,000 square feet. The firm started in 1981 making parts for Amish carriages. In 1985, they started bending chair parts for nearby HW Chair. The company sold the carriage parts business in 2011 to focus entirely on furniture parts. Last year they processed 2 million board feet of lumber.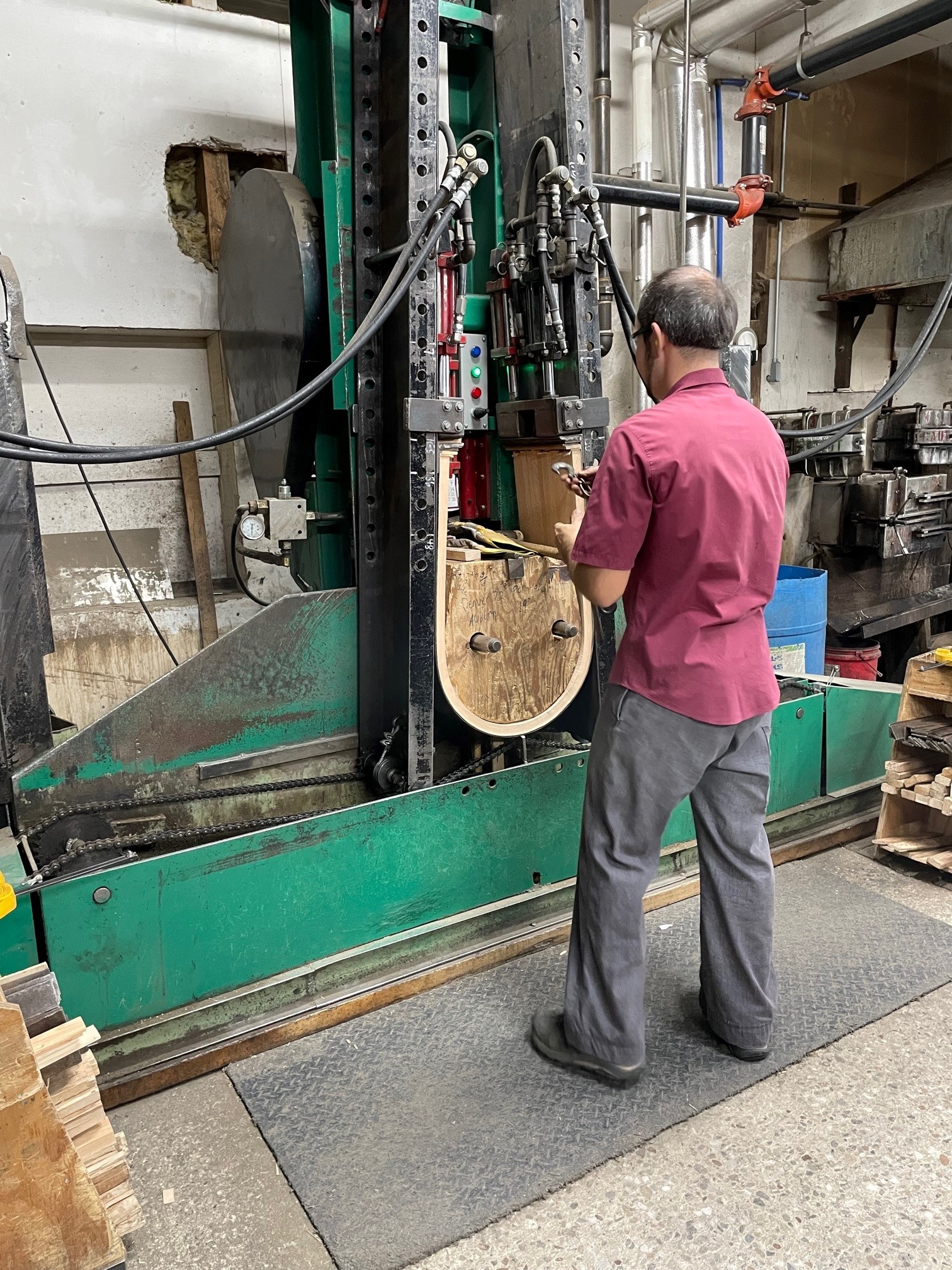 Using a factory full of bending jigs and fixtures mostly developed in house, the company bends a huge array of products from chair skirts to walking canes. A demonstration product shows walking cane-size material bent into a full pretzel shape to showcase their abilities. Most of the bending takes place at about 190 degrees, with hot steam penetrating the wood. They also use radio-frequency presses and a radio frequency wood welder. They take oak at 12-14% MC, bend it, and dry it to 6-8%MC. Watch a video of the chair skirt bending process below.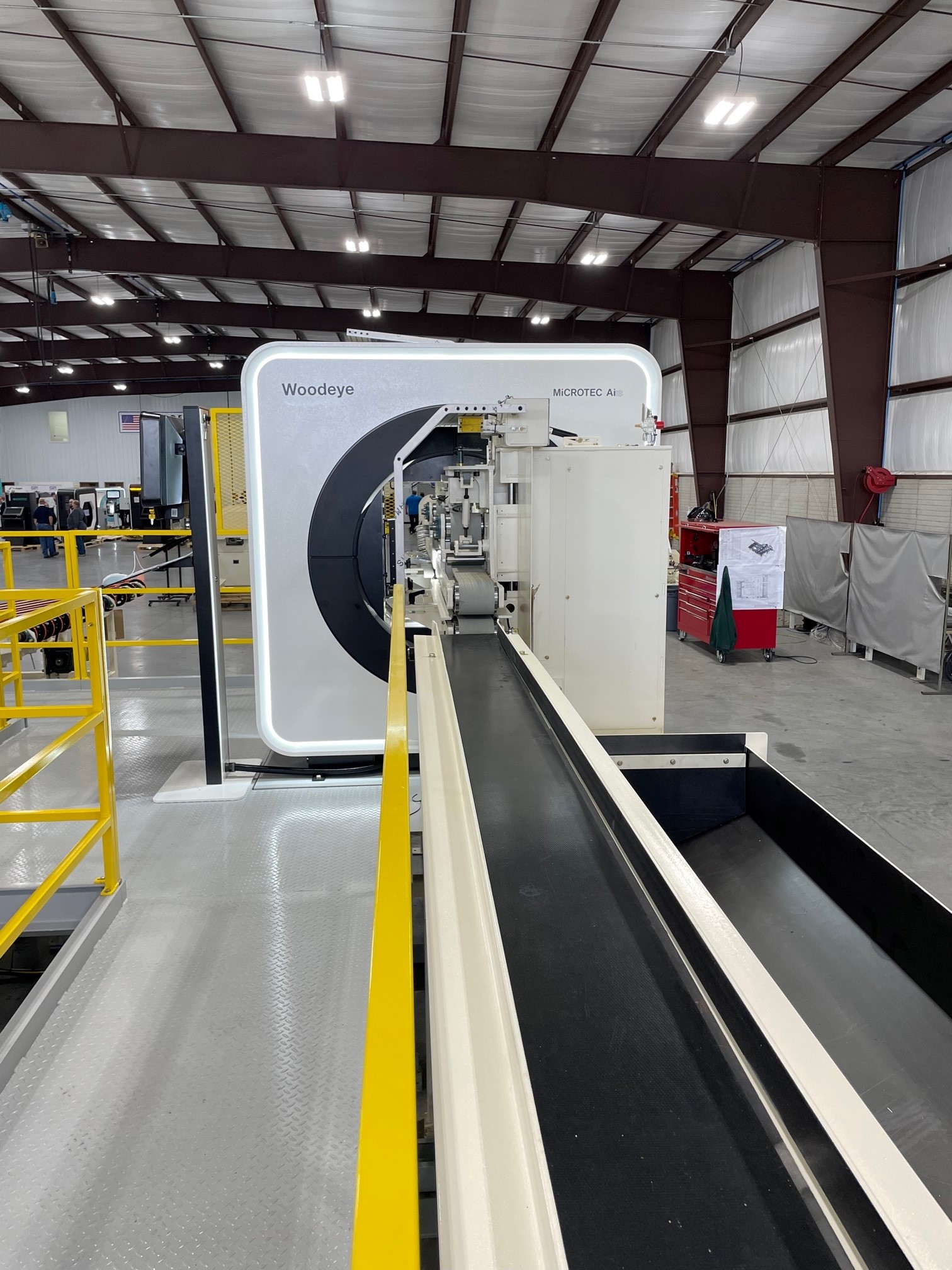 Eagle Machinery& Supply, Sugarcreek, Ohio
A visit to Eagle Machinery capped off the shop tours. The company specializes in custom rough mill machinery installations that typically include scanning, optimization, ripping, and moulding operations, all connected with high-speed material handling systems. The company integrates WoodEye (hardwood) and GoldenEye (softwood) scanning systems.

Not only does the company do all the metalwork fabrication and finishing on their machines in house, but they also will assemble and test the full installation in their huge setup building. The assembly and all of the related machines are tested in place and the new owner's team trained at the Eagle facility before the whole thing is dismantled and then assembled at the client company's facility. The installation for the AHF, Beverly, West Virginia, factory was being completed when the WCMA toured Eagle Machinery.
Have something to say? Share your thoughts with us in the comments below.