Poplar powers Powell Valley Millwork
June 4, 2019 | 10:18 am CDT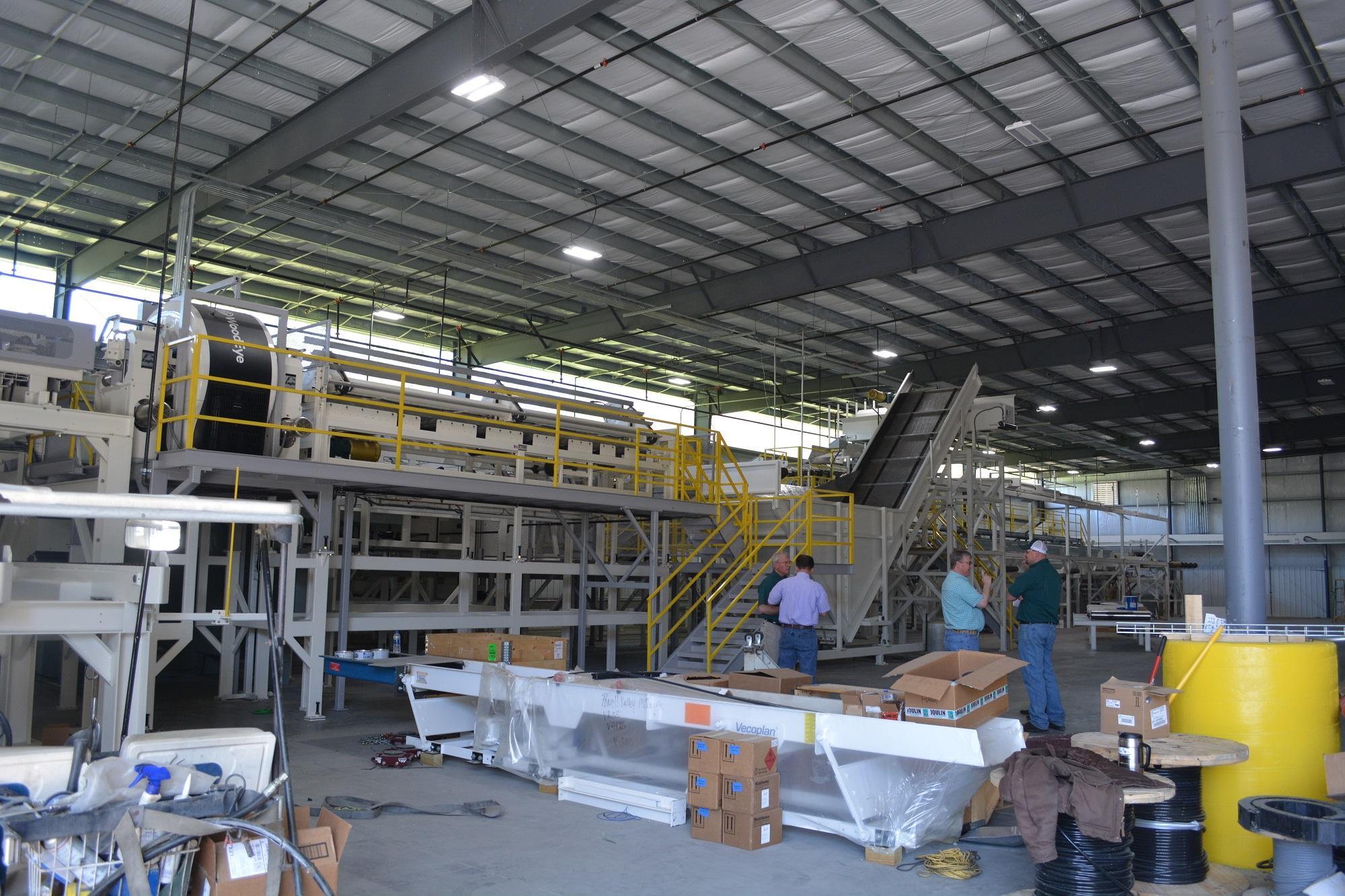 Powell Valley Millwork in Clay City, Kentucky, is not your typical millwork company. In the first place, it is dedicated to working with only one species of wood: poplar. While it's a family business with the third generation now in key management, it also has important stakeholders in active management who are not related to the family. Located in a rural area, it is no backwater when it comes to technology, currently putting in a state-of-the-art scanning rough mill.
For some, those might seem like contradictions, but for Powell Valley, they are simply part of a successful management recipe that is no different from all the varying factors that go into making the fine bourbon, horses and cattle for which Kentucky is also known. And their first ingredient is poplar.
Poplar paint-grade mouldings like these crown mouldings are a key product of Powell Valley Millwork.
'Think Poplar'
It's especially appropriate that the company's motto is "Think Poplar. Think Powell Valley." Poplar is the only species the company works with, drawing supply from well-managed forests and responsible sawmills within a roughly 200-mile radius of Powell's strategic location in the Appalachian forest region.
Poplar (Liriodendron tulipifera) has long been sought out for its clear grain, smooth milling and paint-taking qualities. "It's called the painter's wood," said Jimmy Thornberry, the second of three generations of the Thornberry family at the helm of the company. So, naturally, one of Powell Valley Millwork's key products is primed finger-joint interior trim in a wide variety of profiles, which fits well into trends for more paint rather than stain in cabinetry and millwork. But Powell Valley also sells picture frame mouldings and stretcher bars, plantation shutter components, door and window jambs, stair parts, solid and primed finger-joint S4S boards, cabinetry components, finger-joint moulder blanks, and kiln-dried FAS poplar lumber.
Still, being focused on a single species also raises some concerns. "Lumber pricing and availability remains the most significant challenge over the last 12-18 months," said Michael Thornberry, representing the next generation of the family. "We continue to see the price of lumber increase. In response to pricing and availability issues, we have been forced to increase our suppliers from more distant locations, which only adds to the cost due to freight."  
International trade issues are also affecting local supplies of lumber. "We are concerned about the irresponsible practice of hardwood log exportation and have been vocal with our elected officials to halt this short-sighted practice," Michael Thornberry added. "We believe the problem is twofold: the reduction of domestic production and supply in the near-term while simultaneously endangering our abundant forestland for future generations."
Another advantage of poplar is that it can safely be used as animal bedding. That means nothing goes to waste at Powell Valley Millwork. Offcuts that aren't used for fuel to power the company's wood drying kilns are turned into shavings that are bagged and shipped out by the truck load to be sold in a wide variety of retail outlets.
Center of the new Eagle Machinery scanning crosscut line is a WoodEye scanner developed in Sweden that scans lumber and creates cutting solutions to feed three saws on the line.
Eagle Machinery-WoodEye scanning rough mill
Powell Valley's focus on selling poplar products in truck-load quantities puts a heavy emphasis on rough mill operations for maximum efficient use of resources and top-level productivity. That's why the most recent addition to the plant is a sophisticated scanning rough mill line from Eagle Machinery & Supply Inc. that will be able to process 65,000 board feet of lumber in a single 8-hour shift with only six people required to operate it.
At the center of the system is a WoodEye scanner developed in Sweden that scans incoming lumber and develops cutting solutions to feed three saws, each with its own ink jet printer. "This will triple the capacity of our existing line and help yield significantly," said Brian Lambert, general manager and one of five principals who own the company.
Powell built a 26,500-square-foot addition to house the new line, as well as an additional lumber concentration yard. The line itself is constructed in a unique two-level design that further maximizes efficiency in the space, allowing for return of single strips in the same space and flowing material down to saws. Despite the complexity involved in the installation, Lambert lauded Eagle Machinery and how the whole installation process was handled. "No line was put together as smoothly as this," he said.
"We accomplished this expansion without disrupting production and still maintained our customer commitments," Lambert added. 
Installing the new rough mill line was a team effort between Powell Valley Millwork and Eagle Machinery. Pictured from left, Powell Valley's Dale Budke, Brian Lambert, Jim Thornberry, Jimmy Thornberry, and Eagle Machinery's Kirk Spillman, Todd Spillman, and Jeremy Lycans. Not pictured, Michael Thornberry, Powell Valley Millwork.
Team effort
The entire line was first assembled and tested for full operation at Eagle's plant in Sugarcreek, Ohio, before being shipped in 30 semi-truck loads to Powell in Kentucky. That early setup at Eagle was crucial to training the Powell team before the line was even installed in Kentucky. 
Eagle Machinery even hosted an open house to demonstrate the line while it was running at its facility before taking it apart and shipping it to Powell in Kentucky.
To ensure the accuracy of on-site hookups for mounting, electrical, air, and dust collection, 3D modeling was used, which also helped the folks at Powell better visualize the installation. Lambert said he was amazed at how accurate the positions for drops and hookups were.
In developing the design of the line, Eagle did 17 design iterations in a one-month timeframe, working closely with Powell to get the design right. "It was a unique partnership," said Kirk Spillman, owner of Eagle Machinery. "There was enough experience and understanding of the process to drive the best solution." 
Spillman said the project demonstrates that U.S. machinery manufacturers can successfully compete with Europeans in providing world-class technology to the North American wood processing industry.
Jimmy Thornberry pointed out the importance of the relationship between Powell Valley and Eagle, which is also a family-owned operation. "We found synergy between our company and Eagle," he said. "They have demonstrated the ability to think creatively, develop, and execute on our combined plans for this line."
The installation was enhanced by "owners communicating with owners" in the two companies, he continued.
Lambert noted the process to install a new rough mill line actually began more than two years ago. "We went all over the country to see different lines, get quotes and drawings, but Eagle stood out," he said. "Their mindset and our mindset were the same."
Other factors, said Jimmy Thornberry, included that Eagle offered a solution that was "all under one roof, made in the USA, and just five hours away."
With the additional productivity of the new rough mill line, the company plans to add to these moulders currently in operation.
Boost in productivity
Powell Valley expects the resulting increase in productivity to be impressive. "The [pre-existing] line, you have to wrestle the production out it," said Dale Budke, Powell Valley operations manager and another principal in the company. "This new line is pretty exciting with it all developed at once."
To put the change into numbers, Jimmy Thornberry said the new line takes only six to seven minutes to process a 1,200-board-feet unit of lumber. It takes three times that on the existing line, he said. Once the new line is fully operational, he said, they plan to sell the old rough mill line and add additional moulders for more capabilities.
Powell Valley Millwork uses its own management philosophy called SQYPH, which stands for Safety, Quality, Yield, Production, and Housekeeping.
Running a company with SQYPH
On a visit to Powell Valley Millwork in Clay City, Kentucky, you can't escape a likely unfamiliar acronym: SQYPH. It even shows up on T-shirts worn by some employees.
"Over the years, we have developed our own version of manufacturing principles," said Michael Thornberry, one of five principals in the company. "The acronym is SQYPH which stands for Safety, Quality, Yield, Production, and Housekeeping. If those are in order, we are doing our jobs right. We treat every day like a tour day and every day like the last day of the month."
He says the entire company embraces change and enhancement at all times. They developed the SQYPH system over a number of years to expedite improvements. Jimmy Thornberry, president, says the acronym is in order of priority, with safety always first. Once a month, there is a company-wide update meeting with all employees of both shifts. They go over each of the five topics in order and talk about improvements.
Michael Thornberry represents the third generation of the Thornberry family at Powell Valley Millwork.
Family and team
Michael Thornberry says communication is crucial to successful management at Powell Valley. "My father finds himself at home when he is walking the property, talking, asking questions, and teaching our group," he said. "We maintain an open door policy with all employees. From the seasoned managers and supervisors, some who have spent more than 25 years working with us, to the new team member who just joined, there is no question or suggestion too small."
"The five principals of the business are active in the daily operations of the company and devote themselves to continuous improvement, supplying the highest quality products to our customers," added Michael Thornberry. "Our mantra amongst our team and in response to our customers is 'Find a Way to Yes,' and we adhere to that in all actions within the business."
Brian Lambert, left, general manager, with Jimmy Thornberry, president, in front of a stack of poplar mouldings.
Each of the five owners have their strengths and weaknesses, they all agreed. "We are at our best when we cultivate the strengths and share that knowledge with our team," said Michael Thornberry. "Land, buildings, and equipment are integral to the success of any manufacturer. None of those work without the right team. Our group of more than 140 employees is our second family." 
Have something to say? Share your thoughts with us in the comments below.