Heat-shrink tool holding optimizes CNC
January 5, 2023 | 10:48 am CST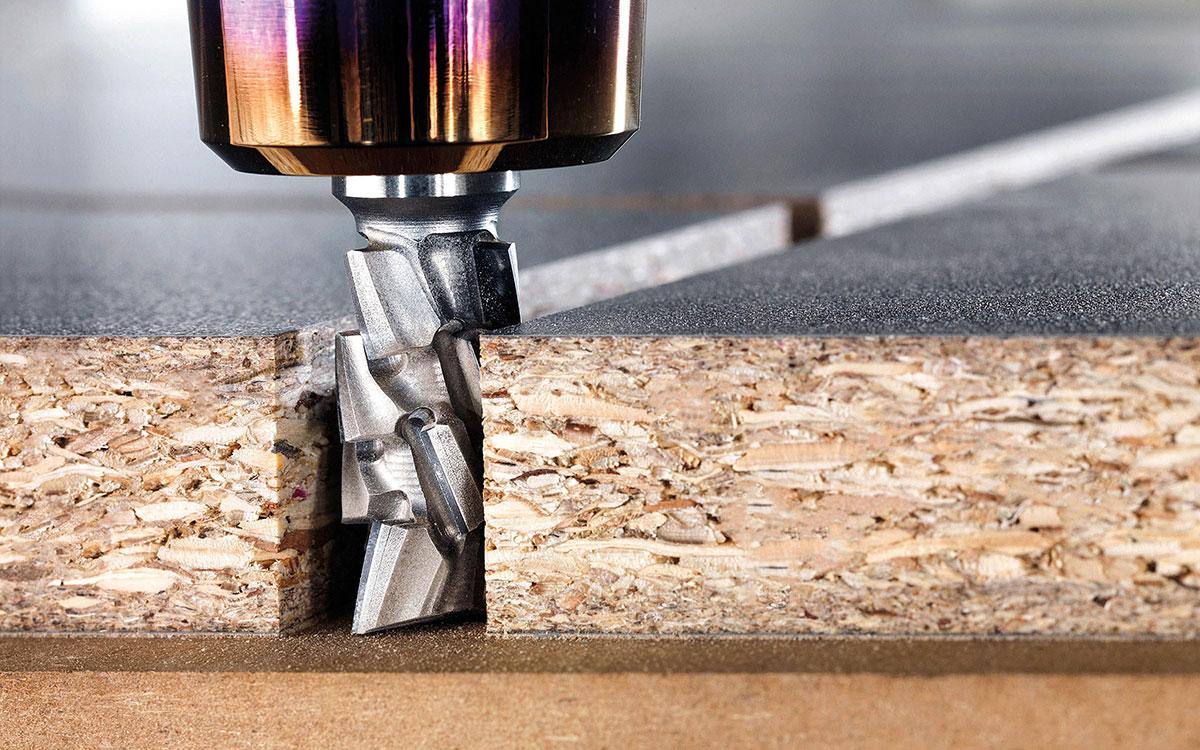 Editor's note: At our Woodworking Network CNC Symposium at IWF last summer, attendees were impressed to learn about a new technology that promises to dramatically reduce tool runout, improve cut quality, and extend tool life, thus reducing costs. We asked Mark Alster to tell us more.
CNC optimization begins with the rigid and precise machine spindle, but machine manufacturers generally equip these machines with low-precision collet chucks and flexible collets, which immediately induces tool deflection and runout. 
Owner/operators then assume their CNC is running at optimal performance, until someone introduces them to a better solution.

By setting their existing routing tools in precision Leitz ThermoGrip chucks, operators will be amazed at the dramatic improvement in same tool performance:
Tools will cut much quieter
Tools will cut much cleaner
Machine feed speed can be increased (to top chip load factors), without loss of finish quality
Feeding the tool faster, and generating larger chip-load, will improve process heat management
Keeping the tools cooler (without build-up, bluing, or blacking) will slow the thermal and mechanical dulling process.
Tools will cut much more efficiently over an extended period of time
Machine throughput and output will both be optimized
Per unit processing cost will drop significantly
The payback
This relatively simple technology pays for itself almost instantly, as a very conservative 25-percent increase in tool life, combined with an equally conservative 10-percent increase in throughput, translates into annual operational savings of at least $15,000 per machine shift. 

This calculation is based on a single CNC running 35 hours per week. Apply these savings across multiple machines and or multiple shifts and the savings are multiplied. 

This game changing solution will greatly benefit any size CNC based workshop.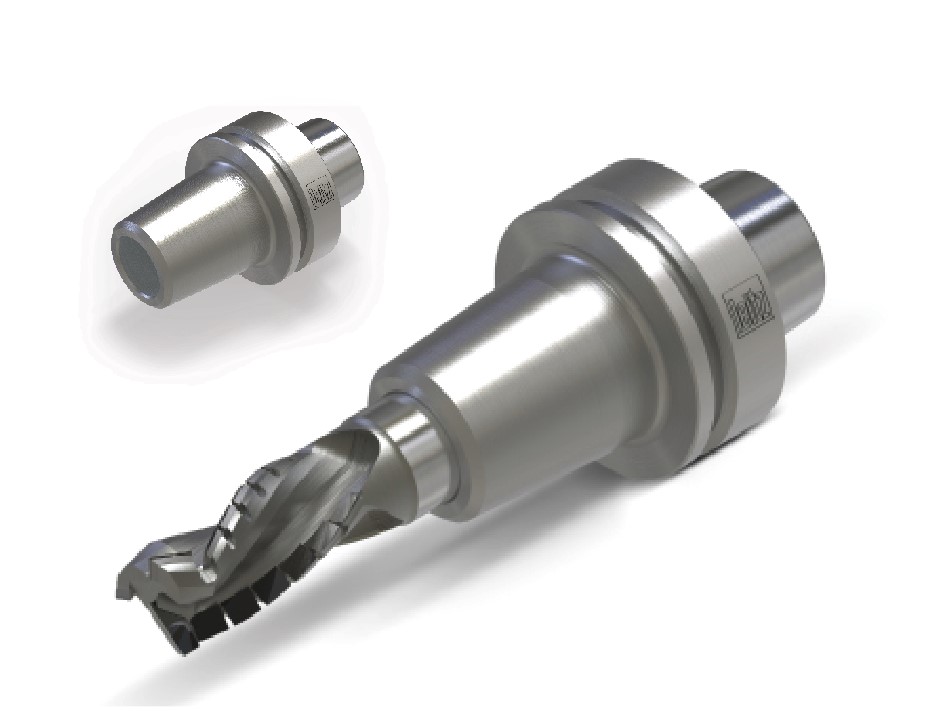 How it works
ThermoGrip is truly a simple solution. 

A monolithic (one-piece) stainless steel unit, a ThermoGrip chuck has no moving or mechanical wear parts. 
It is virtually maintenance free, and designed to last a lifetime or longer. 

Rapid inductive electro-magnetic heat is used to quickly heat the external nose of the chuck (2-3 seconds), pulling the inside diameter open, and allowing the setting and extraction of both carbide and HSS shank tools. 

As the chuck cools, the undersized chuck bore wraps tightly around the tool shank, effectively creating a rigid and precise link between the machine spindle and cutting tool. 

The rigid ThermoGrip link ensures perfect tool centrality, eliminating the possibility of common performance limiting tool deflection and eccentricity and associated tool vibration or "chatter." 

By maintaining perfect tool centerline, cutting workload is divided equally amongst the cutting edges, maximizing knife marks per inch (KPI) and optimizing cut quality.

The system also eliminates the possibility of tools "slipping" or releasing from the chuck while in operation, which makes this the safest solution for large diameter or long tooling, and when cutting challenging materials.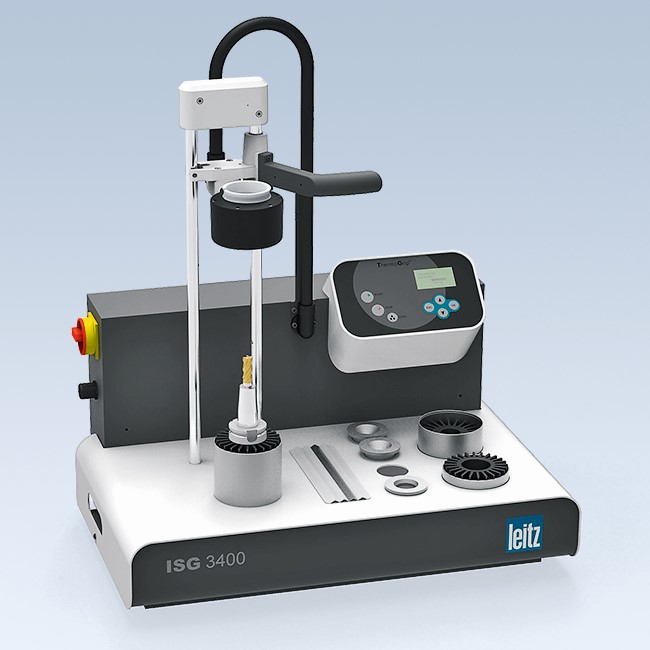 Cost effective
In addition to being simple and durable, ThermoGrip is also the least costly chucking solution. 

The cost of these lifetime chucks is about the same as a quality collet chuck and collet. 

The solution is far less expensive than managing basic collet systems, or many other commonly promoted "precision chuck systems" such as hydro chucks, Tribos, and complex mechanical clamping systems. 

Most of these systems require significant maintenance, and frequent replacement, while returning substandard performance.

ThermoGrip can be integrated alongside existing chucking systems, and used for your highest usage, largest, or most critical tools. 

Your existing chucking system is then relegated to holding occasional and low use tooling.

Some tools can be permanently set in ThermoGrip chucks, including insert and PCD tooling  Leitz and many qualified tooling vendors are able to sharpen ThermoGrip set tooling, and replace the cutting tools as they reach end of life. 

If you prefer to set and replace your own tooling, induction heaters with varying degrees of sophistication are available at easily justifiable prices.

If you've not yet experienced this game-changing CNC solution, the results are undeniably impressive. Letiz ThermoGrip technology is truly the easiest and most cost-effective means of optimizing CNC efficiency. Sometimes the most expensive investments are those which you fail to make! Contact your regional Leitz consultative expert for additional information and guidance.
Bio: Mark Alster is the Regional Sales Manager for Leitz Tooling Systems, with extensive knowledge of the woodworking industry, machinery, applications and current tooling technology. He has been involved with tooling for the primary and secondary woodworking industries for nearly 30 years and has worked closely with many of the industry's largest machine providers.
Have something to say? Share your thoughts with us in the comments below.