Virginia Tech completes tower with modern low-carbon timber
April 22, 2022 | 2:09 pm CDT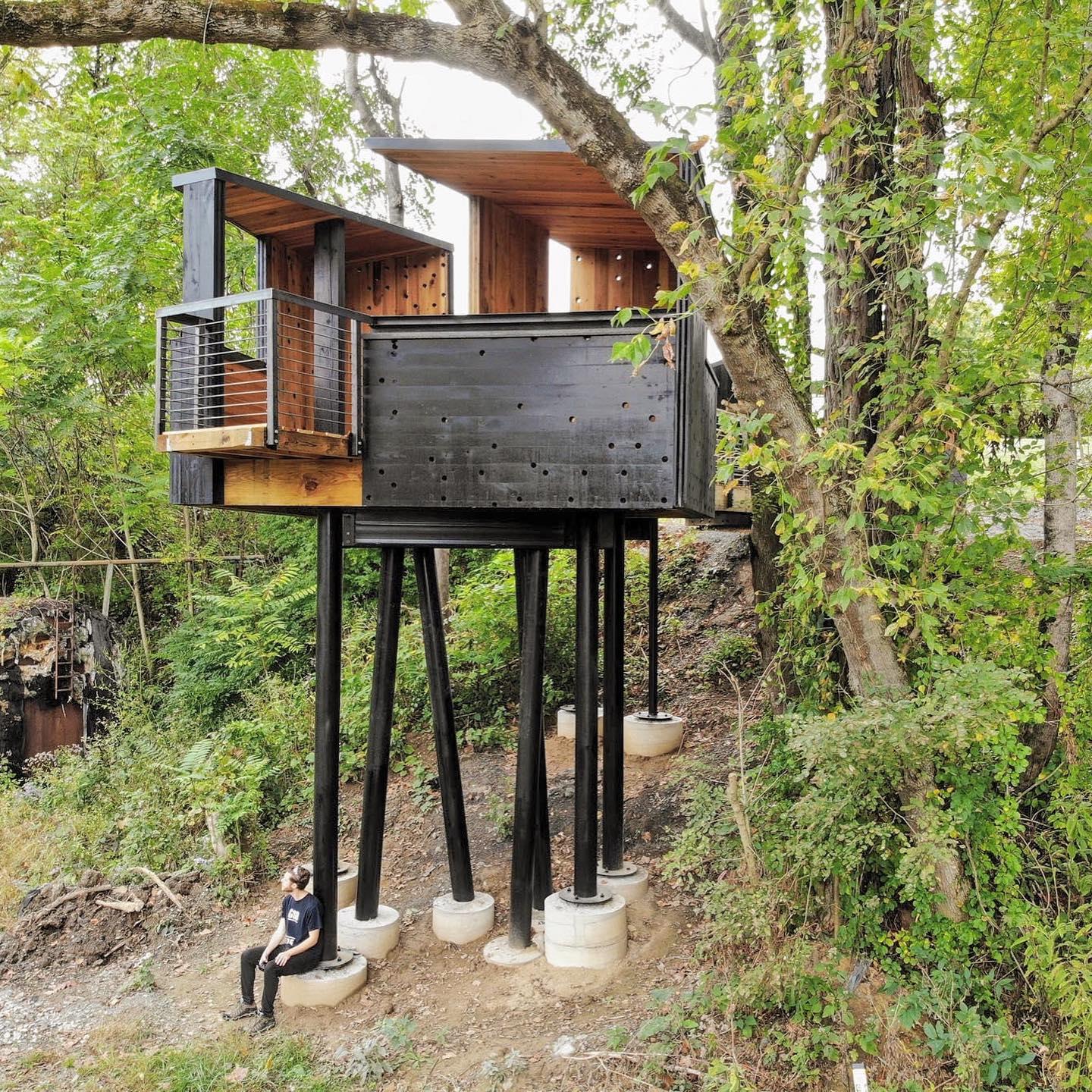 A team of students and faculty at Virginia Tech has completed an innovative observation tower in rural Virginia. The design and delivery of the project saw the development and certification of a new custom timber product, off-site prefabrication, and the discovery of the ruins of a historic building, according to the School of Architecture + Design at Virginia Tech.
The New River Train Observation Tower project was delivered to the city of Radford, Virginia, according to the school's Sustainable Biomaterials website.
In 2018, the city of Radford, Va., commissioned Virginia Tech to design and build a train observation tower that would create publicly accessible views over the city's New River and a historically significant railroad bridge. With a budget of $100,000, the city requested that the tower use clean-tech, low-carbon building products to showcase the city's transition away from its industrial past.
The student/faculty team initially sought to construct the tower from cross-laminated timber (CLT) due to its durability, aesthetic, and sustainable credentials relative to other structural materials such as concrete and steel. On further inspection, however, the team determined that the carbon cost to ship industrially-produced CLT panels to the site was too high, leading them to explore how the tower could be constructed of locally-sourced raw materials.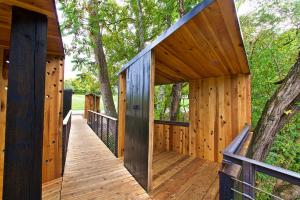 The team subsequently developed a custom hardwood cross-laminated timber (HCLT) product using Yellow Poplar lumber regionally sourced and upcycled from local, abundant, hardwood-dominant forests within a 200-mile radius of the site. Beginning from a lab sample, the team developed 5x10-foot high-strength panels for use on the project. In line with building codes, the team also secured performance-based certification for the new product, which saw the team collect and submit data relating to its structural and moisture-related performance, and its susceptibility to UV, fungal, and insect degradation.
According to Archinect.com, the resulting tower was designed as two modular 10x15-foot HCLT cubes bisected by a public walkway. Beginning at ground level, the walkway cantilevers over the steep, sloping site to a height of 20 feet. Due to the complex site conditions, including the ruins of a Civil-war era building discovered under the project's foundations during construction, the two HCLT modules were entirely prefabricated before being craned into place on-site.
Measuring 75 feet long and 30 feet high, the tower is the first permanent building in the world to use modular HCLT construction, and the first permanent, HCLT building permitted in the United States, according to the team. The project is also a rare example of an exterior-exposed structure made from laminated hardwood. To ensure water tightness, each screw hole in the exterior was sealed with liquid wax, while the entire exterior envelope was coated in linseed oil and natural pine tar mix to protect it from UV, heat, and moisture damage.
Have something to say? Share your thoughts with us in the comments below.