'Earthquake' to hit 10-story mass timber structure this summer
March 3, 2022 | 9:27 pm CST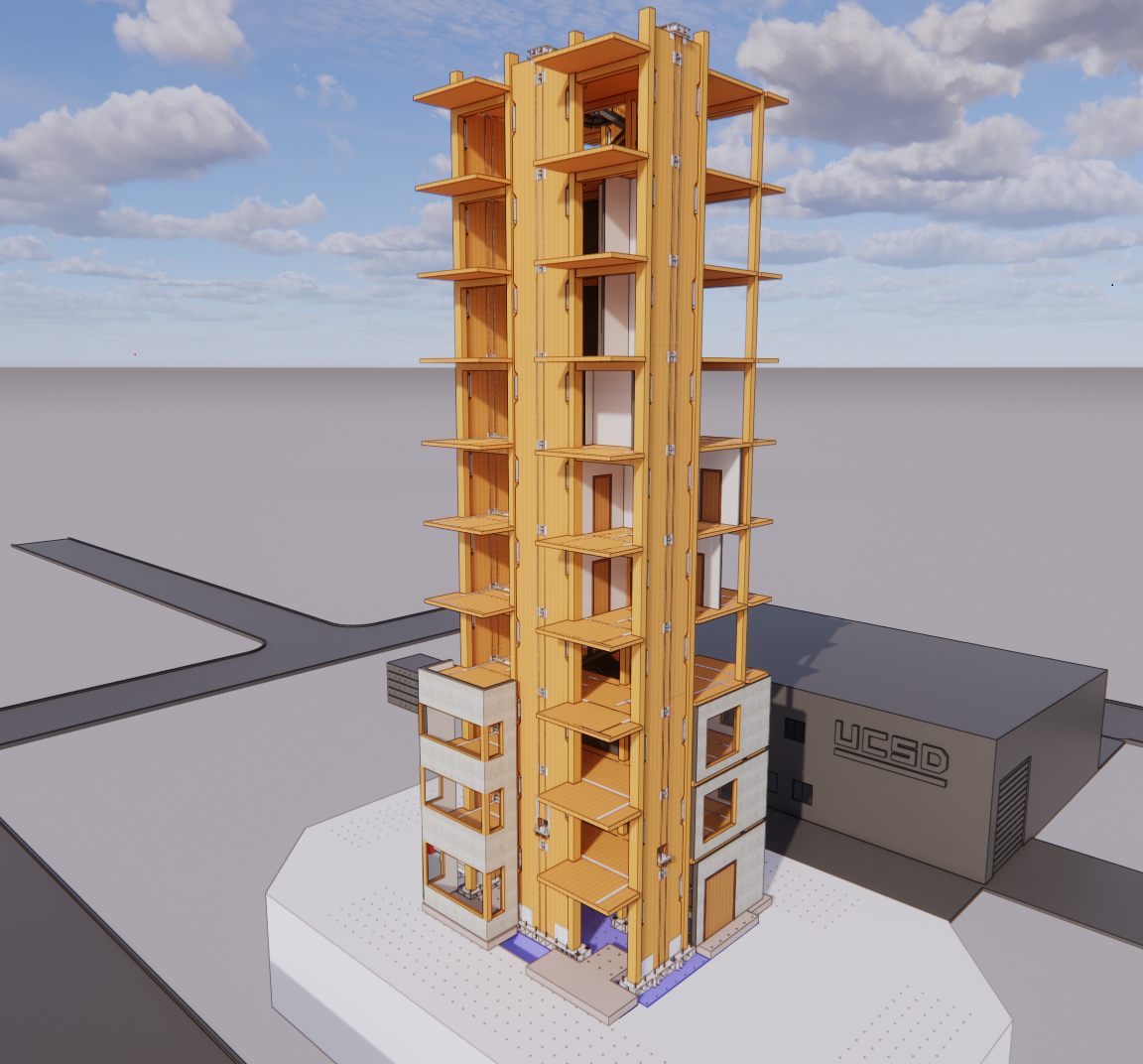 PORTLAND, Ore. – Can a multi-story, mass-timber building stand up to earthquakes and other natural disasters? This summer, researchers are preparing to launch a simulated earthquake to see how a 10-story mass-timber construction building withstand earthquake-like tremors.
A quake date has not been released. 
The Natural Hazards Engineering Research Infrastructure (NHERI) TallWood project began in 2016. After performing numerous shake table tests including a two-story mass timber building structure by the University of California San Diego to see how it fared when faced with earthquake-like tremors, researchers plan to subject a full-scale 10-story, mass timber building to an earthquake simulation.
The goal of the NHERI Tallwood project, a long-term, multi-disciplinary research effort, is to show that tall buildings constructed of wood can be designed to achieve resilient goals in the face of earthquakes. 
In the summer of 2022, the Tallwood team will demonstrate and attempt to validate their design methodology using a full-scale, 10-story mass-timber building on the newly upgraded LHPOST6 shake table at NHERI at UC San Diego.
The Tallwood specimen will be the world's tallest full-scale building ever tested. Tallwood also will be the first major test on the NHERI at the UC San Diego shake table, now capable of 6DOF ground motions.
According to researchers, the structural system of the tall wood building is expected to be damage free after being subjected to multiple design-level earthquakes. The structure, constructed with a mass-timber gravity frame and rocking walls, will also incorporate non-structural elements and contents that are designed to minimize earthquake damage. The test building represents a marketable wood-building archetype.
Freres Lumber Co., a Lyons, Oregon-based lumber company is providing wood materials to a large-scale university research project that aims to prove tall timber buildings can be resilient to earthquakes. The company manufactures its own mass timber product, called Mass Ply Panels. 
Freres' column and beam line is currently APA certified up to a 12-inch width with a 72-inch depth, but can cut product up to 24-in. thick. And, although the beam and column line is capable of running product up to 60 feet in length, Freres' current press is limited to 48 feet. Freres will be seeking certification for products in those larger widths and depths in the coming months.
Tyler Freres, vice president of sales, said they're the only company in the world that's making this particular product right now and it will be used in the NHERI TallWood project for the building's vertical walls. 
Researchers include Shiling Pei from Colorado School of Mines, John van de Lindt from Colorado State University, Jeffrey Berman from the University of Washington, Keri Ryan from the University of Nevada Reno, and James Dolan from Washington State University.
The shake test the NHERI TallWood team has access to the world's largest outdoor shake table, which is where they carry out their earthquake tests, according to the TallWood team's website. 
"The shake table is basically a huge steel block foundation driven by hydraulic pistons that are controlled using computers," said professor Shiling Pei. It can even replicate past earthquakes using seismic recordings. For instance, the team already carried out a test on a two-story mass timber building by simulating shaking from the Northridge Earthquake, a magnitude 6.7 earthquake that struck Los Angeles in 1994. The next shake test on the table involves a much bigger construction: a ten-story building. 
"This test will validate the resilience of our design methodology, and will also be an important opportunity to educate the public," he said. "It will demonstrate the potential benefits of constructing tall buildings out of wood and, with any luck, will also inspire the next generation of engineers and scientists."
Have something to say? Share your thoughts with us in the comments below.