Eco-friendly timber office building towers in BC
January 5, 2022 | 3:54 pm CST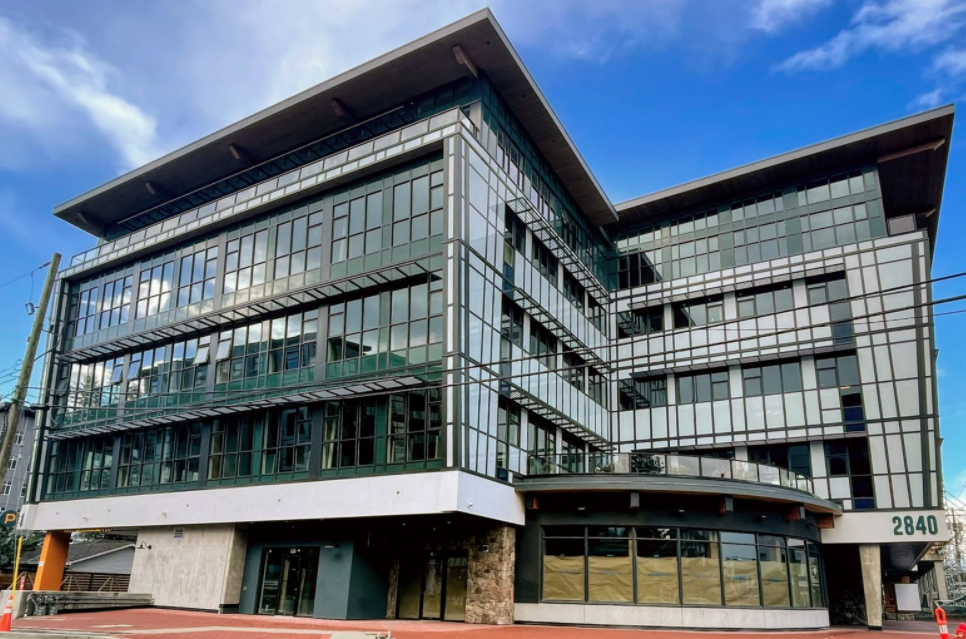 LANGFORD, BC – A five-story mass timber post-and-beam building now towers over Langford, BC.The new Terminus at District 56 commercial building was completed. The structure included mass-timber components from Structurlam Mass Timber Corp., in partnership with Design Build Services and Aspect Structural Engineers. 
The five-story building contains the first buckling-restrained braces housed within a timber frame. Located on Vancouver Island, the building site of Terminus is one of the highest seismic regions of North America, requiring its lateral system to be highly ductile while allowing the wood to be exposed. The first-of-its-kind construction is one of two projects from Structurlam, Design Build Services, and Aspect Structural Engineers in Langford, BC. 
Tallwood 1 at District 56, located adjacent to Terminus, is slated to open in early 2022 as the first 12-story mass timber tower built under the revised 2018 BC Building Code, allowing for provisions for mass timber structures up to 12 stories for interested communities.
Terminus, a LEED-registered building poised to serve residents and businesses, features flexible floor plans with space for lease ranging from 680 square-feet to 13,000 square-feet. The project utilized Structurlam's CrossLam CLT and GlulamPLUS products in tandem with buckling-restrained braces for a warm, striking design. 
"The Terminus project sets a high precedent for mass timber construction and meets a variety of structural considerations, including fire ratings, seismic benchmarks and structural performance, all while providing the desired aesthetic," said Hardy Wentzel, CEO of Structurlam. "The completion of the building is a big win for all involved and we're looking forward to continuing to work with Design Building Services and Aspect Structural Engineers on Tallwood 1 in the coming months."
"This building is a perfect example of a structure that is driven by both function and design," said Ilana Danzig, associate principal at Aspect Structural Engineers. "The buckling-restrained braces combined with the modern mass timber create a building that is high-performing without sacrificing on architecture and appearance; in fact, the BRBs and the wood are visually complementary, particularly with the clean and modern detailing used for the mass timber connections." 
Structurlam manufactures mass timber, a sustainable category of building construction featuring structural laminated wood components for walls, roofs, floors, beams and columns. A key economic benefit of mass timber is the ability to design, model and prefabricate the structural elements of a project offsite, accelerating on-site production schedules by up to 25% compared to traditional on-site building with steel and concrete. 
Structurlam produces GlulamPLUS and CrossLam CLT products for distribution throughout North America. The company is the first manufacturer to bring mass timber to the North American market and the first to introduce CrossLam CLT in the production of industrial ground protection matting products, used in the energy and power transmission sectors.
 
Have something to say? Share your thoughts with us in the comments below.