Softwood lumber prices drop
April 14, 2022 | 8:33 am CDT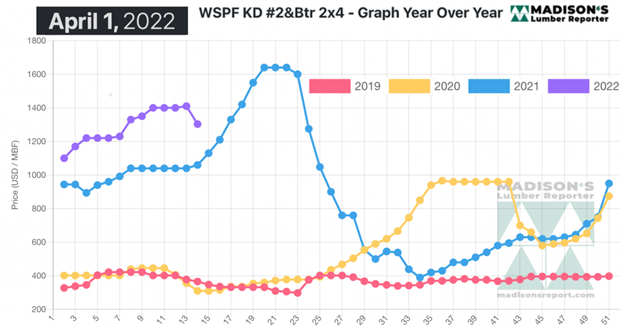 Photo By Madisonreport.com
Producers of Western S-P-F (spruce, pine, and fir) lumber in the United States reduced asking prices on some of the more commonly-traded commodities in an effort to entice circumspect customers, according to the weekly forest products industry price guide newsletter Madison's Lumber Reporter.
In Canada, prices were "wildly variable and confusing to buyers," and downward pressure was evident for Western S-P-F lumber items.
The report said that the economy is approaching the time of year when most of the largest-volume lumber customers — the major US home building companies — have made their purchases for expected projects in the busy spring construction season, lumber demand usually softens. Last year this did not happen, but this year it looks like some of the usual seasonal cycles might be returning, according to the report.
After several weeks staying relatively flat, for the week ending April 1, 2022 the price of benchmark softwood lumber item Western Spruce-Pine-Fir 2×4 #2&Btr KD (RL) was down -$107 or -8% from the previous week, at US$1,303 mfbm, according to the report. That week's price is down by -$80, or -6% from one month ago when it was $1,383.
Among other news, Madison's Lumber Report said that burgeoning construction activity continued to spread upward from the US South as spring weather descended on the higher latitudes of North America.
Buyers remained cautious as cracks started to show in price levels this week, especially for dimension lumber.
Have something to say? Share your thoughts with us in the comments below.