Milwaukee unveils new tools for 2019
June 7, 2019 | 7:56 am CDT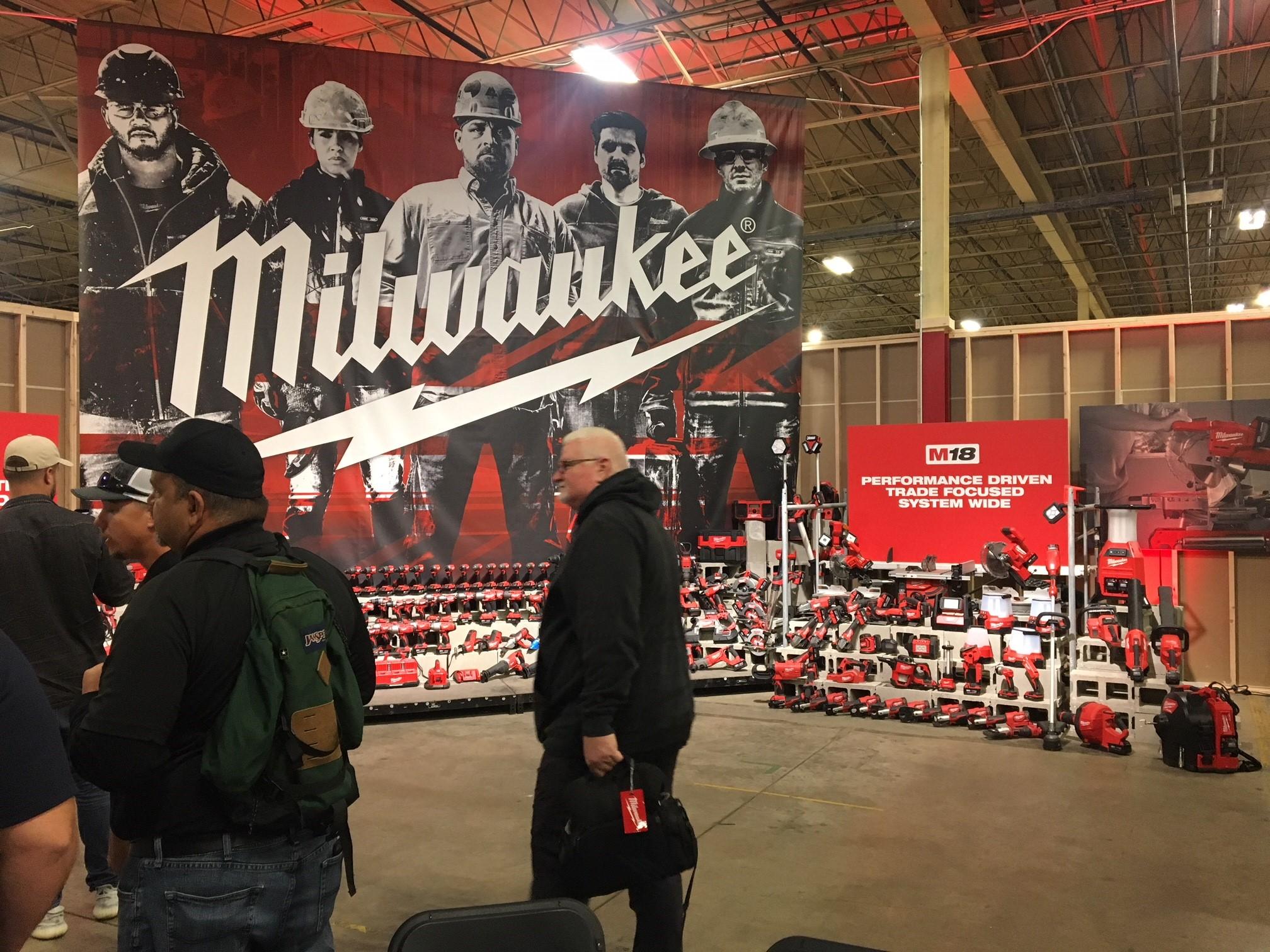 Milwaukee, WI – In a massive multi-media press event June 6, Milwaukee unveiled an extensive array of new tools for 2019 and beyond. While most of the tools are targeted at job site-based trades workers, some key new offerings are of particular interest to shop-based woodworkers and installers.
Those include a new cordless compact router, versatile multi-head cordless drill-drivers designed for work in tight spaces, a powerful full-size cordless miter saw, cordless framing nailers, cordless brad nailers, cordless assembly staplers, and new components for Milwaukee's growing system of storage and transportation containers. Here's a quick first look at some of these tools.
Designed to be as powerful as a corded router, the new Milwaukee M18 Fuel compact router is handy to use in a variety of applications.
M18 Fuel compact router
The M18 Fuel compact router generates the power of corded and supplies the run-time necessary to complete the most critical jobs. Fully compatible with the M18 System batteries and chargers, it features multiple attachments and has quick, accurate adjustments for precise work. The router is due out in October 2019 and will feature options including a plunge base.
The D-handle and multi-head design of the new Milwaukee M12 Fuel drill driver makes it ideal for installation chores in tight spaces.
M12 Fuel installation drill driver
The M12 Fuel installation drill/driver uses four different heads that provide versatility to perform various drilling and driving applications especially in applications involving working in tight places. Attachments, which snap on and off the chuck instantly, include right-angle and offset heads. Its compact size and light weight, combined with its in-line grip and d-handle, are designed to deliver better access and control. The tool generates up to 300 in-lbs of torque.
M18 Fuel 12-inch dual-bevel, sliding compound miter saw
The M18 Fuel 12-inch dual bevel sliding compound miter saw is due out in November 2019 and is designed to generate the power of the power of 15-amp corded miters saws while also being 15 percent lighter than comparable corded tools. Compatible with the entire M18 battery system, this saw is capable of making up to 330 cuts in 3-1/4-inch baseboard on a single charge, according to Milwaukee.
Cordless nailers and staplers
Helping workers to cut not only their electrical cords but also to do without air hoses, Milwaukee introduced a number of innovative batter-powered nailers and staplers. At the largest end of the spectrum, there are M18 Fuel framing nailers due out in October 2019 in 21- and 30-degree models that claim performance specifications to rival pneumatics. Of perhaps more interest to woodworkers is the M18 Fuel 18G brad nailer, which features reduced weight and zero ramp-up time. It's due out in August 2019. Finally, for assembly work including cabinet box construction, there is the M18 Fuel ¼-inch narrow crown stapler, which is designed to y sink staples up to 1-1/2 inches into hard materials and soft layers without blowing through.
Milwaukee's Packout system offers a wide range of storage and transportation options.
Packout modular storage system
Milwaukee is constantly adding to its versatile Packout modular storage system, which offers a wide variety of containers all designed to store and transport equipment from shop to job site. Newly announced products include a foure-wheeled dolly with a step device that allows you to easily hold it in place for loading and unloading. A new mou nting plate allows Packout users to stabilize and secure containers in a vehicle or in the shop. The new Packout crate takes the old milk crate-style container a step farther, allowing it to mate and secure with other Packout system units. And finally, there is a sophisticated radio and charger that will connect with Packout system components. The radio is due out in November, just in time for holiday gift giving.
Have something to say? Share your thoughts with us in the comments below.