First mass-timber building in Michigan
November 16, 2021 | 1:43 pm CST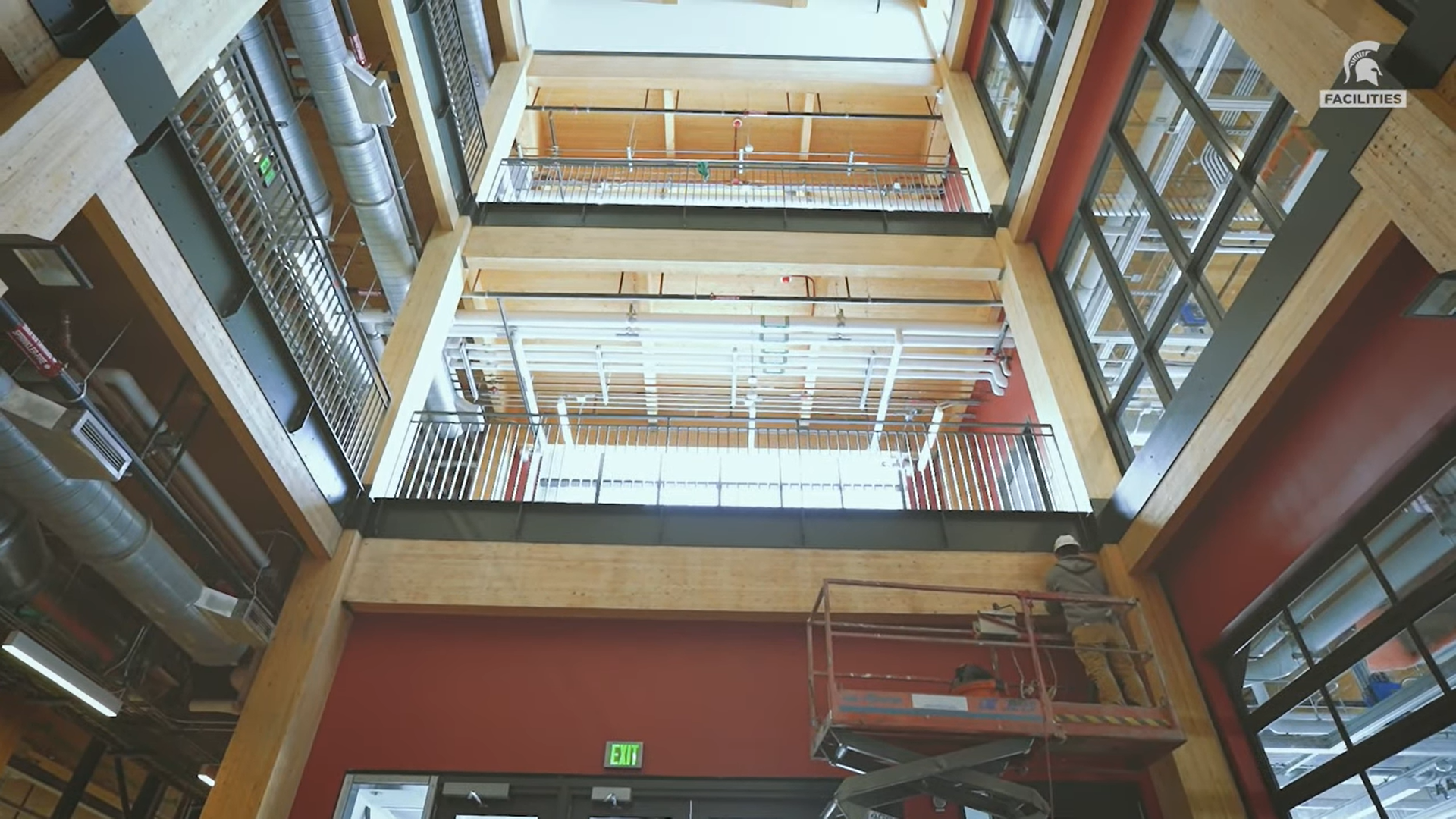 EAST LANSING, Mich. -- Students visiting the brand-new STEM Teaching and Learning Facility on MSU's campus may notice a new, potentially revolutionary technology has been used in the construction of the building — wood.
School officials told the State News newspaper that the building, which was officially unveiled this fall, is partially constructed from mass timber, a building material that is composed of many thick, compressed layers of softwood, usually bound together with adhesive. The STEM building on campus is the first mass timber building in Michigan.
The load-bearing structure, framing, floors and ceilings of the north and south wings were constructed using cross-laminated timber, also known as mass-timber. Among other benefits, mass-timber promotes forest health and reduces carbon emissions.  
Cross-laminated timber is one of the ways that the U.S. can address climate change, said U.S. Sen. Debbie Stabenow of Michigan. The Senator, speaking at the facility's opening ceremonies, said, "We are working on ways to address the climate crisis, the wild fires, droughts, and floods," said Sen. Stabenow. "How we use wood and how we manage forest in a sustainable way is very much how we move forward and is an intimate part of what we are working on right now in the Senate. This is an economic opportunity for us in Michigan."
The material is cost-effective, energy-efficient, and is usually faster to build with than more common materials such as concrete and steel, the paper reported. Sandra Lupien, the Director of MassTimber@MSU, said those working on the construction of the building said having the knowledge and experience of working with mass timber at the beginning of the project could have cut the project timeline by anywhere between four to eight weeks.
Lupien said mass timber responds well in fire tests, during which materials are typically burned at a high temperature for two hours, where the outer layers of the wood char but the structural integrity remains in place. 
"In this building in the stair towers, they only needed to do five layers, but they added two layers for fire resistance and fire rating," Lupien said. "If you had a mass timber building, there was a fire and some of the layers of your mass timber charred, you could theoretically remove them and replace them and just repair it without losing your structural integrity."
Lupien said the wood used in the STEM building is black spruce, and it is certified by the Forest Stewardship Council. The wood was sourced from Nordic Structures, a Quebec-based manufacturer.
Have something to say? Share your thoughts with us in the comments below.