Editor's Choice: Top products of 2021
December 7, 2021 | 2:45 pm CST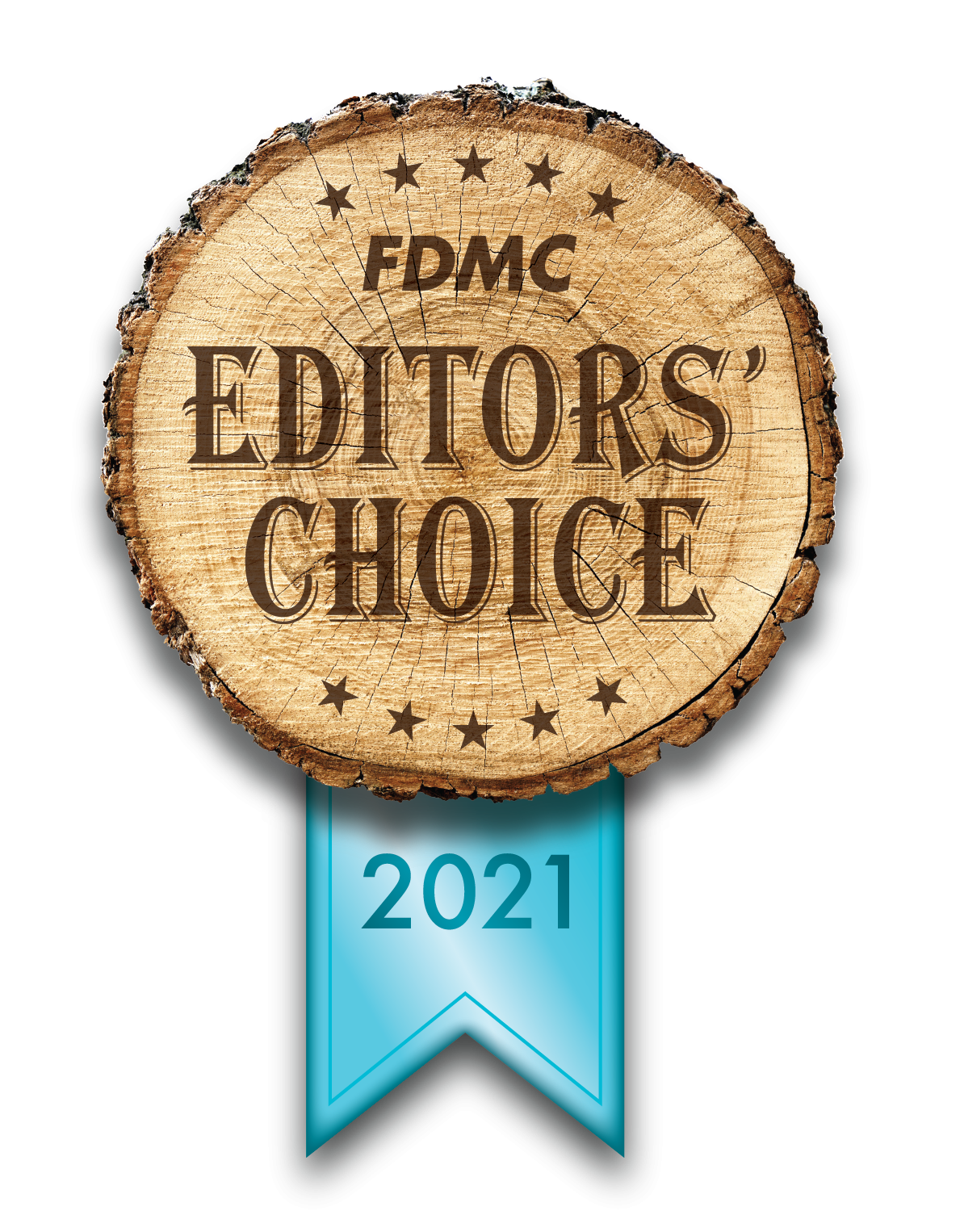 Woodworking Network editors sifted through dozens of new and innovative products that were introduced in 2021. Some of these products made appearances at the first trade shows to host live presentations during the pandemic, and some earned awards at those shows. Others we got a chance to try out and actually use. Another thing new this year is an official FDMC Editor's Choice badge, which we hope the selected products will wear proudly as they represent breakthrough innovation serving the woodworking industry, boosting efficiency and productivity. What follows is a purely subjective listing of some of best we saw this year.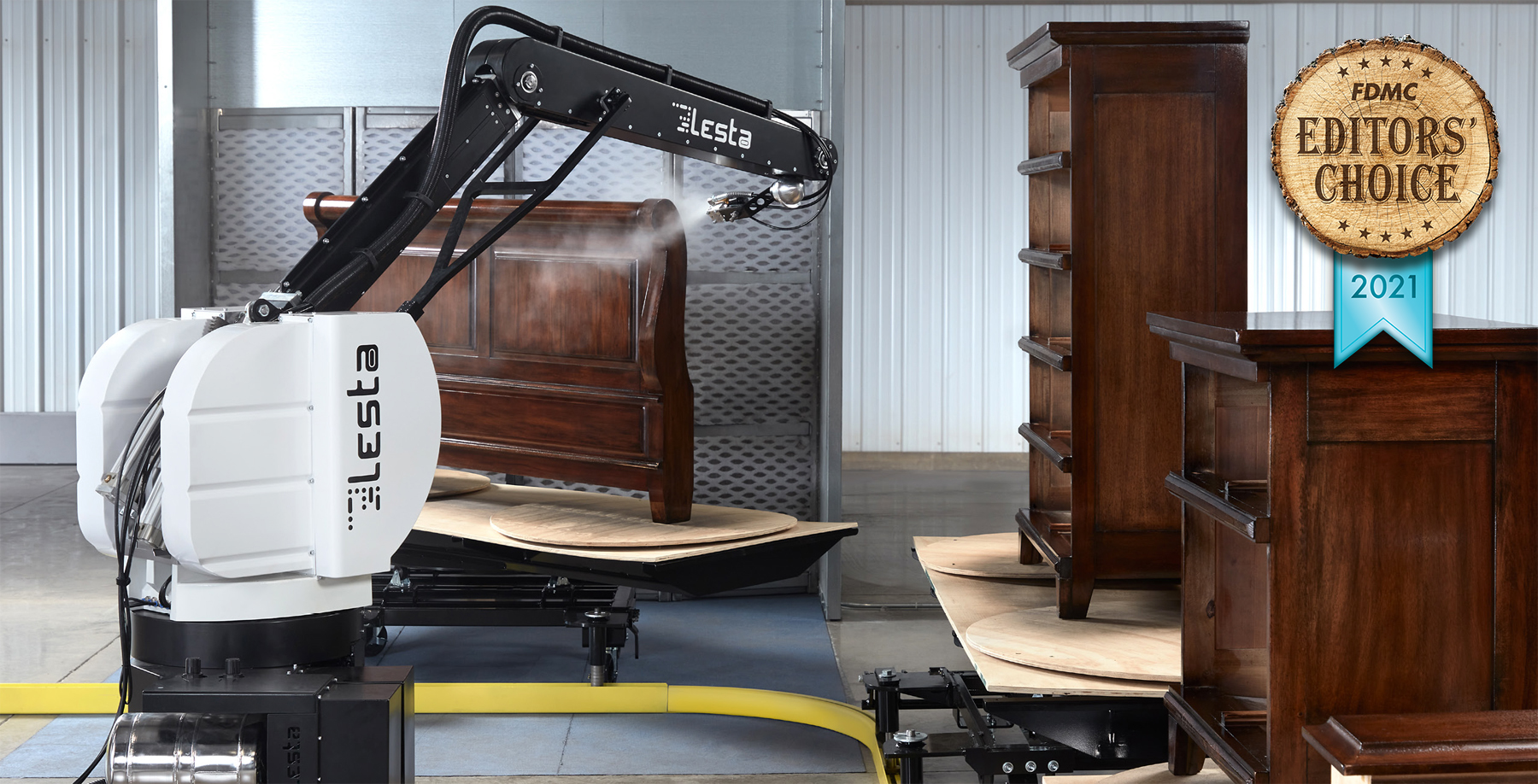 Best Robotic Product
LestaUSA, Lesta Self-Learning Robot and Cart System
LestaUSA says wood products manufacturers can finish 50% more furniture without hiring by using the Self-Learning Robot and Cart System. Lesta robots duplicate the precise movements of the painter, from gun angle to trigger pulls while in teach mode. Even the specific rotation of each part while on the cart is replicated. Repetitive tasks can now be automated, allowing employees to focus on quality and production. The system can be used with existing or new carts. This product was a Visionary Award winner at the AWFS Fair in Las Vegas, and editor Will Sampson actually got to try his hand at programming the robot in person.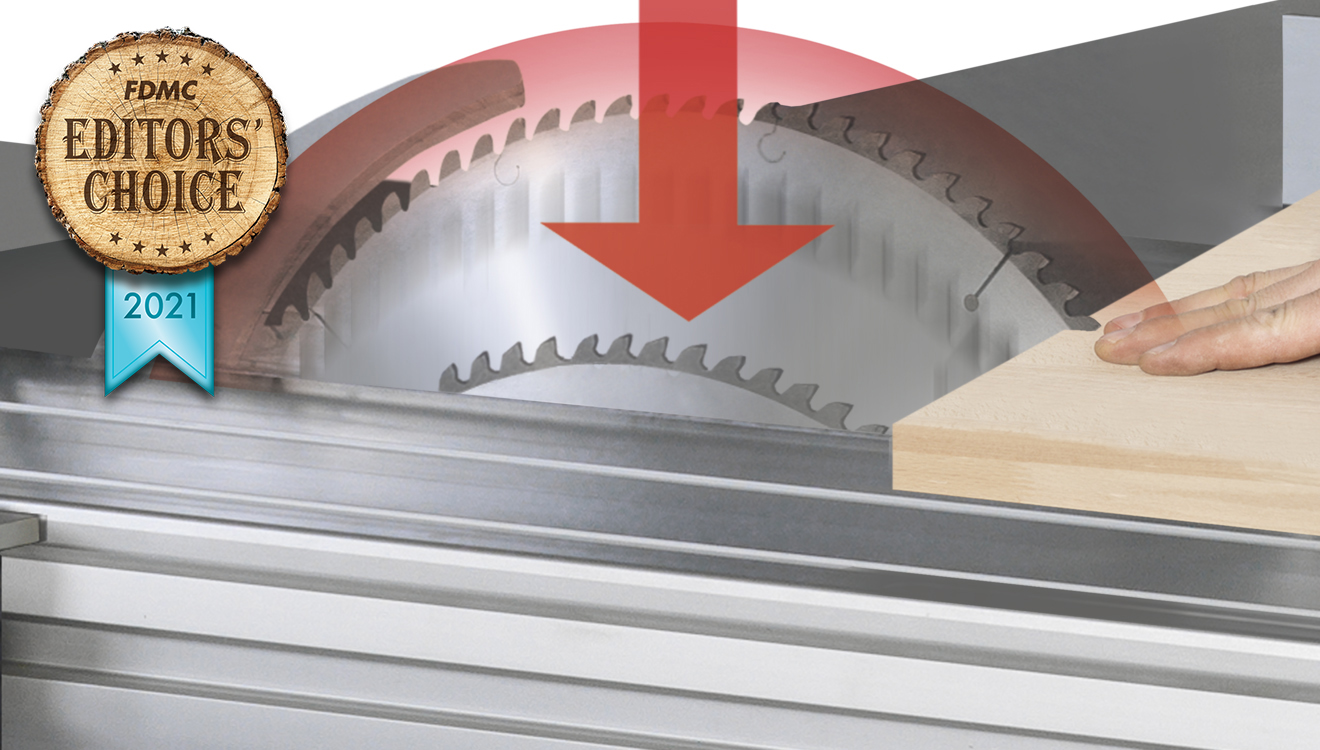 Best Stationary Machine Product
Felder Group USA, PCS-Preventative Contact System
Ever since SawStop started using hot dogs to demonstrate its saw safety technology, people have been trying to come up with even better systems, but there was very little offered for industrial sliding table saw. That changes with Felder Group's new PCS (Preventative Contact System). It is a saw safety technology for industrial saws that is designed to keep operators safe by detecting movement within a certain threshold of the blade. That triggers a safety mechanism that quickly lowers the sawblade below the saw table before the blade touches any flesh. The technology won Felder a Visionary Award at the AWFS Fair.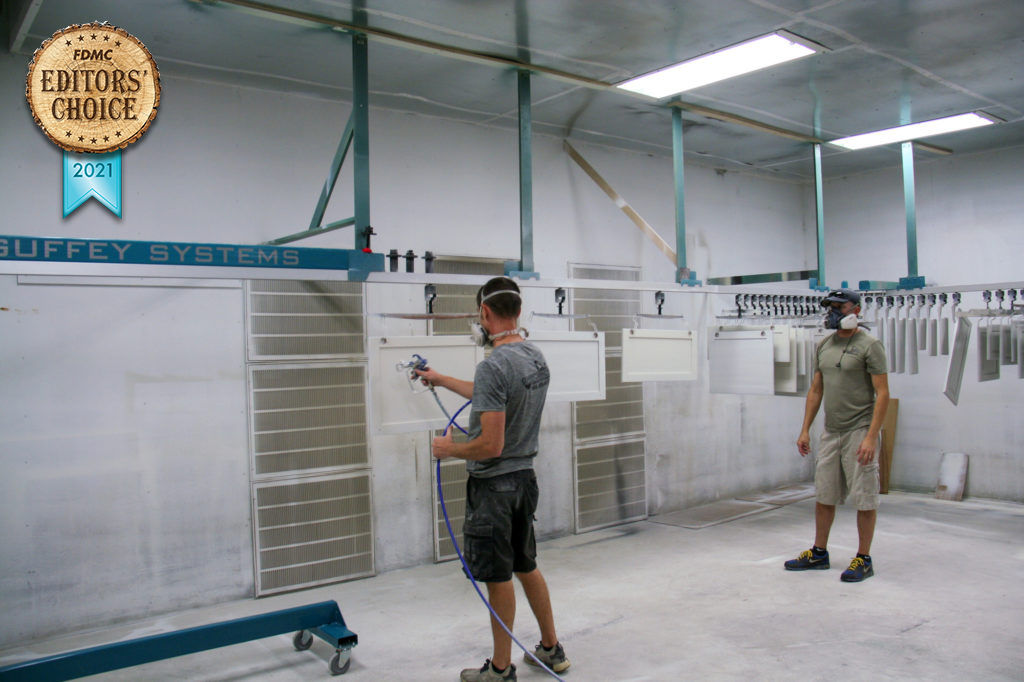 Best Finishing Tool
Guffey Systems, PivotLine finishing system
Sometimes to make finishing faster it's not about the actual finishing but it has everything to do with how you handle the parts you are finishing. That's some of the thinking behind the PivotLine finishing system developed by Nathan Guffey at Guffey Systems. He figured a way to facilitate vertical spraying and eliminate handling of wet parts, as well as making it possible to spray all sides of common cabinet parts without having to wait for one side to dry. Guffey developed the system originally for use in his own cabinet shop. He worked with APTUS DesignWorks, an engineering and design firm, to develop the system to be modular and marketable for any shop. The shops we talked to that use the system say it has revolutionized their finishing process.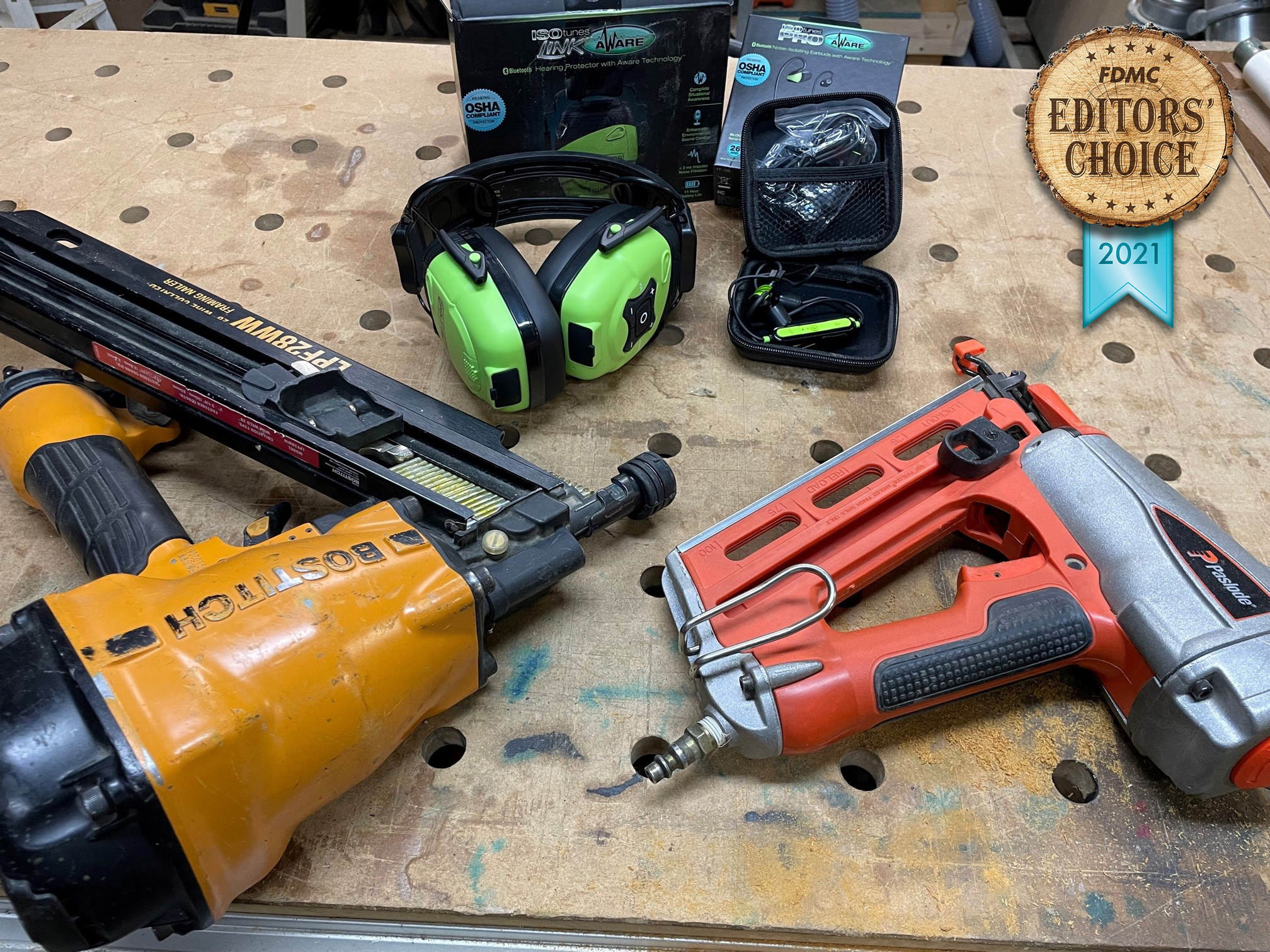 Best Safety Product
ISOtunes, Link Aware and Pro Aware reactive hearing protection
We previously reviewed ISOtunes Link and Xtra 2.0 ear protection that paired to your Bluetooth device to allow listening to music and answering phone calls while wearing hearing protection. But those devices still dampened all outside sounds, perhaps keeping you from hearing co-workers trying to get your attention. Now the company has introduced two new models, ISOtunes Link Aware and ISOtunes Pro Aware. They both feature situational awareness to protect you from loud noises only when they reach a dangerous level and to allow you to hear normally when sound levels are not dangerous. We tried these in the shop and were amazed at how well they worked even with sudden percussive sounds like nail guns. Plus, the cordless Bluetooth connection still lets you answer the phone or listen to your music.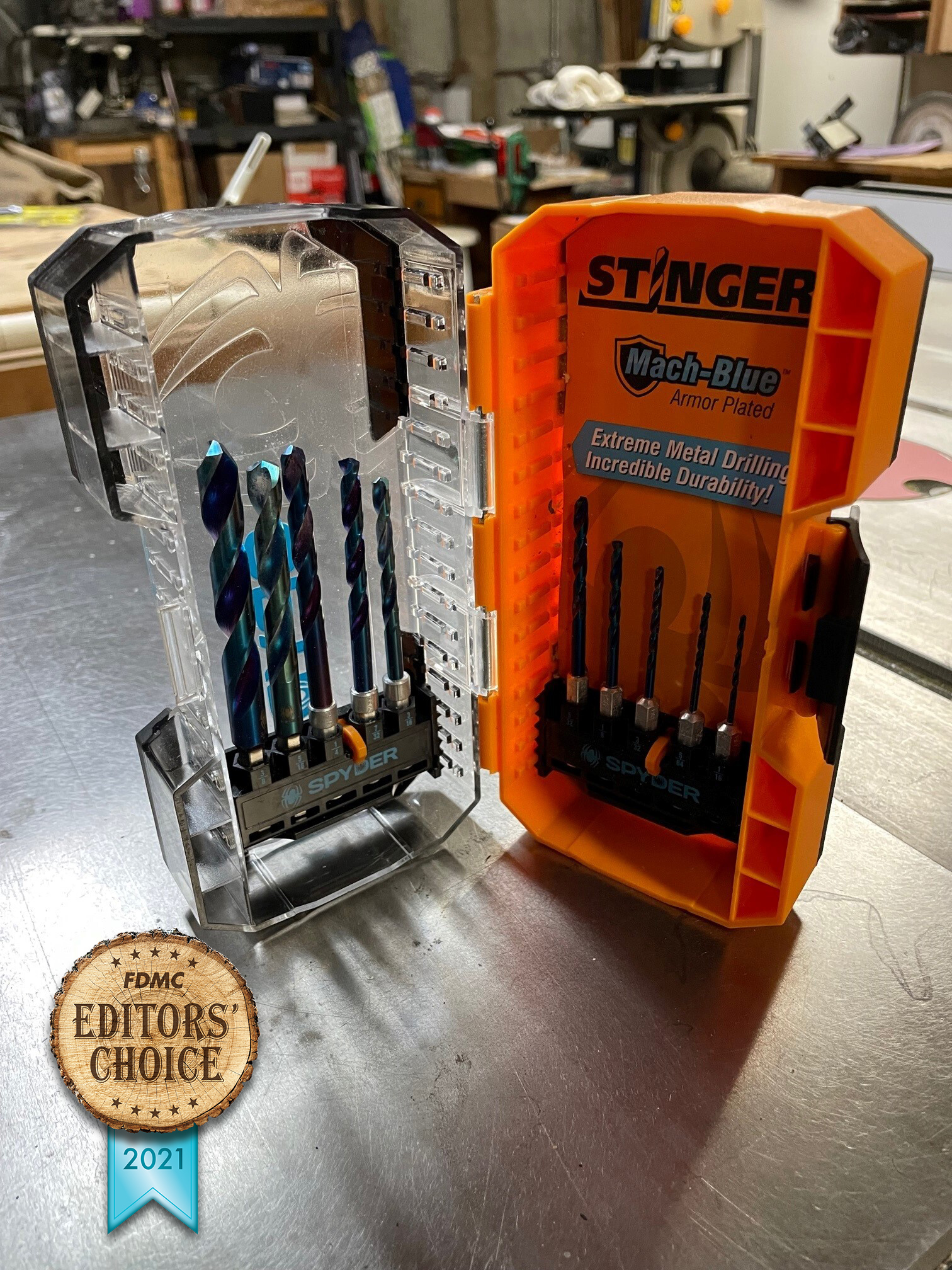 Best Tooling Product
Spyder, Stinger Mach Blue bits
If drill bits were designed to appeal like sports cars, the Spyder Stinger Mach Blue bits would be it, with the eye-popping blue coating that is supposed to deliver up to 100 times more holes than titanium or black oxide bits and be up to eight times faster than titanium bits. 

We can't speak to those exact claims, but when we tried them out in the shop, we were surprised how they actually outperformed more conventional industrial bits. 

These are bits with hex shanks designed for most cordless tools. They are branded and sold specifically for Lowe's home center stores. But the 10-piece set including 1/16 to 3/8-inch bits for drilling wood, metal and other materials, make a handy addition to any woodworker's tool kit.

We subjected them to some abuse in the shop, drilling off-angle holes in metal and were surprised at how well they held up.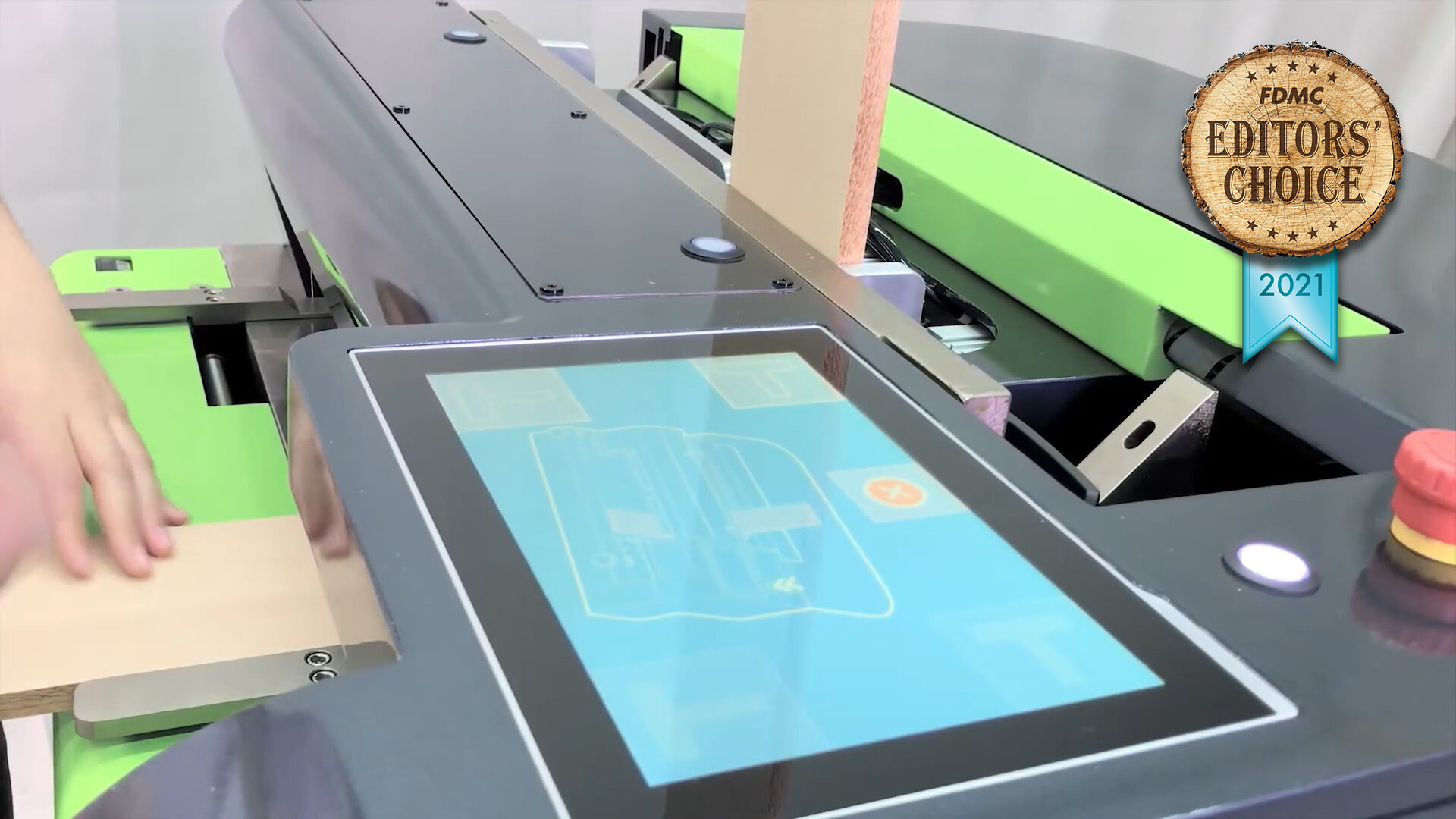 Best CNC Automation Product
Northtech Machine LLC, iDovetail
Northtech says its CNC iDovetail combines real-time interactive 3D drawings and is the first dovetailer with servo positioning for the X, Y and Z axis, giving it the same capability as an inverted CNC machine. The small footprint makes it ideal for precision end work such as mortise and tenon or stair tread returns. It can be used for wood or plastic materials. This shows CNC technology applies even to smaller woodworking production. It won a Visionary Award at AWFS.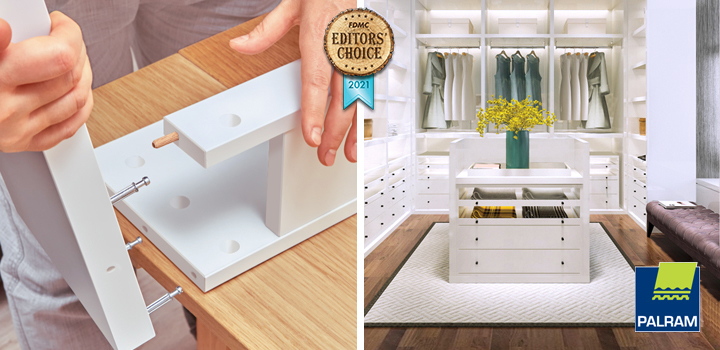 Best New Materials Product
Palram Palight BuildBoard
Palram Americas introduced PALIGHT BuildBoard, a foamed PVC alternative to wood composite panels like MDF, particleboard, and plywood. Engineered for longevity, Palight Buildboard sheets are designed to be ideal for manufacturing cabinets, closet-storage systems and components. The cellular polymer composition offers resistance to moisture, mold, mildew, and bacterial growth. Editor Will Sampson tried out the product in his shop and was intrigued with the possibilities.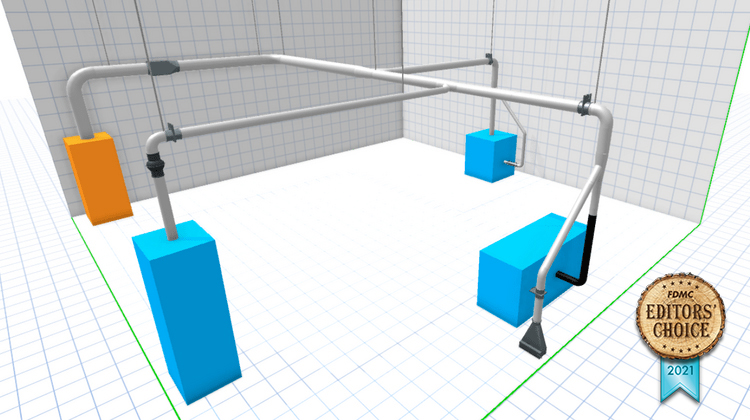 Best Software Product
Nordfab Ducting, Quick-Fit Visual 3D Duct Design Tool
Nordfab says its Quick-Fit Visual is a complimentary, easy-to-use online tool for designing ductwork installations. QFV provides automatic calculation of duct sizing and system requirements. The company says users can output a quotation and visual 3D plan, source and procure all components needed for the installation and obtain the information needed to execute the installation. Users can also output a .dwg drawing for use with CAD tools. The product won a Visionary Award at AWFS.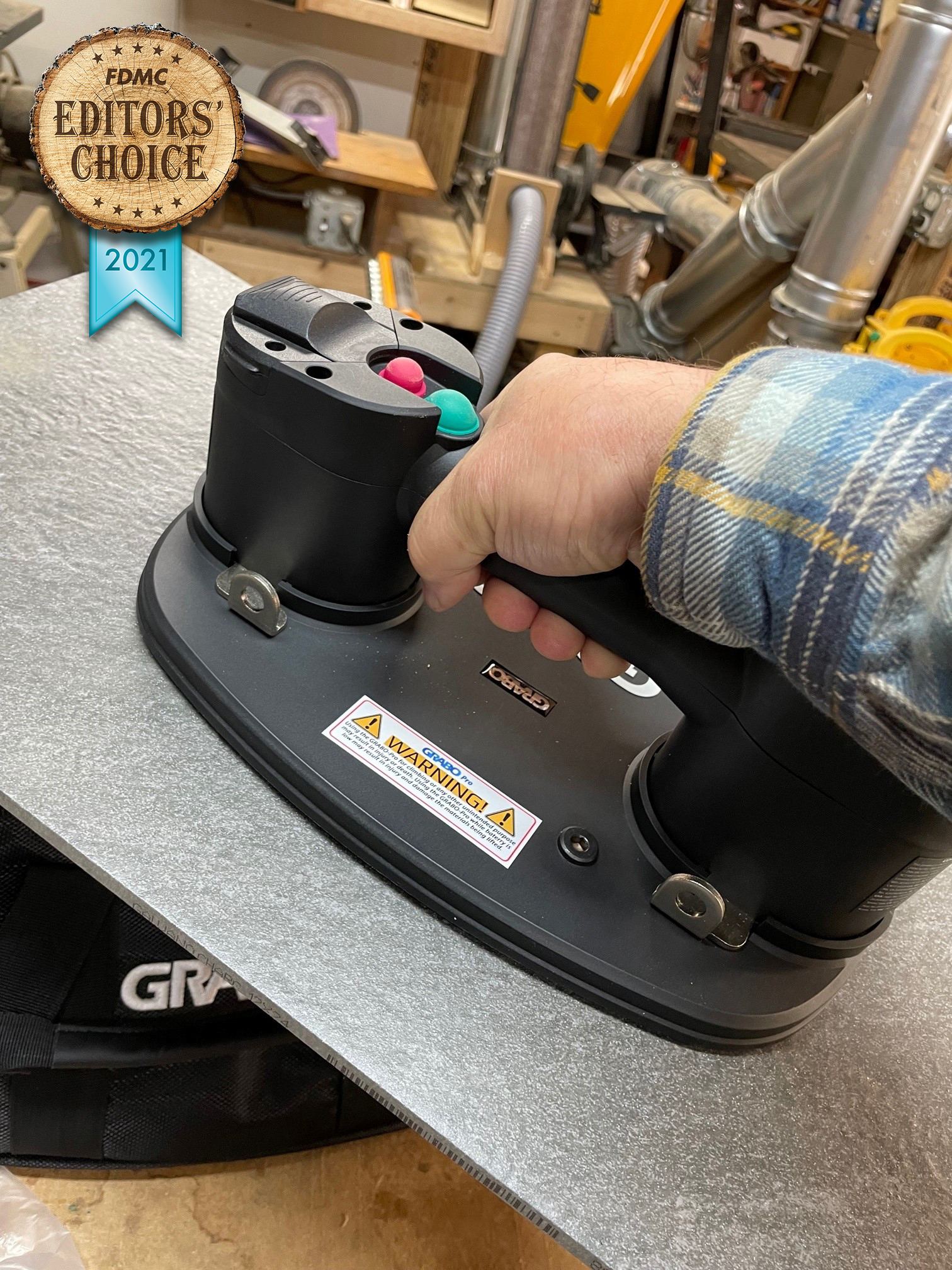 Best Material Handling Product
Nemo Power Tools, Grabo Pro-Lifter 20 cordless vacuum lifter
One of the most dangerous things in any woodworking operation has nothing to do with cutting tools or powerful machines. It's the heavy lifting of materials and finished products. There are lots of tools that try to make those tasks safer but few do so with the elegance and versatility of the new Grabo Pro-Lifter 20 from Nemo Power Tools. This handheld, cordless machine is rated to lift more than 300 pounds. We tried it out in the shop and found it works well on a wide variety of materials, including wood panels, drywall, and tile.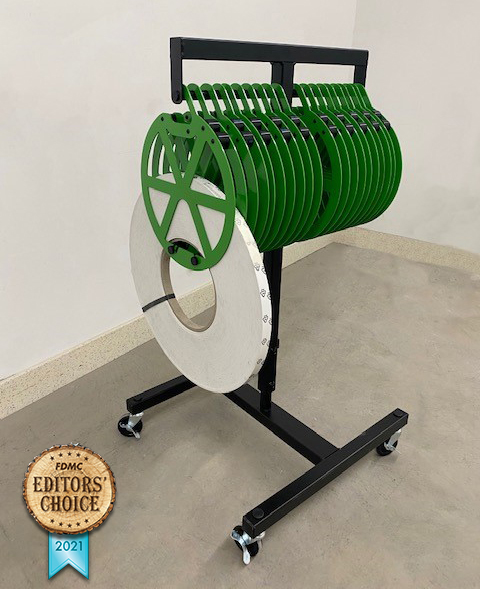 Best Edgebanding Product
The Pinske Edge, Edge Butler
The Pinske Edge's Edge Butler is designed to make edgebanding faster and easier by creating less downtime switching between band colors. You can hang all the colors of banding needed for that day on the cart, then wheel the cart to the edgebander to start banding; no more walking back and forth to grab the next band color, the company says. The stand is fully adjustable to accommodate various heights, and the butlers are different sizes to accommodate each band's width and thickness. It won a Visionary Award at AWFS.
Have something to say? Share your thoughts with us in the comments below.