Chicago's tallest timber building planned since the Great Chicago Fire
August 11, 2022 | 4:11 am CDT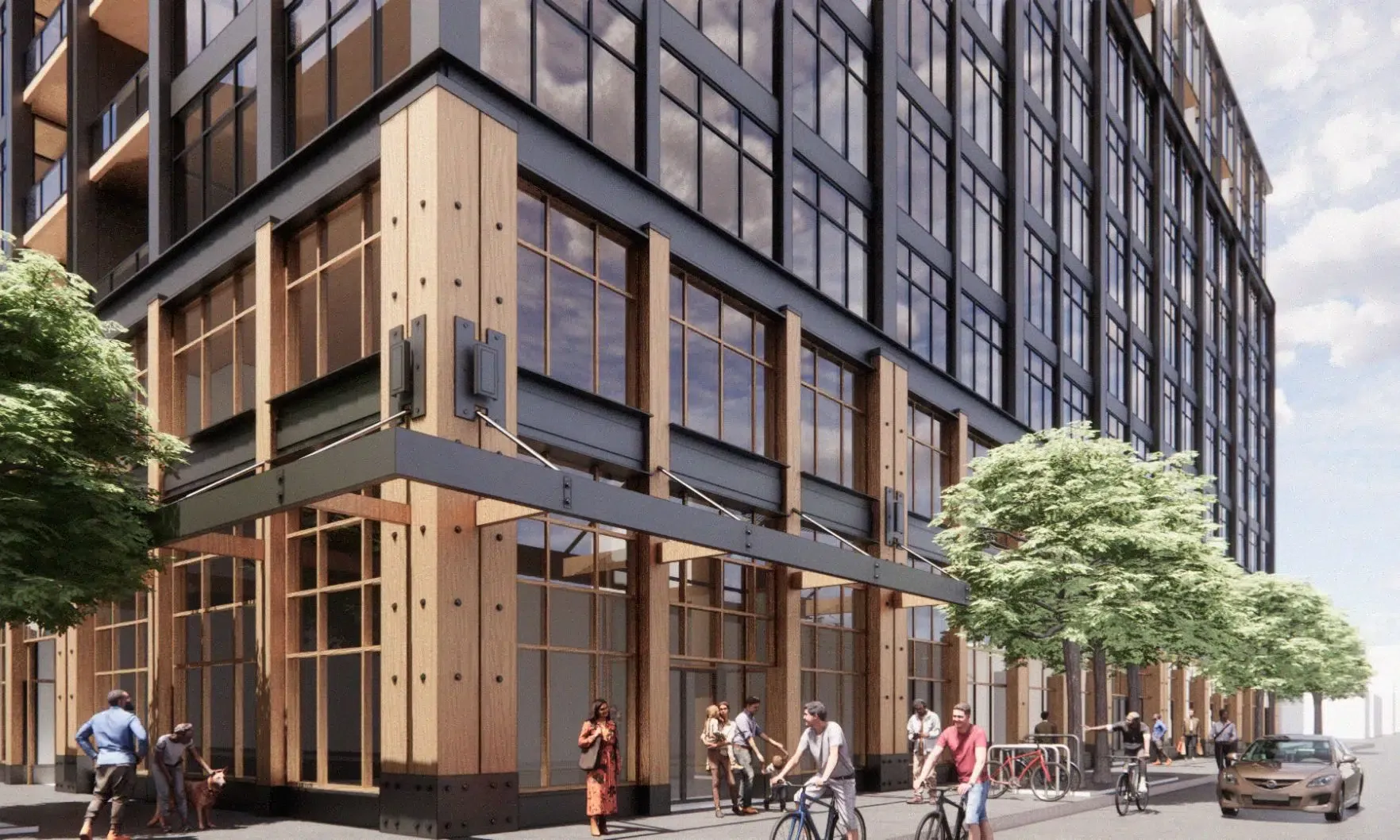 Photo By Sterling Bay
Chicago is world-renowned for its architecture. From its modern steel and glass architecture to the neighborhood bungalow, the city has led the way in architectural design. One style of which the city has not been at the forefront of is the mass-timber movement. But, that might be changing.
Over the last couple of years a handful of mass-timber projects have been planned and built in the city, but the newest plan is the most ambitious so far.
Chicago architecture studio Hartshorne Plunkard Architecture (HPA) has announced plans for a 9-story mass-timber residential tower in Chicago's Lincoln Park neighborhood.
Led by developers Sterling Bay, the building will mark the city's "tallest timber-made building to be constructed since before the Great Chicago Fire of 1871," the developers said.
HPA designed the 119-ft tall building, which will hold 130 residential units as well as amenities.
The structure will have glue-laminated beams and columns and cross-laminated floor assemblies with a reinforced-concrete parking enclosure and a stair core.
"The building was designed from the inside out and organized around the column grid with optimized bays that minimize waste and maximize efficiency in prefabricated mass-timber material," said HPA.
Construction is expected to start in 2023 after the project team gained approval from the Chicago Building department in May 2022 by "demonstrating that the hybrid structural system could meet the rigorous hourly fire-resistance ratings required." However, the project still needs to secure zoning changes and final approval from the city council.
"Construction timelines are faster and, most importantly, mass timber performs well in the event of a fire," said HPA principal Ray Hartshorne.
"HPA is ready to utilize its significant experience in mass-timber design to help Sterling Bay deliver this historic new Chicago development."
"Mass timber buildings are safe, sustainable, and beautiful, and we are excited to lead Chicago's real estate community in working with this innovative building material at 2100 N Southport," said Sterling Bay CEO Andy Gloor.
While this is one of the first major mass-timber constructions in Chicago, this method of construction can be seen in other U.S. cities and around the world. Milwaukee, for instance, recently saw the completion of the world's tallest mass-timber structure, Ascent.
HPA has previously led a number of mass-timber projects around the country, including a nine-story residential program in Cleveland.
Have something to say? Share your thoughts with us in the comments below.