2019 Visionary Award Winners announced
July 19, 2019 | 12:21 pm CDT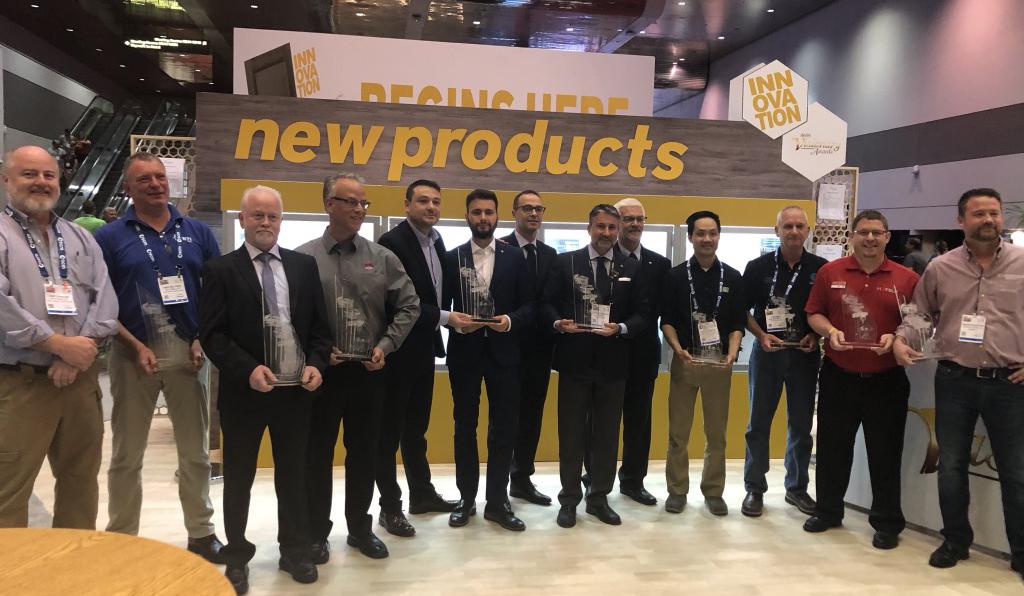 Winners of the 2019 AWFS Visionary Awards were announced July 19 during the AWFS Vegas Fair.  The Visionary New Product Awards promote the development of innovative new technology in woodworking machinery, supplies, and services for the furniture, kitchen cabinets, architectural woodwork, store fixture, upholstery, or specialty and general wood product industries. They are evaluated on quality, production impact, practicality, innovation and user-friendliness.

Selected from a field of 24 finalists, the 2019 award-winning companies and products are below:
Components
Hafele America Co., The Hafele Axilo Plinth Adjusting Fitting System, Booth 4422


With the Axilo Plinth Adjusting Fitting System, the company says the installer has a view of the level at all times for trouble-free alignment. It allows for plinth leveling in just a few manual operations as the adjusting tool acts as an arm extension. There is no more bending, crawling, or stretching as it is capable of reaching the rear feet of the plinth as well.
Hardware
Wagner Meters, The Orion 950 Smart Pinless Wood Moisture Meter, Booth 4260
The Orion 950 features true NIST-traceable in-field calibration, which means the meter will never have to be sent in for calibration, the company says. With an ambient temperature and Relative Humidity (RH) sensor, it can collect data in either manual or automatic mode with viewable moisture stats and can hold data storage of up to 100 readings while providing high-low-average analysis.
Industry 4.0
Biesse, WN6 ROS (Robotic Operating System), Booth 8036
One of the key benefits of the WN 6 ROS panel saw system is its increased productivity. Biesse says the robot can easily keep panels in order and apply software-generated labeling, effectively eliminating mix-ups and errors as the parts move on to drilling, edgebanding or other processes. The ROS eliminates the need for an operator to stop the machine and handle waste management.
Machinery over $50,000
MB Maschinenbau GmbH, Roba Fusion 1, Booth 9256

MB says the double-sided edge shaping ROBA Fusion is a batch-one solution able to edge shape cabinet doors and more of random size. Laser-based measurement of the incoming parts initiate a high-speed aggregate positioning. HSK63 spindles with tool changer and a sophisticated transport system guarantee high throughput, perfect finish and absolute dimensional accuracy, the company adds.
Machinery under $50,000
Yeti Tool Ltd., SmartBench - The world's first industrial grade, portable, CNC router, Booth 10034
The SmartBench features a touchscreen assistant, 3-axis cutting capability, WiFi connectivity, and a light compactable frame that Yeti says can be stored in the tighest of workspaces - including a short wheel based (SWB) van. Despite its small frame, it's capable of processing up to 2500mm (98.43'') x 1250mm (49.2'') sheets edge to edge.
General
Northtech Machine LLC, The L5 No lock air lock fence, Booth 9725
Northtech's L5 is a new style fence system for straightline ripsaws and table saws.  It removes the traditional wheel locking system and replaces it with an automatic locking fence that activates and deactivates by the touch of a hand, resulting in greater efficiency, speed and production. The L5 can be retrofit to existing Northtech saws.
Power Tools
Grex Power Tool, Grex GCP650  Cordless 2-inch 23 gauge Headless Pinner, Booth 10014
Grex Tools' 23 gauge headless pinner drives an extremely fine pin nail, combining cordless power with light weight and maximum maneuverability. The nailer features Grex' patented Integrated-Safety for smooth and accurate operation, a super-fine narrow nose and the ability to drive nails at any angle.
Raw Material
ICA, X-MATT - Coatings Of The Future,  Booth 7074
ICA says its X-Matt "Coatings of the Future" is an innovative line of coatings designed to create high performance ultra-matte surfaces by altering their chemical-physical structures, while featuring self-healing properties and maintaining a lower VOC content compared to UV conventional coatings. Coatings are anti-scratch, resistant to coffee stains, anti-fingerprint, and can be applied to any kind of surface, the company says.
Software
EagleEye ERP, EagleEyeERP, Booth 4133
The ERP software system is designed for cabinet, fixture, closet and other wood products manufacturers. It connects with and uses the data from commonly used engineering and design software – to integrate all facets of the manufacturing process. Cloud-based, it is available as touchscreen and allows access on a variety of devices, including PCs, MAC and tablets with an 8-inch screen or larger.
Tooling
Bessey Tools North America,Bessey GearKlamp, 6102
The GearKlamp features a crank handle that allows for clamping in confined spaces. Bessey says the GearKlamp is optimal when clamping items to workbenches and shop tables with a narrow overhang, or when trying to reach into narrow openings. The clamp can exert up to 450 pounds of force.
Have something to say? Share your thoughts with us in the comments below.