Titebond Offers ProJug Size for Professional Woodworkers
January 15, 2015 | 5:48 pm CST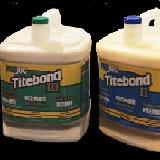 COLUMBUS, OH -- New two gallon PROJUG offers professional woodworkers and others who use larger quantities of wood glue the convenience of the one-gallon Titebond jug in a custom-designed two-gallon container that is easy to use.
Titebond has big news for the professional woodworker who uses significant quantities of wood glue: The introduction of PROJUG, a thoughtfully designed two-gallon jug that fills the need for a container size between the traditional one-gallon bottle and five-gallon pail of Titebond wood glue.PROJUG
The new "tweener" container, to be unveiled at booth 2026 during the International Woodworking Fair 2014, is as easy to use as Titebond's popular one-gallon bottle. The PROJUG's custom dual-handled design makes it comfortable to hold while refilling bottles or applying glue to large jobs. A strategically positioned vent ensures a smooth flow of glue from the container for better control.
Woodworkers who use enough glue to justify the purchase of five-gallon pails might also consider using the two-gallon jug because it enables them to apply the glue directly onto wood pieces from the container. It spares them the need to fill smaller, pourable bottles from the heavier pail.
As with the purchase of most consumer goods, larger containers of Titebond typically are a better value than smaller bottles. Woodworkers can expect to pay slightly less per gallon for the PROJUG than for the one-gallon bottle. The actual container also has a capacity of 2.25 gallons to ensure a full two-gallon fill. When emptied, the recyclable plastic jug can be tossed into the recycling bin.
"We spent months developing the best possible container for professional woodworkers," said Craig Stone, director, marketing innovation, at Franklin International, which produces the Titebond line of wood glues, adhesives and sealants. "The PROJUG is our answer. It provides a larger volume of glue and a better value in an easy-to-handle container. This is another example of our commitment to understanding – and meeting – our customers' needs."
Titebond will offer Titebond Original, Titebond II Premium and Titebond III Ultimate wood glues in PROJUG sizes beginning in October through specialty woodworking retailers and distributors. Trilingual labels (English, Spanish and French) simplify requisition and distribution of the jugs across North America.
About Franklin International:
Established in 1935, Franklin International is among the largest privately held manufacturers of adhesives and sealants in the U.S. The company employs approximately 400 at its headquarters, laboratory and plant, in Columbus, OH; eight distribution centers across the U.S.; and a new plant in Guangzhou, China. Franklin provides local support to customers domestically and globally through a network of 75 independent sales representatives and direct field sales associates. The company maintains two divisions: the Construction Division, which manufactures a complete line of Titebond® wood glues for cabinet shops and hobbyists as well as a full line of Titebond® adhesives and sealants for construction professionals and do-it-yourselfers who demand the professional touch; and Franklin Adhesives & Polymers, which provides adhesives to industrial wood-assembly plants and pressure sensitive adhesives to label manufacturers.
Source: Franklin IntL.
Have something to say? Share your thoughts with us in the comments below.