Expansion brightens B.C. cabinet company
May 13, 2022 | 9:37 am CDT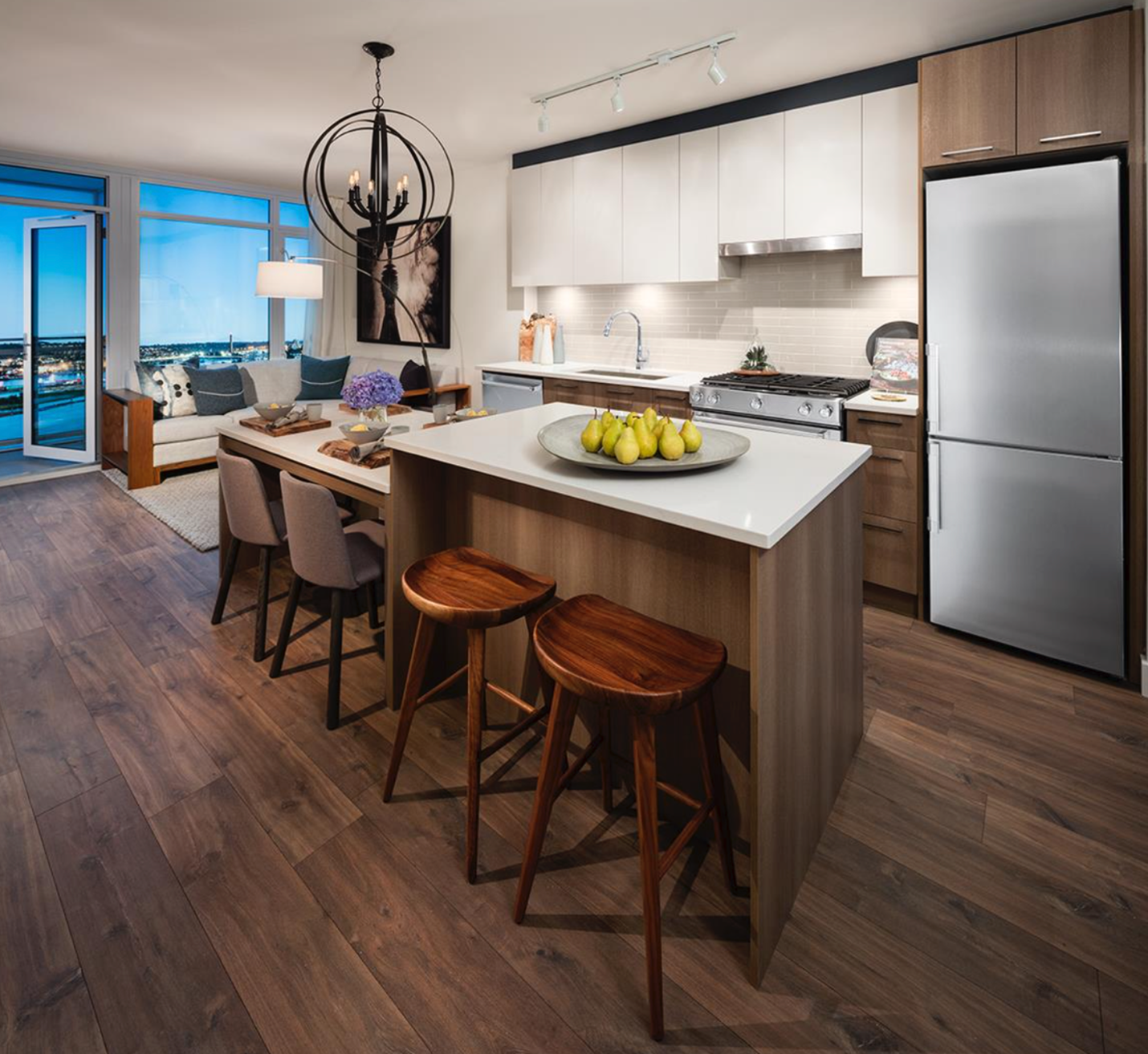 SURREY B.C. -- Sunrise is a daily transformation. An affirmation of a new dawn, a new day. 
Surrey, B.C.-based Sunrise Kitchens has undergone its own transformation, one that can be seen every day, at every shift in its factory and in their work installed in residences throughout Canada's westernmost province as well as in the northwest United States.
Beginning in 2016, the company began a $12-million-dollar expansion that saw its plant grow by 35,000 square feet to 80,000 square feet, and its factory floor revolutionized into a highly automated factory. That expansion continues, and a new round of improvements to the tune of another $12 million is in the planning stages. A lot of changes in a short period of time.
One thing hasn't changed, however. Family.
The family tree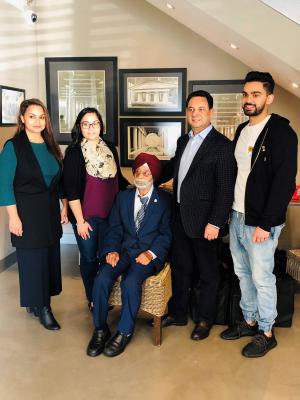 Sunrise Kitchens started in a garage in 1983 by the late founder Sohan Singh Bhogal.
Born in Pakistan in 1933, Bhogal came to Canada in his 50s with entrepreneurial fervor. 
Developing Sunrise Kitchens became his dream. A dream that included more than just one person.
"He wanted to help our local community by offering quality products and to provide area employment for the community," said Paul Bhogal, company CEO and the founder's son. "My father was involved up until about late-1990s. He built our success through trust, innovation, and a commitment to growth."
Starting as a teen in the shop, Paul Bhogal helped the company grow from that garage to the company it is today. He didn't do it alone, especially in recent years. The operation includes his wife Harjinder, who does payroll and account management, son Navjot and daughter Amrita. Navot Bhogal developed the marketing division and is the business analyst, and Amrita is People & Culture Leader who has been key to bringing Kaisen (continuous improvement) and lean principles to the company.
Other members of the executive team include Ramesh Jasrotia, CFO; Luciano Anjos, strategic organizational development; and Gary Marasigan, director of operations.
In all, the company employs around 140 people — a far cry from the initial two-person garage shop — producing large jobs for the multi-family market on a project-based schedule. The "one-stop solutions provider for all things cabinets," handles design, material sourcing, engineering, production, delivery, and even installation at the construction site.
"We don't have any catalog of our own," Bhogal said. "So, each project becomes a new product line for us. That's how we set up our business."
Planning for expansion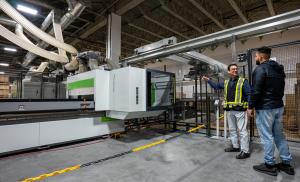 In 2016, Bhogal determined that expansion was necessary if the company wanted to market to the burgeoning multi-family market in British Columbia. (The company did not abandon the single-family market. Instead, it spun off that division into a separate company, Alba Industries, which means sunrise in Italian.)
"The expansion allowed us to increase our production capacity to better serve the requirements of the North American West Coast construction and multi-family development industry," said Bhogal. "We wanted to add more capacity both via the plant expansion, but also through more automation in our production processes. We started to look at new ways of doing things."
A smarter factory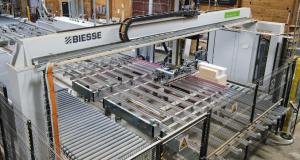 In addition to the physical plant expansion, there was also heavy investment in new machinery, automation and technology. More than 90% of its equipment is computer-controlled and networked. Some of the newer machines include robotic material handling. 
"Instead of our operators lifting and moving the material manually, we have the robots doing that for us," said Bhogal. "The new machines, technology and processes along with the added space contributed to an increase of 50 percent capacity." 
In terms of cabinets produced, the new equipment and a barcode label tracking system has help boost production from 200 cabinets per day to 300 to 350 cabinets, he said.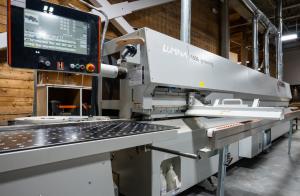 The automated equipment offers more precision, enhanced efficiency, shorter lead-times, higher quality products, and greater value to customers, Bhogal said. The equipment is expected to further support the company's transformation toward automated manufacturing and applying Kaizen principles along with lean manufacturing thinking, he said.
The biggest addition, to this point, is a 120 ft. by 36 ft. Winstore automated material handling system from Biesse that feeds the other equipment in the work cell including a Lumina 1596 edgebander that uses laser technology to create "invisible" joints. 
The company also added three additional nesting routers, two from Biesse and one from C.R. Onsrud. The two Biesse routers are integrated with the Winstore, but Bhogal also wanted a standalone machine to supplement the Winstore production line. "We got the Onsrud because it is stable and fast." They already had two other Biesse routers that also continue as standalones. The company added a fully-automated Biesse edgebanding line as well, and it has two other edgebanders, one IMA and the other a Holz-Her, that the company runs as standalone machines.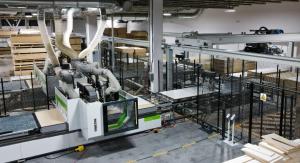 Helping drive this fast-moving production line is an integrated tracking system. Parts have a barcode label applied to them that are scanned at various stages in production throughout the factory. This allows managers to know exactly where parts are in production, and how many have been assembled. "The parts are linked all the way through every operation," said Bhogal.
Bhogal said that it took between five and six months to get the equip ment integrated and to configure the software to work together. Software was perhaps the most challenging aspect of the upgrades. "Software is a big thing these days," he said, "because every machine comes with its own software, and then we have our own design software, then our engineering software, and they all have to link together to speak to one another. And, that's a big challenge for any factory."
Bhogal said the equipment also provides managers access to analytics that provide up-to-date production information. "We know exactly what the efficiency levels are for the machines, and today, you can get the information right on your screen to see how each machine is operating." 
It also helps with maintenance issues. "The machines have attachments (sensors) that let you know how the machine is running. (For instance), what is the remaining life of a bearing or if the machine is running too hot or drawing too much power." 
With that information, the managers can make machine predictions and they can start working on an action plan.
More advancements planned
Despite all of the already-completed advancements and installations, the company is not done.
For instance, the company is upgrading its paint and finishing capabilities. Currently, it has a Venjakob finishing line that has been successful in achieving production requirements, and proved invaluable in keeping production going while the company waits on a new Cefla finishing line to be delivered. After installation, the company plans to undertake extensive testing on the finishing process. 
The company also plans to further integrate Industry 4.0, and bring in more robotic systems for part- and material-handling operations. "You automate where you can to reduce operator time and increase the efficiency of the machine to its highest potential," he said. 
This can be critical, as the company continues to grow. For instance, Bhogal said that after a router cuts parts, robotic arms will offload from the routers and transport the parts to the next operation, "whichever way it needs to go," he said. "So, whether it goes on Line 1, Line 2, or Line 3, the robotic arm can read the labels and decide where it needs to go and do so much faster than a human being. 
"That's our plan for the future," Bhogal said. "Right now, we have automated our raw-material handling, and our cutting and edgebanding capabilities. Over the next three years, we will be automating our hardware insertion, assembly line and adding the other paint line. That means we have another three years where we will continue to invest heavily into the business."
Have something to say? Share your thoughts with us in the comments below.