Kitchen trends on display
February 25, 2022 | 9:57 am CST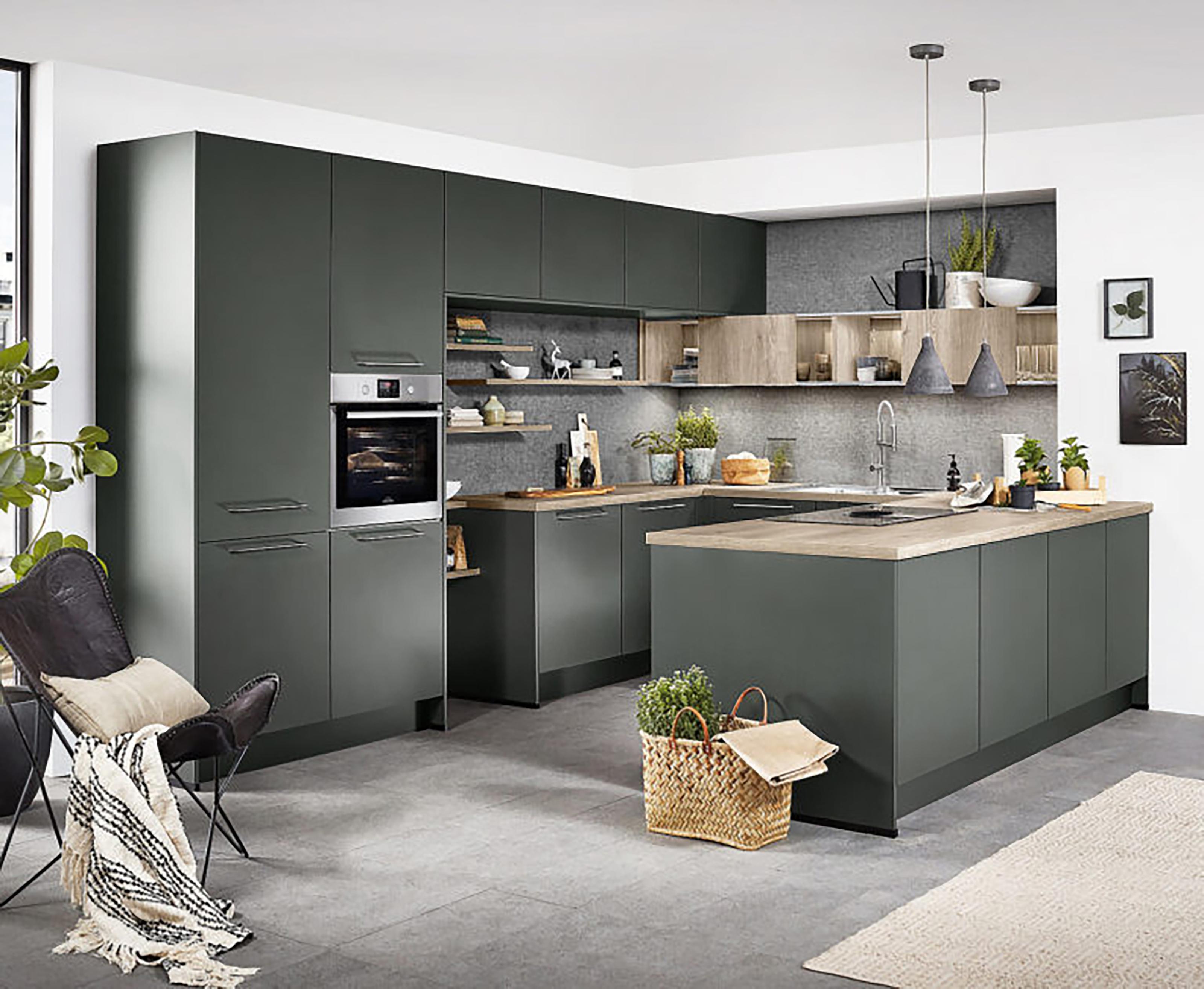 Supply chain issues and the pandemic (or endemic?) might be slowing down production, but they are not slowing the pace of changing kitchen cabinet trends.

Based on interviews with exhibitors at the combined Kitchen and Bath Show and International Builders Show, which attracted 70,000 people to Orlando in February, plus visual inspection of displays, and chats with designers and hardware vendors, nothing is staying static in the world of kitchen cabinet design. 

Some ongoing trends, such as the increasing popularity of frameless cabinetry are continuing to gain ground while other trends affecting accessories, hardware, and finishes are continuing to evolve. 

Here's a non-scientific look at some key areas and the trends we see.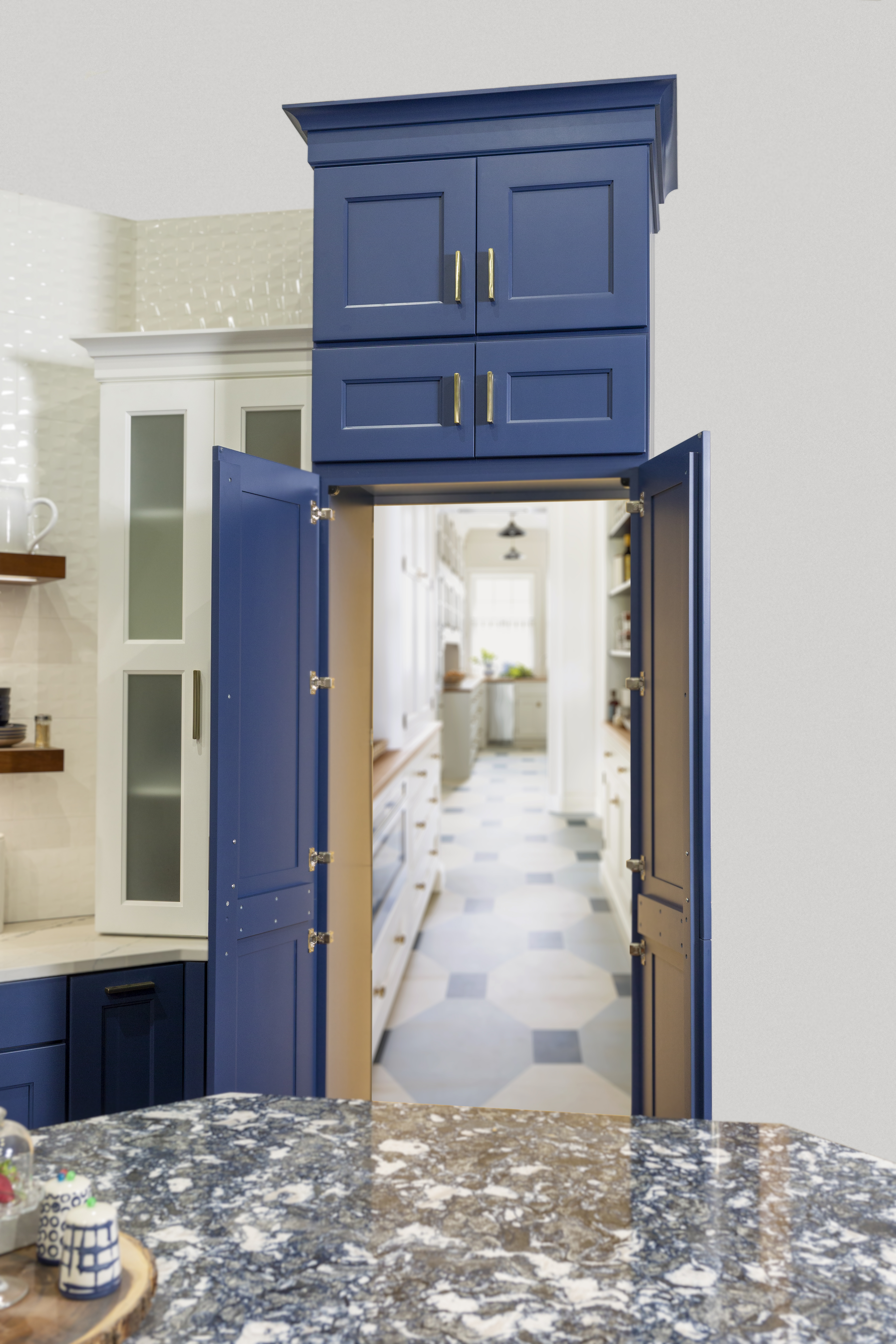 Hide in plain sight
Pantries, whether just a cabinet or a whole room, have always been a popular kitchen feature, but the latest pantry trend is to hide a pantry room or deep closet behind a secret door in the kitchen. It's kind of like those secret library doors you see in so many mystery movies only this door looks more like kitchen cabinet doors or even an open shelf unit.

"A walk-through pantry is a creative and beautiful way to add space to an existing pantry or create better flow to a new house plan," said Angela O'Neill, director of marketing, Wellborn Cabinet Inc., one of the largest cabinet manufacturers in the U.S. and #64 on the FDMC 300 list. "You can completely change the look and style of your current pantry."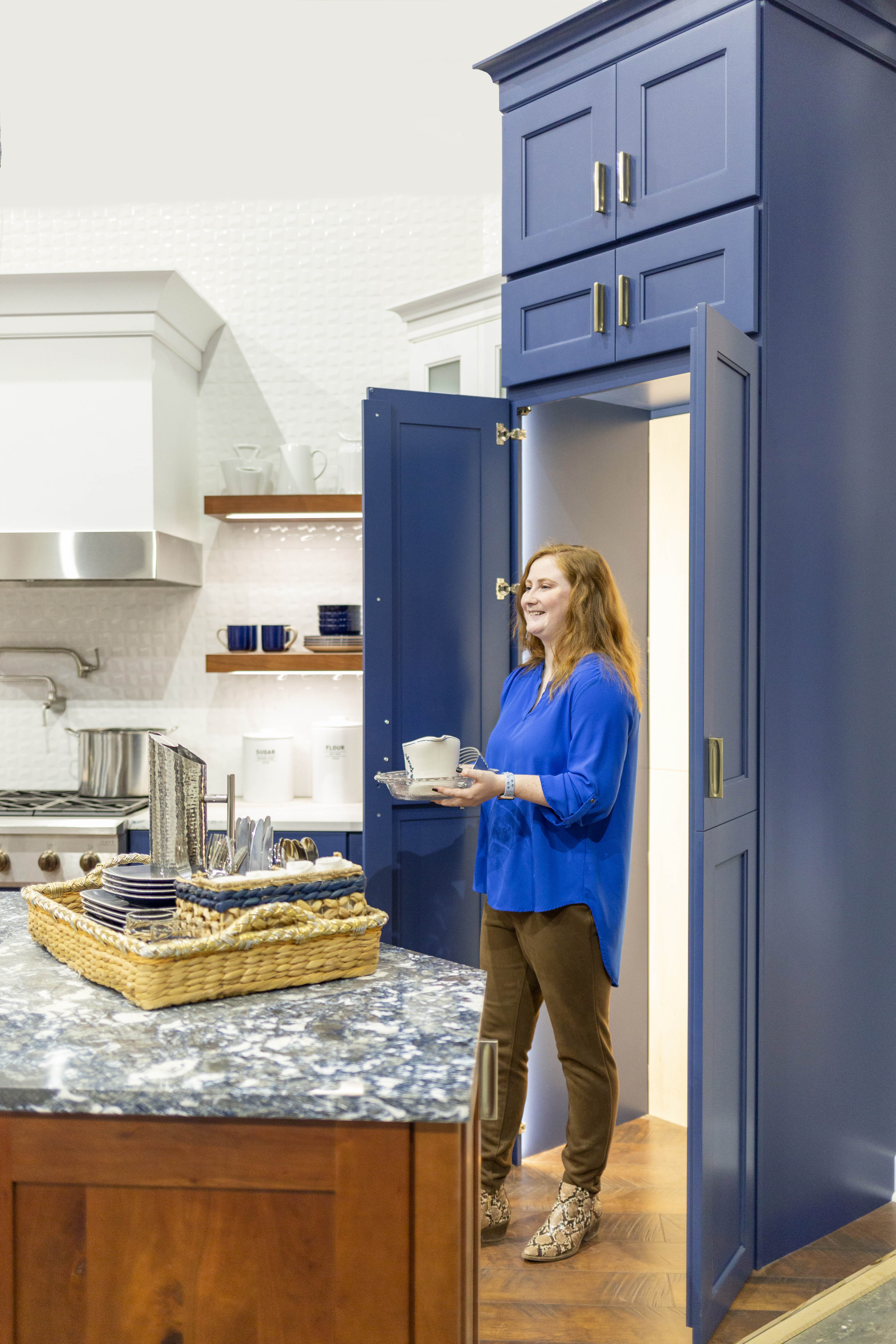 Wellborn's version showed tall cabinet doors that opened to a hidden pantry. Another company well known for hidden cabinet and furniture features, Murphy Door Inc., had not missed out on the new trend, adding pantry displays to its fleet of hidden door options for security spaces, closets, beds, libraries, and other features. 

Most of the Murphy units are styled as shelves or cabinetry in which the whole unit pivots open to reveal the hidden space or feature.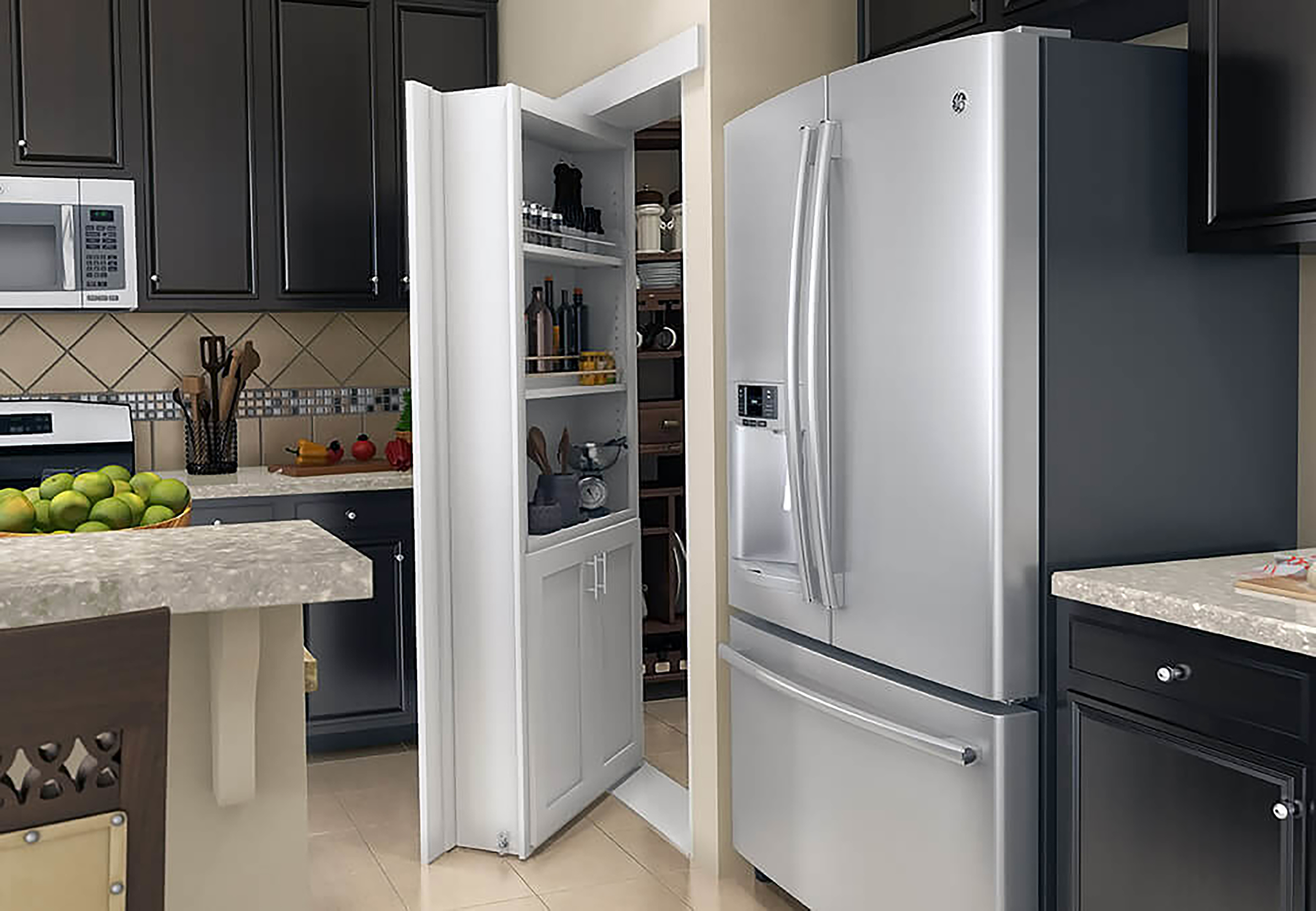 Frameless still rising
While it is still not taking over the American market, European-style frameless cabinetry clearly continues to be on the rise and is gaining an ever-larger share of the market. What's most interesting is this trend strikes at both ends of the kitchen cabinet spectrum, from low-end multi-family apartment installations on up to ultra-high-end kitchen furniture imported from Europe.

"It features easier access, cleaning, and installation and offers more design creativity," said Andrea Fernandez, sales operations supervisor and product training specialist for Nobilia, a German manufacturer. She described the Euro-style kitchen as like a "Lego set" the way units can be assembled and reconfigured.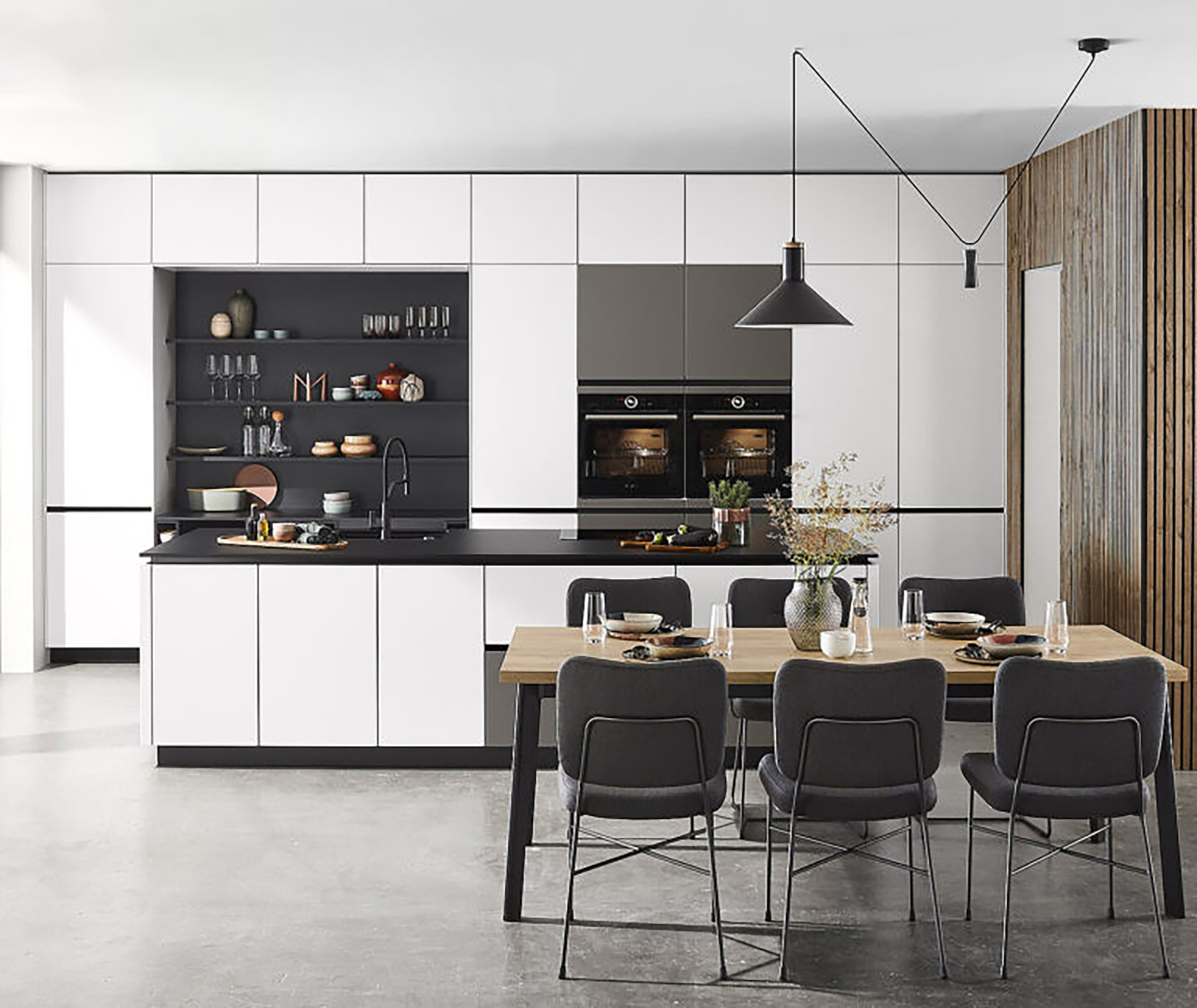 While Nobilia might not yet be a household name across the U.S., the company manufactures 3,500 kitchens a day in its German factories. The look is all upscale, emphasizing clean lines, high-gloss or matte finishes, integrated lighting, and often no visible hardware.

Wellborn, which has offered its Aspire frameless line for a number of years, continues to devote more energy in that direction. "Frameless is on trend and growing," said O'Neill.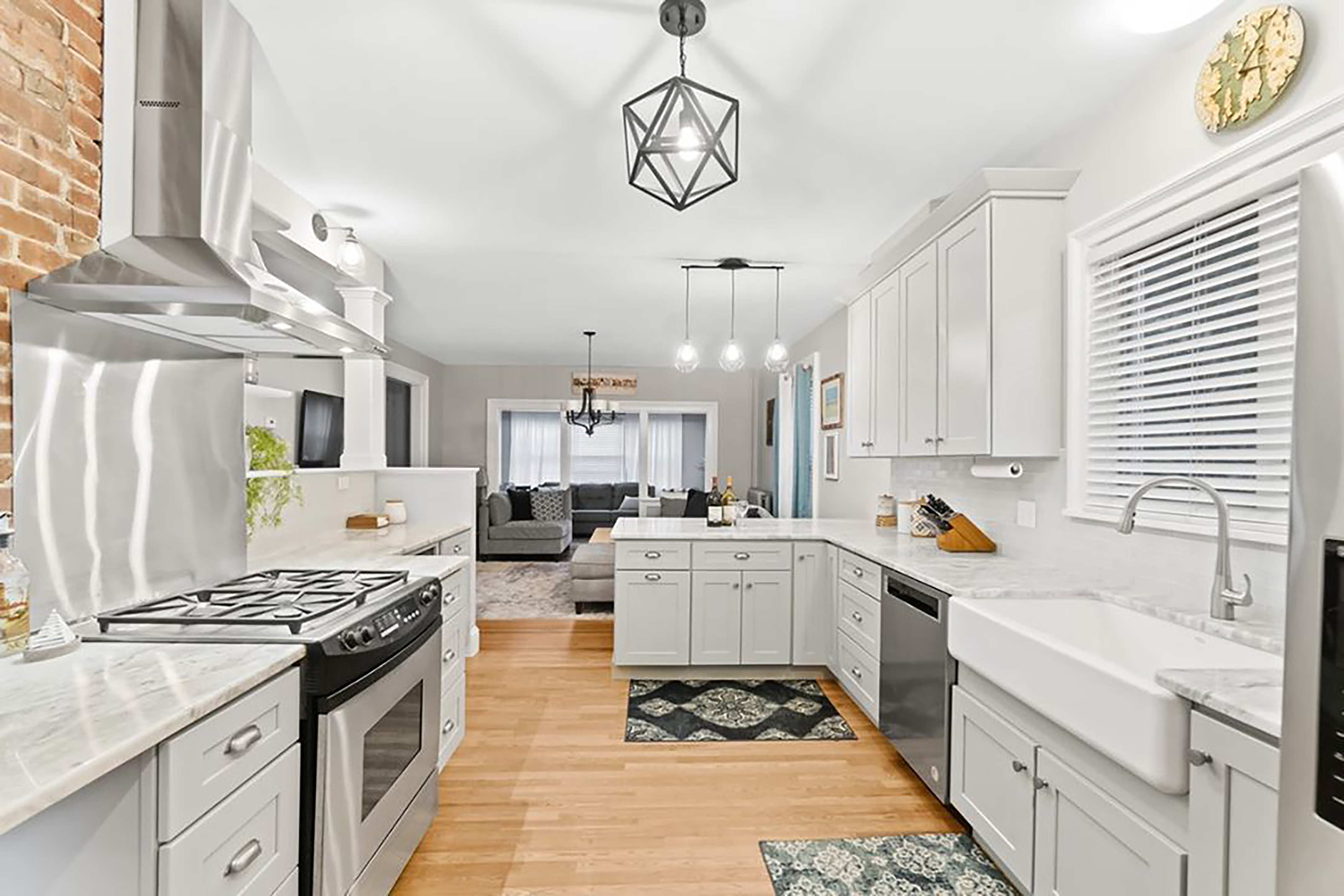 Full-overlay doors
Even companies that still emphasize face-frame construction offer kitchens dominated by full overlay doors, which can give much the same look as a frameless kitchen. Door styles everywhere were dominated by versions of Shaker style, often morphed into what has become known as the transitional style.

Charlotte Terry, a product specialist for Fabuwood Cabinetry, said the Transitional Farmhouse style is a rising trend that features some Shaker elements.
 
O'Neill at Wellborn pointed out how they have updated the Shaker look with narrower stiles and rails and subtle moulded treatments on the interior of the door frame while still using the Shaker-style flat panel. "We call it trim or slim Shaker," she said.

James Rugg, marketing coordinator at JSI Cabinetry, said Shaker still dominates their offerings with a 2-inch rail. All their cabinets are face frame with full overlay doors.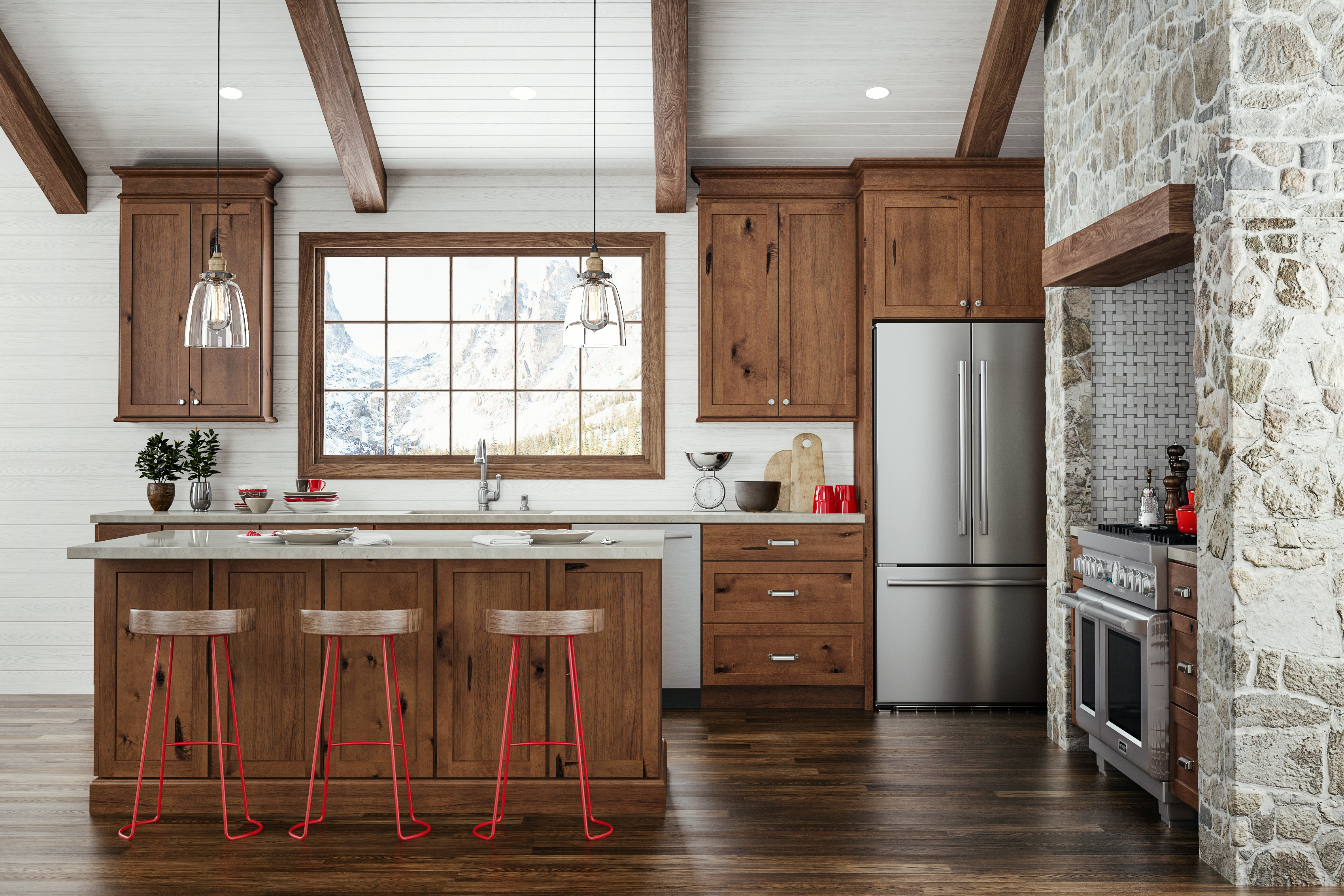 More "natural"
Virtually all of the people we spoke to highlighted what is being called a "natural" trend in kitchen design. That seems to be the catchphrase to encompass a variety of trends in colors, finishes and materials that are on the rise.

Fernandez at Nobilia cited increasing demand for "natural warm tones and colors." But that doesn't necessarily mean natural materials. The new textured wood-look laminates are a popular offering for them.
Rugg at JSI Cabinetry says the natural trend is driven by reaction to the pandemic. "People want an oasis in their home," he said. He said rustic brown wood and warm beige colors are popular.

A number of displays featured combinations of natural wood looks with contrasting lighter and darker painted or laminated cabinets. The typical formula was upper and lower cabinets in contrasting colors and an island with a wood look.
Bright colors
Brighter colors were in more evidence throughout the kitchen displays at the show. 

"We're offering brighter colors coming out of the pandemic," said Rugg at JSI Cabinetry. "They want to express themselves."

Those brighter colors range from yellows and greens to brighter blues. White is still the leading color for kitchens by far, but a number of companies are offering white in warmer shades. Wellborn is offering 22 new colors this year, and they include a number of shades in warmer tones, including medium brown and warmer gray and white shades.

Speaking of gray, the fad for gray everything seems to have peaked. Gray is still in evidence in the color palettes of most companies, but it isn't the dominant shade it used to be. Blues and greens are moving in, especially green shades that mesh both with the drive for brighter colors and the movement to more natural earth tones.

Matte or gloss
Finish sheens on kitchen displays in the show ran the gamut from dead matte to glass-like gloss. Often different sheens were mixed in the same kitchen for design effect.

Nobilia, with its clean European design lines, had a combination of matte finishes, glass surfaces and very high gloss, and then other surfaces in the new textured laminates to mimic the warm feel of wood. 

On the domestic front, Wellborn's O'Neill said, "Matte is still moving, but more gloss is coming."

Extreme gloss and extreme matte both tended to dominate in frameless applications. 

Gloss also showed up in bathroom applications as well as kitchens and was more common in upper cabinets, sometimes with contrasting matte lowers.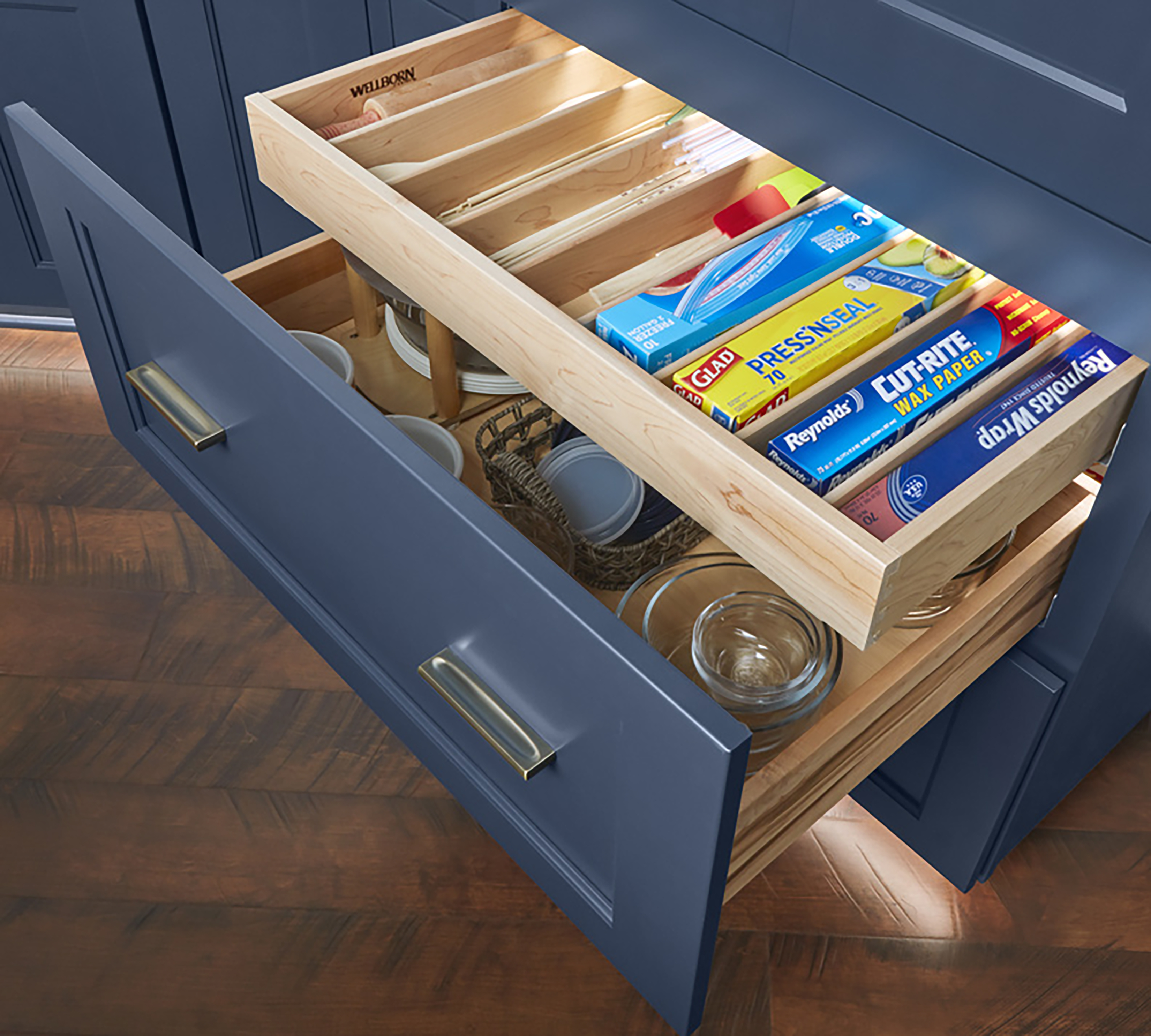 Bigger drawers
One interesting trend we saw in many displays was the move to fewer and bigger visible drawers. 

Whereas in the past a base cabinet with a bank of drawers would have three or four drawers showing, now the count is down to two or only one. 

Actually, the reduction in drawer numbers is often an optical illusion. When you pull out the one big drawer, it might reveal drawers within drawers.

"People want more internal organized storage," said Wellborn's O'Neill, but she said people at the same time want the cleaner outside look of fewer drawers, so the solution is to have big drawer fronts concealing smaller organizing drawers inside.

Terry at Fabuwood said much the same goes for doors, and they are doing more single-door cabinets.
Another trend is the continuing growth in overhead doors and pull-down shelves for upper cabinets.

Accessories
Inside the cabinetry, the march is on for more and more accessories. Anything that can be organized will have special accessories available. That includes deep drawers for plates or pots and pans, shallow drawers (or drawers within drawers) for cutlery, spices, and specialty items. 

"Accessories are everywhere," said Terry from Fabuwood.

Special-purpose drawers were showing up in displays. Wellborn featured a narrow drawer to hold a step stool as a standard feature in several of its kitchens. Wellborn also had a drawer pullout to hold a paper towel roll, thus moving the towel roll off the countertop. 

Various hardware companies were showing off systems for storing and using mixers or pullout cutting boards.
Visible accessorizing was seen in a fair number of displays with wine racks, plate racks, and glass racks, but even more popular were open and floating shelves. "Floating shelves are a huge hit," said Rugg from JSI Cabinetry.

Hardware
Functional hardware trends could be summed up as "quiet and invisible." That includes all the soft-close options for both doors and drawers, as well as a growing trend to eliminate visible hardware.

Nobilia combined handleless doors and drawers with lighting features that highlight where to find the hidden pulls built into the edges. Wellborn eliminated door and drawer hardware in many of their designs by installing push latches that they describe as "touch to open." Similar semi-automated systems are applied to interior features such as iMove pull-down shelf systems installed in upper cabinets.

Soft-close was everywhere, clearly now the established standard for all drawers and drawers.

One interesting system we saw at Sugatsune was designed for cabinets on the move. For applications in recreational vehicles, boats, or airplanes, Sugatsune has latches that also function as knobs. When the knob is pushed in, it is nearly flush with the door or drawer front and locks the unit closed. Pushing the knob like a button unlocks the door or drawer and allows the knob to pop out to be used as a handle. Other trends
A few years ago, appliance garages were all the trend, then they disappeared. Now they are back as a design feature in which upper cabinets rest on the countertops and the bottom of the cabinet conceals appliances. Fabuwood showed several examples of that. 

Pet centers are still popular and might become quite elaborate. Wellborn showed a pet center that was combined with a laundry room. It included a tiled raised sink for washing pets, a feeding station that pops out from the cabinet toe kick, plus organized storage for pet food and grooming implements.

Charging stations incorporated into cabinetry are an ongoing trend. Sometimes they are on or related to the countertop; other times they are in a dedicated drawer to conceal devices and cords while charging. A related feature for bathrooms is a powered drawer with receptacles for hair dryers, electric shavers, electric toothbrushes, and any other electric bathroom appliance. 
For more information:

Fabuwood Cabinetry/fabuwood.com
JSI Cabinetry/jsicabinetry.com
Murphy Door Inc./murphydoor.com
Nobilia/nobiliakitchenfurniture.com
Sugatsune America Inc./sugatsune.com
Welborn Cabinet Inc./wellborn.com
Have something to say? Share your thoughts with us in the comments below.