Window & door industry drivers & forecasts
December 8, 2021 | 12:11 pm CST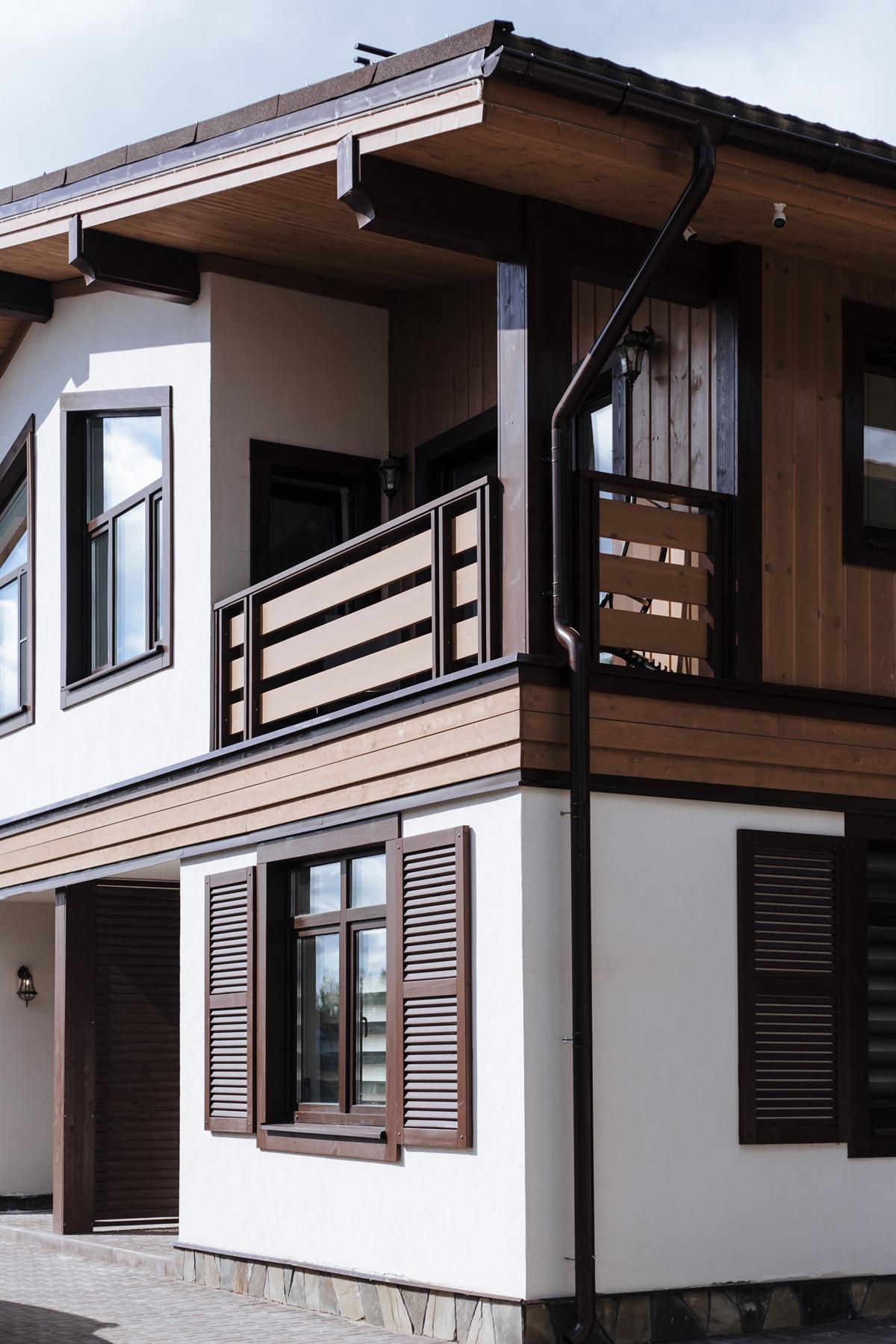 Photo By Ron Lach from Pexels
While the 2021 outlook for U.S. residential windows and doors continue to be positive, the commercial market is looking instead to 2022 for a rebound, according to the Fenestration and Glazing Industry Alliance's FGIA 2020/2021 U.S. Industry Statistical Review and Forecast.
Demand for residential windows should see a 6.8% rise in 2021 due to the continued strength of the new housing market in particular, followed by a 1.8% increase in 2022. This follows 2020's 1.5% growth, which saw new construction up 3.2%, and remodeling and replacement demand almost flat at a 0.2% increase.
Likewise, the residential door market is expected to grow in 2021 due to strong single-family construction activity. 2020 saw an overall 1.8% gain, with new construction rising 3.2% while remodeling and replacement demand, which has the greater market share, growing 1.0%. Looking ahead, 2022 and 2023 also are expected to see growth, according to FGIA.
Meanwhile, FGIA projects a decline in commercial windows for 2021, before rebounding in 2022 and 2023. The non-residential glazing market decreased by 11% in 2020, with decreases across all applications; new construction shrank by 11%, while renovation demand decreased by 12%.
Commercial entry doors are also expected to see a recovery in 2022. Hard hit by the pandemic, demand dropped by 10.5% in 2020, and continued to decline in 2021. However, 2022 should see gains of 2.6%, FGIA said, along with 0.3% in 2023.
See the infographic below. Find more market data in the December 2021 FDMC Wood Industry Almanac.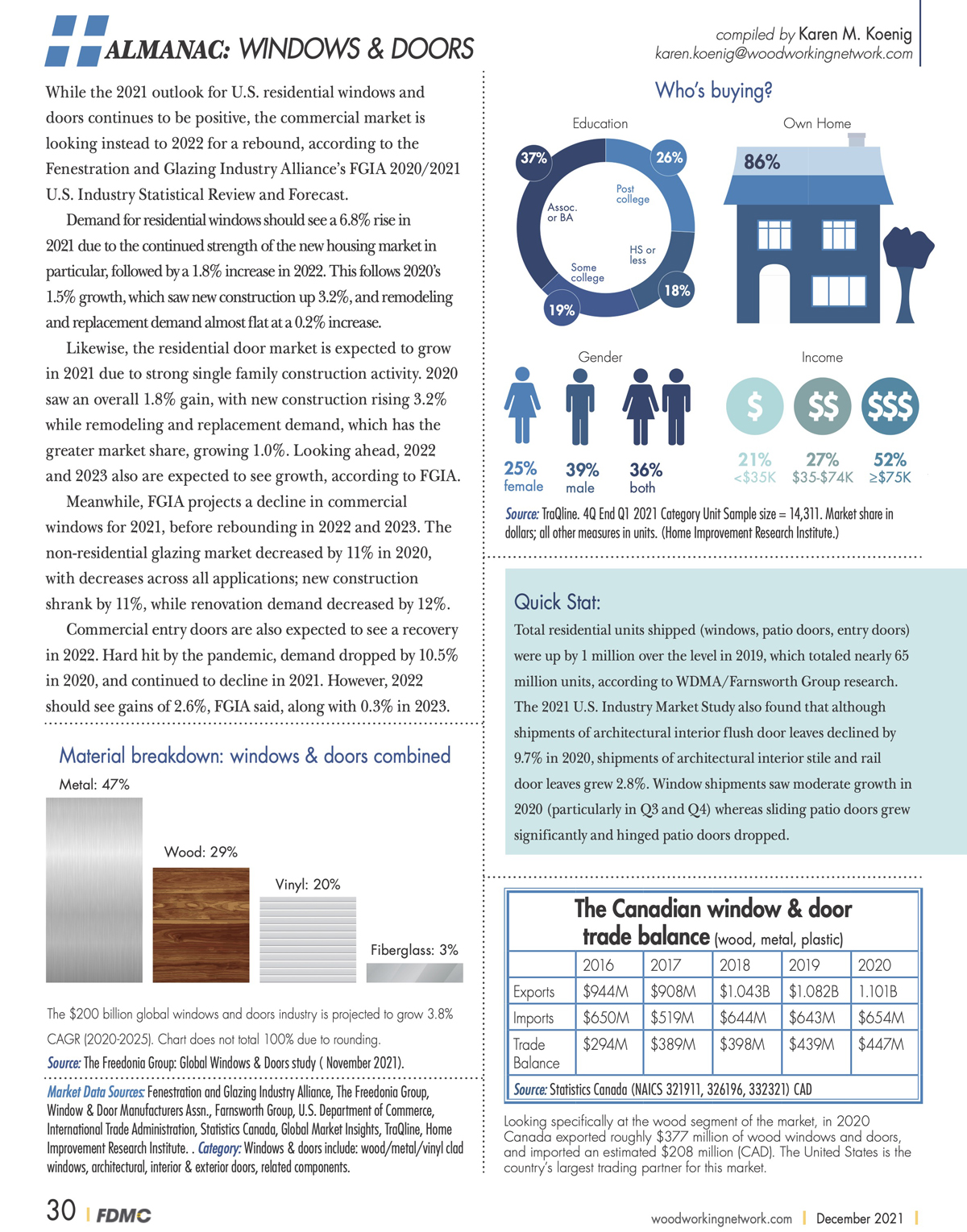 Quick Stats
• Total residential units shipped (windows, patio doors, entry doors) were up by 1 million over the level in 2019, which totaled nearly 65 million units, according to WDMA/Farnsworth Group research. The 2021 U.S. Industry Market Study also found that although shipments of architectural interior flush door leaves declined by 9.7% in 2020, shipments of architectural interior stile and rail door leaves grew 2.8%. Window shipments saw moderate growth in 2020 (particularly in Q3 and Q4) whereas sliding patio doors grew significantly and hinged patio doors dropped.
• Residential skylights closed the year at 1,120 thousand units, or just over 1.1 million, a growth rate of 4% over 2019 volume, according to the FGIA 2020/2021 U.S. Industry Statistical Review and Forecast. New construction skylight activity was up 3%, while remodeling and replacement skylight activity was up 4% vs 2019.
• The global windows and doors market was valued at $153.1 billion in 2020 and is estimated to grow 6.2% CAGR from 2021 to 2027, to $227.1 billion, according to Global Market Insights. The residential segment will generate demand of more than 10 billion square foot by 2027 due to new housing construction. North America market will account for roughly $40 billion by 2027 due to the growing investments in public and private infrastructure. Asia Pacific windows and doors market are slated to showcase 6.4% growth rate through 2027.
Market Data Sources: Fenestration and Glazing Industry Alliance, The Freedonia Group,  TraQline, Home Improvement Research Institute, Window & Door Manufacturers Assn., The Farnsworth Group research, Global Market Insights, U.S. Department of Commerce, U.S.-International Trade Administration, Statistics Canada (StatCan), Government of Canada.
Category: Windows & doors include: wood/metal/vinyl clad windows, architectural, interior & exterior doors, related components.
Find more market data in the December 2021 FDMC Wood Industry Almanac.
Have something to say? Share your thoughts with us in the comments below.