Residential furniture industry outlook: Quick stats
December 6, 2021 | 12:45 pm CST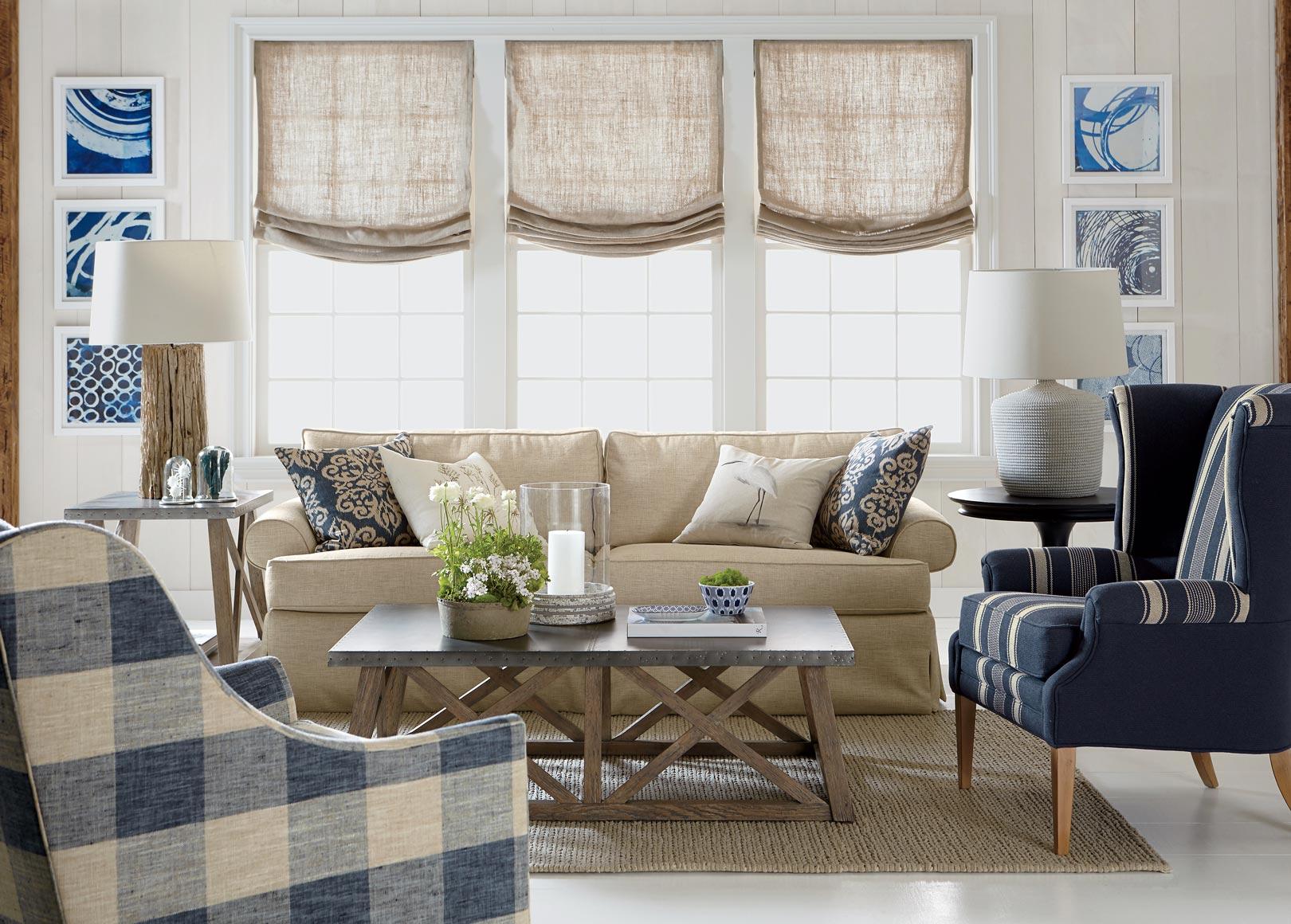 Photo By Ethan Allen: Comfort Zone living room
The impact of the pandemic continues to affect the industry, with August's new orders for residential furniture dropping 14% compared to a year ago. However, notes research and analyst firm Smith Leonard, the numbers may not be as alarming as they first appear.
As noted in October by Ken Smith, managing partner, in the latest Furniture Insights, "Year to date, new orders were up 29% and up 35% over the same period of 2019. Based on those results, we turned off the alarm." Orders year to date were up for 91% of the residential furniture manufacturers and distributors participating in the monthly survey.
Shipments were up 10% in August compared to 2020 figures, for approximately 71% of the participants. Compared to 2019 figures, they rose 14%. Year-to-date shipments were up 34% for an estimated 91% of the survey participants.
While supply chain issues and time delays continue to be a problem for many, the mood at High Point was generally positive, which bodes well for the industry.
See the infographic below. Find more market data in the December 2021 FDMC Wood Industry Almanac.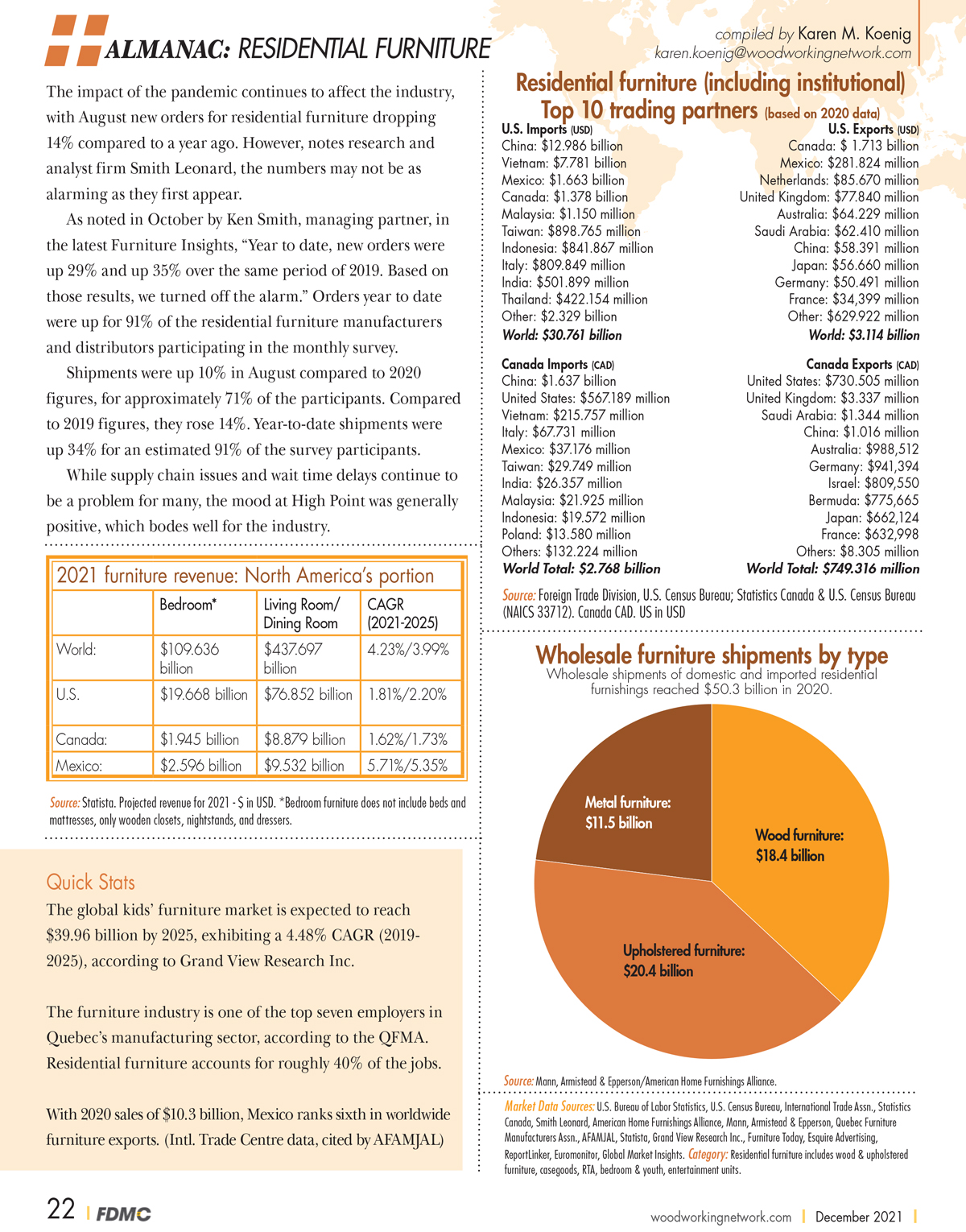 Quick Stats
• The global kids' furniture market is expected to reach $39.96 billion by 2025, exhibiting a 4.48% CAGR (2019-2025), according to Grand View Research Inc.
• The furniture industry is one of the top seven employers in Quebec's manufacturing sector, according to the QFMA. Residential furniture accounts for roughly 40% of the jobs.
• With sales of $10.3 billion, Mexico ranked sixth in worldwide furniture exports, according to 2020 data published by the International Trade Centre and cited by AFAMJAL.  Meanwhile, a report by Euromonitor shows Mexico with a production value of $6.0 billion (USD), or 25.2% of the Latin America total in 2020.
• The average furniture consumer is a female in her early 50s, with an income of $50,000-$75,000, according to a study of 1.4 million shoppers by Esquire Advertising (January-June 2021), as cited in Furniture Today.
• The global canopy bed market, valued at $6.2 billion in 2020, is projected to reach $8.4 billion by 2030, registering a CAGR of 3.2%, according to ResearchandMarkets.com.
Market Data Sources: U.S. Bureau of Labor Statistics, U.S. Census Bureau, Statista, U.S. International Trade Administration, Statistics Canada (StatCan), Smith Leonard, American Home Furnishings Alliance (AHFA), Mann, Armistead & Epperson Ltd., Quebec Furniture Manufacturers Assn., AFAMJAL, Grand View Research Inc., Furniture Today, Esquire Advertising, Research and Markets, Euromonitor, Global Market Insights.
Category: Residential furniture includes wood & upholstered furniture, casegoods, RTA, bedroom & youth, entertainment units.
Find more market data in the December 2021 FDMC Wood Industry Almanac.
Have something to say? Share your thoughts with us in the comments below.