Wood components & industrial products market data: Infographic
December 8, 2021 | 12:52 pm CST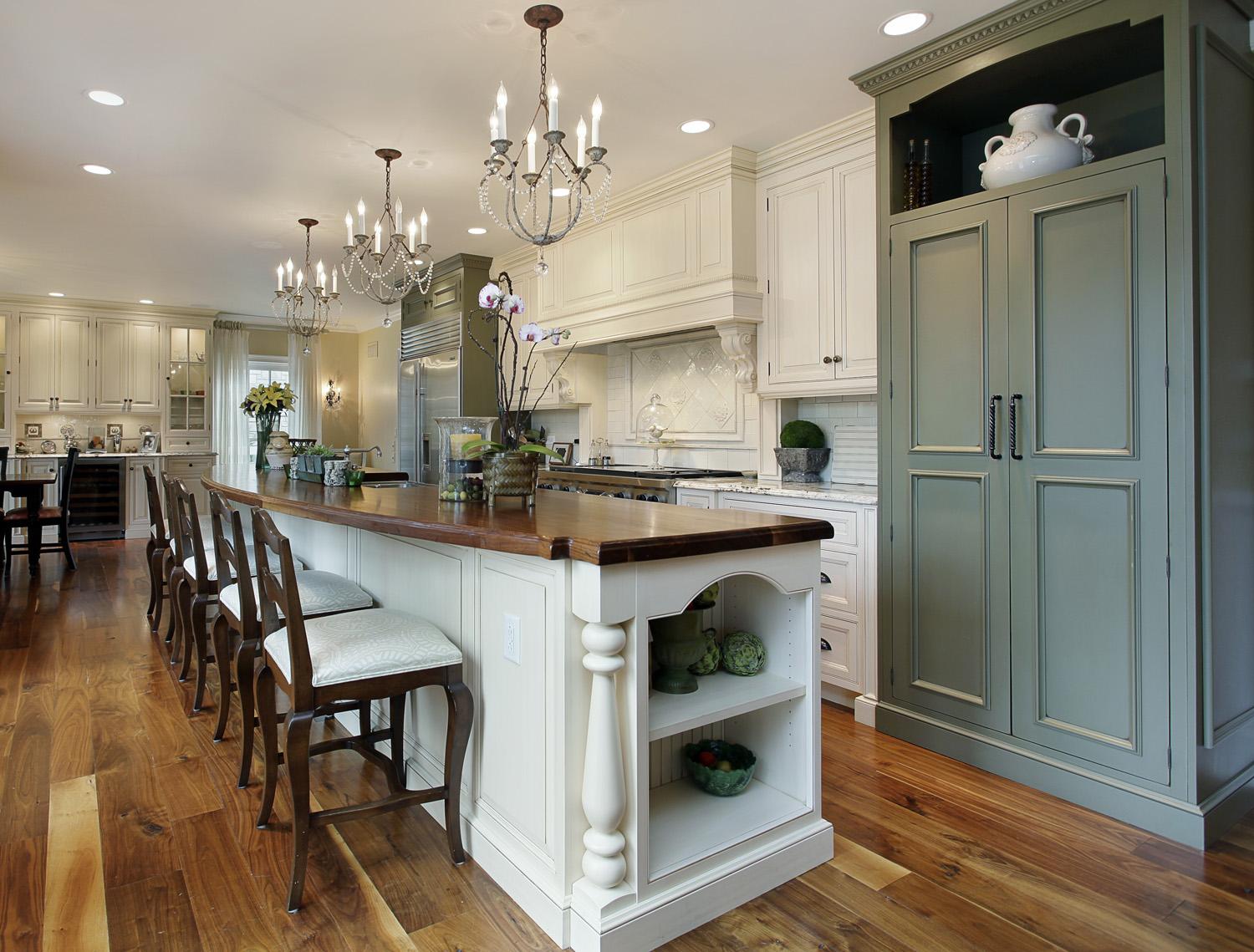 The market outlook for components, which is an integral part of the cabinetry, furniture, and other wood products industries, remains positive.
In fact, demand for wood millwork is forecast to increase 2.4% annually through 2023, according to Wood Millwork: United States, by The Freedonia Group. Gains will be driven by rising construction activity and wood's pleasing properties.
With regard to species use in general, a survey of more than 150 North American component and dimension producers found hard maple ranks at the top for species used in components, followed by red oak, poplar, white oak and soft maple, although this could change as lumber shortage issues continue. The popularity of laminated components had 33.8% selecting composite panel from the list, with 33.8% also listing plywood. The fourth annual Wood Components Benchmark Study was conducted earlier this year by the Wood Component Manufacturers Association, the Wood Products Manufacturers Association, and Woodworking Network.
On the industrial products, wood continues to be a dominant material in many products, including crossties, pallets and fencing.
See the infographic below. Find more market data in the December 2021 FDMC Wood Industry Almanac.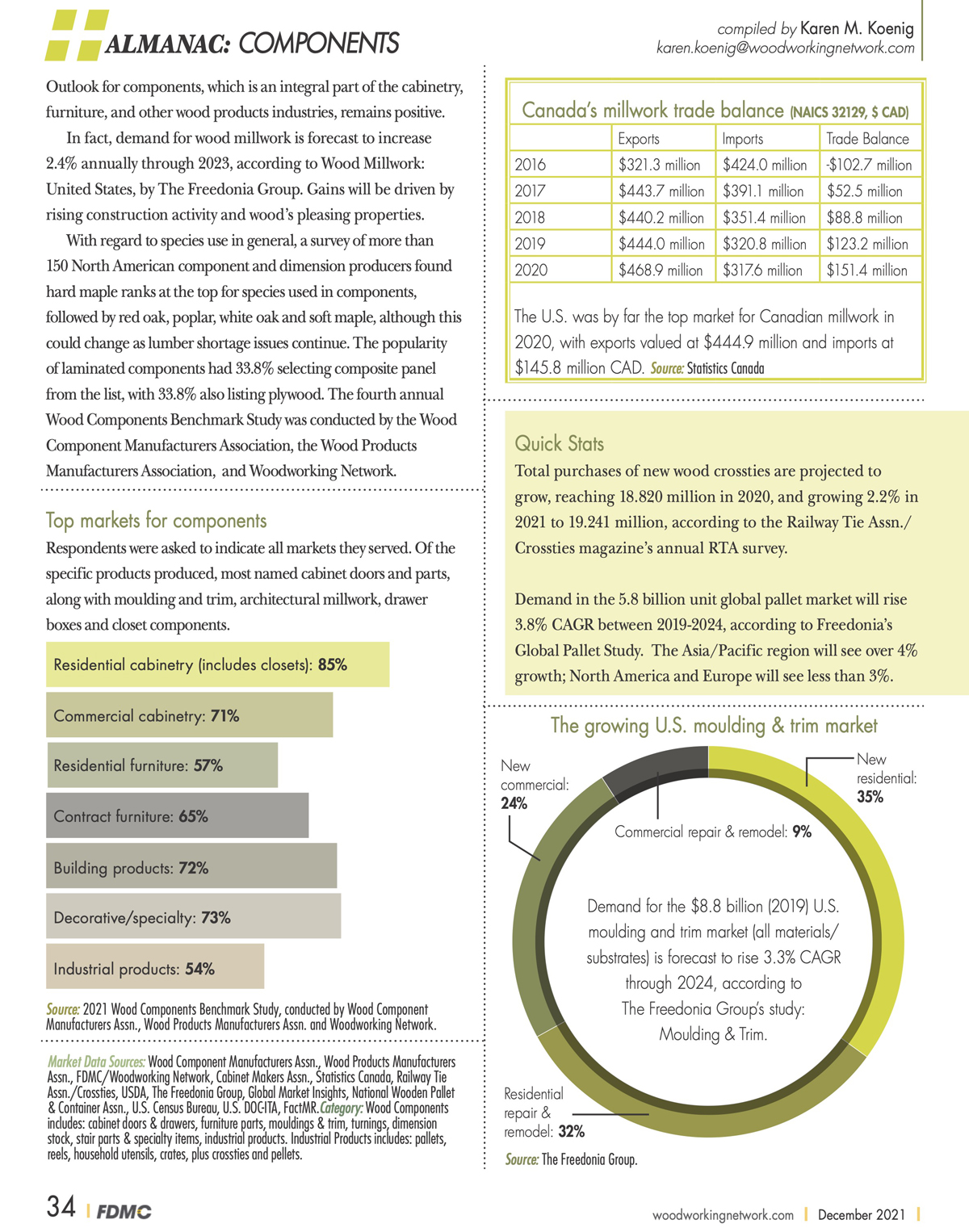 Quick Stats
• Total purchases of new wood crossties are projected to grow, reaching 18.820 million in 2020, and growing 2.2% in 2021 to 19.241 million, according to the Railway Tie Assn./Crossties magazine's annual RTA survey.
• Demand in the 5.8 billion unit global pallet market will rise 3.8% CAGR between 2019-2024, according to Freedonia's Global Pallet Study.  The Asia/Pacific region will see over 4% growth; North America and Europe will see less than 3%.
• The global wood slabs market is projected to expand at a CAGR of 5% between 2020 and 2030 where it will eclipse $2 billion, according to a study by FactMR. In terms of species, mahogany will hold the highest share in terms of value. Rough milled slabs are expected to grow at a CAGR of 5% in terms of value, but will lose 22 BPS from their market share by the end of the forecast period. Massive wood slabs with width over 30 inches are expected to account for a majority share in terms of value.
• The global wooden decking market was valued at $15.01 billion in 2020 and will exhibit a growth rate of over 2.7% CAGR from 2021 to 2027, according to Global Market Insights. Increasing energy costs and growing awareness of green buildings are projected to boost the demand for these wooden products.
• The $14.3 billion U.S. window and door components market is projected to expand at a CAGR of 3.8% from 2018-2023, according to The Freedonia Group. Frames account for 29% of the market, and doors, slabs and panels account for 23%.
Market Data Sources: Wood Component Manufacturers Assn. (WCMA), Wood Products Manufacturers Assn. (WPMA), Cabinet Makers Assn. (CMA), Statistics Canada, Railway Tie Assn. (RTA), Crossties magazine, The Freedonia Group, National Wooden Pallet & Container Assn., U.S. Census Bureau, U.S. DOC-International Trade Administration (ITA), Moulding & Millwork Producers Assn., FDMC, FactMR, USIPA (U.S. Industrial Pellet Assn.), Global Market Insights.
Category: Wood Components includes: cabinet doors & drawers, furniture parts, mouldings & trim, turnings, dimension stock, stair parts & specialty items, and industrial products. Industrial Products includes: pallets, reels, household utensils, crates, plus crossties and pellets.
Find more market data in the December 2021 FDMC Wood Industry Almanac.
Have something to say? Share your thoughts with us in the comments below.