Flooring industry forecasts: Wood & laminate trends
December 8, 2021 | 9:28 am CST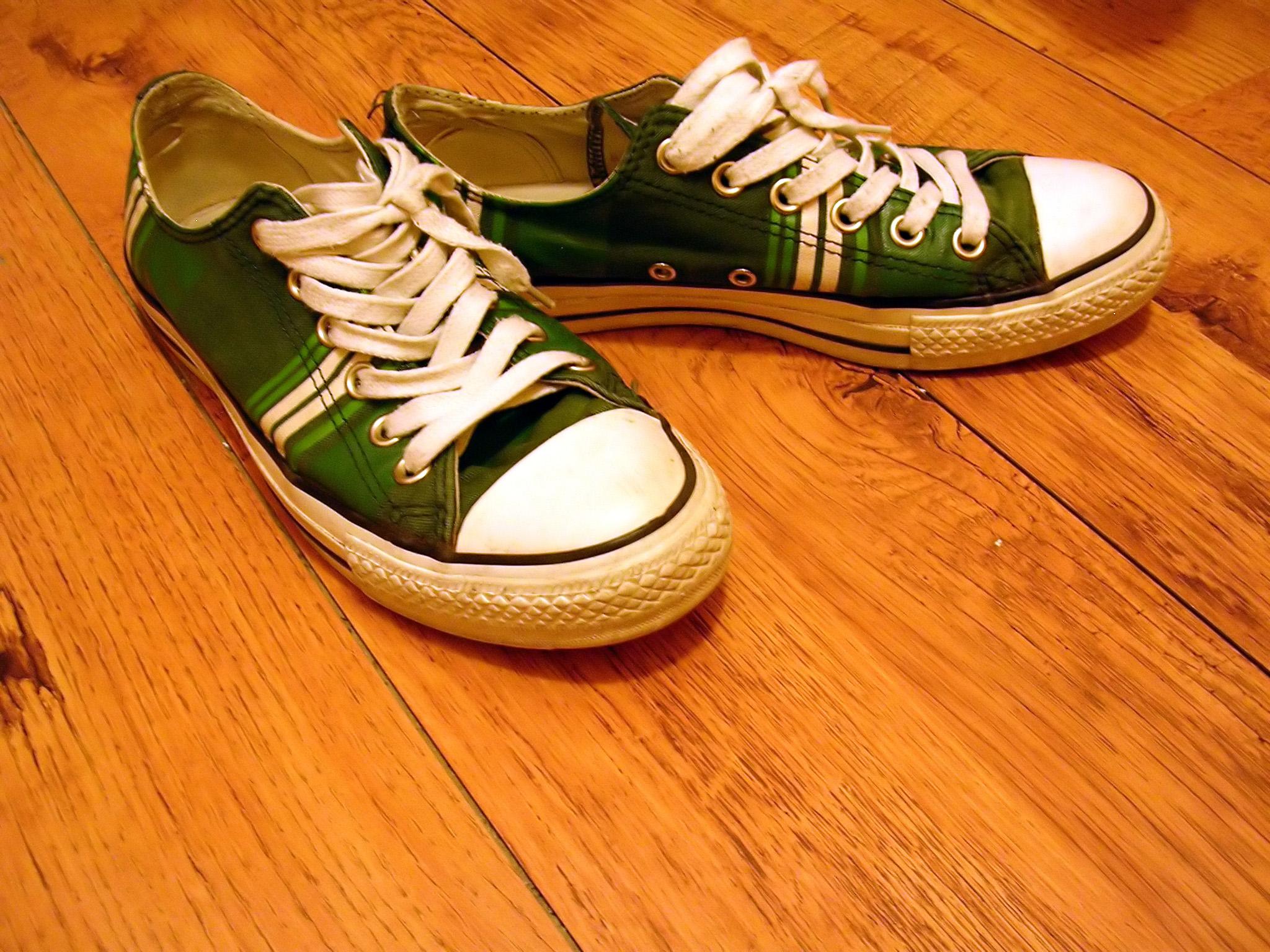 Catalina Research is projecting an increase in the installed value of flooring spending for 2021, as rising COVID-19 vaccination rates, new home construction, and a surge in personal income have given consumers the confidence to replace their flooring. As a result of these trends, Catalina Research said, the value of U.S. floor coverings manufacturer sales (shipments minus exports plus imports) could increase by 17.5% to $31.1 billion during 2021. Square foot sales could also see a rise of 13.8 percent to 26.7 billion.
The largest end-use market, residential sales could see a 19.1% jump to $14.8 billion during 2021. Commercial floor coverings are projected to rise 13.9% to $10.2 billion.
A closeup look at hardwood flooring in 2020 shows the $3.5 billion segment's end-use market sales went to: residential replacement (48.4%), residential builder (31.2%), commercial new construction (11.2%), commercial replacement (7.5%), transportation and other industries (1.7%), and manufactured housing (0.1%). Likewise, the $947 million laminate flooring end-use markets in 2020 were: residential replacement (79.2%), commercial replacement (11.2%) and residential builder (9.6%).
See the infographic below. Find more market data in the December 2021 FDMC Wood Industry Almanac.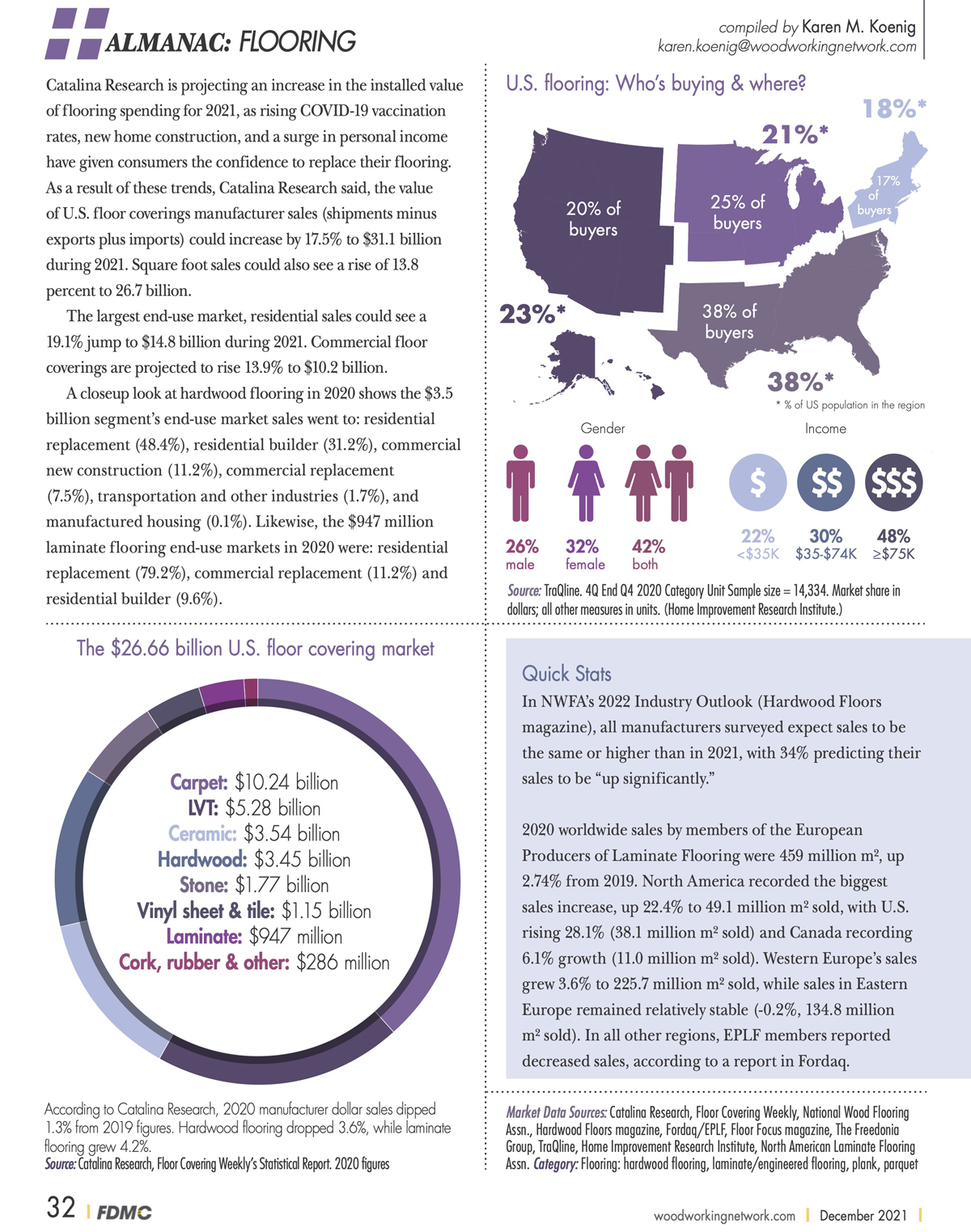 Quick Stats
• In NWFA's 2022 Industry Outlook (Hardwood Floors magazine), all manufacturers surveyed expect sales to be the same or higher than in 2021, with 34% predicting their sales to be "up significantly."  
• 2020 worldwide sales by members of the European Producers of Laminate Flooring were 459 million m², up 2.74% from 2019. North America recorded the biggest sales increase, up 22.4% to 49.1 million m² sold, with U.S. rising 28.1% (38.1 million m² sold) and Canada recording 6.1% growth (11.0 million m² sold). Western Europe's sales grew 3.6% to 225.7 million m² sold, while sales in Eastern Europe remained relatively stable (-0.2%, 134.8 million m² sold). In all other regions, EPLF members reported decreased sales, according to a report in Fordaq.
• Global demand for laminate flooring is forecast to rise 2.6% per year through 2024 to 1.4 billion square meters valued at $13.1 billion, according to The Freedonia Group. Increases will be supported by laminate flooring's ease of installation, boosting its use in residential replacement and remodeling applications.
Market Data Sources: Catalina Research, Floor Covering Weekly/ FCW Statistical Report issue,  National Wood Flooring Assn. (NWFA), Hardwood Floors magazine, Fordaq, European Producers of Laminate Flooring, TraQline, Home Improvement Research Institute, Floor Focus magazine, North American Laminate Flooring Assn.,The Freedonia Group,  U.S. Department of Commerce, Statistics Canada.
Category: Flooring: hardwood flooring, laminate/engineered flooring, plank, parquet.
Find more market data in the December 2021 FDMC Wood Industry Almanac.
Have something to say? Share your thoughts with us in the comments below.