July 1, 2017 | 12:12 am CDT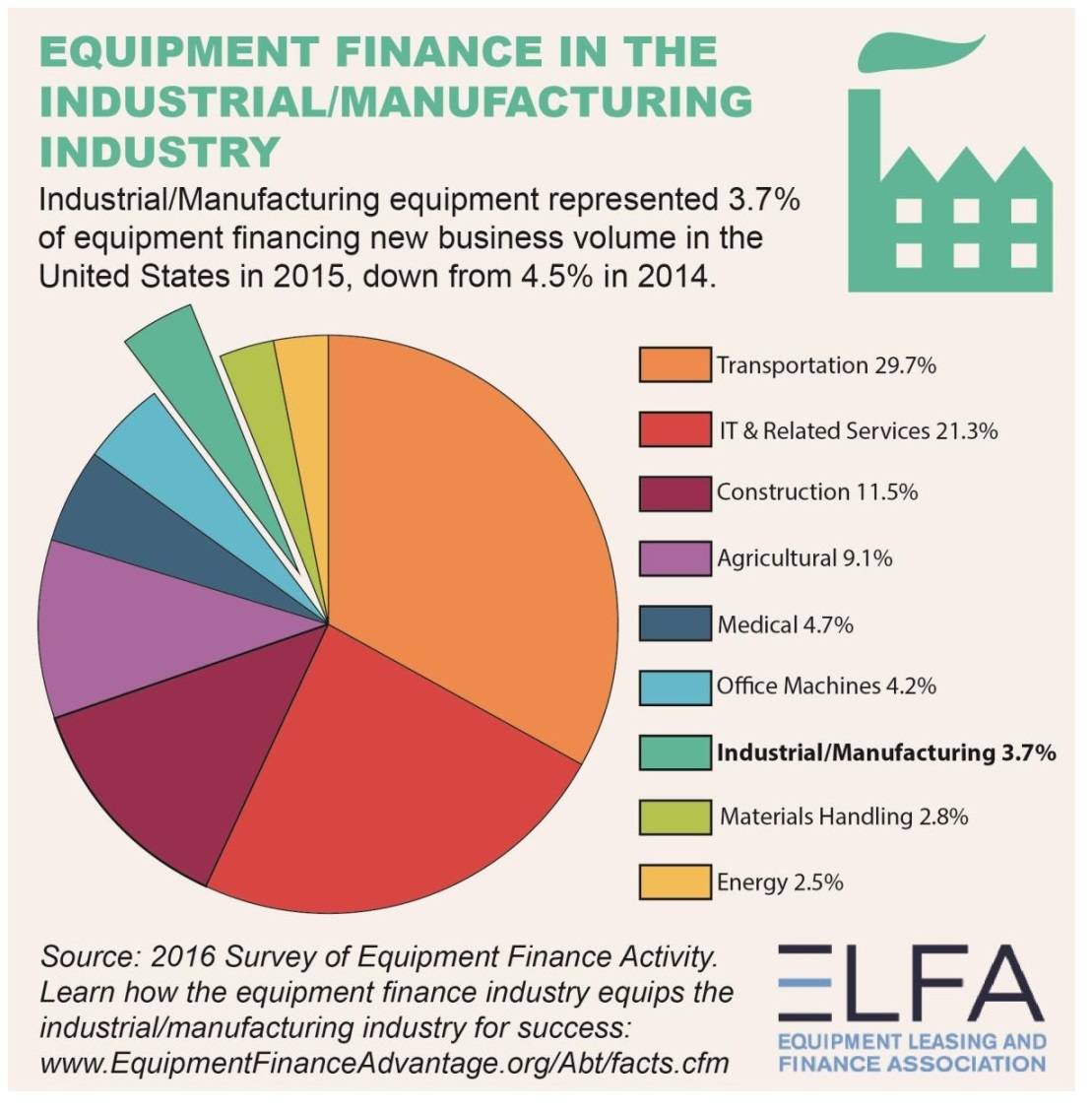 It's summer and time for the big trade shows where many shop owners focus on major buying decisions for new equipment. But while they are seriously exploring all the features and benefits of competing equipment, too often they overlook important considerations about financing those investments.
Lease or buy
In recent years, the decision to lease or buy equipment has become less clear. Many deals today are structured as lease to purchase. Still, you should approach the decision with the same questions in mind, such as how long you expect to keep the equipment, how much revenue you expect the equipment to generate, and how much opportunity for new business or production improvements you expect the machinery to produce.
Where to obtain financing
There are a number of options available for financing. Most machinery distributors have financing connections through either in-house staff or close partnerships with finance institutions. You might also already have an ongoing bank relationship that will work with you. However, sometimes the equipment companies have access to a wider variety of financial options and different lenders that offer competitive terms compared to typical commercial lending products.
Several finance experts we've spoken with over the years suggest it is crucial to have a financial partner that understands your business and the woodworking industry. According to the Equipment Leasing and Finance Association, equipment financing in the industrial/manufacturing sector accounts for only 3.7 percent of all business equipment financing, so it's not surprising that not all lenders have a clear understanding of the market.
Another factor to consider is that most lenders won't provide funds on a projection of growth even though that sort of projection might be one of the key reasons you want to invest in new equipment.
Pre-qualifying and costs
Before you start serious negotiations for new machinery, it's crucial to know what you can afford. Going through a pre-qualification process before the show gives you powerful information so you can be confident in negotiating for the right equipment at the right price.
Another advantage of the pre-qualification process is that it will focus you on getting all of your paperwork in order and really considering accurate numbers for costs and payments. Some financial experts have told us that shops sometimes hit a roadblock in financing because the business organization as to ownership needs to be clarified to the financier's satisfaction. Usually, paperwork from tax filings can clear that up, but it's always better to deal with those issues in advance so they don't become an unwelcome surprise during the deal.
Understand all the costs
Remember that with today's technology, often an equipment purchase is more complex. Do you need to make changes to your plant to accommodate the new equipment? Do you need ancillary equipment to get the most out of a new machine, such as software, dust collection, vacuum pumps, or material handling equipment? All of those things and their costs should be considered as part of the purchase even if they are being sourced from different vendors.
And, speaking costs, don't forget to add in the costs in time and money for appropriate setup, installation, and training. Even if some or all of those things are provided by the equipment vendor as part of the price, you need to consider any temporary downtime or loss of productivity in your operation while you work with the vendor to bring the new equipment on line.
Figuring ROI
When you calculate your return on investment for woodworking machinery, some financial experts suggest you should compare the cost to what an hourly employee would cost in your business. This isn't to say the machine will replace X-number of employees (although that might be your intent), but it's more about comparing monthly weekly, daily, and hourly costs to the same costs of your employees.
For example, according to one calculation we've seen, your monthly costs for an $80,000 machine might easily work out to less than the cost of a $20,000 per year employee. That means new technology might come in at the equivalent of minimum wage, depending on how you figure it.
Another key factor consider are tax implications. Check with your accountant and equipment distributors how you can structure a deal to take maximum advantage of tax incentives potentially available from federal, state, or even local authorities.
Clarify all terms
As with any business agreement, you're likely to run into trouble if you don't clarify all the terms in advance and get them in writing. This includes questions about insurance, taxes, maintenance, who handles what and how much it will cost.
Consider costs and other factors that might occur down the road. What's the procedure for upgrades? If it's a lease-purchase, what happens at the end of the lease term? What happens if you want to return or trade-in the equipment? Are there any additional costs or payments triggered by the conclusion of the agreement?
Get help
In addition to advice from equipment vendors, you should consider obtaining as much independent information about financing as possible. One source is the Equipment Leasing and Finance Association (www.equipmentfinanceadvantage.org). If you already have a relationship with a business consultant, have them weigh in your proposed purchase. Free mentoring and consulting advice is often available from SCORE (www.score.org), which typically involves retired successful executives sharing their business expertise.
Don't overlook colleagues who might have already gone down a similar path. If you are a member of a trade association such as the CMA, KCMA, AWI, etc., check with fellow members about suggestions related to your proposed equipment purchase and financing. 
Have something to say? Share your thoughts with us in the comments below.