Michigan Veneer Voice-activated Sorting Line
August 31, 2012 | 8:03 am CDT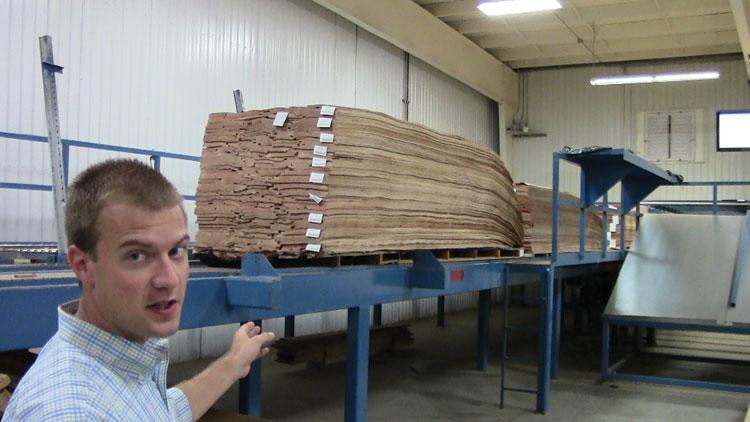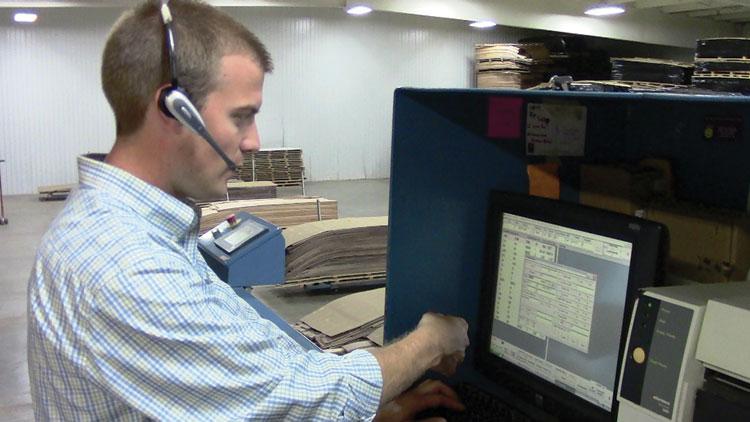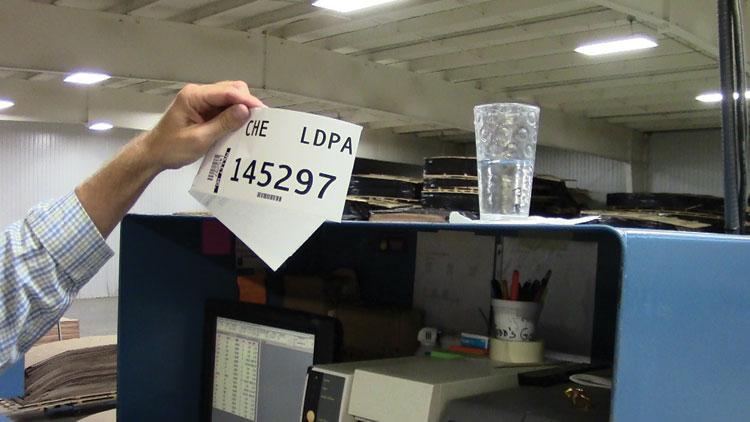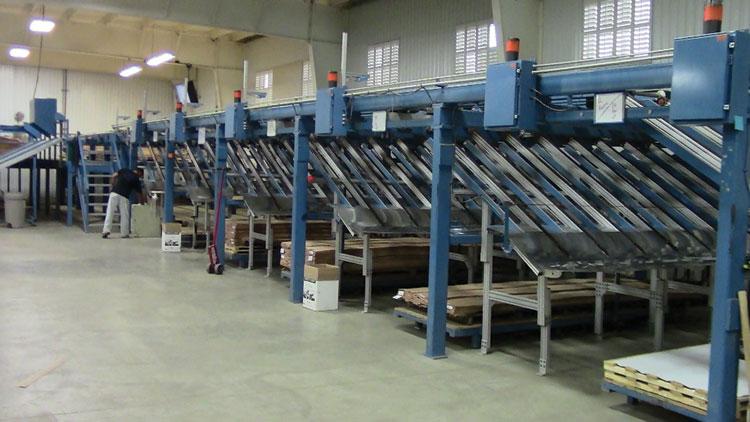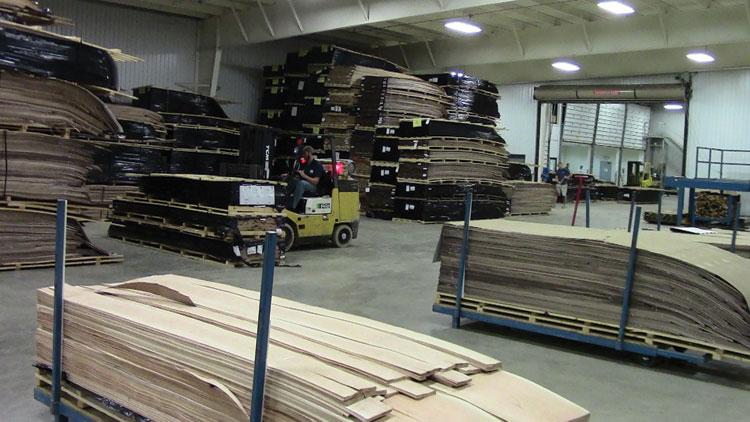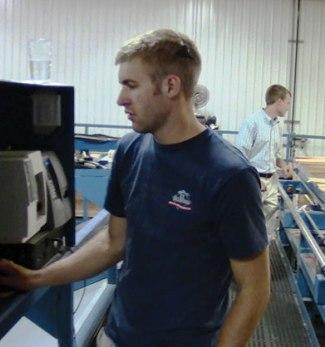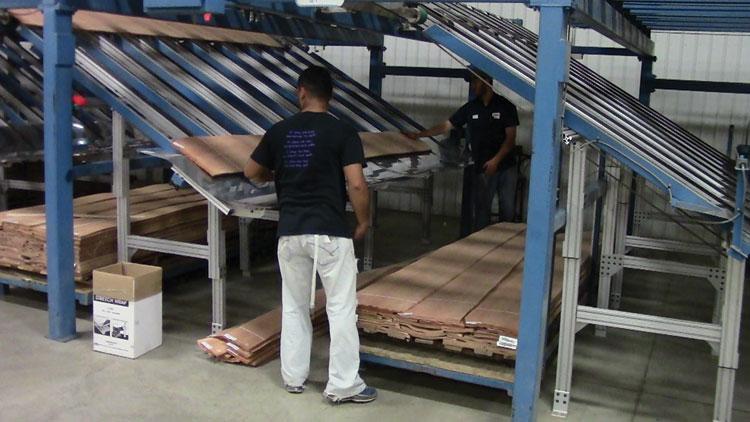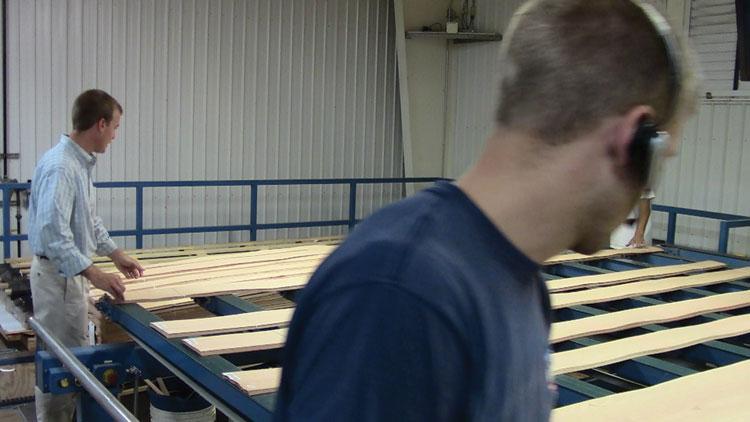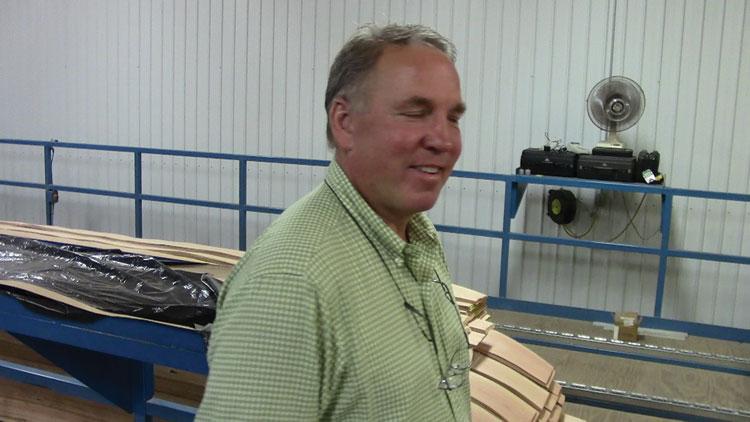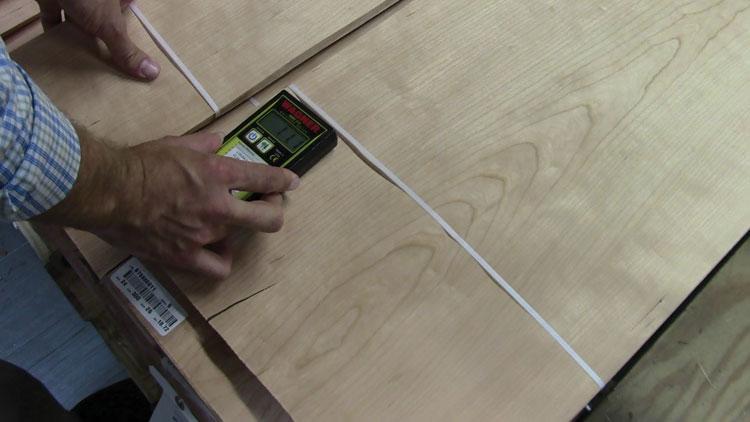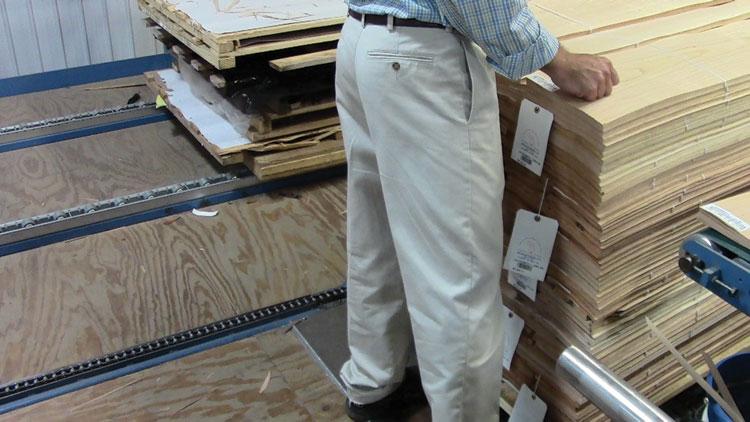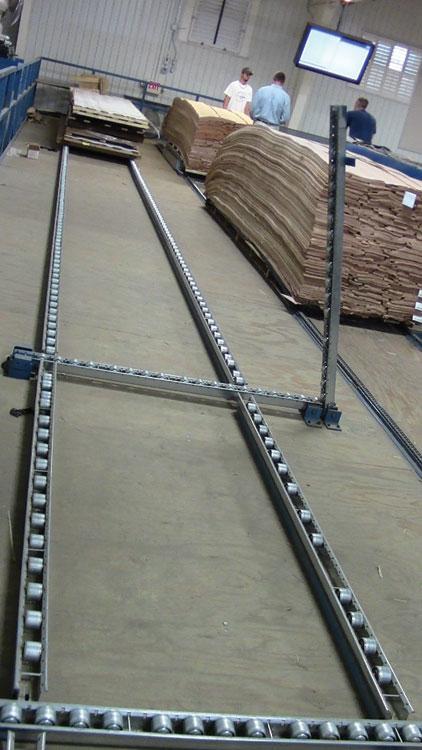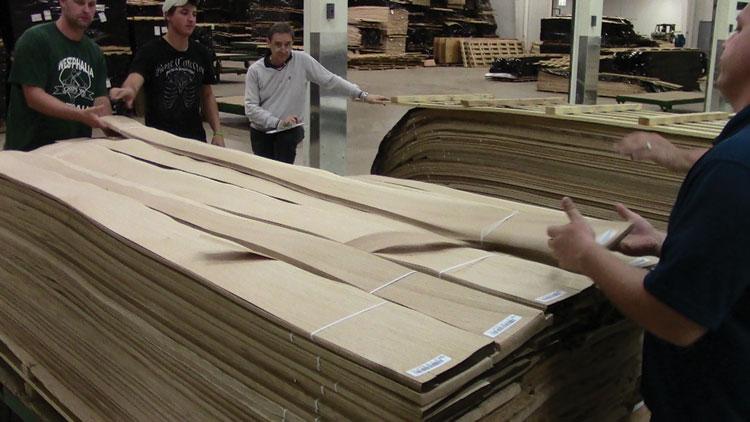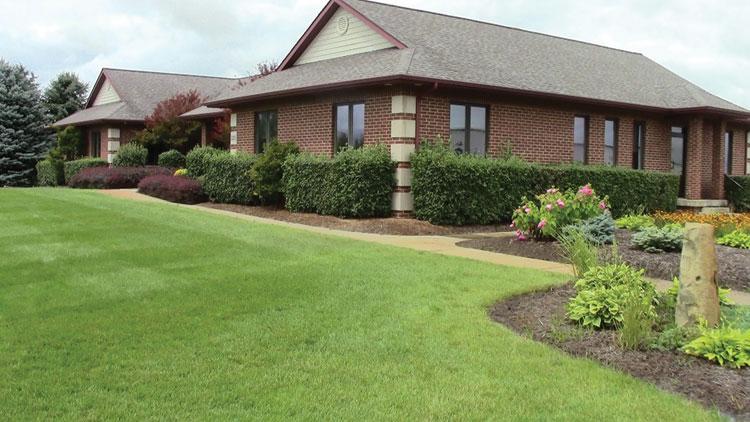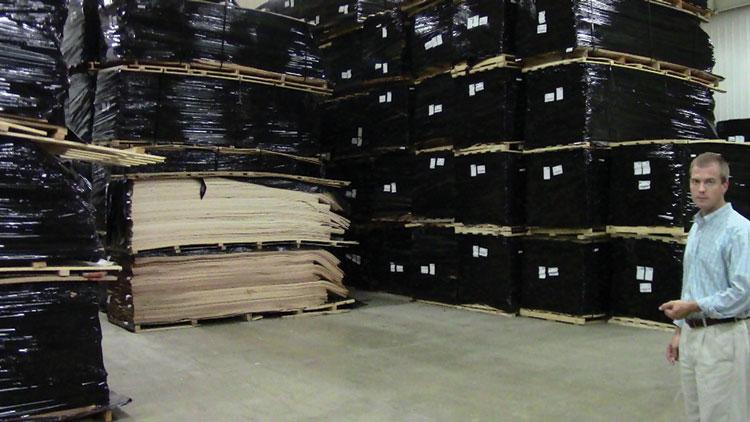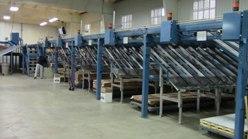 ST. JOHNS, MI -A rainy day was the backdrop for a recent visit to Michigan Veneer, the wet weather fitting with so much of the process for logs and flitches includes regulated humidity.
In this case, we were joined by experts and buyers from Italy and Brazil, reflecting Michigan Veneer's global reputation as a top veneer source. Located in St. Johns, about 45 minutes west of Grand Rapids, Michigan Veneer specializes not in making veneer, but in sourcing logs to be processed, as well as selecting, sorting and clipping veneer, thereby generating a consistent supply for its mostly high-volume customers – working either on behalf of clients, or in support of buyers who visit to make selections on their own.
"We don't own production facilities," explains Ben Kramer, who is involved in sales and marketing. "But we have our guys in the plants." Michigan Veneer operations staff are intimately familiar with the log-cooking processes of individual veneer factories, and with the esoteric and jealously guarded recipes for preparing veneers of various species.
"Our people are knowledgeable about veneer, and they also have a passion for it," Kramer says.
Michigan Veneer also pushes the envelope, encouraging its customers "to think out of the box," as its owner Randy Fedewa frequently states. Fedewa has artfully designed the company headquarters as a showcase of fine veneer, a demonstration of creative approaches to its use.
The labor intensity of veneer sorting is well known, with visual inspection and hand sorting a slow-moving process. But the industry is adopting new tools, digital measurement of moisture and color inspection, and software applications that allow live veneer inventory to be viewed and selected remotely, and in the case of Michigan Veneer, custom-built veneer sorting system designed by Veneer Services integrated to Woodworks for Windows using voice recognition from TimberSoft Inc.
Michigan Veneer, like most wood products firms, took a dip in the downturn. But it took advantage of the opportunity to expand sales. Competitors departed the field, some observers estimating 70 percent of the businesses closed or consolidated. "During that period, we gained market share," says Kramer.
In addition to veneers Michigan Veneers also buys and sells whole logs (cherry, birdseye maple, curly maple, oak, hickory, and walnut), sourcing them from as far West as Iowa, Missouri and Tennessee, up throughout New England and into Quebec province. Logs are shipped either directly to veneer mills, or wood products manufacturers, or for inventory at Michigan Veneer's yard in St. Johns.
"Our expertise is in the selection of logs," says Kramer.
On three large warehouses were quite full: two giant refrigerators and a warehouse-sized freezer, where whole logs are stored in temperature controlled settings to prohibit color shifts and discoloration. In a satellite operation in Maine refrigerator are maintained.
"A log is much like a food product; it's perishable" says Kramer. "Walnut will get end stain; maple will turn tan from too much light and heat. When people receive maple, they want it to be white," he notes.
"The main reason the freezers were put in were for the birdseye and curly maple. It's very expensive."
Generally Michigan Veneer concentrates its log buying in the late fall, winter, and early spring. "It's cooler and you can get into the back areas of farms. So in August the larder was low. "Our inventory is actually down 25 or 30 percent due to increased sales," Fedewa says. "We like to carry a lot of inventory, because if you don't have it, you can't sell it."
When a client needs wood in a hurry, "We don't want to run short," Kramer says.
"Veneer is a high dollar business," Kramer says. So Michigan Veneer tries to keep a generous inventory – maintaining its assets in the form of logs and veneers ready for speedy delivery. A healthy inventory on hand is especially useful for the larger customers, its bread and butter, accounting for 80 percent of its output.
"We service mostly bulk customers," says Kramer. "We cut about a truckload of veneer each day, about 500,000square feet," Kramer notes.
Including the logs, half or more of Michigan Veneer's sales volume is export; even higher when it comes to hardwood logs. Randy Fedewa buys many of the logs himself, flying to log yards in his private plane to identify candidates for Michigan Veneer's log yard and veneer warehouse. Fedewa puts the export business at 60 percent of total sales. "Domestic logs have been strong as an export," he says. "But the log business is down because China is slowing," he says, reflecting the recent turn in China's economy.
Despite Michigan Veneer's growth, overall veneer use is falling from favor, Fedewa says. "We see that in buyers for the 4x8-foot panel skins," says Fedewa. "That business is starting to slow. There is no question there is less veneer being sold."
Reconstituted veneer, a manufactured version sliced from wood blocks, is one reason.
"Designers want to make the veneer look like plastic, Fedewa says. But décor papers and plastic simulations of wood veneer can't do a convincing rendition of wood with its natural defects."The more character in the wood the better," Fedewa says.
"More and more office systems manufacturers are using reconstituted veneer," Fedewa complains. While its ease of use, uniformity, and yield are appealing, it's a risk, Fedewa says, since China manufacturers who struggle with real veneers, can work competitively with reconstituted veneer. Not one to mince words, "I say it could be the death of our business furniture making," Fedewa asserts. "What separates office systems people here in the United States from China? By commoditizing furniture using reconstituted veneers you open the door to China." The material is so cheap, "We could not afford to do reconstituted veneer here at our yard."
On the issue of Made in America: "Price is the major determinant in making a purchase," Fedewa says of American business buyers. "We choose first and foremost what cost efficient is and labor efficient."
For Michigan Veneer, "We want to make the best possible product for the price, providing value," Fedewa says. "That's extremely important for us. And for our company. You'll see that ingrained into everything we make."
The Michigan Veneer offices themselves are a testament to the veneer's possibilities. A world map in veneer is in the lobby; alternating panels of light maple and darker walnut are used throughout.
Oversized doors also show an "out of the box" approach. Veneered in a four-piece panel rather than door-length matched sheets, after a closer look the splice lines of the quadrants are visible, meeting in a button overlay as part of the design. The approach makes use of smaller veneer pieces.
"As an industry we have to look at what is available, and design for that," Fedewa says.
As to marketing, Fedewa relies on word of mouth, and the intrinsic quality in its products in use on furnishings and architectural interiors around the world.
"Ninety-eight percent of our marketing is word of mouth,"Fedewa says. "They see our product and it speaks for itself. More than other way people know is for our product." Ironically, Mchigan Veneer carries a higher profile outside the U.S. than it does at home.
"We're sold in so many countries; where people know us least well is here in the United States," Fedewa says.
Overall Fedewa estimates that the U.S. veneer providers have 40 percent less capacity than before the downturn. This consolidation has driven more business its way.
To move the needle on demand, Fedewa is trying to get designers using veneers, and veneer buyers to think creatively. Fedewa is promoting, and supplying, a fresh approach in its walnut veneers for high end office projects: quarter cut walnut, an approach that has been picked up on by designers recently. "It's a unique thing," says Kramer. For the quarter cut walnut, the log is cut into quarters, then veneers are cut on a slicer.
"We were able to be ahead of the curve on this," says Fedewa. "And we had a fair amount of inventory on it, since we took a chance on stocking up ahead of the curve. We are willing to put our head in the water and take a risk," he says. "We always look at unique ideas and we always carry a large inventory," says Fedewa. "Michael Dell's just-in-time manufacturing has affected everyone.
To handle the volume, the 30-employee company automated its processes as much as possible. It's veneer and log inventory operations are coordinated through TimberSoft Inc.'s Woodwork for Windows, a comprehensive data and operations management software system for the wood veneer industry.
It uses wireless, satellite, intranet and Internet technology along with heavy-duty handheld computers and PDAs (personal digital assistants) so warehouse and operations staff can continuously track inventory, work-in-process, and finished goods.
When veneer is graded, for example, a bar code is attached to the lead and end bundles from a log, carrying its quality level information. This allows continuous tracking of its whereabouts and status. Operating in real time, the system delivers instant production, yield and cost information for Michigan Veneer, so it also helps set pricing, and provides profitability analysis by the moment. The TimberSoft system tracks everything Michigan Veneer does, from standing timber to log yard volume, veneer clipper production, sorting and shipping, tracking the life of logs from beginning to end.
Adopted by Michigan Veneer nearly 10 years ago, Woodwork for Windows is ingrained in the operational philosophy of Michigan Veneer.
When Fedewa decided to automate the grading and sorting process further, the methodical approach was already part of the business and production culture. He engaged Dane Floyd of Veneer Services to custom-build a materials handling system for veneer sorting and grading that truly is one of a kind. It also suggests potential for automating aspects of the wood production in many areas.
Developed in a year-long process and implemented just before the downturn, the Veneer Services voice activated veneer sortation and materials handling system is a marvel to watch in its delicate handling of the veneer stacks, and for its ergonomic engineering. The way staff interact with it – offloading from the continuously rising scissors-lift of incoming veneer pallets, to spoken commands that direct and record the systems operation, to unloading from servo-controlled stepping of graded bundles into their delivery bays – is almost an industrial ballet.
Bundles are unloaded and individual sheets move onto the continuously advancing sorting table, where they are hand-measured for moisture and color, dimensions gauged by lasers, after which the operator murmurs to into a headset which bay should receive the veneer. A barcode is generated and the moving veneer is tagged with it.
Michigan Veneer buyers who can spend days participating in the selection of large volumes of material appreciate the automation of a process which can be mind-numbing. Doug Holmberg, who manages U.S. markets for global plywood panel processor DLH Nordisk, was impressed enough to write when he watched the system operate.
"I have actually spent many days over the past 30 years thinking of ways to build a line that would be more automated," he writes. "You have devised such a great system: It seems to halve grading . . . As a purchaser of veneer it is a great tool to speed through an un-graded pallet, make a detailed purchase sort and drive home with tallies in hand and the satisfaction that the graded pallets are correct, closed and ready for immediate shipment."
Dane Floyd, president of Veneer Services, developed the custom system in a year-long process, working closely with Michigan Veneer owner Randy Fedewa. Taking a blank-slate approach, his Franklin, IN engineering firm addressed long-time problems with veneer handling, reducing damage, labor, and improving consistency in the process.
"Every handling risks damaging the veneers," says Floyd. So the system minimizes the points at which operators manually move veneer, and has them work in pairs, reducing a tendency to push or throw bundles.
"We have two people putting the veneer on the grading table and transferring it from the scissors-lift equipped conveyor, so they always operate at table level. They do not struggle to lift heavy bundles. There is no damage at the loading area." Likewise at unloading stations, two people unloading form the. "There is no damage to the veneer when two people do it gently and without pressure to rush," says Floyd.
Each sorting bin also has an indexing storage deck. The deck indexes as each bundle enters and indexes only the distance required to make room for the next bundle, maximizing storage. This approach also allows the veneer sorting line to regulate surges in volume, giving the grader dynamic feedback when a grade bin reaches capacity, and keeps veneers from crashing into each other.
Another issue addressed us grading consistency. In attempts to speed conventional grading processes, multiple graders assess the veneers. But this will reduce consistency, since it is largely a subjective process.
At Michigan Veneer, "One person does all the grading and the results are a more consistent," says Floyd. The system tracks who has been grading at a given time so grades can receive feedback on their performance.
The overall labor reduction on the Michigan Veneer grader is another achievement. According to Floyd's analysis, 1 million square feet of veneer requires three shifts with six or seven workers per shift. The Michigan Veneer operation can grade 1 million square feet per shift with two2 loaders, one grader and two unloaders.
A key to the labor reduction was the decision to run the veneer through the line width-wise (perpendicular to the path of travel). Reducing the length of the line, the head count need to operate that length line, and speeding materials flow. Shortening the line reduces the warehouse space required as well.
"Because most lines transport each bundle lengthwise, they have to run the line quite fast to get any production," Floyd says. "We need only to transport each bundle its width – not its length. To transport a one foot wide bundle, we must move foot instead of 10 feet." The system can run at a slower speed, reducing wear and tear, while moving material faster. This approach to the direction of material flow benefits the delivery of veneer to the sorting bins as well.
"When pallets are lined up end to end rather than parallel, they have to allow room for the longest possible pallet, plus space for the operator to walk, about 16 feet per grade bin, in most cases," says Floyd. The Michigan Veneer installation requires 10 feet per grade bin.
The system also reduces lost and misplaced veneer bundles, scanning bar codes on the bundles on the fly, continuously verifying location and status. Each bin delivers adjacent to an associated pallet – so operator error in misplacing bundles is further reduced.
Fully integrated to the TimberSoft Woodworks software, the Veneer Systems voice activated veneer grading and materials handling system tracks inventories are real time, accurate to the foot.
"If a veneer buyer is inspecting, they can receive an accurate packing list and invoice the instant they finish," says Floyd. "If a buyer comes in and wants to buy 100,000 feet, you will know exactly when to stop.
A development that Michigan Veneer's Fedewa drove was the infeed and return of pallets. "That's always a bottleneck," Fedewa says. To reduce pallet-changeover time pallets are on carts that slide in and out of the bins.
The voice activated Woodworks for Windows software eliminates manual keyboarding. The grader tells the computer what he wants done and the computer repeats the command back to him so he knows it was correctly understood. This eliminates the need of a person at the computer, and keeps the grader looking at the veneer.
"Our system requires just one manual scan at the start of each log-veneer batch; thereafter, all scanning is automatic at the separation conveyor and at each bay," Floyd says.
Dane Floyd provides a step-by-step description of Michigan Veneer's sorting system:
1.) Pallet infeed and return section: A gearbox and motor drives two chains running in tracks fitted with wear strips to bring the full pallets onto a scissors lift in front of the grading table. A scissors lift positions the pallets at the correct height for comfortable loading of the grading table. Incoming pallets come from the side of the scissors lift. A set of gravity rollers allows a platform loaded with empty pallets to be pushed back for removal by a forklift.
2.) Grading Table and walkway: A series of carry the bundles of veneer down the length of the table. A gearbox and variable speed motor drives the belts. At no time is the veneer allowed to touch unprotected steel. Wear surfaces are plastic and stainless steel. The bundles down to 4" width can be loaded side by side with no space between them to maximize the throughput. At the end of the grading table is located a speed up section to create the space between the bundles required for proper operation of the rest of the system.
3.) 6 Modular sorting bays with storage decks: Constructed of structural steel members welded and bolted together. After the bundles pass the speed up section, they begin to transfer onto the sorting bays. Each sorting bay has a series of belts that carry the bundles. If a bundle in destined for that bay, a tipple opens to allow that bundle to transfer below onto the storage deck.
Sensors locate the leading and trailing edges of the bundles and index them on the storage deck to maximize the storage capacity. As the deck fills, a light flashes to notify the persons stacking that the bay is getting full. If the bay completely fills and another bundle is on the tipple ready to be indexed, the system will stop until sufficient room is created by moving a bundle from the bottom of the storage deck. When the stacking persons are present to unload the deck, there is one button they can push to move the bundles to them if the bundles are not within reach. At this point, each bundle they remove allows the system to advance another bundle to their reach. When they finish unloading the bay, they simply press the button again to return the system to indexing. If they forget to press the button before leaving, the system returns to indexing in 6 seconds. Each bay is constructed to allow the addition of more bays at any time in the future.
4.) Shorts and singles table: Constructed of structural steel members welded and bolted together. In practice, we have found the most efficient way to achieve fast sorting and minimize the initial cost of the system is to allow the grader to pull the shorts and singles from the table and not send them down the line. This table can take up to 6 sorts. Using this method, you can achieve up to 10 -12 sorts with only 6 automatic bays. We supply the pictured table with movable dividers to store these bundles for stacking.
5.) Electrical, safety and controls system: We supply the machine with the main voltage required for local demands. Control voltage is 24v DC. All motor and function controls are enclosed in cabinets. The main disconnect is included and mounted in cabinet. All cables from the control cabinet are included and run in protective tubing. Customer must bring power to our control cabinet. There is one operator's station for the infeed conveyor and scissors lift located near the scissors lift. There is one operator's station for the grading line located along the grading line railing. There are safety E stops or pull cables at every work station. The machine requires the reading of existing bar codes for proper location control and inventory data. We include a bar code reader at the end of the grading table and one at each modular bay. This way we ensure accurate placement of the bundles. Integration with the customers existing database and inventory controls system is not included in our price. The customer is responsible for implementing the connection between our system and their existing system.
6.) Pneumatic controls: Each modular bay contains a tipple to allow the bundles to transfer to the storage decks below. These are activated by pneumatic valves and very high quality cylinders with appropriate cushions and controls.
With instrument reading of moisture and color, bar coding labeling, Woodwork for Windows, from TimberSoft Inc. , instrument science of color measurement and materials workflow to bear on the veneer sorting process. The automation has paid off. Business has grown during the downturn, and now each employee is generating well over $1 million in revenue.
Have something to say? Share your thoughts with us in the comments below.