Finishing trends shape future of furniture, cabinets
April 6, 2018 | 10:54 am CDT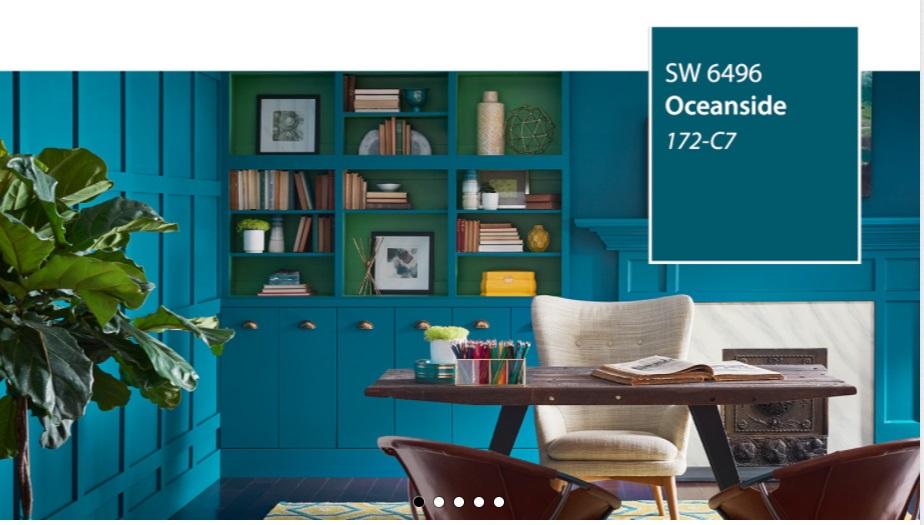 Finishing might well be the most dynamic part of the woodworking industry. It is constantly affected by changing tastes in color and appearance while at the same time it faces technological changes in how finishes are applied and the skills required to do the work. Let's take a look at how all these forces interact in the latest finishing trends.
Color trends
Cabinet manufacturers have been struck by a major shift in finish demand in the last few years. Sue Wadden, director of color marketing for Sherwin-Williams says that in just three years, the cabinet finish market has gone from being 70 percent stained wood to 70 percent painted wood. And the painted wood is not just whites or even trendy grays. "Consumers are ready to take on color again," she said.
Every year, Sherwin Williams produces its Colormix Forecast, trying to predict color trends for the year. The forecast is actually produced 18 months ahead and involves extensive research that culminates with a meeting in February to develop the forecast.
Produced 18 months ahead of time, Sherwin-Williams annual Colormix Forecast involves extensive research.
This year's forecast is divided into three parts, each with a theme: Sincerity, Unity, and Connectivity. Each theme has its own palette of colors and contributing influences.
Sincerity: According to Sherwin-Williams color experts, this theme reflects trends to de-clutter and move more possessions into the cloud. "Our notions of what's authentic are being complicated. We're celebrating the unfiltered, yet captivated by the artfully processed." Colors represented here are sand, grays and "hazy botanicals."
Unity: This theme represents how people are "remapping our sense of community." Influences include roaming, transculturalism, community, artisanal crafts, and even indigenous patterns. "We crave security and adventure in equal measure," according to the forecast. "Airbnb, car sharing and e-learning have created a culture of everyday nomadism." Colors in this palette can be described as "peacock color," including a variety of blues offset by tan, brown, and yellow.
Connectivity: This theme is influenced by California pop and youth culture, techies, virtual reality, productivity, and environmentalism. "We're each moving to the beat of our own algorithm," according to the forecast. "From choosing a dry cleaner to choosing a college, data powers nearly every decision we make," the forecast said. Colors here are "pixelated in orange, violets, digital greens and high-def yellow."
One of the themes for this year's Colormix Forecast is Connectivity. It includes a palette of orange, violets, digital greens, and high-def yellow.
Color of the year
Sherwin-Williams chose a color called Oceanside SW 6496 as its Color of the Year. They describe it this way: "A collision of rich blue with jewel-toned green, a color that is both accessible and elusive. A complex, deep color that offers a sense of the familiar with a hint of the unknown, Oceanside, bridges together a harmonious balance of blues and greens that can be found in what's old and new."
The forecast notes that blue is popular worldwide. "Blues are universally perceived as intelligent, honest and interesting—making blue the most beloved color worldwide."
It is suggested the color can even "boost creative thinking and clarity of thought in a home office, or invite meditation and introspection into a bedroom or reading nook."
Finishing technology
So much for the color trends, how are manufacturers applying finishes these days? According to Joe Kujawski, director of marketing for wood segments at Sherwin-Williams, there's a strong move in the industry to UV coatings that are applied by roller in automated finishing lines. He says some of that is driven by the costs of flat line finishing equipment coming down. Another factor is efficiency.
"Throughput is dramatically increased," he said. That accelerates speed to market. With new UV coatings, manufacturers can achieve transfer efficiencies of 100 percent and also have instant curing finishes, so there is no wasted time waiting for finishes to dry.
Kujawski says competition from China has really put pressure on domestic manufacturers to find ways to compete, including in finishing. That means faster, more efficient finishing, but it also means being able to offer custom colors and finishes not available on import products.
Labor force
Another factor is the shortage of skilled labor specifically in the finishing arena. Sherwin-Williams is sponsoring a finishing line at The MiLL, the national woodworking training center in Colorado. The company hopes that boosts education for woodworking finishers, but Kujawski acknowledges in the short term, shops are looking to automation to replace the finishing employees they can't find.
"Trying to find employees is a real problem," he said. "That's driving industry to more automation as they try to reduce costs without sacrificing quality."
Have something to say? Share your thoughts with us in the comments below.