Vitap debuts very compact CNC machine
June 15, 2016 | 2:38 pm CDT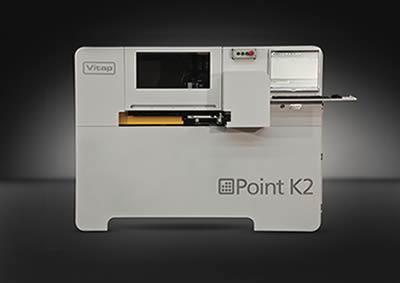 NEW MILFORD, Conn. - Vitap S.p.A. and Atlantic Machinery Corp. has just released information on the new version of the Point K2, a  compact CNC machine designed for custom manufacturers and also for flexible, high-production environments.
The Point K2 CNC is now available in a 1200 mm width and an upgraded version called the 1200 TOP, which features three additional vertical independent spindles (for a total of 12), two additional (2+2) horizontal boring spindles on the Y axis plus an optional 4 positions tool changer.
The K2 is a revolutionary CNC working center that allows for cutting, drilling, grooving, and routing operations. All of these processes can be achieved without the need to reset the parts hold-down systems, resulting in zero set up time. This is due to the unique, patented D-D-T (Double-Dynamic-Transport) system. The DDT ensures a continuous, uninterrupted operation – indispensable for all milling operations.
New features include:
Fully programmable 4 controlled axis
Optimizing software
12 independent vertical spindles
2+2 horizontal spindles on X axis
2+2 horizontal spindles on Y axis
10,000-24,000 RPM router
1 grooving saw
Through feed systemhttp://www.atlanticmach.com
Tool changer (optional) 
Have something to say? Share your thoughts with us in the comments below.