10 tips to navigate IWF 2022
June 10, 2022 | 2:57 pm CDT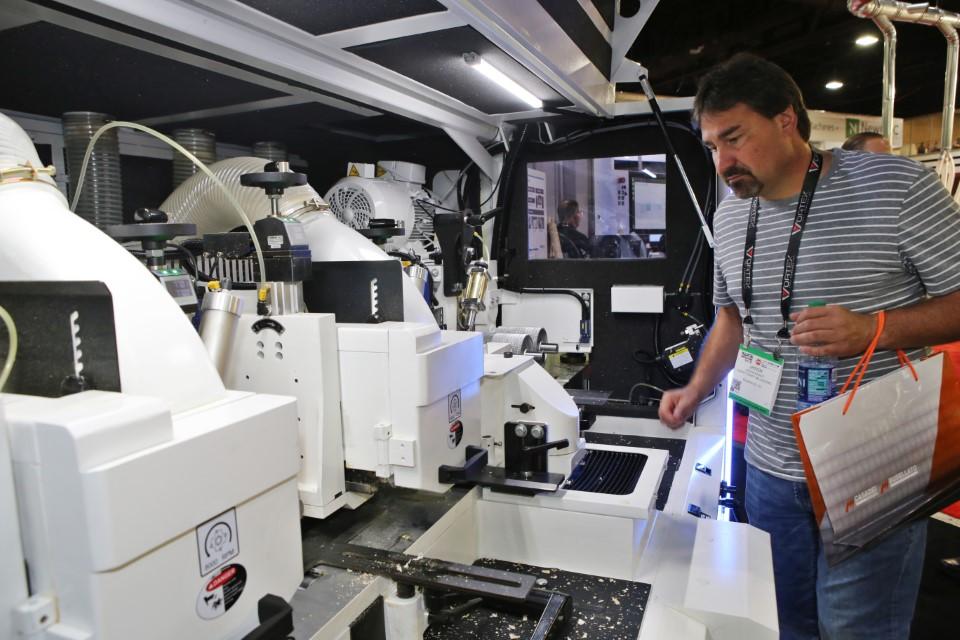 The International Woodworking Fair will play host to more than 800 exhibitors and thousands of attendees, Aug. 23-26 in Buildings/Exhibit Halls A, B, BC and C of the Georgia World Congress Center in Atlanta. To get the most out of the experience, here are 10 tips for navigating North America's largest woodworking show.
1. Pre-register & save. Register at IWFAtlanta.com for the early-bird attendance price of $35 ($50 after Aug. 1).
2. Logistics. IWF will be held Aug. 23-26, with symposia taking place Aug. 22, in Building B, Level 3. Show hours at the GWCC are 8:30 a.m. to 5:00 p.m. Tuesday through Thursday, and 8:30 a.m. to 2:00 p.m. on Friday.
The GWCC is located in downtown Atlanta, near Centennial Olympic Park, at 285 Andrew Young International Blvd. It is within easy walking distance of most downtown hotels, and a complimentary shuttle bus service also is available from select hotels. For those who prefer to drive, limited parking is available at the GWCC.
3. Plan ahead. Before you arrive, create a list of (a) exhibitors you absolutely must see, and (b) exhibitors that you would like to see. Be sure to leave time in your schedule for exploring the new products, technology and services on display on the show floor.
To access the exhibitor list online, go to IWFAtlanta.com for up-to-date information. FDMC's July edition, Closets & Organized Storage magazine's July/August issue, and the Show Daily, published by Woodworking Network, will also have news and information.
4. Comfort is key. Be sure to wear comfortable shoes. IWF stretches across more than 1.5 million square feet. Halls A and B will have machinery and machinery-related products/services, Hall C will have components/supplies, non-machinery related products/services, and Hall B/C will be a mix of components/supplies, machinery and non-machinery products/services.
5. Stay on top of news. In addition to the show's website IWFAtlanta.com, WoodworkingNetwork.com (Twitter: @woodworkingbiz) will post show news throughout the day. Also make sure to grab a copy of Woodworking Network's IWF Show Daily, filled with news and pictures, as well as the IWF floor plan.
6. Get educated: symposia & sessions. Plan to arrive early and check out the five all-day symposia, to be held Monday, Aug. 22, including two by Woodworking Network on Closets and CNCs.  Other topics include: Quantum Lean, Powder Coating Wood Substrates and Process Automation.
IWF also offers educational sessions Tuesday through Thursday related to: Business Management, Manufacturing & Design, Marking & Business Development, and Workforce Maintenance & Organized Culture. Go to IWFAtlanta.com for information.
7. Meet the 40 Under 40: Leadership Reception. Celebrate the woodworking industry's newest class of 40 Under 40 at Woodworking Network's Leadership Reception, to be held Monday, Aug. 22, from 5:00-7:00 p.m. This is also a great opportunity to mingle with 40 Under 40 alum and network with other industry professionals. The 2022 class is sponsored by PaintLine.
8. See award-winning exhibits. Be sure to check out the products entered in the IWF Challengers Award for a look at the latest woodworking innovations. A list of 2022 Challengers Award entries and finalists can be found at IWF's website. Winners of the distinguished Challengers Award will be announced at 11:00 a.m. on Aug. 23, at the IWF Challengers Award Gallery located in Hall B, Level 2, overlook area.
Also check out the Design Emphasis Showcase and competition featuring furniture pieces designed and built by college students. Winners will be announced, and prize money presented at 3:30 pm on Aug. 23 in the Design Emphasis Gallery in Hall C.
9. Get a deal. Exhibitors are often willing to sell a machine displayed at the show rather than incur the costs to ship it back to the facility. There may be a good deal to be had, so don't hesitate to inquire.
10. Network opportunities. Above all, take advantage of the on-site expertise readily available at the show, and afterward by thousands of peers and suppliers. Don't hesitate to ask questions, look for tips or seek advice, and be sure to inquire about the products and services that can help improve your business.
Visit IWFAtlanta.com for registration and more details on the show. Also use this special issue to plan ahead, with more information to be found in the pages of FDMC and Closets & Organized Storage, posted online at WoodworkingNetwork.com and on Twitter @woodworkingbiz. 
Have something to say? Share your thoughts with us in the comments below.