Witmer Furniture optimizes custom production with CNC
March 31, 2022 | 4:00 pm CDT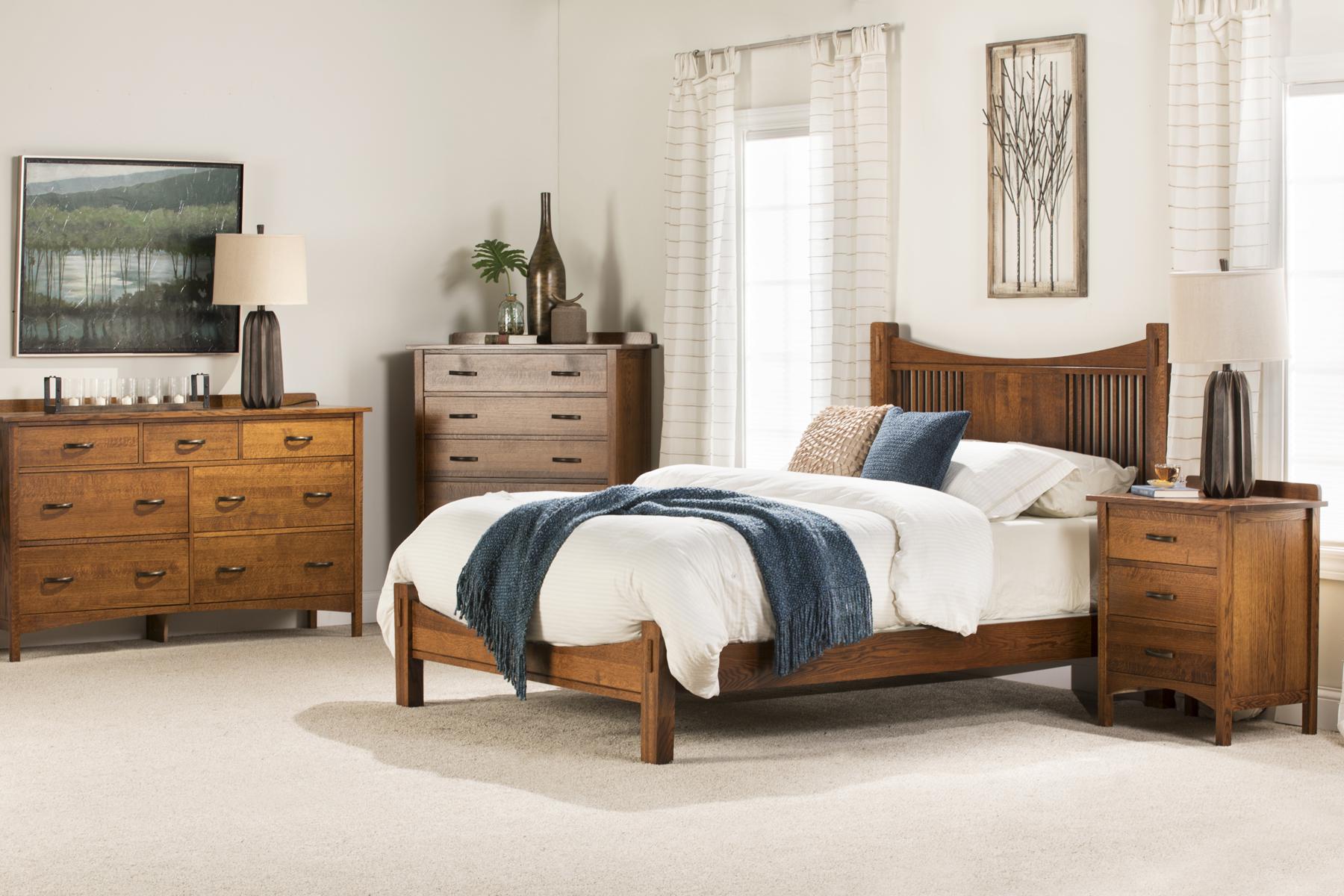 Rather than rest on its laurels, the award-winning Witmer Furniture LLC continues to innovate its products and invest in technology to improve productivity. The Abbotsford, Wisconsin-based manufacturer specializes in solid wood bedroom, home office and occasional furniture for the home, as well as commercial projects for assisted living, libraries, hotels, university housing and other markets.
Founded in 1981 by Ken Witmer, the company was purchased by Kevin and Terry Schlinkmann in 1992. In December 2021 it was acquired by Wisconsin River Partners (WRP), a private investment group focused on helping local companies grow. (See: About the company - below.)
"As part of the purchase price WRP will finance the additional expansion of the building and equipment to continue our growth pattern," said Witmer Furniture President Kevin Schlinkmann. "The ultimate goal in the coming years is to double our capacity while keeping our quality standards."
Well-known for building quality solid wood furniture at an affordable price, Witmer is ranked 263 in the FDMC 300, an annual ranking of the largest wood products manufacturers in North America.
"All of our product is solid wood, with English dovetail drawer, has a catalyzed lacquer finish and full access drawer glides – items that are normally seen only at higher price points."
Custom production
Furniture is all made to order. "We do not stock any items," Schlinkmann said. "In addition, all of our lines are available in several wood species, several color options and with several hardware options as well. Our customers can purchase a bed for example, in a different wood than the dealer shows on their floor and pick one of several colors as well."
While each piece of furniture manufactured is bench built, the company utilizes state-of-the-art saw optimizing, CNC moulding and CNC machining centers.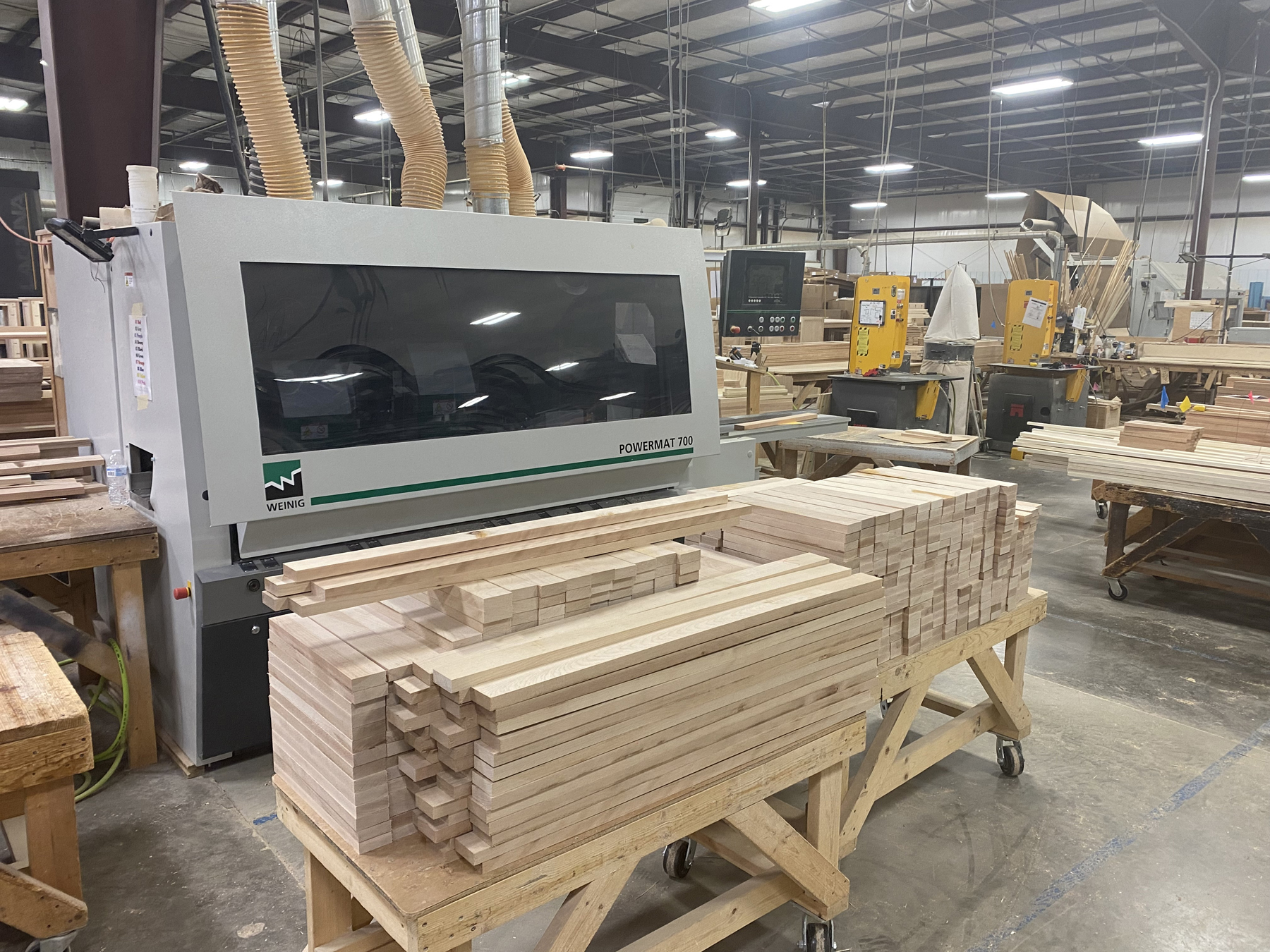 Witmer runs two production batches per day. "Each production batch is organized by collection, then wood species, then color, if possible, to get the best flow possible," Schlinkmann explained.
At the company's 150,000-square-foot manufacturing facility, a Weinig automated saw system scans each board, optimizes and rips to size based on the production batch. At the second automated saw, the board is marked for defects, scanned again and chopped to the optimal length. An automated system labels each board with a part number and routing code.
An important part of the process is the moulding and planing operation, including a Weinig six-head CNC moulder for producing S4S and other wood parts. "All of our cases have solid wood tops, drawer faces, face frames and trim with domestic plywood for the sides for stability," he noted.
The plywood is first cut to size on a Holzma or Biesse CNC beam saw. Also integral to the manufacturing process are two Holz-Her CNC routers, including a five-axis that "machines all of the necessary parts."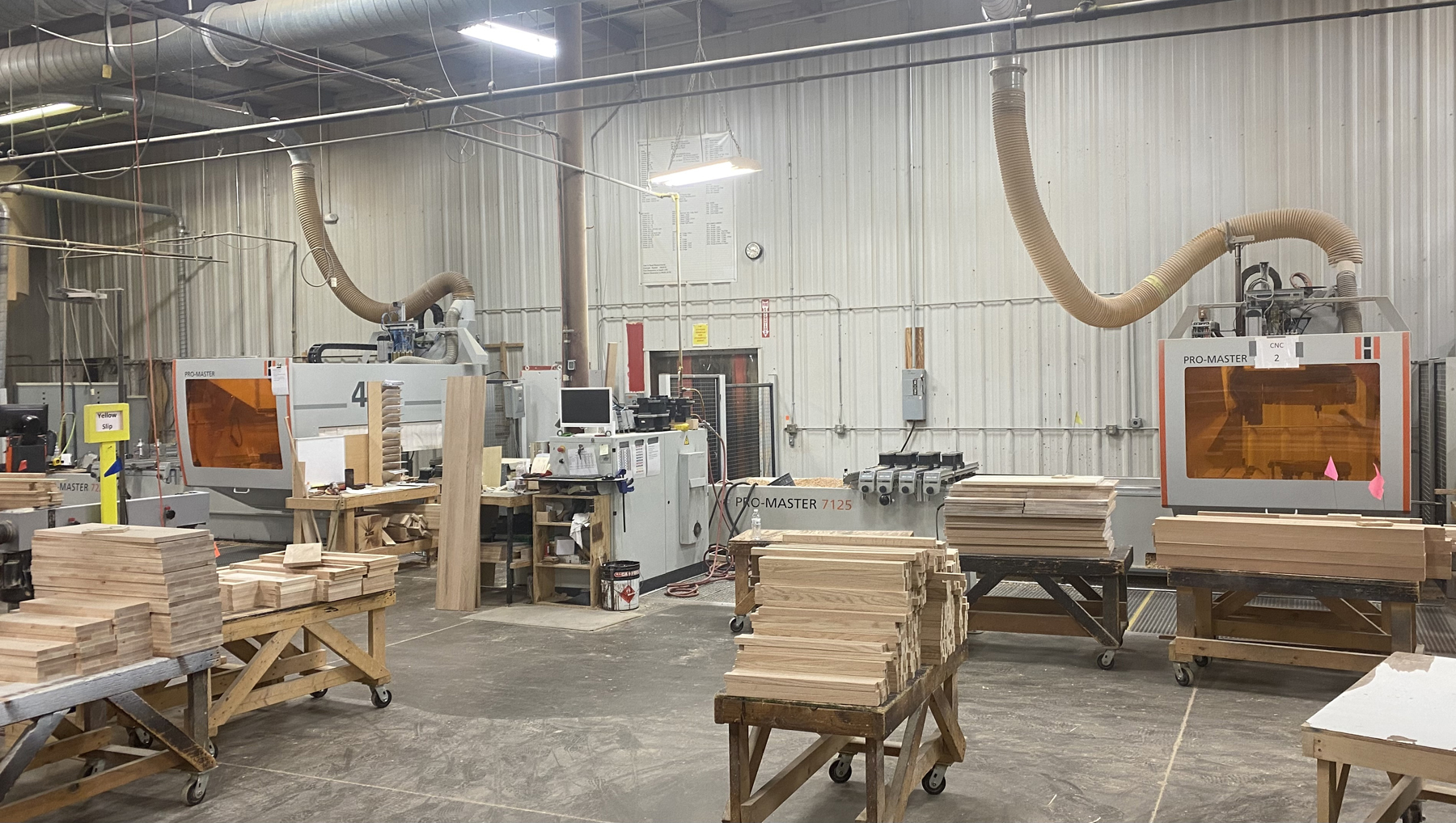 Parts are next pocket screwed using one of the several Castle machines in the facility. Each piece is then hand-assembled before finishing, with stain, sealer and a catalyzed lacquer applied to each piece. "After finishing, drawers are inserted, doors are installed, and all necessary hardware is installed. Each piece then goes through our QC standards and is then shipped to our customers," Schlinkmann explained.
"Currently we are finalizing plans for physical building expansion, and improving our finishing line, which will include new pumps guns and robotic sprayers. In addition, we are continually researching equipment that can increase our capacity, improve efficiencies or better our product," he added.
Recent investments in technology include a CNC router and moulder. According to Schlinkmann, "ROI is analyzed for each investment and a ratio of at least 5:1 would be expected."
Under "normal" circumstances, Schlinkmann said, "We practice lean manufacturing. We receive raw material inventory on a weekly basis and carry minimal stock. However, with the current supply chain, we are purchasing and inventorying everything we can get our hands on to minimize supply disruptions."
The company is also environmentally sustainable, and partners with lumber companies that practice forest stewardship. "We purchase items and most of our suppliers are from a close geographical area, which minimizes our carbon footprint," Schlinkmann added.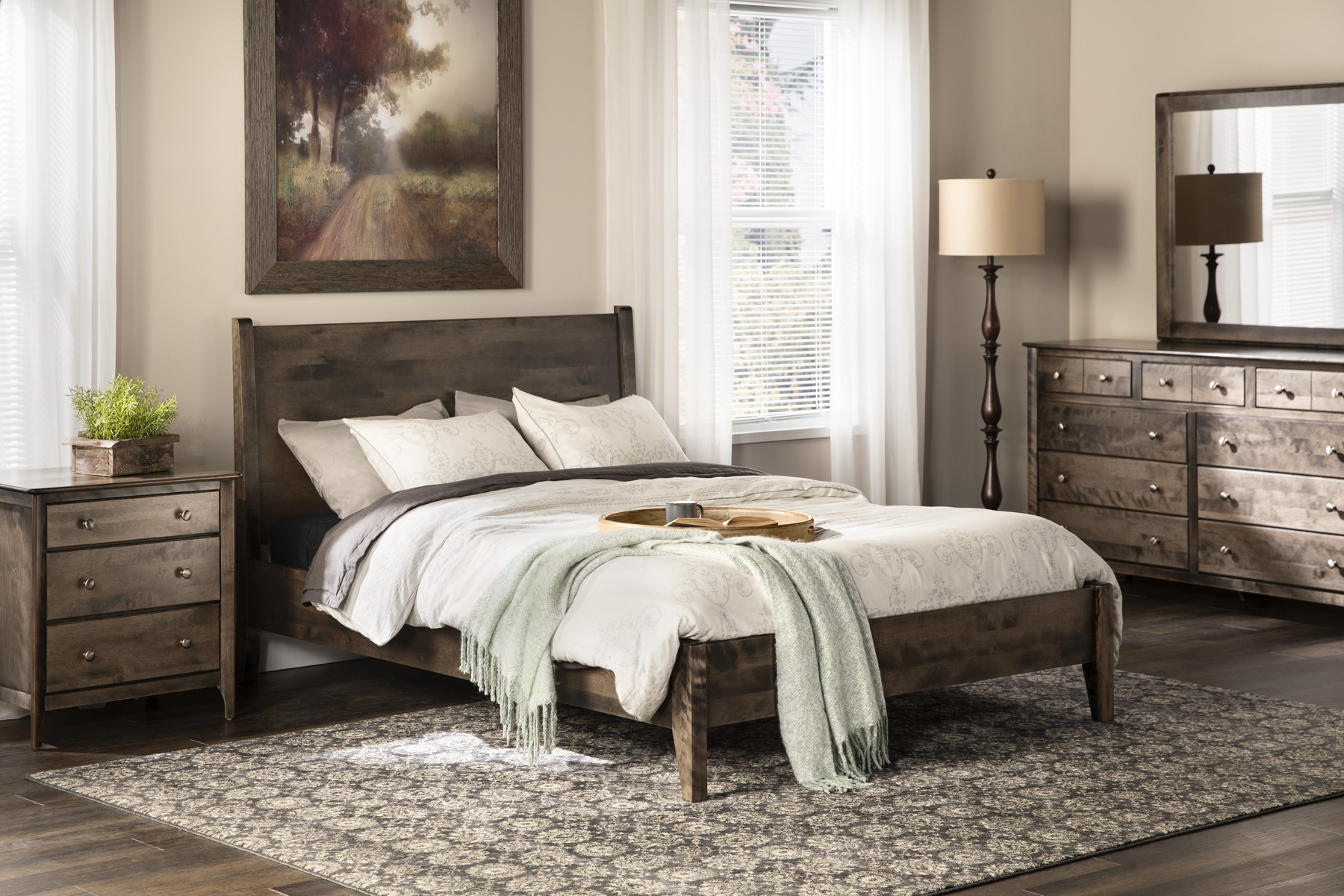 Challenges and opportunities
As with many manufacturers, Witmer Furniture has dealt with its share of issues since the onset of the pandemic including facility and customer closures, and supply chain disruptions, in particular the availability of certain species and rising cost of materials.
"At times we have struggled, but we continue to provide a safe work atmosphere for our employees, we continue to deliver more product on a weekly basis than we ever have, and we are working every day to lower our record backlogs," Schlinkmann said.
With that in mind, he added, "2022 sales will exceed 2021 simply due to our backlog and our increased capacity. We are currently shipping 10 percent more than we did in 2021, we are in the process of adding a second shift, which will greatly increase our output as well as a building expansion and increase in equipment purchases. Our goal is to double our output in the not too distant future."
The company also announced plans to launch two product lines this year that were delayed due to the COVID-19 pandemic.
"We see opportunities to grow with our existing customer base as we will be able to ship more product to them. Domestic shipping rates, though they have increased, are substantially less than container rates which level the playing field with the imports. In addition, we have several new customers waiting to come on line this year.
"If we can continue to add new employees and train them to maintain our standards, we feel things will look good moving forward."
For more on Witmer Furniture or to watch videos of its manufacturing operation, go to WitmerFurniture.com.
About the company
Witmer Furniture was founded in 1981 by Ken Witmer, a local carpenter specializing in waterbeds. In 1992 "he had a calling from the Mennonite Church to move and start a new church in a different area," and the company was sold to Kevin and Terry Schlinkmann.
According to Kevin Schlinkmann, president, they immediately began increasing the customer base while slowly transitioning into more mainstream furniture styles. A dining line was added to the product portfolio following the purchase of Conrad Furniture in 1994, and by 1995 Witmer was manufacturing solid wood bedroom, dining, home office, occasional and entertainment furniture.
In 1996 the company built a new facility in Abbotsford, Wisconsin, to accommodate the increase in business. Witmer has expanded twice since, and manufacturing currently takes place in a 150,000-square-foot facility, with 65 employees. In recognition of its growth and efforts, the company has received multiple nominations for Wisconsin Manufacturer of the Year. "We are honored to have made these lists and want to thank our employees for working so hard to get us to this level," Schlinkmann said. Witmer Furniture's efforts have also been shared in the WOOD 100: Strategies for Success, and the company is #263 in the 2022 FDMC 300, a ranking of the largest North American wood products manufacturers based on sales.
Witmer was purchased by Wisconsin River Partners in December 2021. WRP is a private investment group consisting of local investors who invest in companies in the area to help them grow, realize their potential and to keep jobs in the area.
For more on Witmer Furniture go to WitmerFurniture.com.
Have something to say? Share your thoughts with us in the comments below.