Bassett wins AHFA 2021 Distinguished Service Award
December 1, 2021 | 9:13 pm CST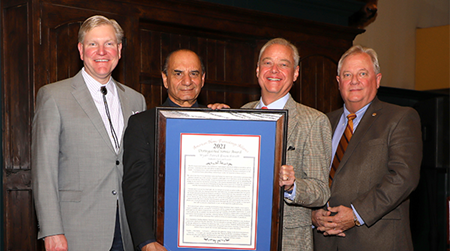 Photo By AFHA
COLORADO SPRINGS, Colo. – Wyatt P.E. Bassett, CEO of Vaughan-Bassett Furniture Company in Galax, Va., received the American Home Furnishings Alliance (AHFA) Distinguished Service Award during the organization's 2021 Annual Meeting and CEO Conference in Colorado Springs in November.
The award is conferred annually to an industry executive selected for his or her contributions to the home furnishings industry, to the AHFA, and their local community. Bassett is the 54th recipient of the honor, which was first presented in 1966.
In announcing the award, Farooq Kathwari, chairman, CEO, and president of Ethan Allen described Bassett as an "industry servant leader."
"Always one to avoid the limelight, he is a detail-oriented executive with a penchant for innovative, bottom-line management," Kathwari said. "A people person, he regularly walks through the factory to speak to employees and offers a sincere compliment or pat on the back for a job well done."
He is the second in his family to receive the Distinguished Service Award, with his father having received the honor 20 years ago. As the son of John D. Bassett III, Wyatt Bassett was "home-schooled" in the industry, Kathwari noted. He worked in the Vaughan-Bassett factory during high school summers and in the executive offices during college summers. Following graduation, he worked in retail before earning his MBA from Northwestern University. He joined the family company full-time in 1995. He was named president in 2007 and CEO later the same year.  
The company now employs more than 500 and produces all of its products in Galax. It is the largest domestic producer of bedroom furniture.
Bassett is committed to producing American-made furniture and equally committed to producing it sustainably. Since 2007, over 1.5 million tree seedlings have been planted by the Virginia Department of Forestry through the Vaughan-Bassett "One for One" program. Over 99 percent of the company's lumber comes from within 500 miles of its factories, and 80 percent is from within 200 miles, limiting the carbon footprint associated with raw material transport.
In addition, in 2009 the company installed a $3 million, state-of-the-art, computerized rough-end system, enabling them to increase lumber yield by over 20 percent.
"He is passionate about creating sustainably-made furniture that is built to last and that is unquestionably safe for consumers," Kathwari pointed out.
Bassett served as chair of AHFA's Board of Directors in 2013. He also has served on the board of the International Woodworking Fair and has helped lead the American Furniture Manufacturers Committee for Legal Trade since its 2003 inception.
Have something to say? Share your thoughts with us in the comments below.