Ear protection and music, too
March 26, 2021 | 3:30 pm CDT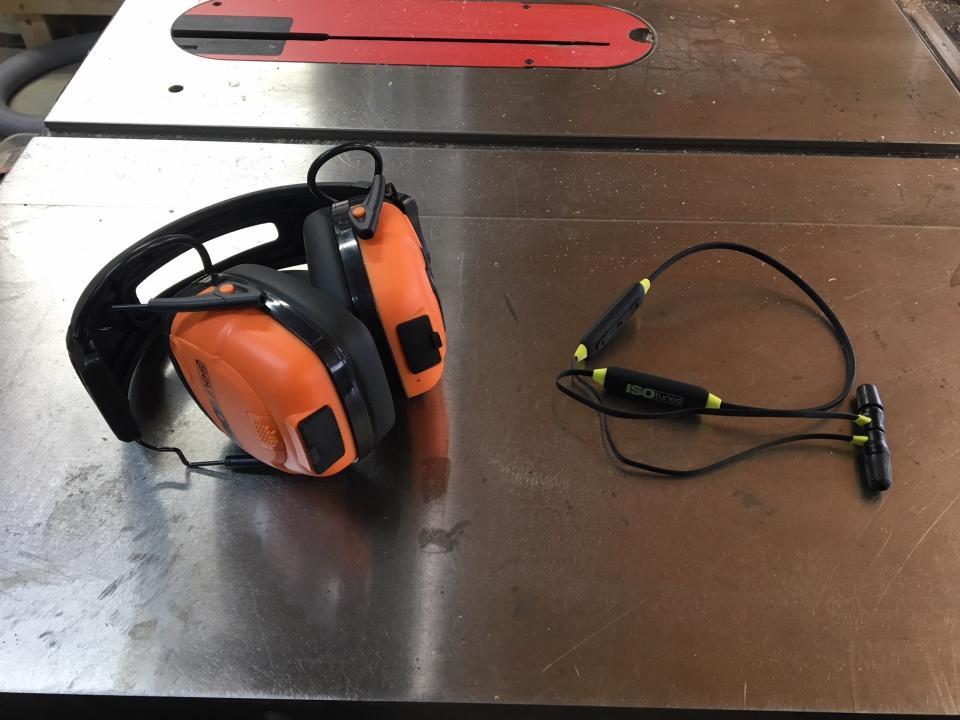 Lots of woodworkers like to work with music in the background, and I visit lots of shops where radios or stereos compete with machine noise. There's got to be a better way. ISOtunes has introduced noise cancelling headphones and noise-isolating earbuds that are OSHA compliant as hearing protection.
ISOtunes Xtra 2.0
If you prefer earbuds or are used to wearing ear plugs for hearing protection, the ISOtunes Xtra 2.0 noise isolating earbuds are probably your first choice. They are rated for 27 dB noise reduction and come with four pairs of foam eartips and three pairs of silicone double-flange eartips to help you find the right fit for your ears and comfort. ISOtunes recommends replacing the tips every three months and has a program for automatic replacement. There are magnets on the earbuds so they snap together to hang around your neck when they aren't in your ears.
These use Bluetooth 5.0 technology to pair with your phone or other devices and will pair with multiple devices at the same time. There is a microphone so you can use these as a headset with your phone as well as ear protection and listening to music. Battery life is 11 hours.
ISOtunes Link
I'm generally more comfortable with ear muffs rather than ear plugs, so I was interested in the ISOtunes Link over-ear style hearing protectors. These don't offer as much protection as the earbuds. The ones I tested say they are rated at 23 dB noise reduction, but the current model online says they are ANSI certified for 25 dB.
These use Bluetooth 4.2 to pair to your phone or other devices. There is a microphone so you can use these as a headset with your phone. Battery life is listed as 14 hours with the rechargeable lithium-ion battery installed. You can also drop in three AAA batteries for up to 28 hours of run time.
How they work
I found both the earbuds and the earmuffs were great options for ear protection in the shop. You can't really crank up the tunes because both come with what ISOtunes calls SafeMax technology to limit output to 85 dB to protect your hearing from your music as well as shop noise. I found the earbuds more comfortable than most earbuds I've tried. I still gravitate to the over-ear style partly because I don't like things dangling around my neck in the shop when I'm working.
Each of these ear protection options list for about $80 retail and come with a 30-day money back guarantee and a one-year limited warranty. Learn more at isotunes.com.
Have something to say? Share your thoughts with us in the comments below.