Pricing Survey 2023: How do you price your work?
November 1, 2023 | 2:53 pm CDT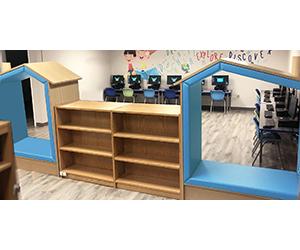 A wider variety of projects attracted a good range of bids and bidders in the 2023 Pricing Survey, pointing out not only best practices for pricing, but also areas in which many bidders for custom work have problems.

This year's survey marks more than 25 years that we've been studying pricing for custom woodwork. The 2023 Pricing Survey is sponsored by Lockdowel.


More projects, more variety
While kitchens continue to be the most popular project in the pricing survey, this year's study incorporated a wider range of projects to represent more of the different kinds of custom work done across the industry. For architectural millwork and contract furniture, there was a children's library reading nook. For residential cabinetry, there was a white oak, Shaker-style kitchen. For built-ins, there was a birch mantle project. Two custom furniture projects rounded out the survey with a coffee table and a display cabinet.

Picking the projects is always a challenge, and one of the bidders this year criticized the 2023 selections as "boring." While these projects were certainly not the most challenging and elaborate projects we've presented, we've found in the past that large, complicated, showplace projects often don't attract as many bids and the prices range so widely as to be almost incomprehensible.

How the survey works
Before getting into the details of the survey, you need to understand how it works, what it is, and what it is not. In the first place the survey tries to be an apples-to-apples comparison of pricing for custom woodwork. We take bid specifications from real projects done by real shops and share that information with any shop in North America that wants to try "bidding" on the jobs.

What the survey is not is a test of bidding accuracy. There are no "right" answers. The highest or lowest bids are not necessarily "winners." We make a distinction between words often used interchangeably for pricing that should be used for other things. Bidding is coming up with a price for a competitive project. Costing is calculating all of your costs in materials and labor for a job. Estimating is figuring out what it will take to do a job on the way to developing a bid or price. The price is the final number you present to the client, which should include all of your costs, markups, and profit and should represent your perception of what the project is worth in the eyes of the customer.

Common errors in pricing
Every year, no matter who or how many people submit bids to the survey, we see common problem areas. Many people estimate materials too low. They frequently don't calculate everything that goes into a project. In these days of internet buying, consolidated distribution companies, and fewer independent suppliers, materials costs are really less variable across the country and should be quite close in the survey if people are figuring accurately what is required for a job.

But they don't. In the white oak kitchen project in this year's survey, materials estimates ranged from $7,300 to $23,000. The original bidder who did the project said the materials were $8,387, and the average of all materials estimates was $11,937. People need to not get lazy and really calculate the costs and what's required.

On a big project, like a kitchen, that's especially challenging, and that was reflected in closer numbers for materials in the other simpler projects in the survey. Those projects often had numbers within $100 of each other instead of thousands of dollars apart.

Shortcuts
We know many shops take shortcuts in pricing such as pricing everything by the foot without seriously exploring variance in what is required to make each part of the project. 

This year's survey had a new shortcut we've not seen before: pricing finishing costs by the quart.

Certainly, the price of finishing materials is part of the cost of finishing, but finishing in woodwork is generally a complex, often labor intensive, process that shouldn't be reduced to just the cost of the finish materials. The bidder who reported that method was a less experienced shop, so perhaps this is just a learning curve.

Explore the details
To get the most out of the survey, you need to delve into the details and not get hung up on the final prices and how widely they vary. 

Look for shop rate numbers and compare them to your own. Are they high enough to properly account for overhead? 
Compare hours estimates for construction, installation, and finishing. Are they close to what you would estimate for the same work?

Look at the experience levels of the shops, where they are located, and whether they use software or CNC automation in their process. 

But be warned: Over the years we've found no consistent correlation between these factors and high or low bids. 
Take CNC automation for example. Some shops see the increased accuracy and efficiency of CNC as a means to lower prices to be more competitive. Others see the increased accuracy as adding value to the product, so they increase prices, which, of course, also helps them pay for the more expensive machinery.

How to use the survey
The best way to use the survey is to participate as a bidder or project submitter. But even if you don't do that, you should download the bid package (woodworkingnetwork.com/pricing-survey) and go through the bid specifications in detail to fully understand each project.

Then take the time to bid each project that is appropriate to your shop. Compare your numbers with those in the survey. If you have more than one estimator in your operation, have them all do the exercise. 

Then compare bids to make sure everyone is on the same page, using the same calculations and assumptions. Because we all know what wrong assumptions will do.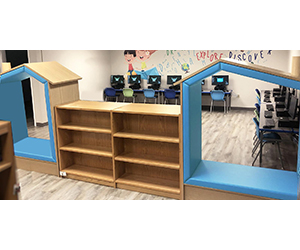 1.Children's library reading nook
This is a commercial furniture project for a children's library reading room. It is a reading nook designed to adjoin existing shelf units in the library. Two of the nooks are shown in the picture. Price per nook but assume the project requires two or more.

Analysis: Bids were remarkably close in this project, with the highest bid only 50 percent higher than the lowest bid. Estimates for materials and construction hours were also competitive.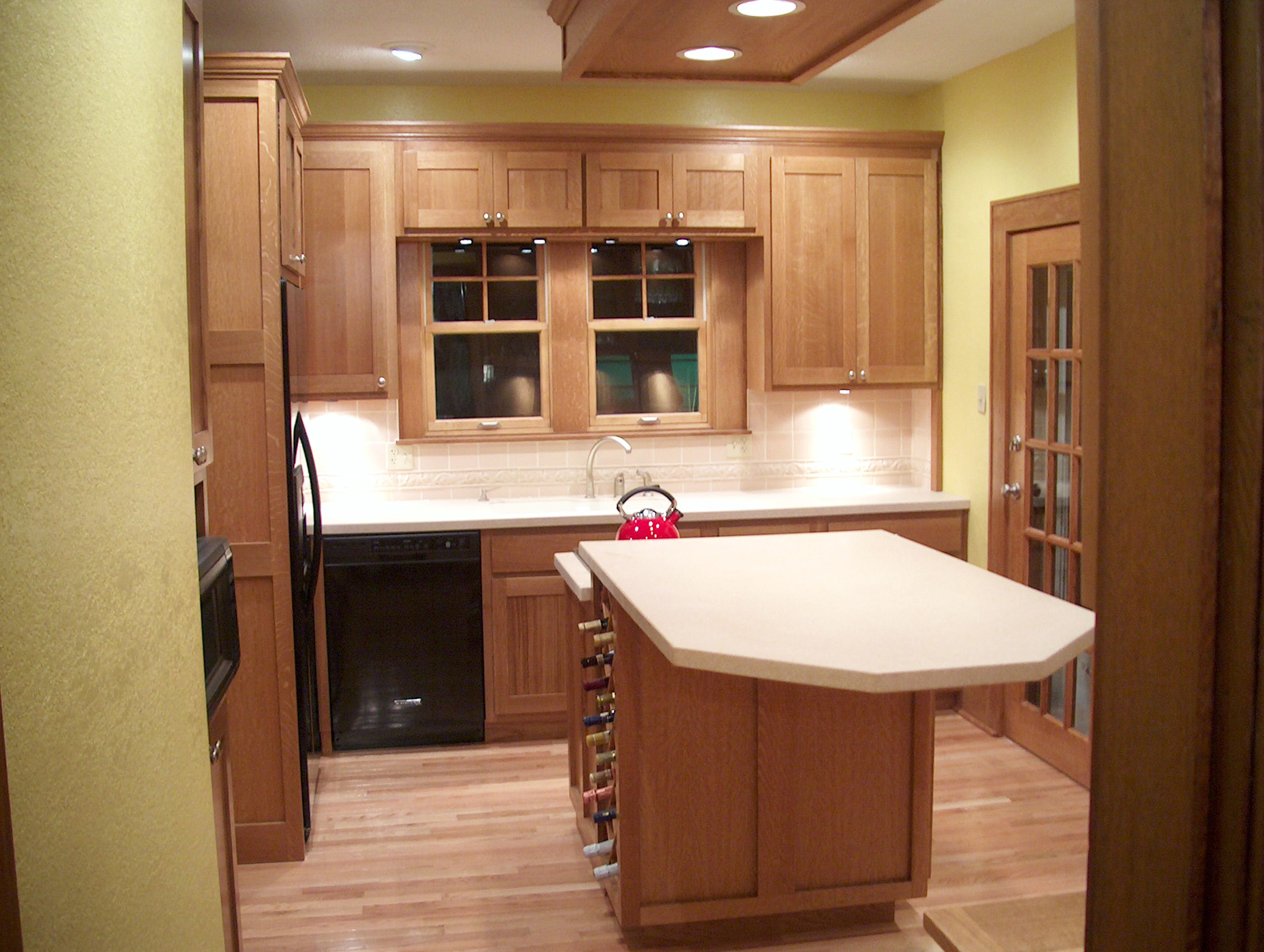 2. White oak Shaker-style kitchen
This small but complex kitchen was done with birch plywood with quartersawn white oak veneer where exposed. It features solid quartersawn white oak face frames and Shaker-style flat panel doors. Drawers are red oak dovetailed with 1/2-inch plywood bottoms riding on soft-close slides. Hinges are 32mm concealed Euro-style soft close. Countertops are solid surface with a seamed double-bowl sink. The island has a pullout trash can. There is undercabinet lighting. There are wine and glass racks, pullouts and special details throughout.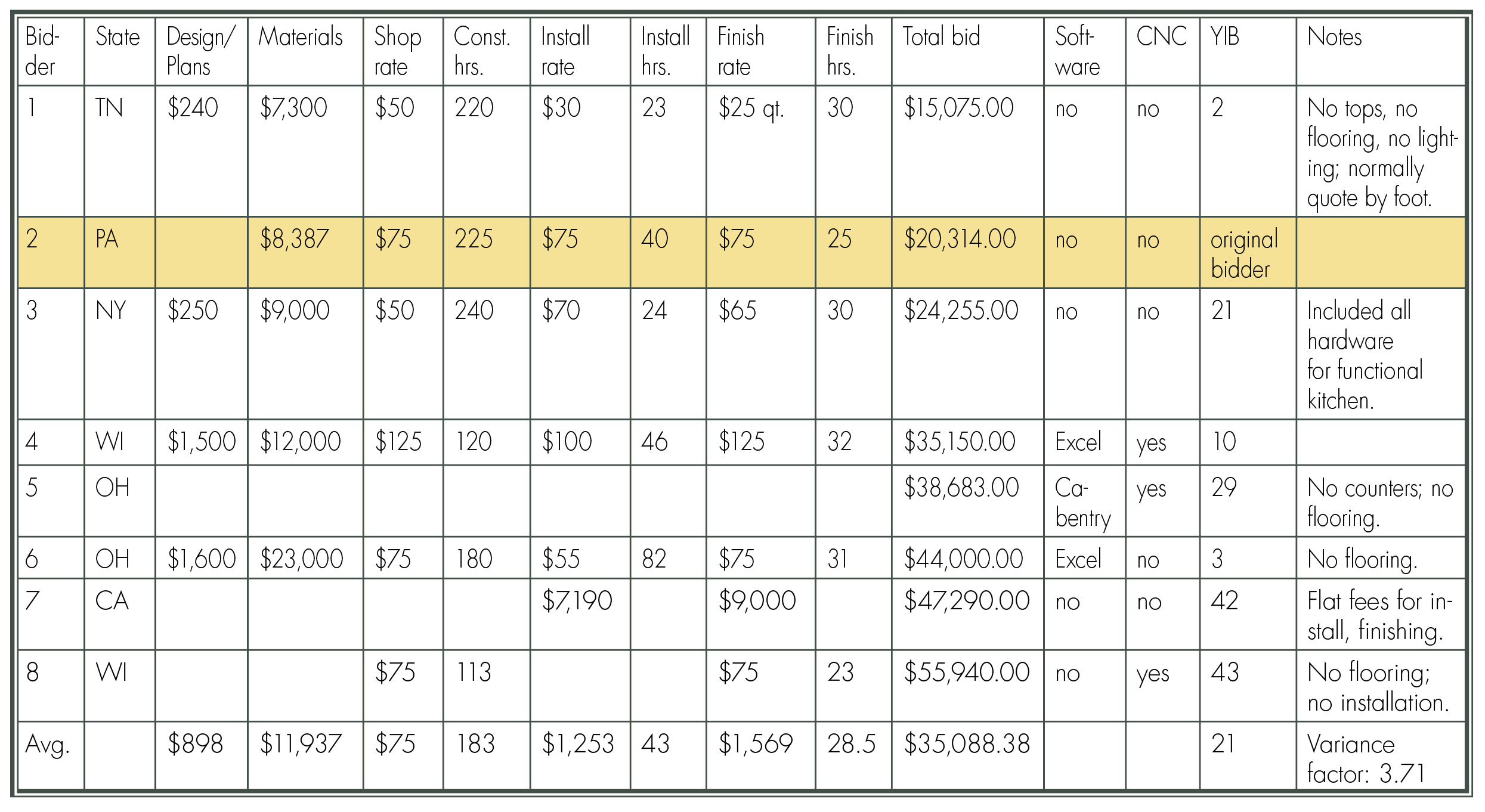 Analysis: This popular project garnered more bids and more varying prices than any of the other projects. That follows the tradition in the survey of kitchens being the most popular projects with the widest bid ranges. The original bid from a Pennsylvania shop was actually the second lowest price posted. Widely varying estimates for materials costs certainly affected the bid range. The highest bid from a Wisconsin shop was nearly four times the lowest bid from a Tennessee company.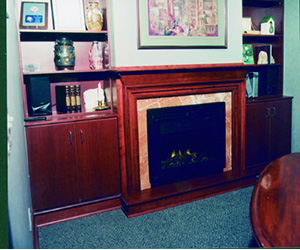 3. Stained birch mantle
This elegant mantle is one of four that were done for a corporate office. It was designed and built to blend with the existing cabinets and shelves on either side of it. The mantle was built with birch but a red stain was specified to match adjoining, pre-existing cabinetry. Another distinctive detail is the marble surround that separates the firebox from the mantle's woodwork. 

Analysis: This small architectural millwork project attracted bidders from across the country with relatively close and competitive bids. The highest bid at $2,800 was only 72 percent higher than the lowest bid at $1,625. Estimates for materials were surprisingly close to the original bidder's quote, as were the estimated construction hours. Close estimates on materials and labor generally lead to close bids.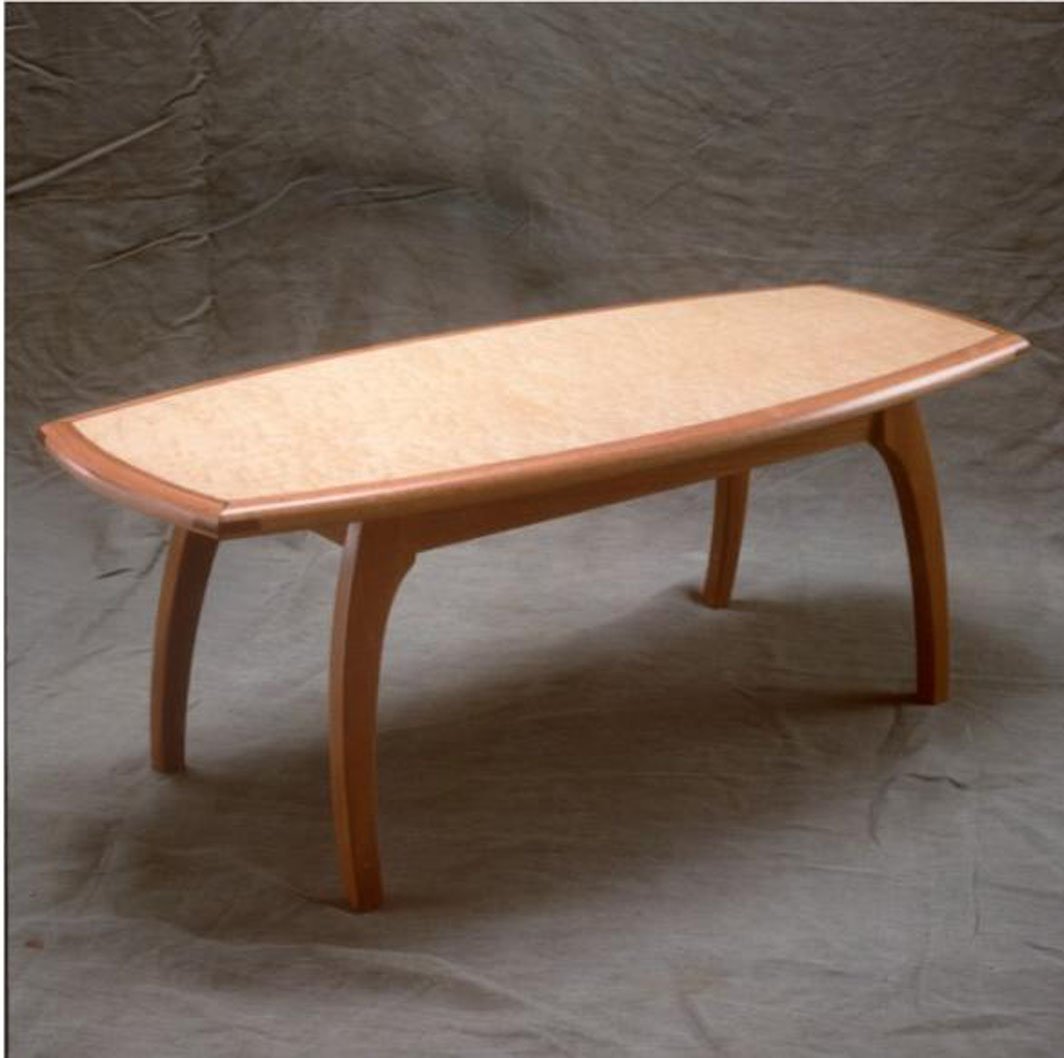 4. Crab-leg coffee table
This elegant coffee table is made with bird's-eye maple veneer in the top with mahogany legs, and frame and wenge corner splices. The top is two layers of 5/8- inch MDF laminated to make a 1-1/4-inch core, which was vacuum veneered with the maple veneer. The nosing is laminated mahogany. The corners were grooved out for the wenge splines. The miters were also internally splined. The legs were bandsawn, then pattern routed, scraped and edged then sanded. The aprons are tenoned into the legs with angled faces to splay the legs. The table is spray finished with waterborne lacquer. Finished measurements are 48 x 22 x 18 inches.

Analysis: Small projects don't necessarily lead to close bidding. This coffee table earned a wide range of bids from a high of $4,450 to a low of just $1,260, which is almost half the original bid of $2,300, which itself was one of the lower bids posted. That low bidder said it would take less than 4 hours to build a table that most others put at 30 hours or more.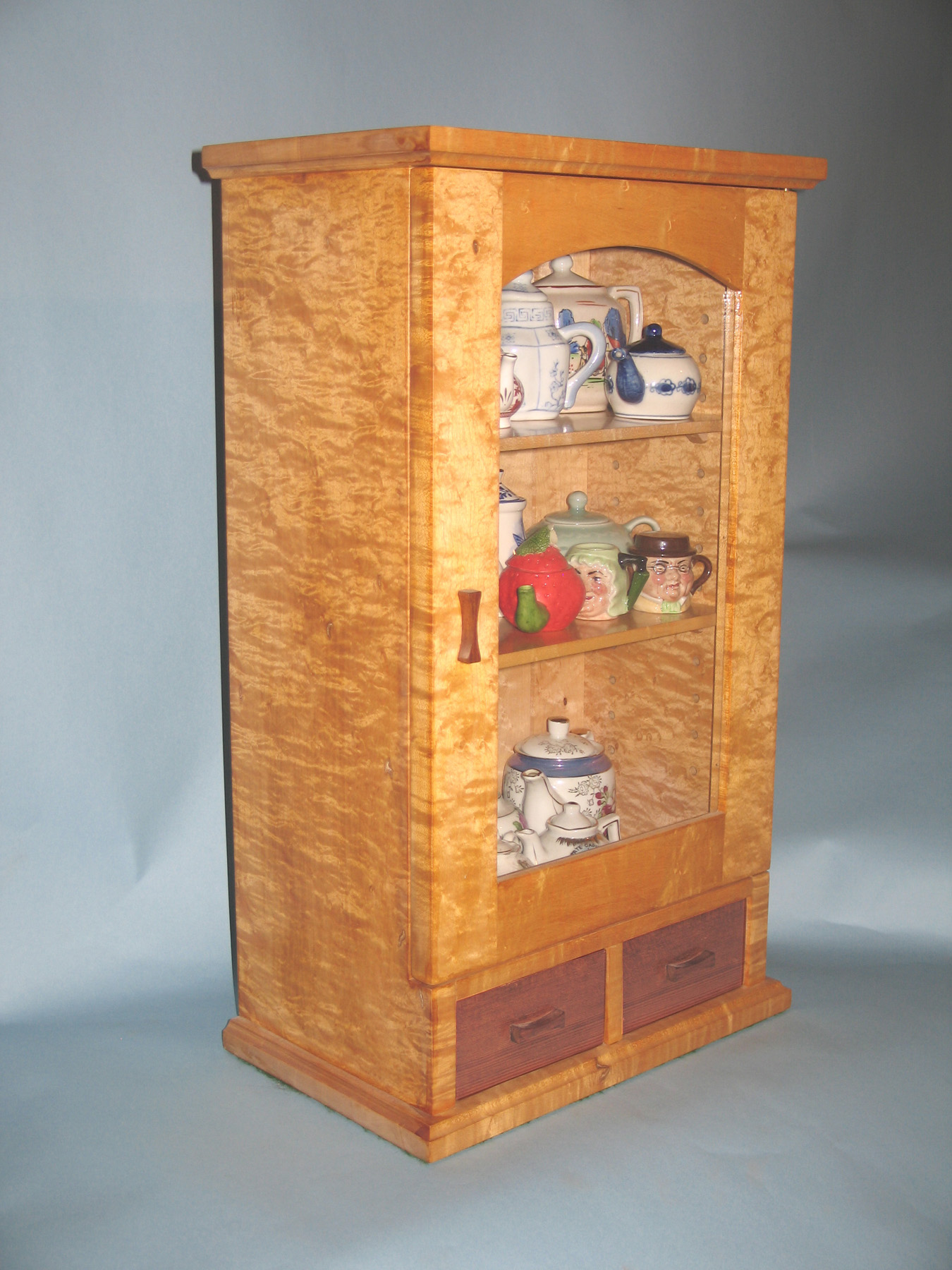 5. Display cabinet
This was a commission from a retired couple who wanted a small display cabinet for some of the items they collect. The cabinet needed to hang on a living room wall and display its contents without any interior lighting, and since the items on display would be rotated from time to time, a bit of storage space was requested. The result was an elegant cabinet in highly figured bird's-eye maple with two small drawers faced in cherry. Rosewood was used for the bowtie-shaped pulls on the drawers and glass door, which swings on solid -brass knife hinges and is secured by a bullet catch. Shelves rest on adjustable pegs. Drawers were dovetailed with half-blind dovetails in front and through dovetails in the rear. The drawer boxes were maple, providing a good contrast to show off the dovetails against the cherry fronts. The cabinet can hang on the wall on a French cleat or it can rest on its felt-covered bottom on top of another piece of furniture. Basic measurements are 22-1/2 inches high, 13 inches wide, and 8 inches deep.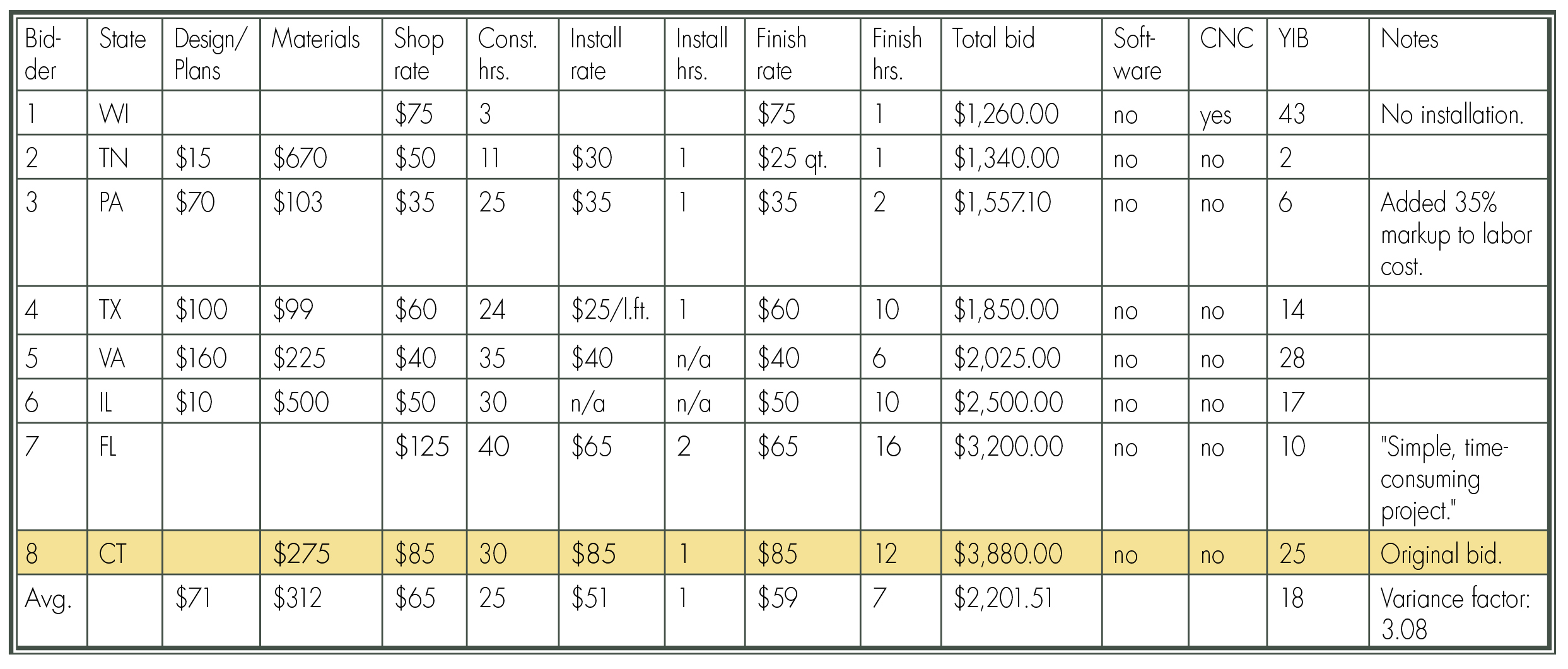 Analysis: Perhaps one of the bidders put it best, describing this project as a "simple, time-consuming project." Construction hours ranged from the low-bidder's 3 hours to a high of 40 hours, with the original bidder at 30 hours, and the average coming in at 25 hours. Shop experience was not a factor as the shops with the most experience and the least experience were only $80 apart in their bids.
Have something to say? Share your thoughts with us in the comments below.