Wood Industry 40 Under 40 managers tell how they see things
April 26, 2017 | 1:21 pm CDT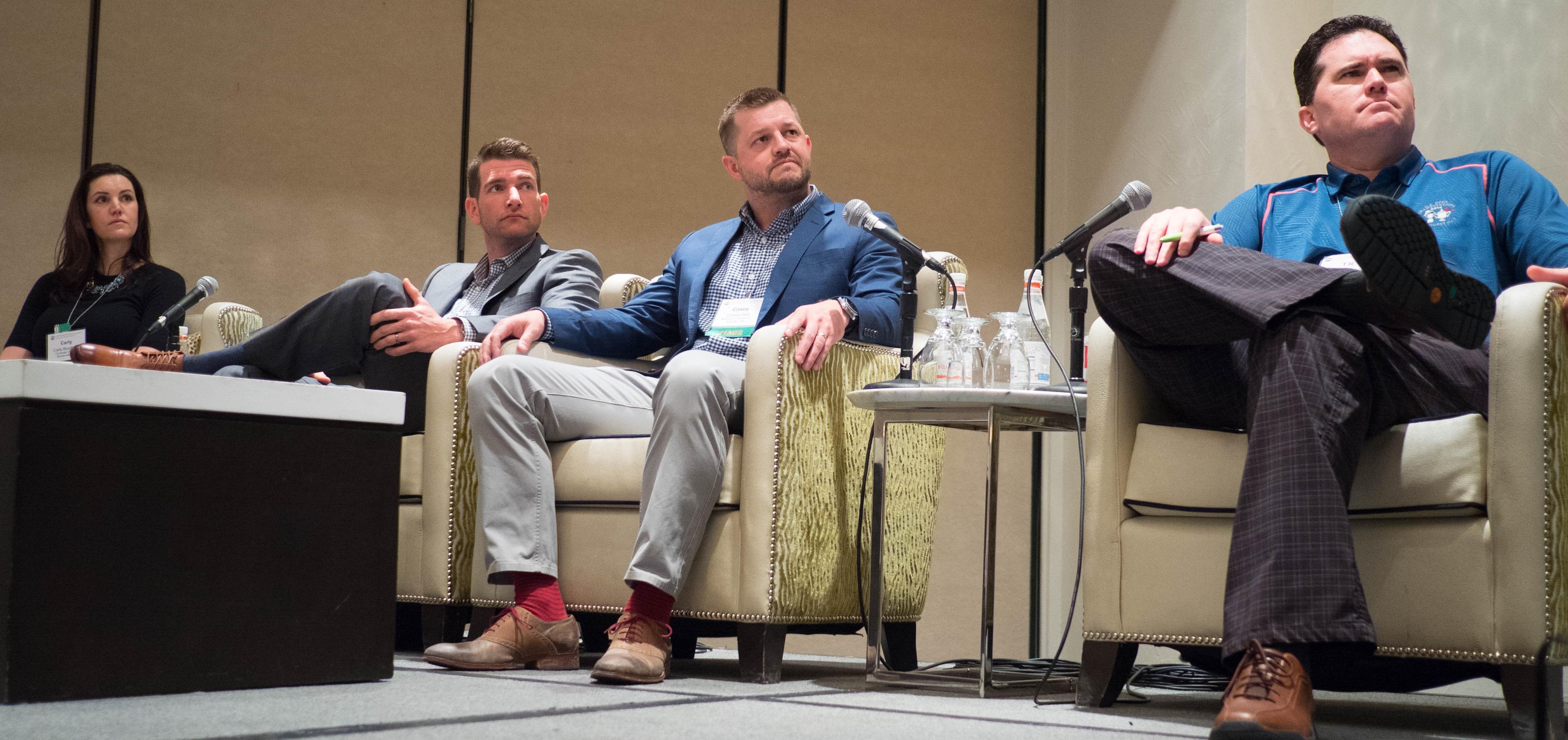 PALM SPRINGS, Calif. - A panel of the Wood Industry 40 Under 40 honorees mounted the dais at the Wood Industry Conference 2017, delivering an eye-opening look at how they manage their business, and how they prefer to deal with suppliers. The meeting took place this morning at the annual gathering of suppliers being held all week in Palm Springs, California. 
On the program at WIC 2017 were four winners drawn from the group of 40 honorees from 2016: 
Casey Bell, Chief Operating Officer of Bellmont Cabinets, Inc., a residential kitchen cabinet manufacturer in Sumner, Washington; 
Carly Boudreau, President, Coriander Designs, a commercial case goods manufacturer located in Woodinville, Washington; 
Guy Bucey, Director of Operations, Inova, a manufacturer of murphy beds for large hospitality industry clients, and based in  Albany, NY; and 
Todd (T.R.) Herzog,  President, Accu-Router, Inc., a wood manufacturing technology supplier based in Morrison, Tennessee. 
Wood manufacturing business managers told suppliers that they must improve how they communicate with them as customers. Particular points of contention are slow response to service requests, inconsistent communications, and requiring faxing of orders for parts, which are subject to errors when they get manually re-entered by suppliers. Several of the group of millennial managers said that supplier performance is judged by the ubiquitous standard of Amazon, which offers seamless ordering and continuous updates on delivery status. 
"Amazon knows where the part is at all times," said Bell. "Amazon is the measure of performance you have to compete with. We have to compete with it with our own customers."
Boudreau told of poor follow-up on ship date and delivery status of a $250,000 CNC machine order.
"You really need to communicate," she said, noting that with two CNCs from different suppliers in the past two years, incorrect repair parts were shipped, further delaying production.
Bucey said he felt suppliers frequently weren't providing the proper respect and deference to his company.
"We ask continuously of ourselves, how can we cut prices and improve quality for our customers." He suggested vendors should be taking that approach to their wood manufacturing customers. 
The Wood Industry 40 Under 40 program was launched in 2016 by Woodworking Network, and the awards presented at IWF woodworking show in Atlanta in August. It is intended to recognize innovation and leadership among the next generation of managers in the industry. 
Nominations are now open for the 2017 Wood Industry 40 Under 40 Awards, which will be presented July 18 at the Woodworking Network Leadership Reception at the Las Vegas Convention Center. This event, running the day prior to the AWFS Fair, concludes three day-long conferences, and will also include a reunion of the 2016 award winners. 
Learn more and register to attend the event at www.awfsfair.org
Have something to say? Share your thoughts with us in the comments below.