Webinar: The importance of knowledge-based manufacturing

December 7, 2022 | 1:00 pm CST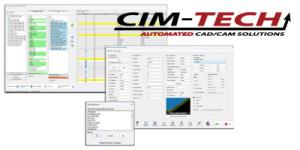 In this webinar, scheduled for 2 p.m. Eastern on Wednesday, December 7, Cim-Tech will address the importance of knowledge-based manufacturing. Kenny Belfatto, Cim-Tech's National Sales Manager, will demonstrate how knowledge can be stored in the software's database rather than in an employee's memory. "In times of high turnover this is crucial to keep your business running smoothly," said Belfatto. "It's all about standardization -- those standards become your manufacturing standards." CAD/CAM standardization prevents bottlenecks that can be created if someone leaves or is on vacation. Having standards in place allows your operations to perform seamlessly. And when your CAD layer standards are in place, these standards can also drive your manufacturing standards. Belfatto will discuss how drill patterns, counter-bores, dadoes, pockets, rabbets, countersinks, etc. should all be on different layers and how the layer standards can be archived and accessed easily.
This webinar is aimed at CAD managers and manufacturing engineers.
Please join us as we explore the different ways that knowledge-based manufacturing can work for you as well as demonstrate Router-CIM's layer-to-knowledge association-making tool paths that are reliable and consistent.


Kenny Belfatto
National Sales Manager, CIM-TECH

Harry Urban
Publisher, Woodworking Network & FDMC Magazine