Pioneer Millworks shares reclaimed wood expertise at 2017 Builders' Show
January 3, 2017 | 6:55 am CST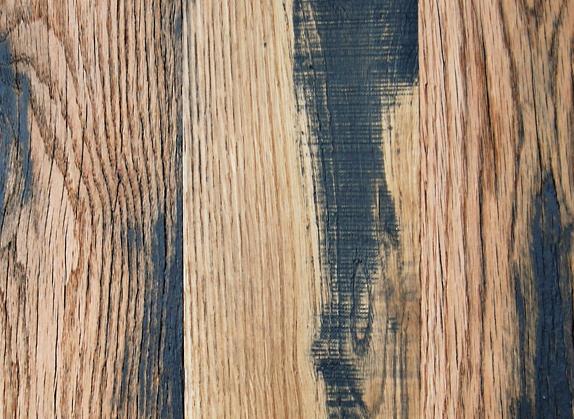 FARMINGTON, N.Y. - Pioneer Millworks brings its wood experts to Orlando, Florida, next week for the 2017 International Builders' Show, co-located with KBIS 2017 kitchen and bath show.  (IBS), the largest annual light construction show in the world. Representatives will share their expertise from interior design degrees and decades of industry experience with show attendees.
A Seattle  restaurant with black and tan flooring
A leading reclaimed wood lumber mill, Pioneer Millworks' recently updated its show exhibit to display a wide variety of the reclaimed wood species and finishes. New for IBS will be patterned and painted Reclaimed Black & Tan. These Reclaimed Oak fence planks celebrate original paint (animal and environmentally friendly) and weathered surfaces. Several grades are available through specialized surfacing of the Reclaimed Oak planks.
"This year we'll showcase the special character of Black & Tan Reclaimed Oak planks which are finding new life in a variety of projects." says Jennifer Young, General Manager, who says Black & Tan is one of Pioneer's most dynamic products.
Black painted boards salvaged from farms are skip-planed or fully planed to create Black & Tan – 50/50 or Black & Tan – Tan. This makes for a stunning and durable product with substantial character and a great story to tell. A third option, Black and Tan – Black, comes with 100 percent of its original paint intact. The black paint was traced back to its original source and was found to be a non-toxic, waterproof coating used in agricultural settings and safe for use around farm animals.
Pioneer Millworks' sister company, New Energy Works Timberframers, will be displaying heavy timber construction and reclaimed timber projects just behind the Pioneer Millworks booth.
To date, Pioneer Millworks says it has rescued nearly 26 million board feet of old wood from rot and landfills, giving it new life as flooring, paneling, millwork, cabinetry, and more. All wood is manufactured in a way that's healthy for customers, employees, and the environment. Pioneer Millworks is FSC-certified and Green America approved. All of their products are LEED point eligible.
www.pioneermillworks.com
Have something to say? Share your thoughts with us in the comments below.