New features, technology on tap at Xylexpo woodworking fair
March 4, 2020 | 2:35 am CST
Article update 3-9: Xylexpo postponed to second half of 2020.
"We waited as long as we could, hoping the situation would go back to normal," said Lorenzo Primultini, president of Acimall and of the exhibition. "We hope that, by the end of May, the coronavirus effects will not be what we are seeing now, but unfortunately we cannot tell when this emergency will be over on a global scale, and most of all, we cannot predict its impact on the industrial system and on the supply chains of the wood and furniture technology industry."
MILAN, Italy – A peek at some of the new features and woodworking innovations on display at the 2020 Xylexpo was given to approximately 50  journalists from around the world at a special event hosted by show organizer Acimall. Originally scheduled for May at the FieraMilano-Rho in Milan, Italy, the show has been postponed until the second half of 2020 due to the coronavirus.
The postponement was announced March 9.
The 2020 biennial fair will play host to more than 330 exhibitors of major machinery and related products from around the world, with displays spread across more than 312 thousand net square feet of display space, in three exhibit halls. Attendance is projected to beat the 2018 edition, which had 37,000 visits by nearly 18,000 woodworking professionals, approximately one-third of which were international visitors, according to a statement from Lorenzo Primultini, Acimall president.
Show organizers hope to beat 2018 attendance figures of almost 18,000 distinct visitors. Those that pre-register at Xylexpo.com can attend for free.
Those that pre-register for the event on Xylexpo.com can attend for free; on-site the ticket price will be 15 euro.
In addition to organizer Acimall, show sponsors include Eumabois, the Italian Trade Agency, Xylon and Fiera Milano. Xylexpo also has strong partnerships with Confindustria and with Catas to organize meetings and initiatives on the critical topic of education and training.
Woodworking Network was in attendance for the Xylexpo press event, which included presentations from Dario Corbetta, GM/director of Acimall; Paolo Borgio, general manager of Fiera Milano; Massimo Goldoni, president of CFI/Confindustria, Luigi DeVito, vice president of Eumabois and
SCM Group Machinery Division director, and Andrea Giavon, general manager of Catas
. Lorenzo Primultini, Acimall president, was unable to attend due to illness.
Xylexpo is among the top 16 international exhibitions supported by Eumabois in 2020, noted Luigi De Vito, vice president of Eumabois and SCM Group Machinery Division director. He said one of the non-profit organization's main goals is to support trade fairs in order to create a prosperous business environment for member companies and their customers. Eumabois represents 13 national associations including two individual companies, totaling approximately 850 businesses in the woodworking industry with combined sales greater than 6 billion Euros.
De Vito also underlined the importance of participating in exhibitions which currently represent a crucial platform for personal individual interaction, in addition to acting as a strategic platform for promotion, negotiation, and demonstration of products. In an ever-increasingly connected world, exhibitions present opportunities to consolidate digitally established relations and create new ones, he said. De Vito also pointed out how the ever-growing digitalization, is, in fact, a relevant and complementary process to the fair trade in terms of marketing and communication.
New logo, layout, awards
The 2020 Xylexpo show boasts a new logo to represent the event. "We decided to 'clean up' the old logo and create an easy-to-read, stronger image that represents our identity: A practical, modern event where exhibitors and visitors can recognize each other immediately and easily, staying focused on their business, namely the demand and supply of innovation," said Dario Corbetta, Acimall general manager/director, and manager of the exhibition.
Along with the four-day timeframe, "This year, Xylexpo will occupy three halls, so as to ensure regular visitor flows to all exhibitors, as far as possible. More generally, I can anticipate that we will keep the same layout of recent editions, placing one or more big players in each hall: Biesse Group and IMA Schelling Group in Hall 1, SCM Group and Weinig Group in Hall 2, Homag Group, Felder Group, Cefla and Giardina Finishing Group in Hall 3, just to mention a few," a statement from Primultini noted.
The exhibition will also include the fourth edition of "Xylexpo Awards," with companies recognized in three categories: "Wood and Panel Processing" (including tools), "Finishing and Coating" (equipment and materials) and for the first time "IoT and industrial process management."
Conferences and seminars will once again take place in the Xylexpo Arena. On Wednesday, will be the second edition of "Next Wood - Designing together the surfaces of the future" – organized by Poliefun-Politecnico di Milano, Catas, Anver, and Acimall. Thursday's lineup will include "Adhesives in the furniture industry and the current evolution of products and processes," organized by Catas and Federchimica (the association of the Italian chemical industries). And on Friday, Catas will discuss the global issue of VOC regulations.
"Spreading knowledge has always been a mission pursued by Catas with great attention and commitment, and such activity will be further strengthened in 2020 through the collaboration with Xylexpo," said Andrea Giavon, Catas general manager.
"We will offer teachers and students of educational realities of every order the opportunity to experience our fair firsthand," added Corbetta. "The 'scientific direction' of Catas offers us the possibility to create a series of initiatives, paths and activities that we are still completing, but that will certainly allow us to concretely show how much the industry believes in the mission of creating opportunities for concrete and objective in-depth studies, taking advantage of a large showcase of innovations that only Xylexpo can offer."
Corbetta also addressed the potential impact of the coronavirus on the show, and also the global economy. "China plays a leading role in woodworking machinery," he said. "It's the world's third-largest manufacturer behind Germany and Italy. As to trade relations, Italy and Europe are more focused on domestic and continental business, plus the fact that the first destination market is the United States.
"Don't forget that Xylexpo is basically a Euro-centric exhibition – 70 percent of international visitors come from Europe – so we don't expect significant effects from the coronavirus; also because the exhibition is planned in three months from now, and, if the situation has not solved or the general alarm has not vanished until then, we will have much more serious things to worry about," he added.

Sneak peek at products
At the Xylexpo preview event, more than a dozen exhibitors provided a sneak peek at some of their offerings to enhance the production of solid wood and panel-based furniture, cabinetry and casegoods. Among them:
Among the panel processing and solid wood technology on display at Xylexpo, Biesse Group will launch SmartAction, its smart factory concept for small- to medium-size shops. The main focus of SmartAction is the integrated management of production using B_CABINET software that allows the various machines to exchange data and process production reports, all within a small floor space, with limited investment and an easy learning curve. Via the complete digitalization of the processes, the company will demonstrate how furnishings can be produced quickly, flexibly and with room for customization. For larger companies, AutomAction, launched at LIGNA 2019, coordinates people and robots. and channels the infinite capacity offered by machines to make the connected, integrated and digitalized factory of tomorrow a reality today. Biesse's new B_CABINET SUITE modules also enable B_CABINET to design and to schedule/execute all orders.

SCM Group's technology for panel processing and solid wood production will include a re-launch of the Smart & Human Factory, aimed at further increasing productivity and flexibility through the integration of machines and anthropomorphic robots, and interconnected by intelligent AMR unmanned shuttles. The concept will be highlighted in two cells. In a nesting cell, a Morbidelli x200 machining center will be integrated directly inside a Flexstore HP automatic storage system, and then to the new Gabbiani p80 sizing machine. In a separate area, a new flexible Stefani cell E edgebanding cell for "batch 1" will be configured with the anthropomorphic robot for complete automatic management of the panel-loading/unloading work. SCM will also demonstrate its Digital Integrated Woodworking Process, including the 2020 version of Maestro CNC software for machining centers will present all the latest design functions, optimization, and production of data surrounding the manufacturing of pieces on machining centers.
At Xylexpo, the Homag Group will showcase a variety of panel processing and solid wood solutions along with digital assistants (apps or intelligent racks). Among the products on display will be the powerEdge Pro Duo unit CNC contour edgebanding unit which can switch from conventional gluing with hotmelt to pre-coated edges with zero joint. For solid wood, the MouldTeq M-300 moulder/planer has six processing spindles, each equipped with a separate drive unit and fitted with the proLock clamping system. It will be shown paired with the new ProfileCenter profile management system for the production of windows and other products. Also on display at the Homag stand will be sanding and finishing solutions, including a new configuration of the SandTeq W-100 RC Advanced Finish. Homag also offers machines for 3D "sawn effects" and "vintage looks." Material handling innovations include the Transbot driverless material transport system, LoopTeq O-300 return system for edgebanding machines. Homag is represented in the United States by Stiles Machinery and in Canada by Homag Canada.


The Giardina Group stand at Xylexpo will highlight the company's range of finishing technology, including spray guns systems, roller coating and profile finishing, as well as a high-production bead painting system created for a Swiss customer, plus a line for painting panels using a paint roller in conjunction with UV drying. Giardina will also showcase the excimer technology used to create a durable, soft ultra-matte surface that is fingerprint, chemical and abrasion resistant. Also on display will be the company's Zero Gloss drying ovens, which will work on surfaces painted with rollers and spray guns. 
Xylexpo marks the world premiere of Weinig's new Profimat series for the entry-level market. The Profimat 30 is available with 4-5 spindles, a feed speed of 6-12 m/min and can be operated manually or upgraded with a control package based on Memory Plus for high repetition precision. Going a step further, the Profimat 50 moulder is available in a 5-6 spindle version, with a feed speed of 5-30 m/min and an optional spindle speed of 8,000 rpm. Also on display will be the proven Powermat 1500 with the PowerCom Plus control system, Smart Touch digital set-up aid and integrated Moulder Master connectivity. The Weinig Group will also demonstrate its cutting expertise, including demos of the OptiCut 260 in combination with the Easyscan+ C.  The portfolio rounds off with the C 700Flexi under-table cross-cut saw. And for efficient ripping, the VarioSplit 900 with a new thin-cut setup so lamellae of <5mm can be cut, and the VarioRip 310 M, featuring double blade adjustment with ChainProtect and RipAssist, will be demonstrated.


Part of the Weinig Group, Holz-Her will display new and popular machines, including the Evolution 7402 and 7405 Connect four-sided machining centers. The Evolution 7402 4mat offers new processing capabilities with an optional tool changer for up to four tools, to produce cutouts, engraving, profiling and machining for furniture connectors. The XCut package for the Evolution will also be presented live for the first time, eliminating the need for crosscuts. On the Evolution 7405 4mat, the optional "doors" package enables complete processing of door leaves with a maximum thickness of up to 70mm, while the optional "connect" package allows various connection technologies, including Lamellow Clamex or OVVO, to be processed in one clamping operation. Also on display will be the Nextec 7735 5-axis technology nesting cell and Store Master panel storage system, along with multi-function edgebanding technology demonstrated by the Sprint and Lumina models. Automation Pro networks the entire production sequence.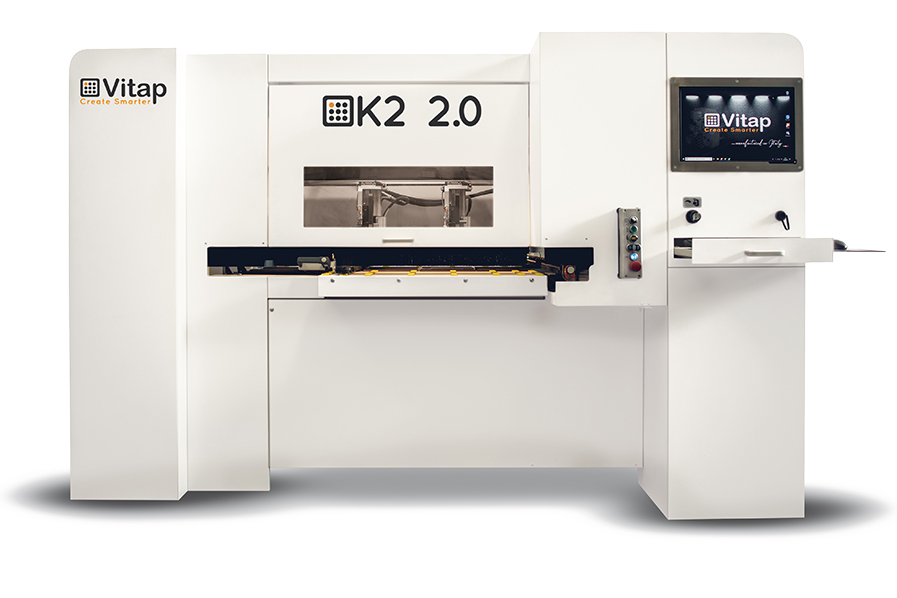 Known for its EVA and PUR edgebanders, including the popular Eclipse, Vitap also offers a wide range of compact CNC boring machines for the production of acoustic panels, including Acoustic, Grooving and the Micra Acoustic, which can drill 2331 micro holes every 4 seconds. At Xylexpo, Vitap also will be demonstrating its range of compact boring and drilling work centers for wood processing, including the Point K2 CNC for cutting, drilling, grooving, milling and routing. All the processes can be achieved without the need to reset the parts hold-down system, says the company, resulting in zero set up time. The Point K2 also features the patented Constant Contact Clamping System for continuous, uninterrupted operation. Vitap is represented in the United States by Atlantic Machinery.
At Xylexpo, Leuco will continue to "magentify wood processing" with offerings of new and updated tooling for processing new and complex materials. In addition to  well-known lines of saw blades, throughfeed cutters, p-System tooling and CNC cutters, the company will showcase its digital tool management, in which a digital twin of the tool is created with static tool data, i.e., dimensions of the new tool, and with dynamic data, such as dimensions after sharpening — and managed in the "ToolCloud."
Bacci will display a range of new and popular products for solid wood and panel processing, including several CNC machines, copying lathes, linear shaper sanders, mortisers, tenoners and saws, for the manufacture of cabinet doors, chairs and other products. One highlight of Bacci's exhibit will be demonstrations of robots feeding and outfeeding two different CNC machines, one for solid wood and one for flat panels.
Salvamac's booth at Xylexpo will include technology from its three departments: cross-cutting, air and paint, and the brand new Salvamac Selection. Among the products featured will be the Salvapush 2000 pusher optimizing saw with a brand new version of software that allows anyone to manage it like a smartphone, with website graphics and all the practicality for setting data of a large touch screen, in digital communication among all electronic components. The cutting range is also complemented by the Classic saws and the successful Salvastop 100  numerical control length positioning and stop system. Finishing displays will run the gamut, from paint booths equipped with sandwich panels, to the "do it clean" sanding benches, and bag filters and systems. The third branch, Salvamac Selection, will showcase some of the company's custom solutions for solid wood processing.
Available from Greda, the Argo, Sprinter and Diva are NC 5 interpolated axes machining centers for simple and complex processing on the five faces of a workpiece: drilling, mortising, tenoning, milling, fingerjoint, routing, etc. The company's range of products also includes the TSDA CN for the manufacture of any kind of tenons using a tenoning tool, a cutterhead or standard cutters: round tenons, square tenons, horizontal, inclined or vertical tenons and dowels. Also sure to draw interest the Mitika V CNC-machining center with 5 interpolating axes engineered especially for turning, milling, shaping, modeling and engraving on the piece in one working cycle at reduced working times thanks to tool changer masked times and an NC part loading/unloading system. On the software side, Formula is a Windows-based utility to insert spline trajectories into an ISO part-program.
Fimal will display several machines, including the patented Concept Plus saw system and the patent-pending KR Spin beam saw. The flexible KR Spin has a pusher with automatic movement along with motorized front support tables, and delivers 25% higher production capacity than traditional machines, the company says. Features on the Concept Plus include an extended squaring fence, telescopic fence extendable to 2,500mm, telescopic control panel, multi-stop electronic fence, simple adjustment of the depth of groove, and a removable table with quick release for large panels.


Among the tooling products on display by Metal World will be the Silentium diamond saw blade, which the company says provides very high, precise cutting due to the hollow shape of the tooth and sharpening technology. The shape of the tool and the quality of the body also reduce noise by 20% compared to traditional HW or PCD blades, Metal World adds. Also shown at Xylexpo will be PP08D carbide T-grooving cutters, VictoriaD self-positioning jointing cutter, and the company's easy to use turbo system for effective removal of wood dust and chips.
Incomac offers a variety of wood drying systems including conventional chambers, steaming chambers, direct and indirect gas chambers, condensation chambers, viscous dissipation chambers and chambers for the drying and heat treatment of pallets. The company says it has been providing dry kilns to the industry since 1975 and has more than 10,000 systems installed in more than 95 countries.
Dalso offers a range of automation for the processing of solid wood, for markets ranging from windows and doors and other components, to the production of parquet during which wooden strips are aligned, picked up by a manipulator, placed on racks for drying, then cut into thin layers and bonded. Also on display at Xylexpo will be a single-table loading/unloading system equipped with: an introducer, two manipulators (one for loading and one for unloading pieces) and a turntable system.
BigonDry will display solutions for drying, steaming and heat treating of lumber, including thermal modification. In addition to conventional systems, the company also produces special multifunction kilns that can combine drying, steaming, heat treatment to ISPM 15 and high-temperature heat treatment up to 230C. Styl Wood is a patented green process for new wood.
For more information on Xylexpo or to pre-register for the event, visit xylexpo.com.
Watch a video on Xylexpo below.
Have something to say? Share your thoughts with us in the comments below.