A NeoCon surprise: wood-grain powder coating uses sublimation technology
June 15, 2016 | 12:35 pm CDT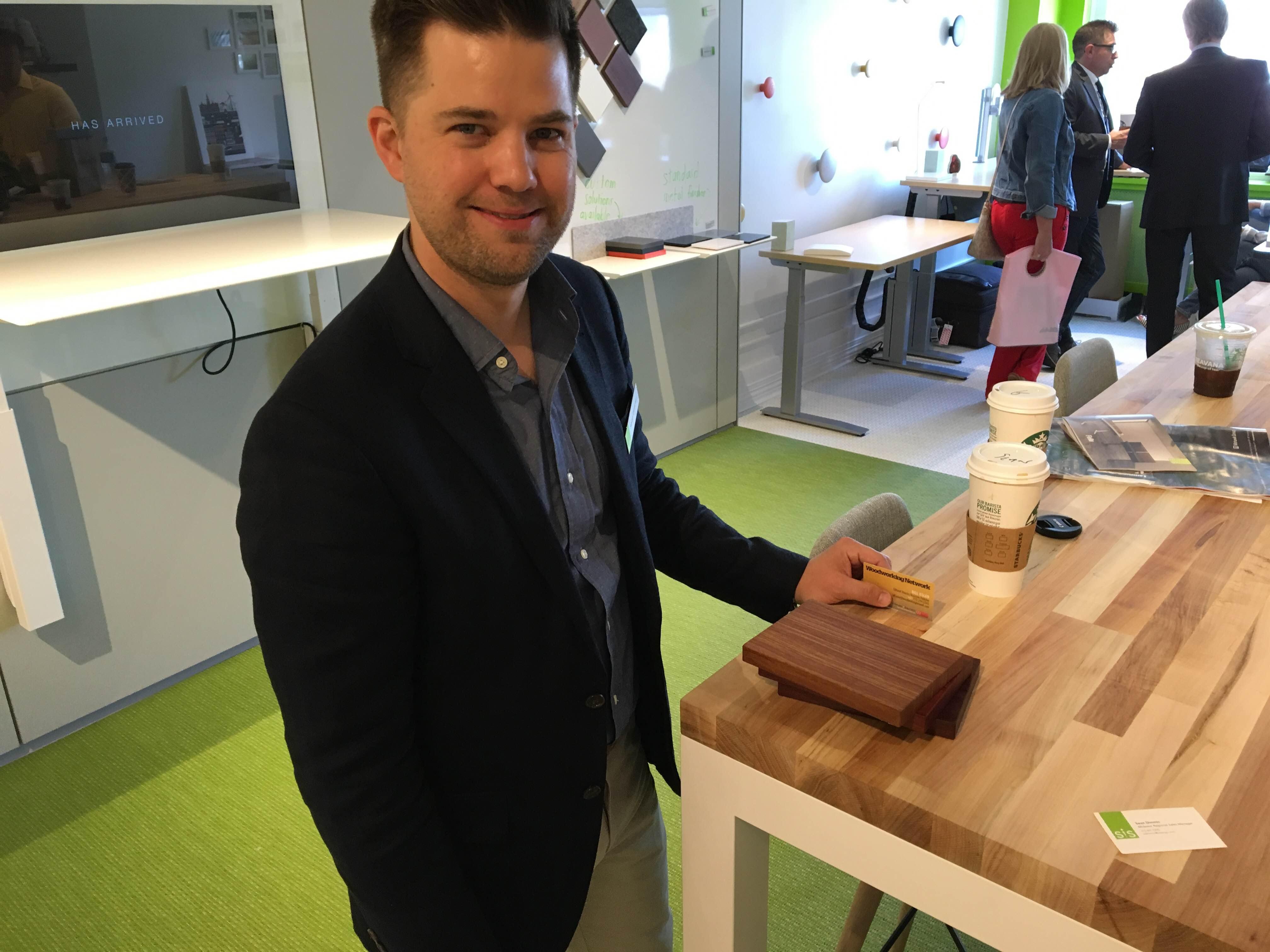 Here's a quick take on things we saw so far at NeoCon 2016 that made us stop and take notice:
Sublimation dye transfer powder-coating MDF
This prototype demonstration of work surfaces was so arresting I walked in to the SiS showroom just to admire the countured, live-edge look. Then Sean Dimmic, Midwest sales manager, told me it was dye sublimation powder coating, on MDF. The technique penetrates into the wood, Dimmic said, and so bonds tightly. 
ARTICLE

What makes powder coating stick to wood?

Powder coated wood manufacturer GCC Coatings, South Beloit, Illinois, says it has built a library of articles revealing the details about how powder coating works.
---
An intermediary transfer sheet takes the powder coat material as a multi-color image (the technique used in fabric printing). It employs an eletrostatic printer, and the "toner" is powder coat material. Images can be calculated digitally to  match the contours of the tabletops - in this case looking a bit like live edge that has been shaped to a smooth contour. 
Immense tables for conferencing or collaboration  
Tryg tables by Tuohy Furniture (below) are a good example, but we saw these immense tables in multiple showrooms, including David Phillips designed Equilibrium, above, which can be sized up to 240 inches in length; and Traverse, a collection of conference tables manufactured by Okamura and HOK Product Design.
These maxi tables are sometimes beveled to taper to a fine point, but most striking is the unimpeded seating they offer - legs are in the center, giving a cantilevered trestle table effect, and lots of knee and legroom. 
Wood tailoring: stitching together wood panels
International Contract Furnishings displayed a line of Julius chairs at NeoCon featuring upholstery sewn directly into wood. The designers Färg & Blanche at their atelier (above) also have adapted heavy duty sewing machines to sew wood panel together. Striking! 
Auditorium seating that pops up out of the floor
Sedia blew us away last year with its  JumpSeat, which uses a hinged,  kerf-cut plywood base to fold up seats way tighter than a normal auditorium chair - allowing narrower aisles between rows, and easier passage.
Now they've added servo motors and the ability to create an empty space that converts to a seat-filled auditorium. The system is powerful enough to handle a dozen pop-up banks of JumpSeats seats per unit.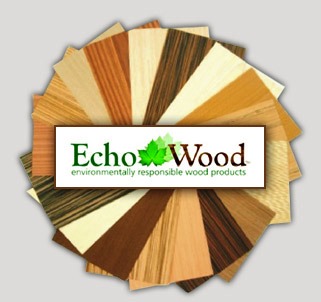 Hardwoods Specialty Products brings its new natural interior surfacing solutions for the architectural and design community to NeoCon 2016, including fire rated composite board, and Echo Wood, an engineered veneer moulded to match exotic and wood grains and colors. After hearing the presentation Global Wood 101 by Grace Jeffers at NeoCon, alternatives to exotics will be in demand as governments around the world crack down on endangered wood exports. This material seems to originate in China. It does represent a trend, too - dyed MDF and other pael products are popping up. 
Have something to say? Share your thoughts with us in the comments below.