Wood tailoring: stitching together a new kind of joinery
By Jacob Davis
June 3, 2016 | 3:14 pm CDT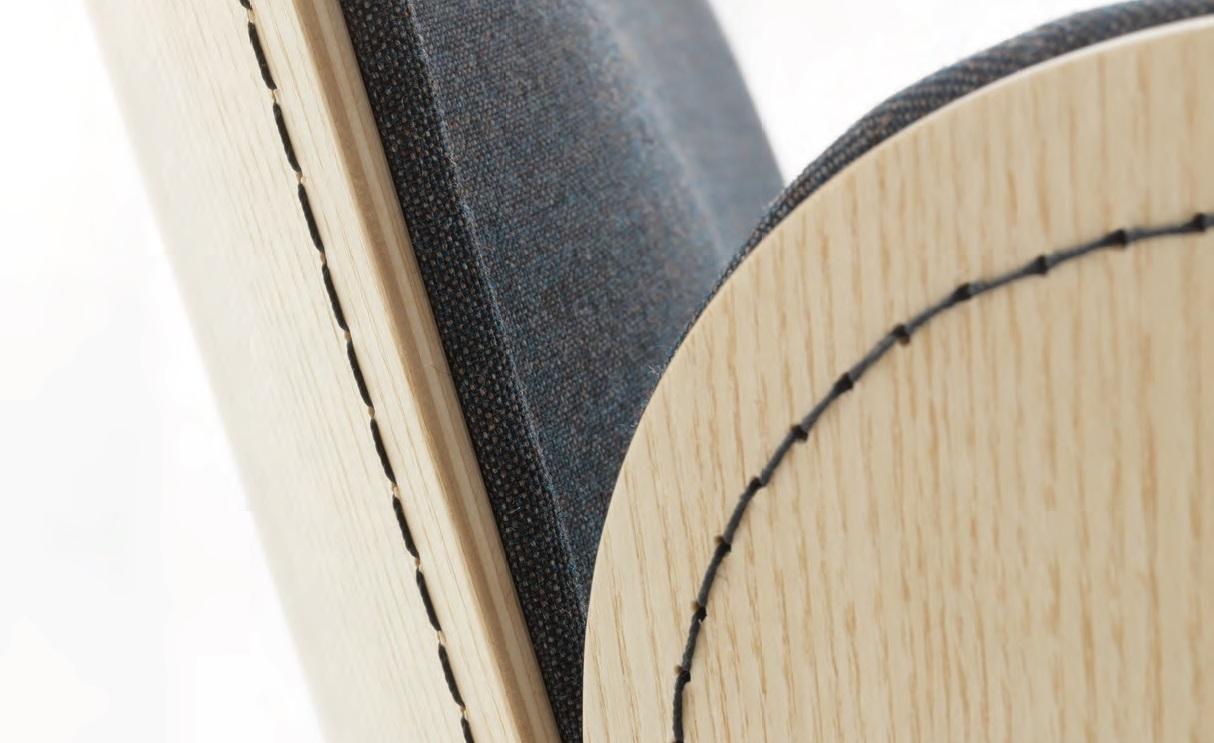 CHICAGO - International Contract Furnishings, Inc. will display the Julius line of chairs that use wood to upholstery at the NeoCon World's Trade Fair in Chicago. Fredrik Färg and Emma Marga Blanche have been developing the technique that they have trademarked as Wood Tailoring for several years. 
ICF Julius Chair
The fabrication process includes the use of sewing machines on hard materials like wood, to unify different parts. With it, the patterns created have an aesthetic value within themselves and offer amazing results. The Julius chair lists at $6,885. 
BD Couture chair
The first pieces made using this technique, which require an abundance of artisanal ability, were presented by Färg & Blanche at the Stockholm Fair in 2014 as a conceptual project. Furniture manufacturer BD adapted the prototypes to serial production, renaming the chair Couture.
An evolution to its form has taken place to make it more comfortable with additional armrests and a swivel base, so that this piece be much more functional and not just beautiful. 
"We have been experimenting with extreme sewing technology for our very different projects and experiments since we opened our design studio, so we had the desire to go even further and try in a harder material," say the designers. "Our drive is to find new production methods and ways of using a material. 
---
The big workshop in otheir atelier featuers wood fabrication and sewing machines where they can experiment directly on a full scale. Sewing is usually only on soft materials, but they use a heavy-duty sewing machine to sew wood. "It's a raw poetry that fuses the hand-made with the industrial," say Färg and Blanche.
Layers of thick plywood are stitched together to make the Couture Armchair, where the sewing represents a topographical map with an organic pattern that resembles the growth of wood (the same pattern reappears on the front part with its upholstery). The use of a gradient amplifies the effect of the layers and the feeling of attaching two hard materials together.
For the sofa and armchair collection Julius, they have been exploring new possibilities of joining the upholstery to the wood.
---
With Wood Tailoring, sewing technology is taken to its extreme by the hands of these highly skilled craftsmen.
The Stockholm-based studio has also designed the Bespoke chair, which utilizes wood upholstery in a chair inspired by suit coats made up of six overlapping panels, and the Couture armchair, which also used an overlapping motif. 
The first wood tailoring was displayed at the Stockholm Furniture Fair in 2014. The Julius line is made up of pieces in which the upholstery is sewn into the wood, whereas in earlier pieces, the wood panels were sewn to each other.
Have something to say? Share your thoughts with us in the comments below.