NeoCon announces 2020 CEU seminars
March 16, 2020 | 4:40 pm CDT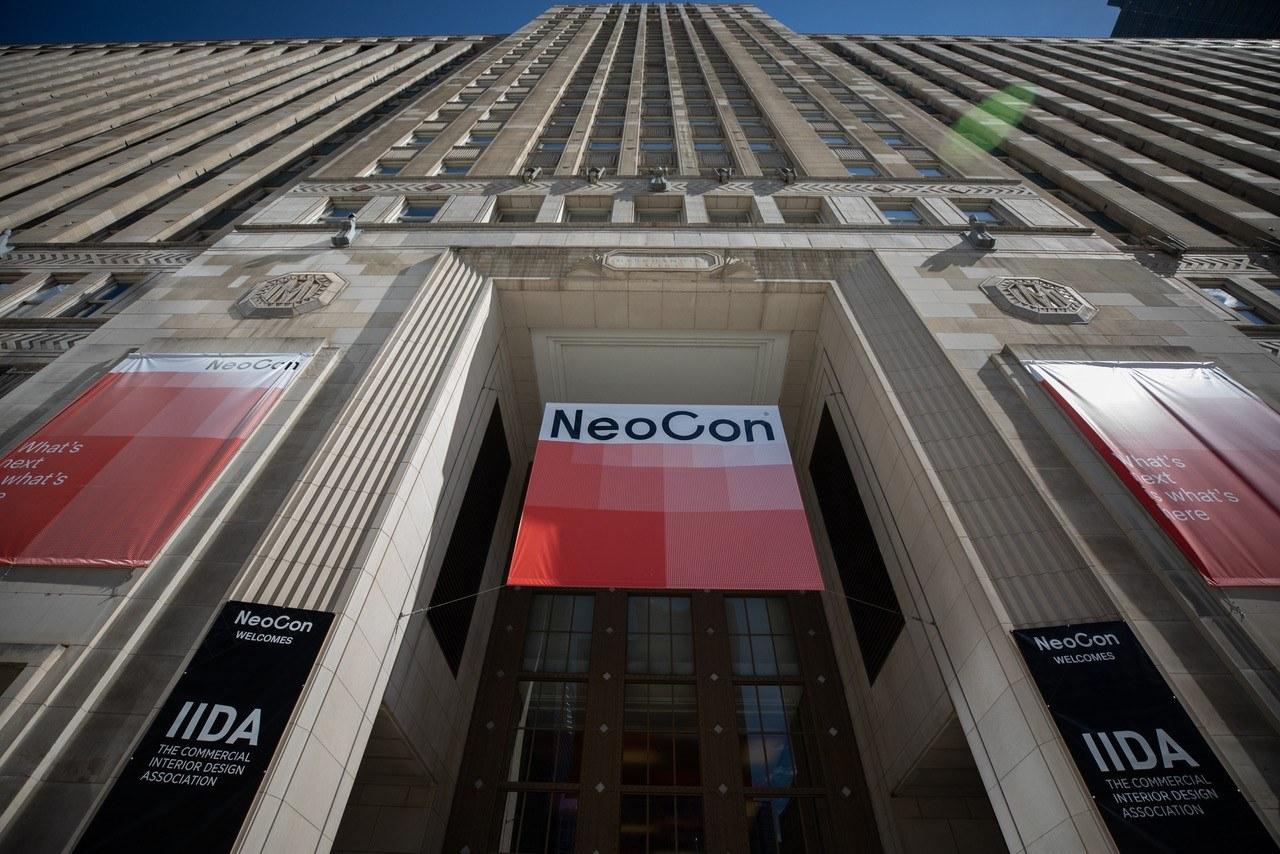 CHICAGO -- NeoCon has announced its offering of CEU accredited seminars set for the 2020 show, June 8–10. Focused on commercial interior design and covering 17 different verticals, from Wellness to Hospitality Design, an array of nearly 100 CEU-accredited modules is available to attendees starting Sunday, June 7, a day before the show's official opening. The educational sessions will be led by the industry's most innovative thought leaders and is carefully curated by members of NeoCon's Programming Advisory Committee.
 
Monica DeBartolo, directing of NeoCon Programming, said, "We are very excited about this year's CEU seminar lineup, which features highly practical and applicable educational sessions that tap into timely topics. The program will cover everything from the problem-solving power of design to tackle some of the world's most critical problems, like the scourge of plastic pollution in the ocean, to exploring how multi-sensory design can promote digital detachment." 

A sampling of the seminars can be found below. A full listing is available on http://neocon.com

Power Of Design For Experience: Intuitive Integration Of Interiors, EGD 
Sunday, June 7 • 11:00 AM - 12:00 PM 
Creating healthcare environments that are engaging, naturally intuitive and fully branded are key goals in today's healthcare climate. This seminar will examine common challenges in interior design master plans for large healthcare campuses, as well as emerging trends. The discussion will be based on case study examples that encourage designers to think more strategically about interior design, environmental graphics, as well as creating memorable spaces that are immediately and instinctively understandable. Over the course of the presentation, key strategies will be outlined on how to blur the lines between architecture, interior design and branding to create truly extraordinary experiences. While this seminar has a strong healthcare focus, the underlying strategies are universal and apply to all design sectors.   
Speakers: Rachel Windham, RID, IIDA, LEED AP, SEGD, principal, leader interior designer, EYP, Dallas, Texas 
Ron White, SEGD, senior associate, lead experiential graphic designer, EYP, Atlanta, Georgia 

Hospitality's Next Breakthrough is the Workplace 
Monday, June 8 • 9:30 AM - 10:30 AM 
Attendees are invited to dive into a new trend in design, the intersection where the hospitality industry meets other kinds of workplaces. This trend is driven by a younger generation seeking experiences that align with their values, and the desire to have authentic interactions that speak to each person's individuality. From restaurants and hotels, to healthcare spaces and even workplaces, the hospitality industry has influenced the way professionals design for the end-user. All indications, too, are that this trend will continue to expand, so astute designers will want to better understand the trend and its future implications. In this presentation, a panel of experts will discuss what can be done to meet new challenges in demographics, mobility and technology.  
Speakers: Suzette Subance Ferrier, IIDA, NCIDQ, LEED AP, managing executive, studio creative director, TPG Architecture, New York, New York 
Shay Lam, IIDA, managing executive, studio creative director, TPG Architecture, New York, New York 

Impactful Experience: Designing for Women in a Pediatric Environment 
Monday, June 8 • 1:00 PM - 2:00 PM 
This seminar invites attendees to analyze a study rich with the achievements of, and implications for, hospital design teams. The case chronicles a renowned hospital's challenge in developing space for both greater patient care and research. The session will explore how the design and construction teams collaborated to deliver a premier family-centered, but female-focused, experience that also met the functional needs of a multidisciplinary care team. The presenters will discuss challenges faced and lessons learned through the process of trying to create the most beneficial and functional new spaces for women and doctors in a pediatric environment—in essence, what resulted in a branded design experience that benefits all. This design was successful because it felt hospitality-like, but was also appropriate for health environments. Lastly, presenters will review critical tools including virtual reality and BIM clash detection.  
Speakers: Lauren, Andrysiak, IIDA, NCIDQ, interior design principal, HDR, Chicago, Illinois 
Jefferson Neaves, AIA, healthcare principal, HDR, Chicago, Illinois 
Stacey Panek, AIA, project manager, Ann & Robert H. Lurie Children's Hospital, Chicago, Illinois 


From Ocean to Office: A New Path for Plastic 
Monday, June 8 • 2:30 PM - 3:30 PM 
In this session, experts will explore how design can provide a solution to address the issue of ocean plastic. As society continues to shift from a linear to a circular economy, reframing waste plastic as a resource is vital. Doing so in new product manufacturing allows conscientious designers to specify products that can directly help reduce ocean plastic. That said, keeping plastics in the economy and out of the world's oceans is easier said than done. It takes a change of mindset. It takes a company-wide commitment. It takes internal and external communication. And, it takes collaboration across diverse sectors to develop a supply chain to source ocean plastic at scale. This seminar will use case studies to outline how sourcing ocean plastics actually happens, and what the impact is on local communities. Attendees will walk away with new concepts about how to source materials and the social, environmental and economic impact of designing with sustainability as a foundation. They will be able to identify a variety of sustainable design approaches and techniques, as well as describe how using sustainability as the source of innovation can yield measurable positive impacts.  
Speakers: Kendall Starkman, initiative manager, Lonely Whale, Calabasas, California 
Mikhail Davis, director, technical sustainability, Americas, Interface, San Francisco, California 
Jane Abernethy, chief sustainability officer, Humanscale, New York, New York 

Empathetic Approach to Multicultural Education Spaces 
Monday, June 8 • 4:00 PM - 5:00 PM 
This session explores how and why people often seek career or socioeconomic advancement, or the fulfillment of a long-nurtured passion. As multicultural interaction increases and access to education expands, design professionals are faced with the task of providing safe and inclusive educational spaces. To be effective, these spaces should reach beyond the ingrained cultural approach to design and its result on society. As designers, an empathetic approach should be taken in order to fully understand how cultural interpretation can alter the goal of spaces and impact students' perception of community, comfort and safety, both physically and psychologically. This panel will discuss how color, texture, light and programmed spaces can transform the educational environment into a place where people from all backgrounds can feel comfortable seeking a higher level of education.  
Speakers: Irena Savakova, RIBA, LEED AP BD+C, vice president, global design principal, Leo A. Daly, Washington, D.C. 
Lauren Funk, IIDA, CIDQ, interior designer, Leo A. Daly, Washington, D.C. 
Karen Bastidas Reinoso, IIDA, designer, Leo A. Daly, Washington, D.C .

Your Goldilocks Moment: Getting Amenities Just Right 
Tuesday, June 9 • 11:00 AM - 12:00 PM 
In this session, attendees will see how the fairy-tale character of Goldilocks can help adult designers. For starters, it is important to consider how optimizing employee experience is at the forefront of innovative workplace design. That said, providing just the right mix and quantity of office amenities is key to increased collaboration, connection and engagement. Given these concepts and scenarios, how does one quantify and plan these types of spaces without overdoing or underestimating? A panel of experts will share their perspectives on the changing landscape of work. The knowledge that they will impart will include the quantitative and qualitative analyses that form the basis of 21st century decision-making in an industry that still references 20th century programming data and methodologies. Attendees are invited to see how this fairy tale has a happy ending.  
Speakers: Cheryl Duvall, CID, FIIDA, LEED-AP, NCIDQ, regional consulting practice area leader, Gensler, Baltimore, Maryland 
Laurent Myers, executive managing director, Savills USA, Washington, D.C. 

The Next Level of Physical Space - Multi-Sensory Experience Design 
Tuesday, June 9 • 11:00 AM - 12:00 PM 
When the term connected environments is used, one tends to think about how things can be controlled with the touch of a button. However, how can good design drive experience, by disconnecting us from technology? This session will provide exciting answers and solutions to this counterintuitive question. The presenter will pivot off several design case studies, such as the design for an interactive wall of water, or a ceiling that simulates the sky, even syncing to music or one's own heartbeat. How these design elements affect one's experience of physical space and promote digital attachment will be explored. This session will offer attendees the chance to rethink how they can incorporate these design tenets to stimulate creativity, honor mindfulness and digital disconnection, and apply these ideas to the modern workplace.  
Speaker: Noah Waxman, founder & head of strategy, Cactus, New York, New York 

Creative Living - Simplified Approaches to Our Openness 
Wednesday, June 10 • 9:30 AM - 10:30 AM 
Creativity works in mysterious and often paradoxical ways. While creative thinking is a stable, defining characteristic in some personalities, it may also morph, based on situation and context. Attendees of this session will discover how inspiration and ideas often arise seemingly out of nowhere—and then fail to show up when we most need them. Furthermore, this type of thinking requires complex cognition, yet is completely distinct from the thinking process. This presentation espouses and illustrates key tools to open one's perception, strengthen recall and expand the ability to apply innovative thinking to deliver creative solutions. Small and significant lessons will be presented that attendees can use throughout their daily life. There will be a select number of exercises which will directly engage the audience during the session.  
Speaker: Mark Mitchell, market leader, director of commercial and hospitality design, BSB Design, Charlotte, North Carolina 

Introduction to Regenerative Design: Your Role as a Designer For A Thriving Future 
Wednesday, June 10 • 9:30 AM - 10:30 AM 
Design professionals are in the unique position of influencing natural and human environments. Therefore, they have a responsibility to make sure their influence fulfills its potential for sustainability and a thriving world. Attendees ofthis presentation will discover how regenerative design and the practice of systems thinking focuses on building their capacity to embark on that exploration. The presenter will start by introducing regenerative design and its relationship to sustainability; next, she will explore how best to shift mindset according to attendees' practices and clients. This session will also rely on examples of how regenerative design has been put into action and how to access the tools professionals need to implement it into their own projects. Attending this session will bring this topic to the forefront—the underlying idea is to ensure that a sustainable and thriving future is top of mind when approaching new projects.  
Speaker: Susanne Angarano, ASID, principal, Ashley McGraw Architects, Syracuse, New York 

Extraordinary Efficiency: Making The Most Of A Little 
Wednesday, June 10 • 1:00 PM - 2:00 PM 
The most creative moments can often be found in the use of overlooked materials and overlooked spaces. Temporary and underutilized spaces are areas in which investment of time and money are limited. Similarly, common materials are often disregarded as too unattractive for featured spaces. This session will examine how, by allowing for exploration in material and context through digital and prototyping phases, professionals can efficiently and effectively transform spaces to main attractions. Areas of the design process that provide opportunities to find maximum creativeness in minimal circumstances will be investigated. Real-world examples of such most-creative moments will also be explored. 
Speaker: Jennifer Park, principal, Brininstool + Lynch, Chicago, Illinois 


NeoCon is open to trade, media, C-Suite executives and other industry-related professionals. The NeoCon 2020 website and registration is live at http://www.neocon.com
Have something to say? Share your thoughts with us in the comments below.