Craftsmanship and creativity highlight veneer winners
August 30, 2016 | 12:43 pm CDT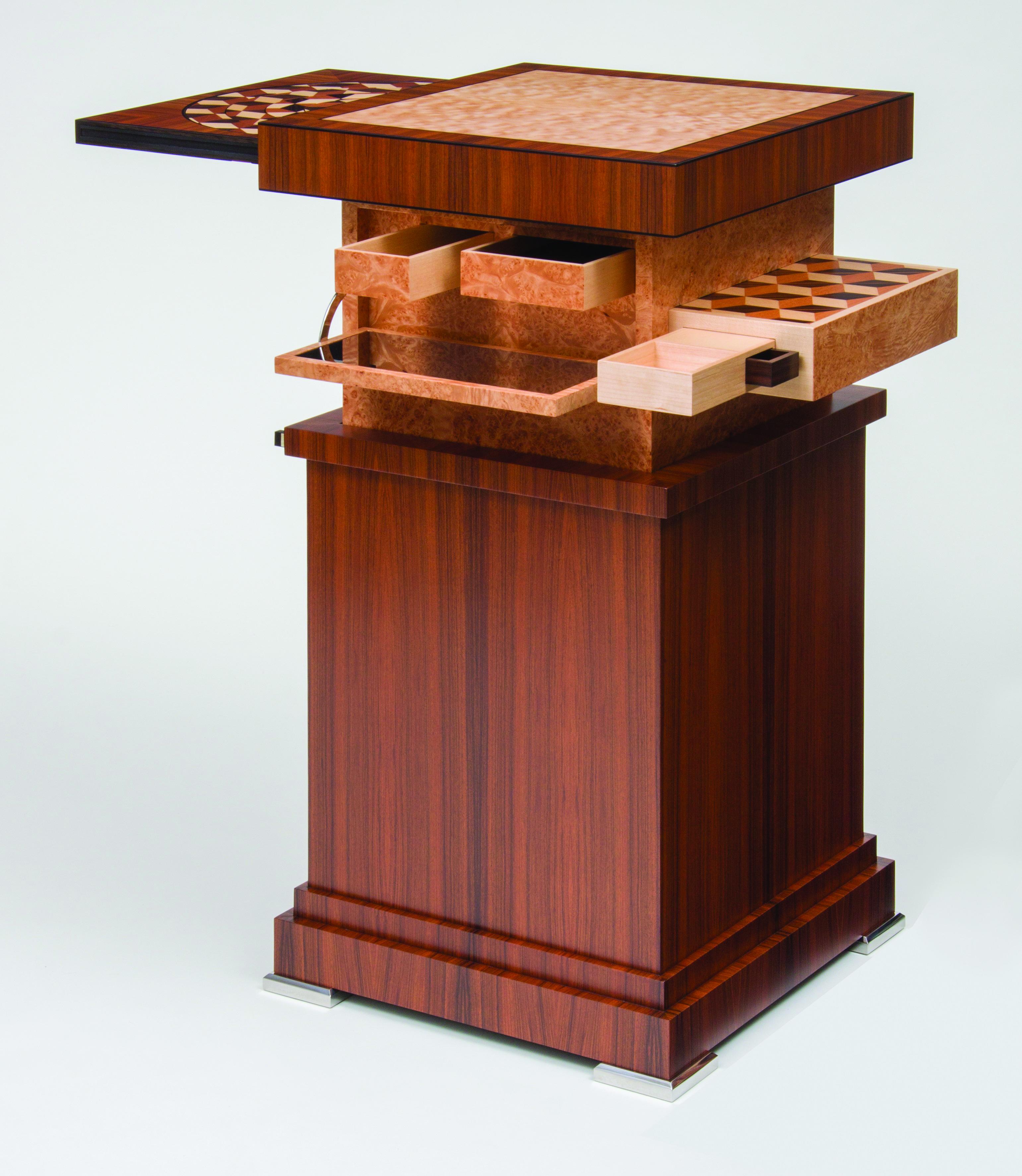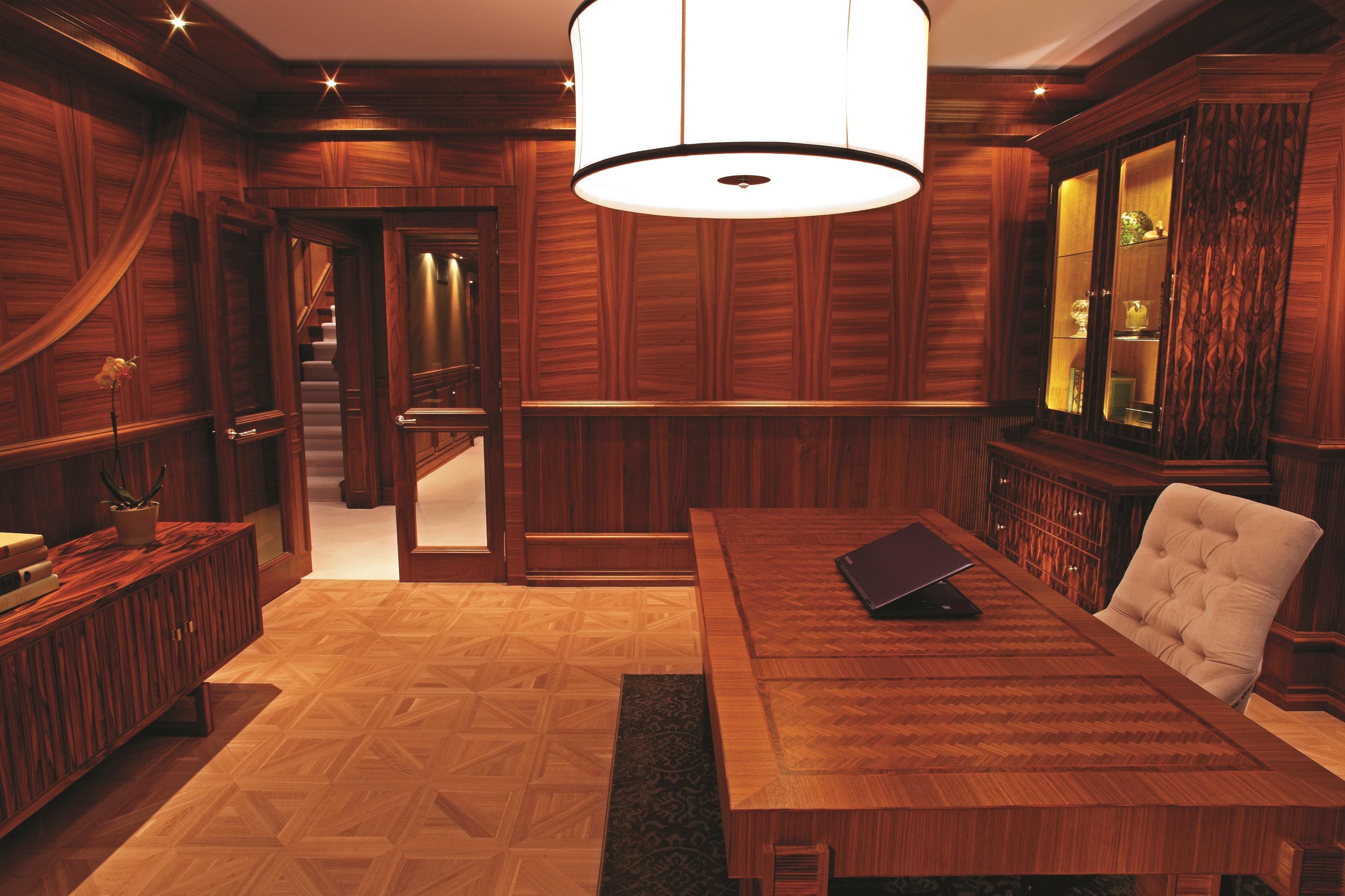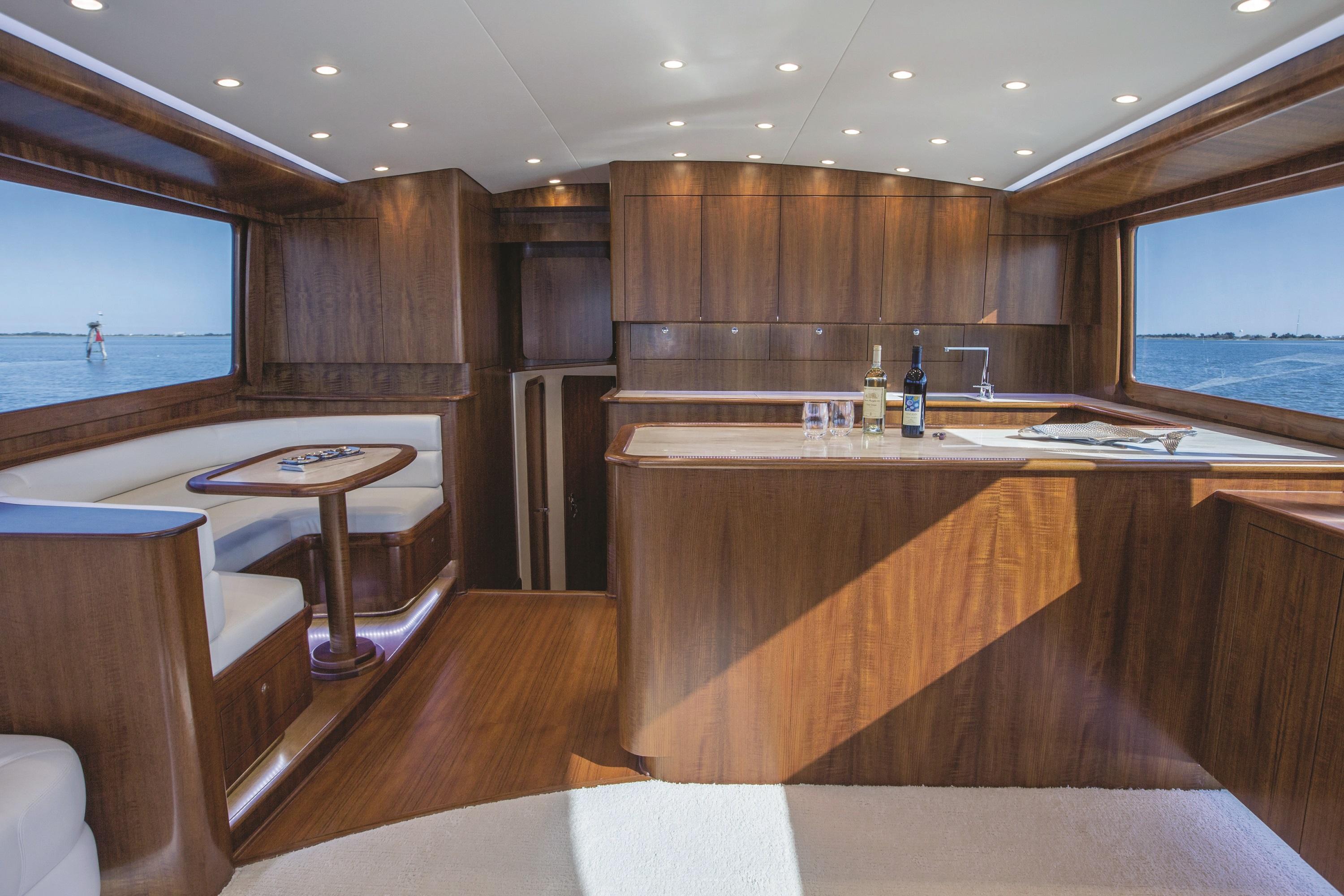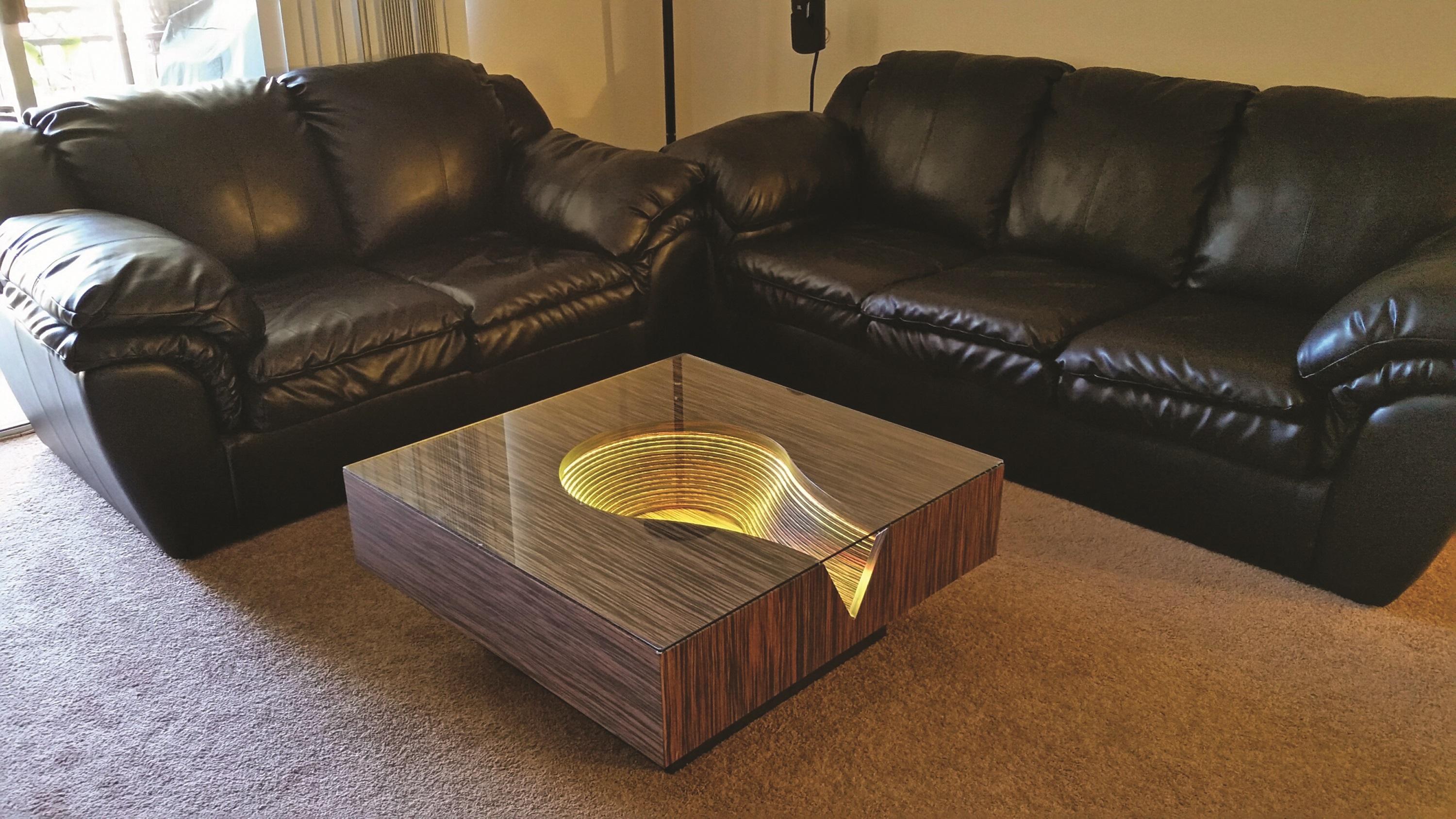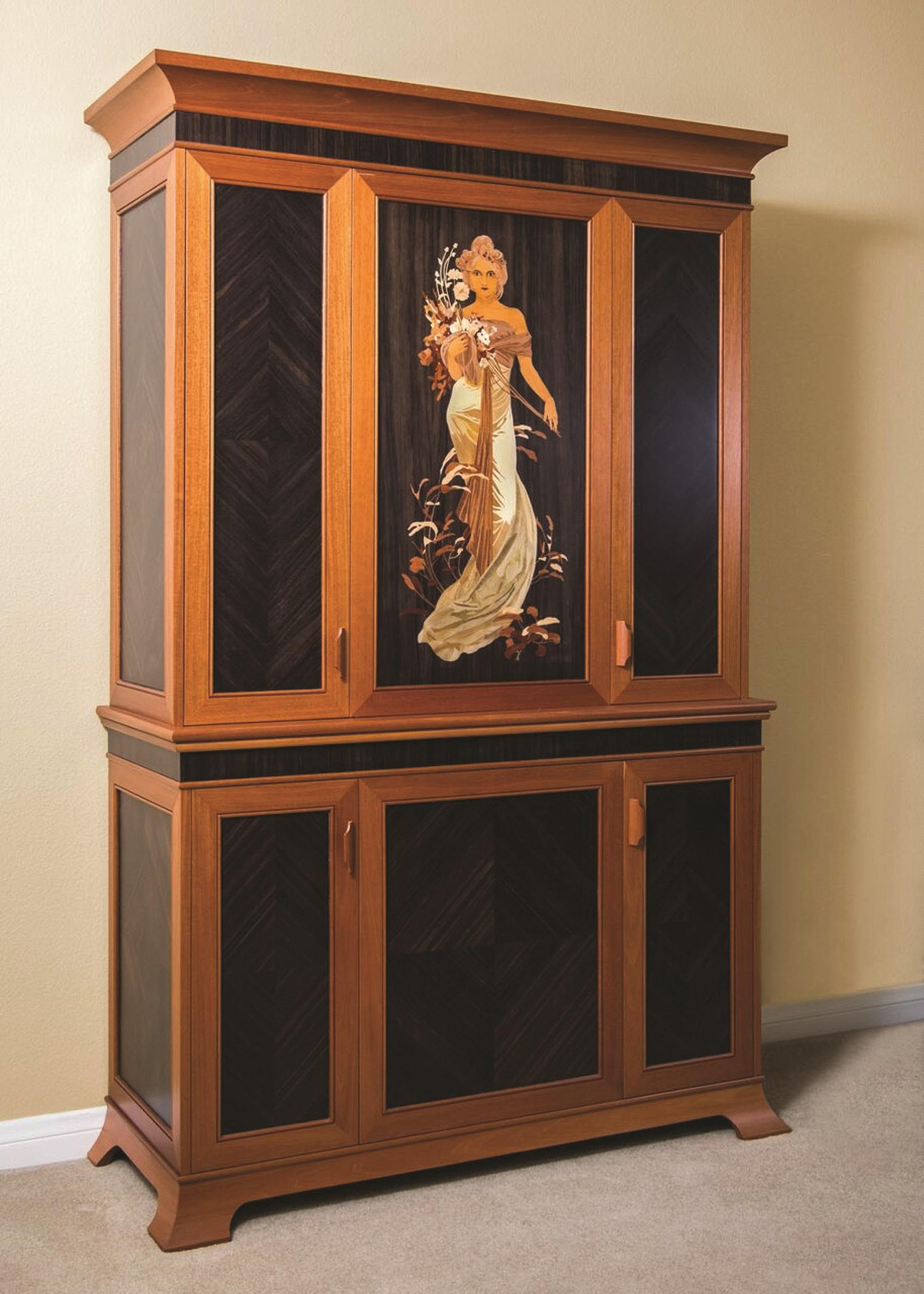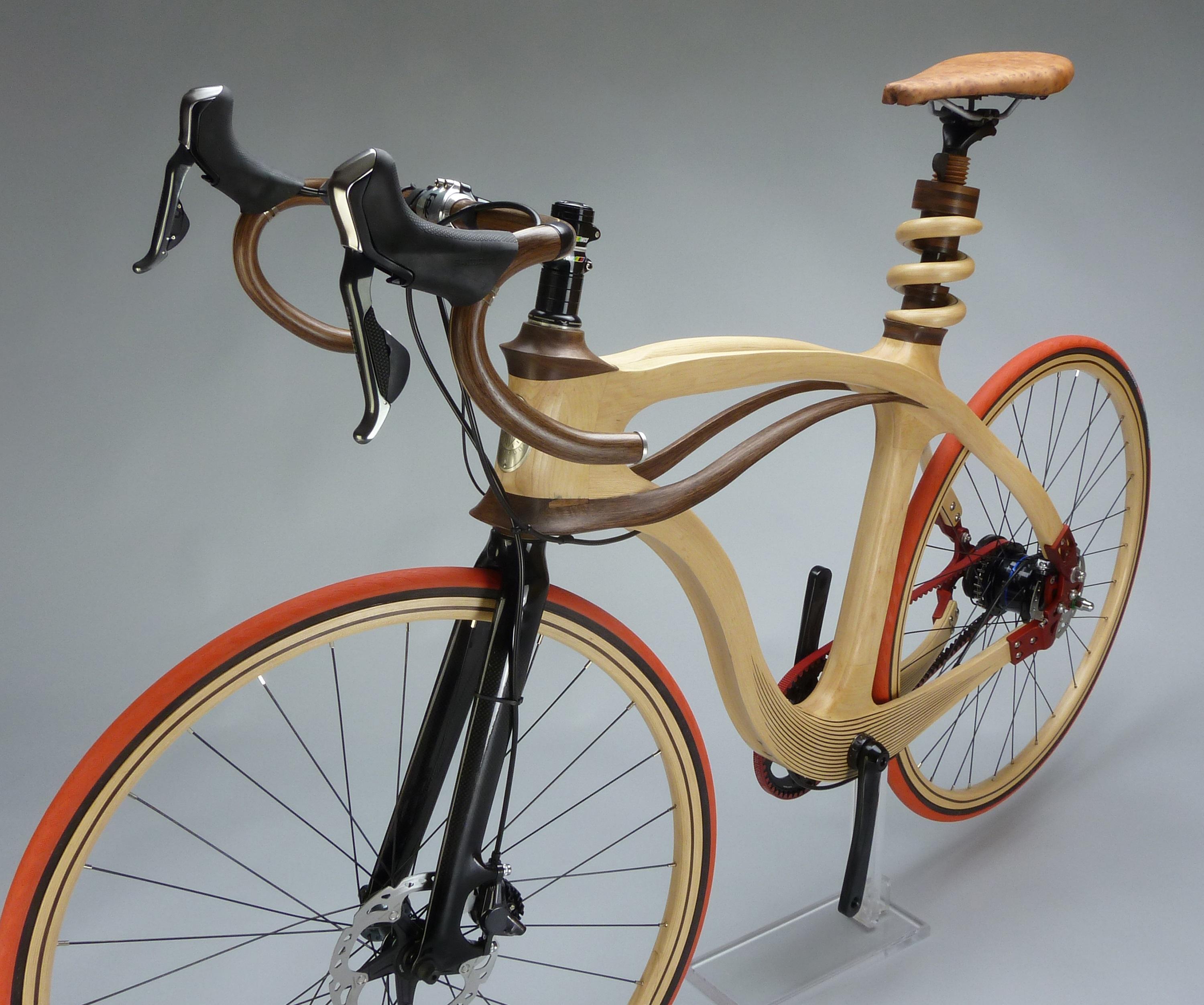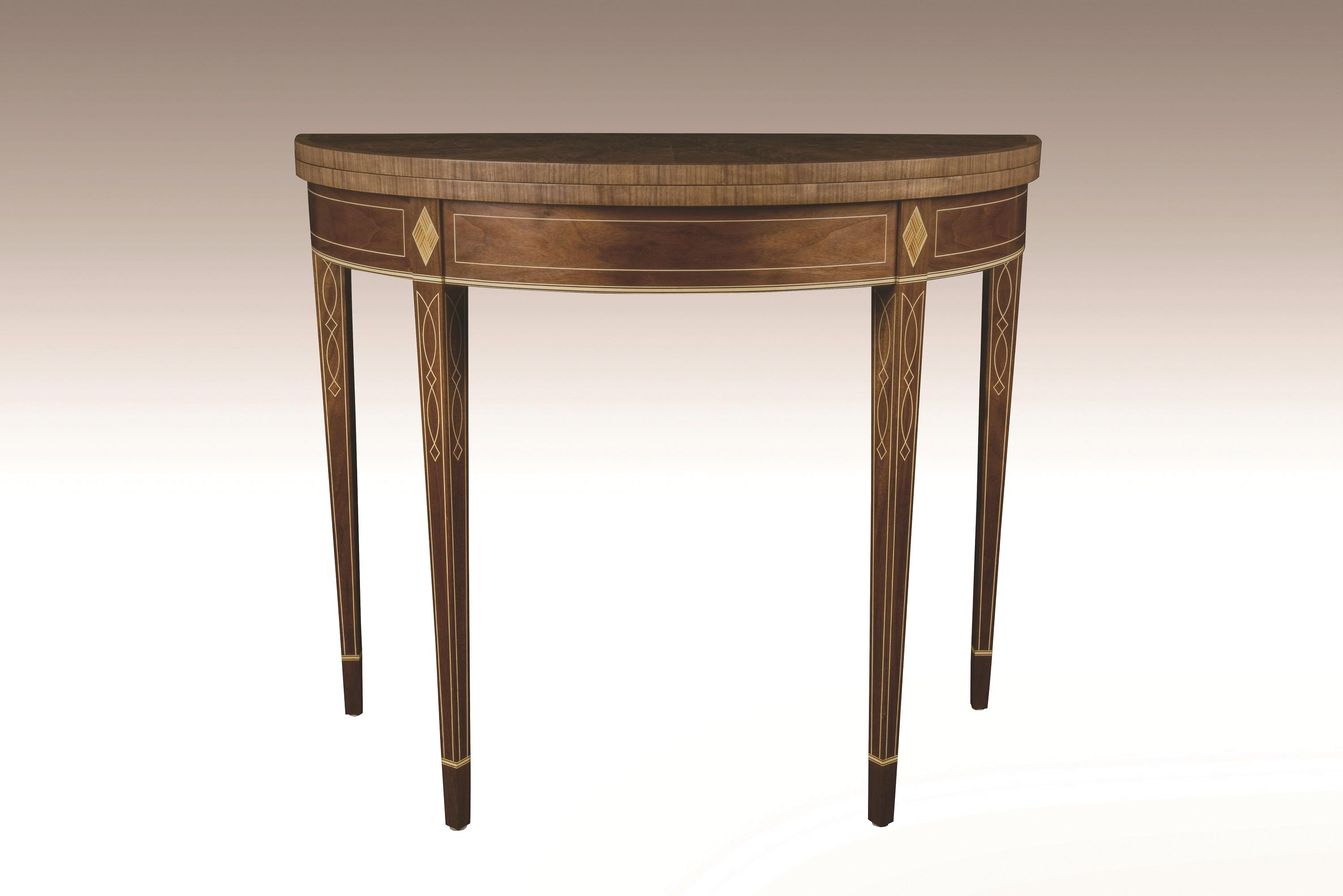 "Automaton Table," a tour de force art deco table by Craig Thibodeau, CT Fine Furniture, San Diego, California, captured the grand prize in the 12th Annual Veneer Tech Craftsman's Challenge. Impressing judges with highly complex mechanical functionality and exceptional craftsmanship, the table featured pau ferro, maple and maple burl, ebony, and various marquetry woods.
As announced in a ceremony at IWF Atlanta, Thibodeau was awarded the $3,000 top prize in this design competition recognizing excellence in veneer woodworking, plus $1,000 for early deadline entry. But in keeping with one of the features that makes the Veneer Tech Craftsman's Challenge unique, the craftsman was not the only winner. Herzog Veneers, as the distributor that supplied the materials, was awarded $2,000, and sales representative Julienne Barata was awarded $1,000, in recognition of participation in the supply chain. By honoring both the makers and the suppliers, the competition works to boost the use and appreciation of fine veneer craftsmanship across the woodworking industry.
Inspired by the work of David and Abraham Roentgen, the grand prize winner features a multitude of drawers, secret compartments and hidden details. All the movement in the table was accomplished entirely by mechanical means with no electrical components used.
Veneer essential
"Without the stable nature of veneer this project would not have been possible," said Thibodeau. "Even slight changes in humidity and temperature would affect the function of the mechanical features were they made of solid wood. With cross banded veneer applied over a stable core the entire table functions properly no matter the humidity or temperature changes in the environment."
Design, execution and intricacy of the piece contributed to impressing the three judges for the competition. "This riff on a venerable style of motion furnishings features a novel approach to secret chambers and drawers," said Bill Esler of Woodworking Network. Marc Adams of the Marc Adams School of Woodworking said, "This piece has great forethought in both its engineering feat as well as the matching of veneer." Bob Nurre of Roseburg Forest Products said, "I loved this piece from the second I saw it."
Category winners
Besides the grand prize, judges awarded prizes in a variety of separate categories with winners in this year's competition each receiving $1000. Here are those winners with some description and judges' comments.
Architectural Woodworking: "Transitional Paneled Office;" created by Bespoke, Larchwood, Iowa, won in this category with a paneled office project using rosewood veneer laid out in a parquetry pattern and complemented by fluted walnut paneling from the chair rail to the base trim.
Marc Adams commented about the piece, "This architectural layout is breathtaking. Everything is matched perfectly.  I especially like the unique horizontal arrangement of the veneer in each wall panel. The curved shelf that fits perfectly in the middle of the main wall is a unique feature.
Cabinetry: "Caught Up Interior," a custom boat cabinetry project, won for Paul Mann Custom Boats, Manns Harbor, North Carolina. The two-stateroom, two-head, 60-foot boat includes a walk-in pantry and laundry/storage area along with a separate walk-in tackle closet. All areas feature teak cabinetry and flooring, as well as solid surface and teak countertops.
Bill Esler commented, "A stunning project that reminds us of the practical value of veneer in nautical applications: it conveys the warmth and substance of solid wood but is light in weight."
Furniture: "Colosseum Coffee Table" by David Bondy, Rancho Santa Margarita, California, won this category with a table that gets its inspiration from ancient arenas. The table has a cut depression with a series of bleachers so that it is precisely the focus of the room, Bondy said. The table uses reconstituted handmade dyed Macassar ebony veneer laid up on both sides of a ¾-inch MDF panel with each of the 16 steps hand veneered for a seamless look. Remote controlled LED lighting allows up to 20 different colors to highlight the table.
"Detail and the workmanship impressed me," said Bob Nurre. "Here the story was also important."
Marquetry: "The Lady" by Ken Cowell, Yorba Linda, California, won in this category with a piece inspired by Alphonse Mucha's "Le Printemps." The marquetry picture of a woman on the front of an armoire is composed of 25 different woods in their natural color except for some wood dyed green for the dress. Thirteen of the woods used came from reclaimed wood from landscape trees in Southern California that Cowell recovered.
"The marquetry in this piece is exquisite," said Marc Adams, who is known for his own marquetry work. "When the human face is involved in marquetry it is important that the eyes of the image seem to actually be observing the observer. This image has that feel. Great choice of wood colors, that all work well in harmony with each other."
Specialty Items: Stretching the boundaries for veneer work, a wooden bicycle called "Meep-Meep" by Rolling Arts Bicycles, Burr Ridge, Illinois, took the top prize in this category. The fully functional bicycle is made almost entirely of 1/16-inch and 1/24-inch maple and walnut veneer.
Bill Esler, an avid cyclist himself, commented, "This wood bicycle breaks ground in new applications for veneer as a material. The multi-layered handlebar bent on three axes is worth an award on its own."
Student Design: "Federal Card Table" by John Ausel/Thaddeus Stevens College of Technology, Quarryville, Pennsylvania, took top student honors. It features walnut crotch veneer and provides a platform to show off the student's skills, impressing the judges.
"Remarkable student work! Some of the best I have ever seen," said Marc Adams. "Great radial matching of the veneer on the top and perfect execution of the Federal string inlay."
Honorable mentions
With nearly 100 entries in this year's competition, there was plenty to vie for the judges' attention. They awarded honorable mention for nine entries: Architectural Woodworking, Fetzer Architectural Woodwork, Salt Lake City, Utah, "United States Courthouse for the City of Utah;" Furniture, Michael Noll, Columbus, Indiana, "Gated Leg Table;" Brian Newell, Fort Bragg, California, "W;" and Jeffrey Roberts, J S Roberts Furniture Maker, Unity, New Hampshire, "Sheraton Sideboard;" Marquetry, Joe Morgan, Park Rapids, Minnesota, "End of My Rope;" and Al Spicer, Bessemer City, North Carolina, for "Geometric Table" and "Tilt Top Table;" and Student Design, Andrew Lesuer/Red Rocks Community College, Lakewood, Colorado, "Lucent Shoji Cabinet;" and Mark Welle/Pittsburg State University, Milford, Iowa, "Executive Ivory."
All of the entries in this year's competition can be viewed on the Veneer Technologies website at
www.veneertech.com
. Details about the grand prize and category winning entries plus judges' comments can also be found at the website. In addition, the site features archives of 2005 – 2015 entries. The competition is co-sponsored by FDMC and the Woodworking Network.
Veneer Tech Craftsman's Challenge entries for 2017 will be accepted beginning the first of January. Next year's competition results will be announced at AWFS Las Vegas.
Veneer Technologies, located in Newport, North Carolina, is one of the industry's largest manufacturers of high-quality face veneer, sheet veneer and edgebanding. Veneer Tech sources wood species worldwide.
Have something to say? Share your thoughts with us in the comments below.