Bio-based panel adhesives inventor says nature's tool kit can develop healthier products
May 20, 2016 | 2:18 pm CDT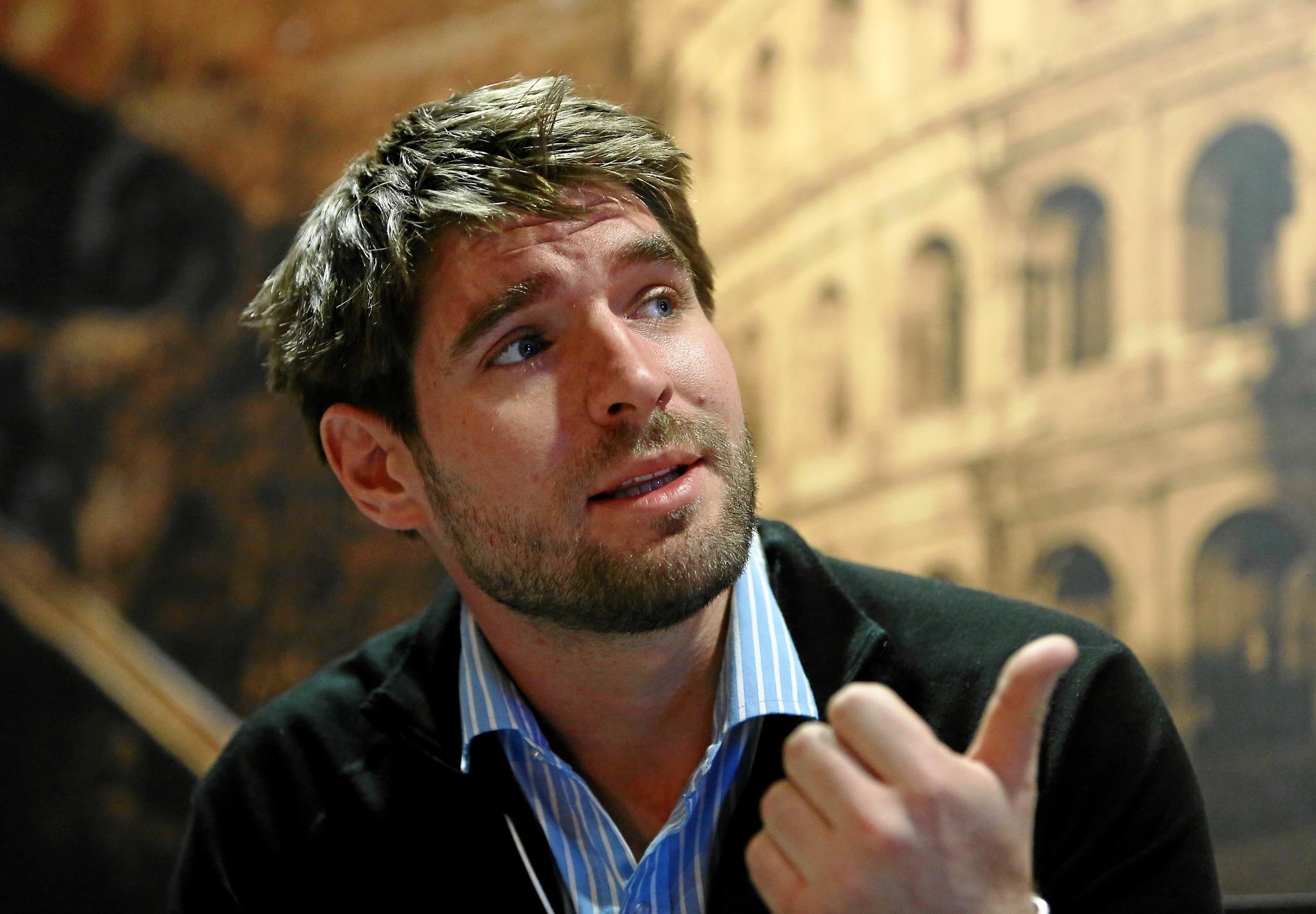 Photo By swiss-image.ch/Photo Monika Flueckiger
WASHINGTON, D.C. -  Eben Bayer, co-founder and CEO of  biomaterials company Ecovative Design, outlined his vision for a sustainable economy powered by what he calls "nature's toolkit."  
In a keynote address to the U.S. Chamber of Commerce Foundation's 6th annual Sustainability Forum May 17,  Bayer talked about his firm's approach to "purposeful entrepreneurship," which he said "requires a combination of the right frameworks, passionate people, and the right ecosystem."  
Ecovative Design makes formaldehyde free adhesives using mushroom-derived mycellium and engineers panel cultured from mushrooms, operating mills in Green island and in Troy, New York. The company's materials have been incorporated in applications by commercial furniture firms Steelcase and Gunlocke. 
"Driven by consumer demand, businesses across the globe are looking for ways to make healthier, safer, better performing products. Sustainable solutions can be found in nature's toolkit, but mainstreaming applications requires expanding awareness and accelerating innovation," Bayer said, in commending the U.S. Chamber Foundation for bringing focus to circular economy initiatives.
Ecovative Design panel material 
As an example; Bayer cited the rising costs and risks to workers and customers associated with the toxic resins used in the manufacturing of particle boards and other engineered wood. In a quest for a solution to the dangers of formaldehyde and other toxins used to make engineered wood, Ecovative created MycoBoard™ a premium, customizable, certified sustainable engineered wood bound together using mycelium – "nature's glue" – which is non-toxic, formaldehyde-free, safe, and healthy.
"The North American mill industry is ripe for innovation. It faces a costly challenge in addressing its formaldehyde problem. While much of the research has focused on options to lower the levels of the toxic chemical mix required to produce engineered wood, we shifted the focus, finding the answers in biology," Bayer says. "Existing mills across the country can be upgraded with biology to produce a safer, more sustainable product that is healthier for their customers and their bottom line."
MycoBoard is now used commercially in furniture including in Gunlocke's award winning Savor chair, and in a new line of healthy, safe, sustainable commercial wall tiles.
"Durable sustainable innovation does require the right combination of passionate innovators, committed investors – particularly early investors, and customers demanding more environmentally safe products," Bayer says. He points to the pioneering leadership of the Ellen MacArthur Foundation in building awareness of and connections within this ecosystem to drive the circular economy.
Bayer regularly credits "invaluable" early research support from the Federal Small Business Innovation Research (SBIR) program, the U.S. Environmental Protection Agency (EPA), the New York State Energy Research and Development Authority (NYSERDA), and others for making it possible for Ecovative to transform from an idea in a dorm room to pioneering an emerging material science industry.
In his Sustainability Forum remarks, Bayer also highlighted advances of other biomaterials science companies including: bioMASON, growing bricks; and Bolt Threads, developing a non-toxic process for making fibers and textiles.
"Ecovative and other companies have clearly demonstrated the potential to use biology to grow materials with exceptional properties unattainable through conventional chemistry. There are extraordinary possibilities to unlock in this emerging area of biomaterial science. That will require a broader shift in focus to biological technology, and corresponding investments in research by the business, government, foundation, and education sectors, by all of us," Bayer says.
The U.S. Chamber of Commerce Foundation 2016 Sustainability Forum convened thought leaders and practitioners from business, government, academia, nonprofit organizations and other stakeholder groups to explore opportunities and best practices for unlocking the value of the circular economy, and accelerating scalable solutions across global supply chains. It was held at the U.S. Chamber of Commerce in Washington, DC, on May 16 and 17.
Eben Bayer is the CEO and Co-Founder of Ecovative Design, a leading biomaterials company growing high performance, premium, award-winning products that are safe, healthy, and certified sustainable. Ecovative uses biology to upgrade existing products and processes solving important problems in major industries. Bayer, who grew up working on his family's farm in Vermont, is a pioneer in leveraging mycelium—"nature's glue"—in Mushroom® Materials to drive sustainable innovation in the industrial sector.
Sparked by a successful college class project, Bayer teamed with then-classmate Gavin McIntyre to start Ecovative in 2007. In a quest to replace polystyrene, they created compostable MycoFoam ™, now used as packaging by Dell and other  Fortune 500 customers. In a quest for a solution to the dangers of formaldehyde in engineered wood, they created formaldehyde and toxin-free MycoBoard™, now used in office furniture, acoustic wall tiles, and other commercial products. 
The transformative power of Bayer's vision for mushroom's mycelium and bio-inspired design is evidenced by these products and partnerships Ecovative has built with Fortune 500 and other companies. Ecovative continues to develop its materials platform.
Ecovative has been recognized globally including: as a Tech Pioneer by the World Economic Forum; for its potential impact on climate change by the Postcode Lottery Green Challenge; by the EPA with its Environmental Quality Award; by the US Small Business Administration with its Tibbetts Award for excellence in Small Business Innovation Research (SBIR); as a recipient of the Buckminster Fuller Challenge for socially responsible design; by the Ellen MacArthur Foundation; and by the Cradle to Cradle Innovation Institute.
Based on his vision and inventions, Bayer has evangelized a strategy of bio-adaptation, encouraging the use of biology to grow materials with exceptional, sustainable properties unattainable through conventional chemistry. He has carried this message around the world, including presentations at TED Global (London), the World Economic Forum (Davos, Switzerland) and Forbes 30 Under 30 (US).
Bayer is also interested in augmentative neuro-systems, thermodynamics, education, and monetary systems modeled around life. He serves on the external advisory board of the Arizona State University (ASU) Origins project, and advises start-ups in and around New York.
Bayer earned dual undergraduate degrees in Mechanical Engineering and Innovation & Design, from Rensselaer Polytechnic Institute in 2007. For the 18 years prior, he studied agriculture and farming through hands on learning.
a
Have something to say? Share your thoughts with us in the comments below.