Major paint companies predict 2020 Colors of the Year
November 11, 2019 | 4:02 pm CST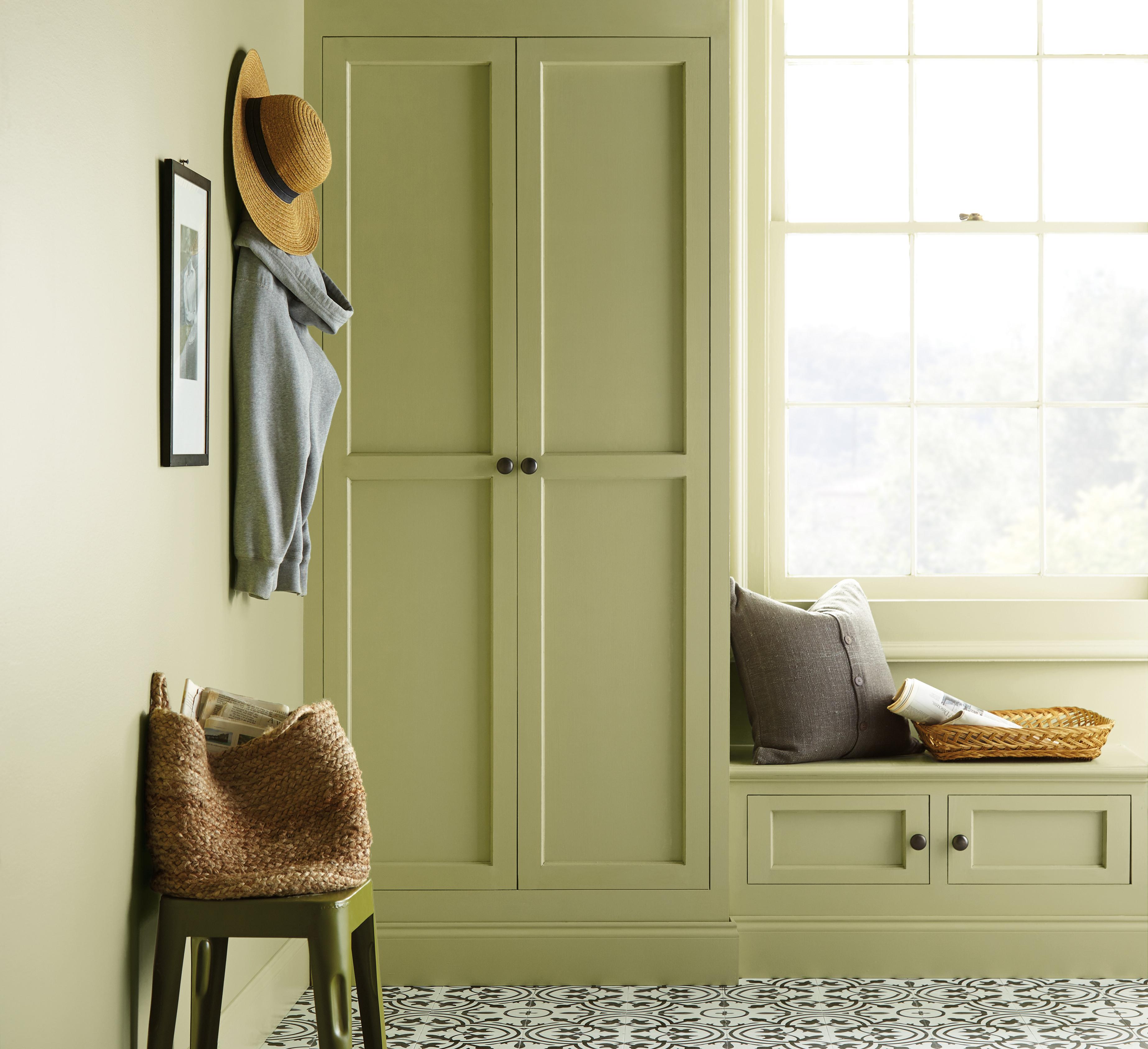 Photo By Behr
With the autumn season comes a gorgeous display of colors as trees shed their leaves turning from lush green to golden yellow hues, vibrant orange and vivid red. Autumn is also the time of year many major paint companies announce their picks Color of the Year. Here's a look at the colors and trends paint companies are predicting will impact residential interiors next year.
Behr Paint announced its 2020 Color of the Year, Back To Nature S340-4: a restorative, meadow-inspired green. In true Back to Nature fashion, Behr debuted the color in a pop-up display hidden in the rolling hills of Napa Valley, California.
Influenced by our innate desire to connect with nature, this biophilic shade imparts a fresh sense of vitality. Just as plants release oxygen into the air, incorporating an ecological green in the home helps purify and promote a balanced space—bringing the outside, inside, the company notes.
"As we look ahead to a new decade, Back To Nature encourages us to reengage with the natural world, which we know can have a real, positive impact on our well-being," said Erika Woelfel, vice president of color and creative services at Behr. "Everyone has a different way of engaging with nature. Whether you're biking on a forest path, canoeing on a lake or walking on the beach, green is prevalent in nearly every outdoor landscape—it is easily nature's favorite color."
Earlier this summer, Behr revealed the 2020 Color Trends palette, an annual color forecast based on global color trend research across residential and commercial settings. The palette consists of 15 colors, one of which is this year's Color of the Year, that embrace exploration and natural environments.
Behr.ca/2020Trends
.
First Light 2102-70
Benjamin Moore revealed its Color of the Year 2020 as First Light 2102-70 – a soft, rosy hue blooming with potential. With a new decade on the horizon, the industry leader took a fresh approach to mark this milestone. An approach that both embraces and transcends color to re-examine the concept of the home as we know it, while exploring how it will continue to evolve over the next 10 years.
"We selected First Light 2102-70 as our Color of the Year 2020 to represent a new dawn of idealism, design and living," said Andrea Magno, Benjamin Moore Director of Color Marketing and Development. "First Light 2102-70 reflects a new definition of the home – a shift in mindset from the material to satisfying the core needs in life: community, comfort, security, self-expression, authenticity and ultimately, optimism."
This modern definition of dwelling replaces long-standing post-war ideals, shining light on a new era of design rooted in fluidity for the multi-generational, multi-functional and different states of mind now found under one roof.
benjaminmoore.com/colortrends
.
Chinese Porcelain
PPG paint brand's 2020 Color of the Year, Chinese Porcelain (PPG1160-6), offers escapism in today's technologically driven society. Hand-selected by PPG's global color experts, the shade is a blend of cobalt and moody ink blue that imparts calmness and restful sleep while also offering the spirit of hopefulness – a precious commodity in a restless world.
"The faster technology moves and the more convenience it offers, the more we seek activities, experiences and lifestyles that impart slowness and realness into our lives," said Dee Schlotter, senior color manager, PPG paint brand. "The need for simplicity and escapism from technology is, in part, the reason that consumers are craving blues like Chinese Porcelain that bring us closer to natural elements such as the sea and sky – creating serenity in any space."
ppgpaints.com
paintzen.com
.
Naval SW 6244
Sherwin-Williams' 2020 Color of the Year is Naval SW 6244, a rich navy that creates a calm and grounding environment infused with quiet confidence. 
Giving a nod to Art Deco influences, Naval fuses the striking and bold opulence of Art Deco with the awe inspiring power of nature – from the infinite night sky to the mysterious depths of the sea – bringing navy out of its comfort zone to usher in an empowering new year and fresh decade of change, the company said.
According to the company, 2020 will place an importance on biophilia – the intrinsic need as humans to interact with nature. The inclusion of live greenery and mineral based materials like marble, allow us to create a natural sanctuary that encourages rejuvenation in your everyday life.
sherwin-williams.com
Have something to say? Share your thoughts with us in the comments below.