12 Top gifts for woodworkers this year
November 22, 2016 | 11:47 am CST
I am always being asked about tools and woodworking products. Around this time of year a lot of those questions turn into, what would make a good gift.
Below are a few of the products that have stood out for me this year that would make good gifts. Feel free to check back to my other reviews for some of the larger tools and further gift ideas.
For the space saver
Centipede Support 6S - It is advertised as the "ultimate portable workbench or table base", and truly it is. Great for an instant table at the shop or on a job site, and packs away nicely into its own travel bag. 
For the distance:
FastCap standard/standard reverse ProCarpenter tape measure (green) - This tape measure has measurements on both the left and right sides – letting it work no matter how you are looking at it. It also conveniently gives you all the fraction measurements in a clear, readable fashion. P.S., it also has a pencil sharpener.
For the modern lumberjack:
DeWalt 40V Max cordless chainsaw -  This is a great tool. It has the power of gas with the convenience of a battery. Ideal not only for the outdoors, but also for use in a shop for live edge and reclaimed wood needs. Plus, using it makes you happy.
For the apartment dweller:
Black+Decker 4V Max Roto-Bit storage screwdriver – - With built-in storage for eight different bits and enough power to drive in a screw, for those without access to a shop and its tools, the Roto-Bit is there to handle your furniture assembly and all of your other everyday screwdriver tasks.
For the technologically inclined:
Stanley Smart Measure Pro - This tool and app combo is a great gift for anyone with a smart phone (and if they don't have one, you should also add smart phone to your gift list). It allows you to take a photo and then accurately get measurements of basically everything in the image. Great for measuring large spaces and also rather fun to play with.
For the level-headed:
Empire True Blue magnetic box level - With their sturdy build, easy to read level bubble, and overall attractiveness (blue's a good color on you) these levels are the way to go. And with four sizes available (24", 48", 78", and 96"), you are sure to find the right one for your project.
For the demolition adventurer:
Bosch 18V compact reciprocating saw – This saw packs some great cutting ability, and its small size (15-3/4 In. long) allows it to reach into tight spaces and cut at inconvenient angles. Great tool to have with you for regular demo cutting and all those 'what if' situations. 
For the cold weather worker:
Truewerk double-stitch T3 werkpant - These pants are warm, water proof, and above all, comfortable. They have pockets where you need them and hold up very well to all types of work environments.
For the easy lift:
Portamate panel carrier - This convenient cart can easily roll a full 4' x 8' sheet around a shop. It can also flip and lock in place at your table saw's level giving a single person shop the perfect way to cut full sheets. And it's fully adjustable for different table saw heights.
For the clean sweeper:
Milwaukee M18 compact vacuum - Whether in the shop or on the job site, this lightweight cordless vacuum is the perfect clean up tool. It comes complete with multiple attachments and extenders to help you clean any mess.
For the extra hand: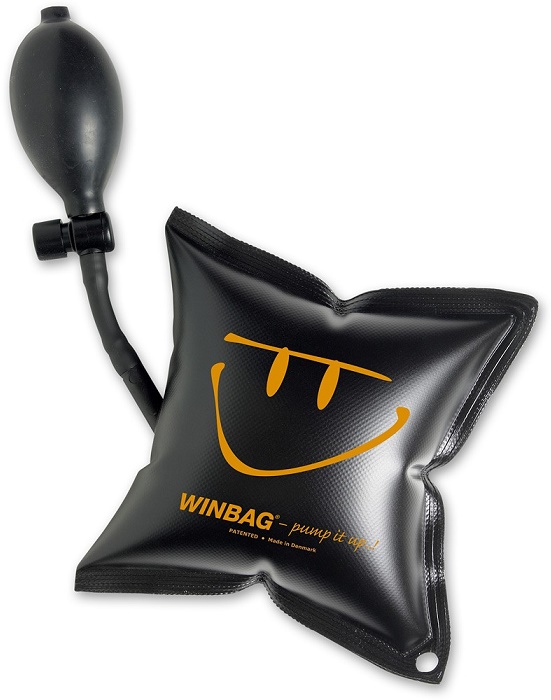 Winbag - This little bag of air looks silly but it really works. For door, window, and cabinet installations, it is the reusable shim that gives you the extra hand when you need it.
For the foodie:
Liberon quick-drying Tung oil - This natural oil is ideal for any project you may have involving food. Great for chopping boards and bowls. It goes on smooth, dries strong, and has a clean looking finish.
Have something to say? Share your thoughts with us in the comments below.