Stow Co. launch of Inspired Closets will compete with big national closet brands
June 10, 2017 | 2:20 pm CDT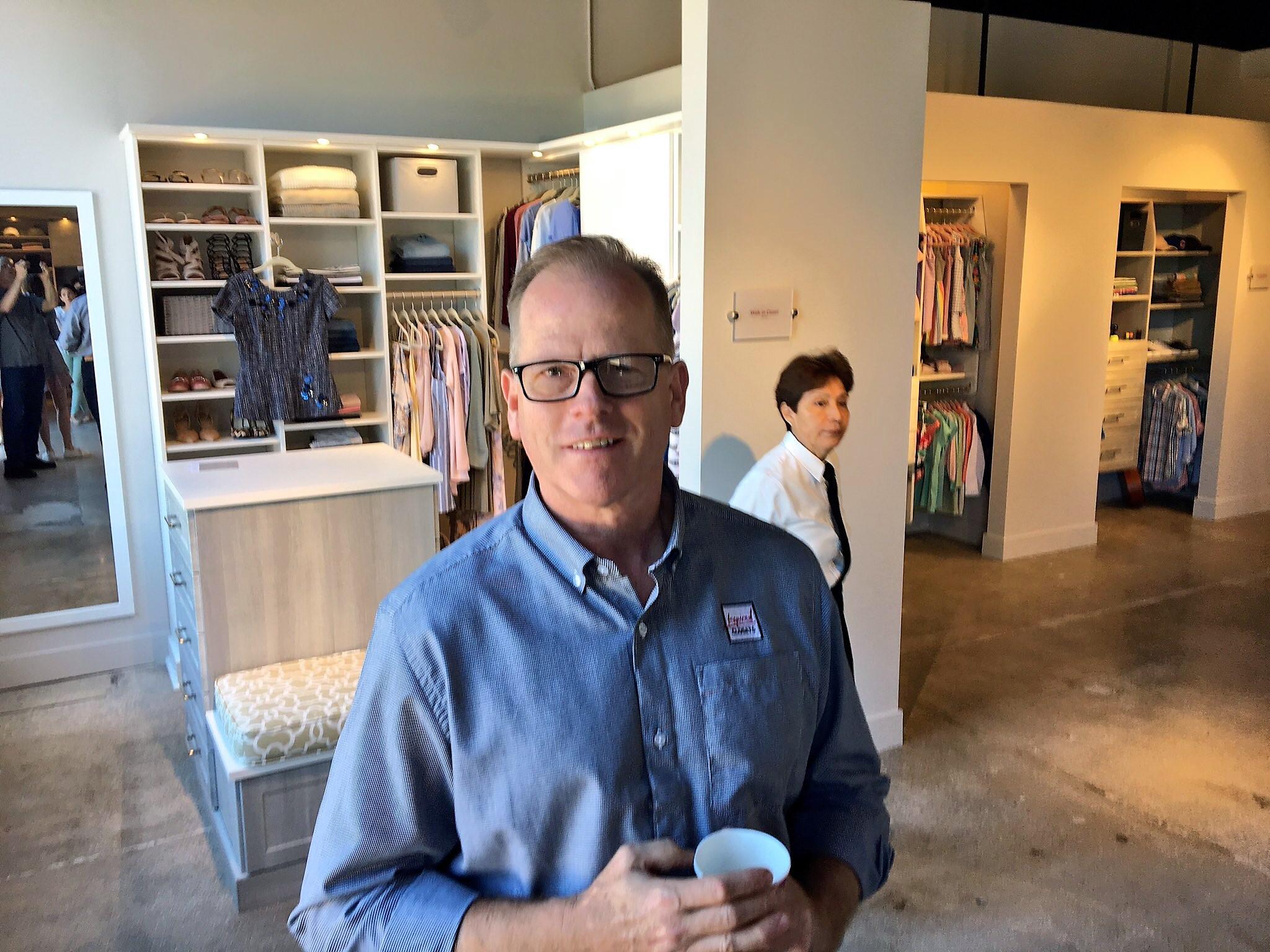 Photo By Bill Esler
CHICAGO - Stow Company is partnering with closets expert Mike Carson to launch the inaugural Inspired Closets location in suburban Chicago. It will be positioned with consumers to compete with brands like Container Store and California Closets. 
Learn from Mike Carson at AWFS 
Mike Carson is scheduled to present at the first-ever
AWFS Closets Symposium
to take place July 18, 9 am - 5 pm, one day before the fair opens. 
In the panel session "Outsourcing versus Insourcing," Carson, the former owner and operator of closet maker Closet Works, will share best practices from his vast experience working with both methods.
Carl Seymour, VP Dealer Network and Phil Dolci, CEO at The Stow Company launch of Inspired Closets near Chicago.
Inspired Closets strategy embraces simplifying the buyer experience, allaying anxieties about reorganization their home storage areas, compressing the effort into a simple, four-step process, design expertise, and unmatched customer service. Inspired Closets mantra will be to make the process of upgrading to an organized custom space easy and fun.  
"We replace disorganized, stressful spaces with inspired ones by listening to our customers, designing with intent and treating our customers like family – it's all about taking the guesswork out of the process," said Jon King, Design Manager for Inspired Closets. "Customers often tell us that once they have Inspired Closets they can't imagine living without them. We've created a way for more people to experience that joy."
Cluttered spaces – including the closet – can be stressful.  According to "Life at Home in the 21st Century: 32 Families Open Their Doors," co-authored by Elinor Ochs, Director of UCLA's Center on Everyday Lives of Families (CELF), Jeanne Arnold and Anthony P. Graesch, studies show clutter can even contribute to spikes in daily stress levels.
The process of designing a closet can seem overwhelming, time consuming and financially out of reach.  But now, with Inspired Closets, a custom closet is no longer a quagmire of questions.  Inspired Closets is the first to offer a start-to-finish, "we take care of everything" approach to custom closet design.  Homeowners can sit back and relax while Inspired Closets plans, designs, prepares and installs a custom solution that is both functional and beautiful. 
"Custom closets have always carried the stigma of being high-priced, out of reach and daunting to design for many consumers," says King. "But here at Inspired Closets our mission is simple – offer an easy and accessible approach so that more people can experience the benefits of having a custom closet." 
Custom Closets: Inspired Closets' Four-Step Process
Consultation: The Inspired Closets' team of expert designers knows what questions to ask in order to design a closet that is both functional and beautiful.
Design: Inspired Closets' design consultants share ideas and guidance based on professional experience, work one-on-one with customers to answer questions and discuss options and use a proprietary Studio Design Tool allowing the customer to see the design electronically before it's installed.
Home Preparation: The Inspired Closets expert build team is ready to handle all necessary site preparation – from taking down an existing closet to prepping the walls and flooring for the new installation. While most installations take only a few days, Inspired Closets supplies customers with garment racks and other temporary storage for use during installation.
Installation: Service is paramount at Inspired Closets, and highly trained closet build teams work efficiently to minimize installation time and treat each customer's property like it's their own during every step of installation so all the customer has to do is sit back and relax.
For more information, customer testimonials and to see more Inspired Closets please visit the Idea Gallery at
www.InspiredClosets.com
Have something to say? Share your thoughts with us in the comments below.