Inventor and designer develops new closet rod and shelf support system
By Anthony Antonelli
May 25, 2021 | 9:29 am CDT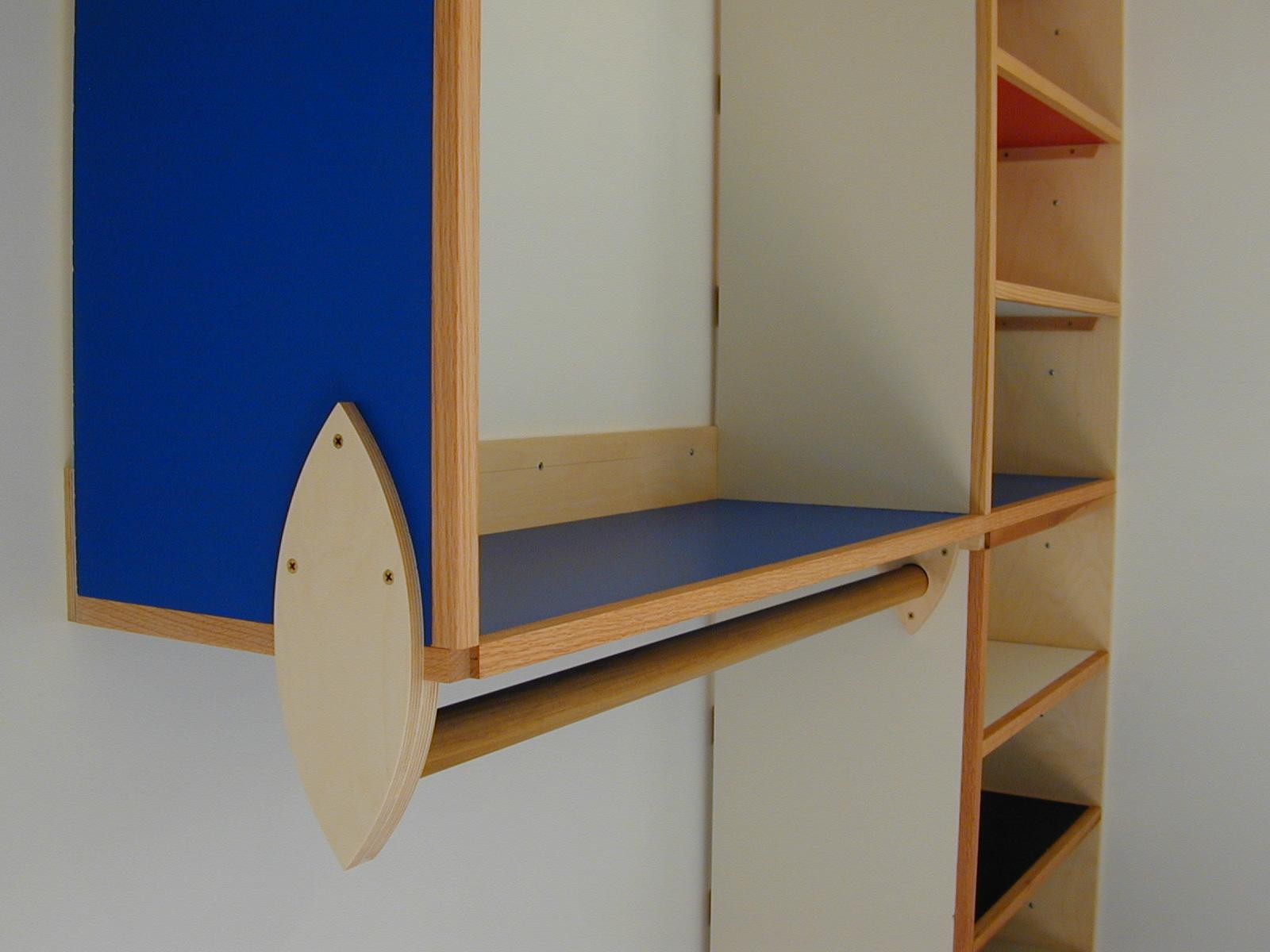 Photo By Anthony Charles Antonelli
Last year, I was granted a patent for what I describe as 'over and under' closet rod and shelf supports. As a designer and consumer, I believe this unique "two-piece product idea" can offer new product line possibilities to the world's closet design, parts manufacturing, and sales markets.
The product idea came about several years ago while I was designing four modular cabinet prototype closet arrangements to suit both reach-in and walk-in closet spaces at my home. Living in a condominium, overall bedroom spaces were tight with not much room for furniture. My 'reach-in closet' concept to begin was having adjustable shelving to one side, a middle section having both 'over and under' closet rods to double storage capacity for shirts and pants, and then leave some free space away from the opposite side wall where only the upper closet rod and continuous top shelf would finish, thereby creating room to hang three-quarter length clothing.   
Over at my shop, I had various color 4x8x3/4-inch melamine sheets, multi-ply Baltic Birch plywood, and a variety of oak, cherry, and poplar hardwood to use as edging available. When it came to detailing how I wanted to 'suspend and fasten' the top and bottom closet rods, I could not find any hardware to 'simply stop and float the bottom rod' short of the wall as I envisioned; so I sort of set out to create something of a 'sky-hook detail.' I decided on creating a simple, nice-looking, 'wooden cleat' that could be easily fastened beside an upper cabinet's, 'lower-outside corner' to carry the bottom rod under.
First, I determined the clearances needed between the 'bottom side' of the upper cabinet and 'top side' of the 1 3/8-inch diameter, poplar closet rod I was using to allow clothes hanger hooks to easily pass through, and the center distance of the rod away from the back wall which would provide ample space to suit various clothes hanger widths. In so doing, I had drawn a small rectangular section representing the cleat idea and went on to use an old-time woodworker's circle compass to design a smooth, larger 'kind of elliptical shape' around it. 
I then specifically focused on developing the connection details needed for the cleat to fasten alongside the upper cabinet and bottom closet rod below it. I discovered the best way for me to create the elliptical shape cleat was to make it in two separate pieces using multi-ply Baltic Birch plywood that would join side-by-side together, producing a composite fitting. 
The first of the two pieces is the overall, elliptical shape that specifically functions as the cleat – the upper two-thirds of its length fastens beside the upper cabinet as intended; its bottom third extends down below the cabinet where it marries beside another matching 'bottom third' shape and size, the 'second' of the two-piece composite fitting which functions as 'the cup' – it receives the bottom rod and fastens to the cleat, thus creating the 'floating bottom closet rod' effect I first envisioned.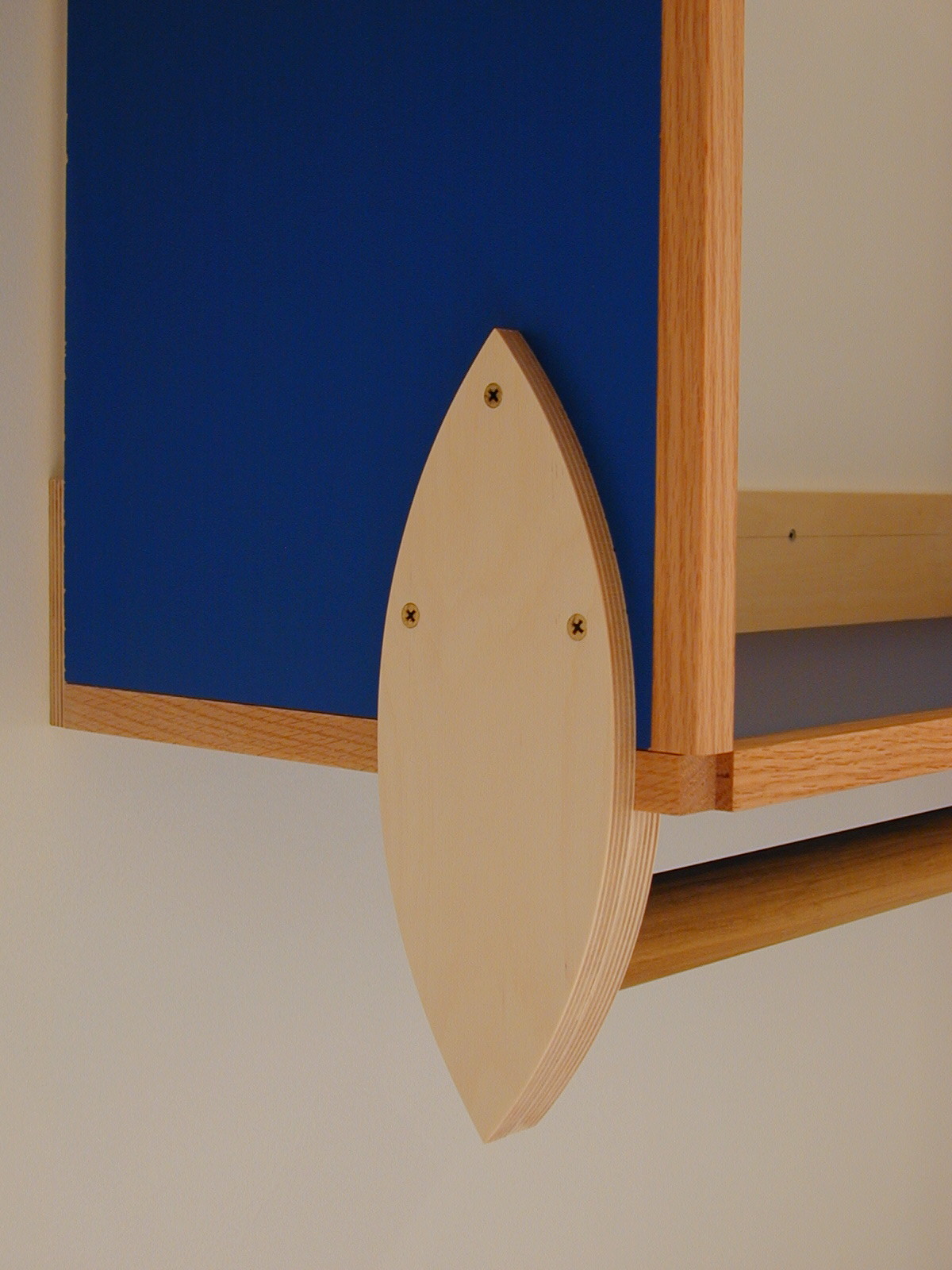 The shape and size of the cup nearly sets up the perfect position for the bottom closet rod when fastened to the cleat; the piece can also be used on its own 'apart from the cleat' to carry upper closet rods and be fastened between cabinet sides or cabinet sides and walls. When used together they become 'over and under' closet rod and shelf supports.
These simple, curved shape components are visually appealing on their own and should generate further interest in closet systems development unlike any ever before by setting a new design standard through its first-of-a-kind 'floating bottom closet rod' detail in 'over and under' closet rod applications.
1.    Creating a new, unique closet design system 'look and style' 
2.    Creating a product line system on its own for a new manufacturer or add to and reaffirm an already established manufacturer's product line offering
3.    Being produced into quality hardware parts using wood, metal, plastic, or in combinations thereof 
4.    Being introduced as a new part of a 'high quality, less costly' closet system
5.    Manufacturers rethinking an even more efficient means of cabinet construction; lessening material, production, and shipping cost 
6.    Helping simplify planning, construction methods and quicken installation times 
7.    Being marketed as a new, more efficient use of space 'closet kit' idea for new or renovated closets to residential and hospitality clientele 
Background                                                                                                                                                                           
As early as 10 years old, I worked as a carpenters-helper beside my father in his general construction business based nearby Camden, NJ. Growing up in the '60s and '70s, I was interested in almost everything, especially music, art, and ice hockey.
In the '80s, I studied Architecture and graduated with Honors from the Illinois Institute of Technology on the south side of Chicago. Amongst the wonderful professors teaching Bauhaus principles within Crown Hall was Alfred Caldwell, a contemporary of Classic Modernism masters such as landscape architect Jens Jensen, architects Frank Lloyd Wright and Mies van der Rohe. 
After graduation, I tried apprenticing back in my home state and Philadelphia. America's economy was erratic, job opportunities were scarce, and learning Auto CAD to draw was rapidly becoming the office standard for everyone, so I found myself eventually going back to work in construction with a new perspective.
During the mid-'90s, my father retired from his general construction business, the day-to-day pressure coordinating commercial construction was wearing. I went onto working metal, then Victorian Woodwork and Architectural Millwork into the year 2000. 
Over the past 20 years, I have coordinated 'architectural solution sales' between sales reps, architects, and contractors all across North America for two, different European based acoustic ceiling manufacturers helping them achieve 'state of the art' results by thinking outside the box using standard products on first-of-its-kind project applications. This is where I came to enjoy design-build challenges immensely; combining my education and field experience, bridging dreams into reality, making products and projects 'come to life.'
I have been blessed to have had as many family and friends support, learning, and work experiences beside hundreds of talented, knowledgeable, caring men and women dedicated to excellence and living life to the fullest; all that has led me to creative thinking, sketching and building new product ideas of my own for others to hopefully enjoy.
Have something to say? Share your thoughts with us in the comments below.